EUROPEAN VACATION
                          <![if !vml]>

<![endif]>
France
Euro Disney Rocks! - received June 15
<![if !vml]>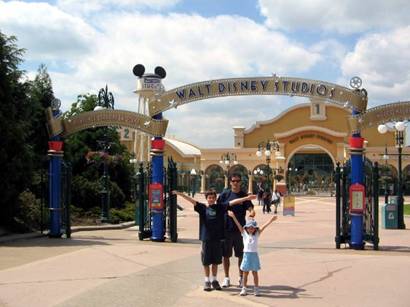 <![endif]>
(By Helen and Steve)
The night before our first day at Disneyland we could hardly sleep because we were so excited!  We felt like kids again.  I guess that's what Disneyland does for everyone, adults included. 
The weather was perfect for our 5 days in Disneyland except for the last day, it was very overcast.  We all had such a great time and we certainly re-charged our batteries and are so happy we did this.  Our hotel is a five minute shuttle bus away from the park and it's situated in the most beautiful countryside.  It is the perfect place to come 'home' to after a crazy, noisy day at the Park.
We all went on the rides and we even got Danika and Nik on a roller coaster.  Danika cried and would not go on it again, but Nik loved it and went on four times.  Our favourite ride was the Pirates of the Caribbean; we went on that ride about 8 times.  If we hear that song again, I think we will scream!  Going on the ride "It's a Small World" was wonderful as usual.  It was the very first ride we went on and it got us right in the mood for Disneyland. 
We ate a lot of junk food and walked for hour's everyday.  Steve went on the massive Space Mountain rollercoaster and when he came off of it he had an extra skip in his walk and a goofy, kid-like smile on his face.  You do feel like a kid again after you come off these rides, especially the ones where you scream your head off.
The park is a little smaller than the one in California and there are not as many rides but it is a lot newer and it is very clean and beautiful.  We had a blast! 
Tomorrow we are headed to Germany and maybe Luxembourg.  We are not quite sure where we are going yet but we do know that we probably won't be coming back into France.  We had an absolutely excellent time in France and would not hesitate to come back.  For all the rumours we heard regarding the rude French we didn't see it at all.  We were treated great and even though we speak little to no French we got along just fine.  We are actually very sad to be leaving but are excited to see our friends and family in Germany.
<![if !vml]>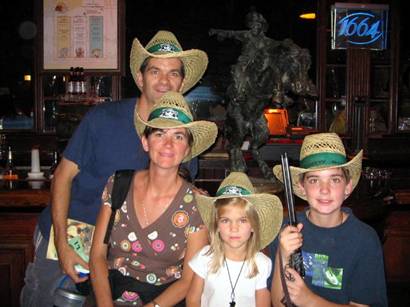 <![endif]>
Paris
(By Helen) - received June 11
<![if !vml]>
<![endif]>
Walking down the Champs - Elyssee
I couldn't believe I was finally going to see Paris.  It wasn't the city I was most excited to see for some reason but I was very eager to finally see it with my own eyes in real life.  Steve warned me so many times that I wasn't going to like it so I was a little nervous about what to expect.
We got on the metro (subway) at the airport because we had to return our rental "bus" there.  First of all, that airport is by far the busiest one I have ever seen.  I don't know if this is a fact or not but as we were driving towards the airport I was amazed to see two airplanes taking off at the same time while another two were landing right behind them.  When I looked up into the sky I could see about ten planes at various altitudes all above us.  It was unreal!  To think that it was only one of many in France!
It's hard to believe that our city (Vancouver) doesn't have a subway system.  Every major city in the world has some form of it and I wonder why we don't.  I can kind of understand now why the city politicians kind of forced a proposal through to have a skytrain link built from our airport to our city centre.  When we got on our train from the outskirts of Paris and headed into the city centre it was such a convenient and practical form of transportation.  Especially if you have ever tried to drive into or in Paris for that matter.  It is complete chaos.  When we took a taxi from one train station to another when we first came into Paris from Belgium, I was laughing hysterically in the back seat as our taxi driver literally forced his car through the traffic.  Nobody waits in tidy little lines, there are no lanes, everyone just fights for the smallest space or opportunity to move forward.  It is amazing that all the cars are not covered in dents or scratches. 
Anyways, back to the subway.  What sticks in my mind most about them is the smell.  It's kind of hard to pinpoint.  A combination of sulphur, urine and dirty clothes smell.  I wouldn't say the stations were dirty because there isn't any garbage on the ground but they are dusty and grimy and stuffy, and when you start moving on the train the walls on either side are just covered with graffiti.  But again it depends on where you are in the subway station.  Some areas have beautiful little bakeries or flower shops or chocolate shops or perfume shops or coffee shops.  And there are people EVERYWHERE!  They are walking in all directions, some are running for their next train, some are strolling along; lots are standing watching the monitors waiting to see when their train is coming.  It is an amazing sight to see and this is going on all day long, it doesn't matter what time of day it is.  Never mind the fact that there are hundreds of these stations scattered throughout the city and when you walk through them you sometimes take 4 or 5 escalators that take you down, down, down!!!  It's a little creepy when you think about what would happen if something went wrong down there.  Well, that's what I was thinking at the beginning but after a while I got use to it all and started to feel very comfortable on them.  The police presence is impressive as well.  We saw lots of police dogs too.
Like London, we got really lucky with the weather while we toured Paris.  It was warm and sunny with a breeze that would kick up every once in awhile.  The moment we emerged from the dungeons of the metro station I realized how beautiful Paris really is.  In one of our information books it states that this city is often imitated, but never duplicated and that it stands in a class by itself.  I wholeheartedly agree.  I certainly was "charmed" by its magnificent avenues and cozy cafés, its culture and class and its energetic but composed pace.   So far on our travels I have not seen another city even come close to its beauty.  Around every corner is a statue or monument or grand palace or ancient cathedral.     It's almost too much to absorb at first.  You really don't know where to look first or where to start your visit or how long to stay at each spot.  We had three days to see it all and it certainly is not enough time.  We saw a very little of everything but not enough of each. 
What amazed me was how busy the streets were with tourists.  There are tourists everywhere and when we walked down the streets we heard more English than French. 
<![if !vml]>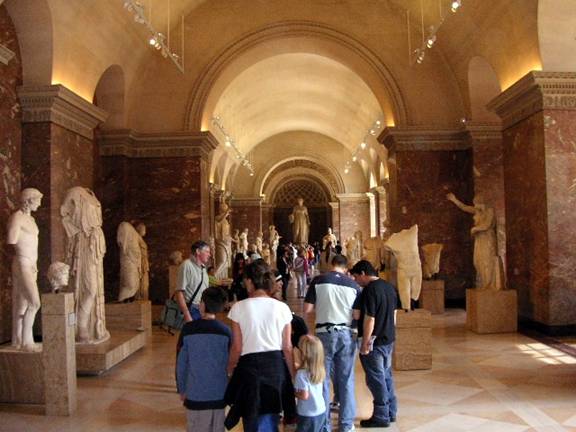 <![endif]>
Our first stop was The Louvre.  It was constructed in about 1200 as a fortress and then it was re-built in the mid-16th century as a royal palace.  It became a public museum in 1793.  The building is massive and takes up 3 or 4 city blocks.  In the middle is a courtyard and there is a huge glass pyramid right in the center and that is the entrance to the world's largest and most famous museum.  It only cost 8.50 euros each for me and Steve, the kid's were free.  I thought that was very reasonable.  The collections on display have been assembled by French governments over the past five centuries and again it is hard to decide where to start and what to see. 
I've heard many people say that seeing the Mona Lisa is rather anti-climactic, but I totally disagree.  When I saw the painting I was in awe even though it was a little smaller than I expected.  You see versions of this work of art everywhere and to finally see it as an original is a huge treat.  Even Nikolas was impressed.  He kept asking me if I was sure that it was the original painting.  That was really the only part of the whole museum he was interested in.  Nik and his sister were not at all pleased that we "dragged" them to this place.  Nikolas actually called it "torture".  One day I hope he comes back and sees it with a little more enthusiasm.  
The amazing thing about this museum is that you could spend the whole day just admiring the architecture of the building itself, never mind the displays themselves.  The ceilings are beautifully painted and each section of the museum is elaborately designed.  Again, I felt frustrated in a way because I didn't know where to go or what to look at first; it is all just so amazing.  We also saw Michelangelo's Venus de Milo and we saw some impressive Greek and Egyptian Antiquities.  On the lowest level of the museum you actually walk around a medieval moat.  It is all truly mind-boggling when you think of the history represented there.
From the Louvre you walk along the Jardin Des Tuileries.  It's a scenic walk with green grass on either side of the promenade.  As we walked along we could see little cafes hidden amongst the huge maple trees.  There were tons of people of all ages sitting on the grass; some having picnics, some sleeping, some in very intimate embraces, some playing Frisbee or kicking a soccer ball around.  We also came upon a man-made lagoon that had lots of families around it with their miniature wooden sailboats.  They were not motorized sailboats, these ones actually had working sails that caught the wind and glided the boats across the lagoon.  When the boats got close to the edge the kids would take a special stick and push them away from the edge and back towards the middle.  It was very nice to watch.  We picked up some hotdogs at a café and we also came across a merry-go-round that Danika went on.  She actually fell off the horse as she was trying to climb up on it and she took a nasty bump on the head but she got back on after she cried a bit and then eventually she really enjoyed herself.  
After the garden walk you reach the Place de la Concorde.  It is a huge cobbled square between the Jardin des Tuileries and the Champs-Elysees.  It was laid out between 1755 and 1775.  Its history is a little sinister as it was here that Louis XVI, Marie Antoinette and thousands of others lost their heads.  And I mean literally, as it was the sight of the public guillotines.  There is a 3,300 year old Egyptian obelisk (a tall pillar) in the middle of the square.  It was given to France in 1829 by the ruler of Egypt, Mohammed Ali (no, not the boxer). 
From here we walked along the famous Champs-Elyssee.  It is a street that is 2 km long and connects Place de la Concorde with the Arc de Triomphe.  It really is just a busy street that is lined with shops and cafes.  I think at one time it was a lot more chic and prestigious but now I think it has turned into a tourist trap.  Anyway, it was still pretty cool to walk down this street and people watch!
As you walk down the Champs-Elyssee you can see standing in all its glory the Arc de Triomphe at the end of the road.  It is Paris' second most famous landmark and is the world's largest traffic roundabout and is the meeting point of 12 avenues.  It was commissioned in 1806 by Napoleon to commemorate his imperial victories but he did not live to see its completion.  An Unknown Soldier from WWI is buried under the arch and a memorial flame is lit each evening at about 6:30pm to honour him and others like him.  There is a platform at the top of the arch and it is accessed by elevator going up, and by steps going down.  The only sane way to get to the base of the Arc because of the crazy traffic is by underground passageways.
Even though we had a three day metro pass that cost us over 100 euros, we decided to also get a two day bus pass on a tour line called "Les Cars Rouge".  They are a fleet of huge, red double-decker buses that are open on the top level.  That is, you are sitting outside when you choose to sit on the top level of the bus.  The round tour that they run lasts about two hours with specific stopping points.  You can hop on and off whenever you like and the tickets are good for two full days.  A multi-lingual system is available with headphones to hear commentaries on some of the sights you see.  It is an excellent way to see Paris without using the underground, dreary metro system.  The buses come by very frequently so that when you get off and sight-see for a few hours there is another bus to pick you up within minutes.  The stops are excellent and convenient as well.  For example, some of the stops are The Eiffel Tower, The Louvre, Notre Dame Cathedral and Champs-Elyssee to name a few.  I wanted to see the tunnel where Princess Diana had her accident but the closest we got was when the bus drove over the tunnel and the commentator lady told us that just under the road we were on was the spot where she was killed.
  We would actually just sit there and use it as a break and then continue on when the kids recharged their batteries.  Danika actually loved it and she wouldn't give up her earphones when mine were not working.  I didn't think she was really listening but I guess I was wrong.
After our day of touring we went to a quaint little restaurant located on the banks of the Seine River.  It was called "Chez Dany's" and we had a wonderful authentic French dinner.  For an appetizer I had a poached egg smothered with a red wine reduction and sautéed shallots.  There were little slices of toasted baguette on the side to dip in the sauce, it was fantastic.  For my main course I had cubes of pork in the same sauce with mashed potatoes (yay, no French fries) and green beans.  The pork just melted in your mouth, it was so delicious!  For dessert, which the kids ate, I had strawberries with strawberry ice cream and strawberry jam with whipped cream on top.  It looked great!  The kids said it was!
After that we headed back down to the metro and took our train "home" to the Holiday Inn at Disney Park.  The train was completely packed like sardines when we got on but half an hour later when we got near our stop the train was almost empty.  We are so glad that we booked this hotel instead of one in the heart of Paris.  It is so nice to come home to the country after spending a crazy day in one of the busiest cities in the world. 
The next day……
We woke up and dragged the kids back to Paris with threats and promises of Disneyland.  Poor kids, we have slipped badly in our parenting skills and have on more than one occasion said to them, "if you don't let us enjoy our day in Paris we will make sure one of your days in Disneyland will be ruined as well".  It works, but we are disappointed in ourselves that we have stooped so low.  It is really, really hard to be with each other 24/7 for this long a time.  I love my family dearly but someday I am ready to scream and pull my and their hair out.  Sometimes I have to tell Danika to just stop talking for once because from the moment she wakes up to the moment she goes to bed at night she is jibbering or jabbering about something.  She has been such a trooper through this whole journey and I really think she is actually having the most fun out of all of us.  Even when I asked her tonight if she had a good time in Paris she said, "oh yes, I just loved it!"  When I asked her to elaborate and tell me exactly what she loved she just paused and then said, "Everything!"  She is so patient and they both walk for miles everyday with just the odd complaint here or there.  Mostly just about museums which is understandable.  I even catch Steve yawning when we have been in one too long.  Without a doubt we are so grateful that our kids are so easy-going and cooperative.  There is no doubt in my mind that if this was not the case we would have been home a long time ago.  I better make sure they don't read this part because they may get some ideas!
Our second day was very similar to our first so I won't go into too much detail.  The only really BIG thing we did was visit the Eiffel Tower.  When you see the tower for the first time in the distance it is similar to when you see the pyramids in a way.  It's a structure that is truly the most recognizable landmark in the world and to see it in real life is a little surreal.  To me it seemed a lot taller than I expected but to Nikolas it was smaller.  I can't say that it is beautiful but it is an extraordinary feat of engineering.  According to my info book it faced massive opposition from Paris' artistic and literary elite when it was built for the 1889 Exposition.  It was almost torn down in 1909 but instead was used for holding a new-fangled transmission antennae.  The tower is 320m high and has three levels open to the public.  We went up to the very top and the view is outstanding, especially on a beautiful sunny day.  The line-ups for the elevators were a little annoying but it was all worth it in the end. 
After that we hopped back on our red double-decker tour bus and made our way to the Seine River and had lunch sitting on the riverbank where they have benches and a walkway.  It was really nice to just sit there and people watch for about an hour and watch the tour boats sail by on the river.  We then got back on the bus and headed to the Notre Dame Cathedral.
There have been churches on the site of the Notre Dame Cathedral since the 4th century.  The current 13th-century cathedral was built 30 years after a Romanesque cathedral on this site was destroyed by fire in 1194.  It is one of the few Gothic cathedrals that has not been significantly modified, other than the 16th-century steeple.  When you first walk in the most exceptional feature is its 172 stained-glass windows.  If it wasn't for the kids I would have stayed in there all day admiring the architecture and the windows.  It is truly breathtaking.  Consequently, it is jammed packed with tourists.  The building is massive and we didn't get to every section.  Apparently there is a section of the cathedral that displays a piece of cloth said to have been worn by the Virgin Mary.  Unfortunately I learned about this after our visit so we didn't see it.  Nikolas really loves visiting cathedrals which has really surprised me and Steve.  He says he feels peace and comfort when he is in them and he always lights a candle and says a prayer.  He promised me that the prayer isn't for anything material (like toys) so I am very proud of him.
From the cathedral we walked and walked and tried to find the Moulin Rouge.  That was my idea and after we started walking into some not so safe looking areas we decided to forget the search and find a place to have dinner.  We found a really nice café and had a great meal again.  Steve had duck and I had a steak, they were both delicious.  Actually Steve's duck was fantastic; it just melted in your mouth. 
It was getting quite late so we found the nearest metro, walked down the numerous escalators until we found the right train and headed back to our wonderful room at the Holiday Inn.  We wanted to experience Paris at night but a very nice gentleman at our hotel told us that Paris is not particularly that ideal for children after dark so we decided to play it safe and promised each other that one day we would be back by ourselves.
Paris turned out to be everything I dreamed it would be and better.  It is the most beautiful city I have ever seen and even though it doesn't have the same electricity that London has, I still think it is definitely worth visiting again.  I have never been a big shopper or completely engrossed in the latest fashions but while you are here it is hard not to notice.  The atmosphere as we walked down the streets of Paris made me realize, once again, how teeny-tiny Vancouver is when compared to the rest of the world.  I'm not saying this is a bad thing as I am anxious to get home and just relax and live in a quiet, safe city.  It's just a totally different world over here and even the States pale in comparison.  The culture and history is everywhere you turn and yet to the Europeans it is just a fact of life.  I hope that when my kids graduate from high school they grab a backpack and hit the road and experience Europe once again.  I hope that this trip will plant a seed in them that will make them want to open their minds up to the world as a whole.  I should have done this trip when I was just out of high school too.  I think it really opens up your eyes and puts things that you experience in life into perspective.  I am so glad we are doing this trip now, even though it can be hard sometimes.  I'm starting to cherish the months we have left on this trip rather than count them down.  Only 51/2 months left!! 
Normandy  - received June 10
(Written June 6th, 2005 by Steve)
<![if !vml]>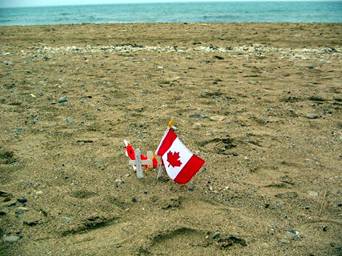 <![endif]>
Juno Beach, Normandy France June 6th, 2005
Well, today we went to the 61st Canadian Memorial Ceremony at Juno Beach. It was very well done and all the folks (students from Canada) who work there did an excellent job. There we some Cadets there, and one military personal from the Canadian Consulate in Paris and about 4 vets. Most of the crowd was from France except for about 30-40 people from the U.S. and Canada. I am not sure if they were just passing through or came just for the Ceremony. Helen spoke to the Cadets and found out that they had to pay their own way to get to Juno Beach for that day. The vets also had to pay their own way to be there and that really bothered me. I am not going to go on and on about this, oh yes I am. How many Canadian vets are left from WW II? Could Ottawa not round up a jet and pay for a few days of a hotel and get the folks and their families over here? Just when I thought our country had its act together!  Actually I never really thought that, it just sounds nice when you're slamming them like I am now.
Anyways, we were all given crosses and a poppy with the names of one of the soldiers that was killed on the beach that day, and told to place it on the beach somewhere.  All the names are also on a list so we were able to look up the names and learn a little about each of them.  So after the Ceremony our family went down and placed our 4 crosses together and got our Canadian flag and left it there. I don't quite know how to explain to you what that was like, but it was very emotional. You know when things happen in your life and you relate that to when you were a kid, or you knew someone who had the same thing happen to them, like losing a loved on.  Even though we were not there during the war, we could just relate to it somehow.
Well, we met a vet named Blue and he told us that he was in the Special Services, Transport Division. He was driving the first vehicle that left the boat and he said he was also pretty sure he was the first to make it onto the beach that day. I asked if the Germans were shooting at him and his reply was "Hell yes". He told us that it was so crazy that his vehicle went right under water but kept going and when he got to the beach there was so much fire that he had to run over his own men to get out of there.
Now, that is what I am talking about, it is impossible to relate to what he was saying. This man was very funny, extremely witty and a pleasure to listen to, but he has been through the most significant event to happen in the 20th century and he is sitting there telling my family about it. After talking to him and spending a little time with him and his son, I realized that there is so much more here than I could ever absorb, and I felt so grateful for everything this man and all the soldiers did back in the 40s, but it felt impossible to show how grateful we were. I watched Nikolas and Blue chat and I thought that if there is one day that Nikolas will never forget, it will be talking to the Canadian hero. For that I am so very glad we came here.
<![if !vml]>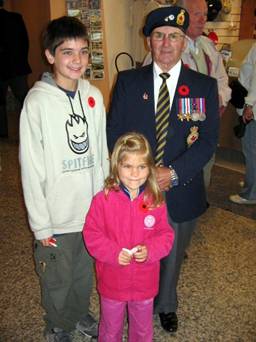 <![endif]>
We then went up to Pegasus Bridge and walked through the Museum and looked at all the machines, weapons and a plane they had on display. This place was the place to be if you liked planes, they had a glider right out back beside the bridge. They have the actual bridge (bullet holes and all) that the British liberated back on June 6th, 1944. At dawn on that day back in 1944, 6 gliders crashed to the ground, and one landed within 45 feet of Pegasus Bridge. They blew the backs of these planes off and drove out tanks, jeeps, heavy weapons and caught the Germans off guard and liberated the first bridge on French soil. I won't go into it, but look it up on the web; it is a very incredible story.
 I am still amazed that Canada was the 3rd largest army on the Allied side next to the British and the U.S.
That is quite remarkable considering Canada's population was just over 10 million.
Did you know that the Normandy Invasion was planned and constructed in Quebec, Canada, I didn't.
Now having said that, no one lost more lives than the British and the U.S, aside from the Germans. I am not sure exactly but I was told that the U.S. lost well over a million soldiers.
We went to the Omaha Cemetery after we left Pegasus Bridge, and found ourselves driving for quite a while and looking for food, and then we came to a little hotel right in front of the Cemetery where we grabbed something to eat.
Once again I cannot explain the size, the beauty or the numbers of graves that are in this resting place. It sits right atop Omaha Beach in Colleville-Sur-Mer and just like the Canadian and British, the land of the cemetery belongs to the country that liberated that section of the beach. So when you are walking in the grounds you are actually in part of the United States, just like when we were in Beny-Sur-Mer-Reviers (Canadian cemetery), we were in part of Canada. Weird eh?
The place was very busy unlike when we were the only ones at the Canadian one, so we read some of the 9,387 white marble crosses and walked the entire length.  It was surreal as we stood at one end and looked as far as you can see; the rows of crosses.  We stayed there until the cemetery closed and we had one more memorial to see.
 We were told by many people to make sure, if we see anything, to go to a place called Sainte-Mere-Eglise. If you have watched the movie The Longest Day, you will know the church where the soldier from the 101st airborne gets his parachute caught on the corner of the church. He hung there all night until dawn when the Germans saw him and shot him. We were all very tired after such an emotional day and we didn't really want to go, but everyone said the place is full of history and to take lots of pictures. So we drove for quite awhile and got lost several times but finally found it. It was so busy that parts of the town streets had been closed off and we got re-routed. After what seemed to be a very long time, we got into the town and found parking for our 2 ton bread truck. I made sure I changed the batteries and got the camera all ready to take pictures of the town. The place is quite amazing.  They have hung a fake, plastic soldier by his parachute off the same corner on the church. Everyone in town is dressed up in military uniforms and driving old Willy jeeps, it's quite interesting. Nikolas had asked if he could wear his camouflage army hat before we left, but we felt it might be disrespectful so we told him he could not. We show up in this town and everyone is in camouflage and let's just say Nikolas was not happy with us. So we walk up to the church and there is the soldier dangling way up there from the roof, so I think I better start taking some pictures. I just walked away from a bank machine and went to reach for my camera just as it was falling out of my pocket. Being as quick to respond as I am (ha ha), I stuck out my foot to try and break its fall before it hit the pavement. I ended up kicking it across the sidewalk and it cracked open and then fell into a puddle.   Therefore I have no pictures of Saint-Mere-Eglise to show you. The funny thing is when I was getting ready to throw it in the garbage, I thought maybe I would check it just one more time and yup, you guessed it, it works just fine. What do you think? Divine intervention?
Anyways, it had been a very long emotional day and we were all really pooped out, so we headed back to Caen and called it a day.
We spent 4 full days in Normandy and I can tell you we just ran out of time, but I truly feel we will come back here one day.
I can't really explain how one feels here, only to say that you need a couple of weeks to see it all. The problem with seeing so many memorials is that you kind of get burnt out, so I don't know if you could actually stay for 2 weeks. I am so glad we came here, and everyone, including the kids, loved it. If you can ever plan to come here, do it! I understand that this place is not for everyone, but there is so much to see besides all the WW II sites. When we were driving to different sites through the huge hay fields we stopped many times to look at all the wild poppies that are growing along the road and out into the fields. I have never seen anything like it, and behind Seny-Sur Cemetery (Canadian WW II), the field was covered with them, as far as we could see.  The beaches may not have been the warmest at this time of the year but they were surprisingly beautiful with miles of white sand and beautiful cliffs.   The other thing about Normandy is the people; they are all very nice and welcoming. I have to tell you that I was surprised how nice everyone is here. The last time I was in France was in '84 and I can tell you that people around Paris were not too fond of tourists and would just ignore you. The only problem we had this time was when we went to the Omaha Cemetery and stopped just before the entrance at a small restaurant and hotel to eat something. We had been traveling all day and had not had a chance to eat so we went in and asked if the restaurant was open.  The owner said yes but only for waffles and cakes. We sat down and the waitress came up and asked what we would like and we asked if there was anything else but Waffles, like a soup or even just baguettes. She seemed to think it was no problem and walked back into the kitchen, and the next thing we knew, the owner comes storming out and starts yelling at us that the kitchen was closed, "only waffles I told you!" I guess you know what we all ate, waffles! After being treated like that we should have got up and left, but we had already tried some other places and they were all closed, so we stayed and ate like scolded children.  Ten minutes after we got our waffles and wolfed them down a large group came in and sat down. The owner knew one of the men and they were goofing around speaking French. I heard one of the guys (He was American) ask for some sandwiches. The owner had no problem with their order and went back into the kitchen to help make the sandwiches. That owner gal was really cranky towards us and Nikolas felt uncomfortable eating there, but we were in the middle of nowhere and still had a couple of hours to drive. We had no choice.
Other than that time, the people of Normandy and Caen have been fantastic and stuff like that can happen anywhere.
Some things we will never forget about Normandy and WWII. For a county that has little or no military today, Canada had a huge impact in WWII. The United States has a massive WWII campaign and had so casualties in such a short time it gives you a whole new view of WWII.
If you want to watch one of the best WWII series, watch Band of Brothers and you will be very touched. Steven Spielberg and Tom Hanks have done a fantastic job making this Documentary and it is a really nice tribute to the US Soldiers who gave their lives.
I am finishing this part from Paris, and being back in a big city makes me appreciate Normandy that much more. Nikolas said he liked it so much because it reminded him of home, but it reminded me of P.E.I. more than it did Vancouver.
Next stop Euro Disney, or as Danika calls it "Zero Disney!"
Normandy - received June 6
Caen
<![if !vml]>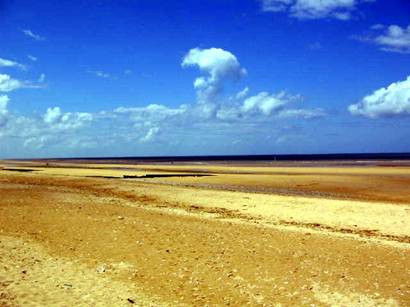 <![endif]>
(June , 05 by Steve)
So it is about 8pm and we just finished traveling from Brussels to Paris, then on to Normandy. Coming here is like being in a small town far from the sirens of the big city. Getting here was not that easy and we had a very long travel day, actually an interesting couple of days. We were in the Netherlands yesterday and decided we would rather be back in Brussels and stay there for a couple of days. So we packed up yesterday morning and drove into the city centre and pulled up to the Holiday Inn City Centre. We had already confirmed our train tickets to Paris then Normandy for Saturday so that gave us two nights in Brussels. The only problem was that there was a parliamentary meeting with a whole whack of countries to discuss France rejecting the EU membership and they were all staying in Brussels Friday night. I told Helen not to worry, we would book into the Hotel for Thursday night and something would open up and we would be able to get a room. We booked the room, went to the Train station and picked up our tickets to Paris/Normandy.  When we got back to the Hotel we found out it was now over 20 rooms oversold for Friday night. So we went back to the train station and tried to get train tickets out a day early. Are you confused yet? Well hang on, because I am only half way through. I walked the few miles to the Brussels train station and asked if they would change our tickets. They said they would change them but we would lose our reservation. What reservation? "Do I have tickets for the train or don't I?" was the question I asked. The train ticket lady said we have tickets just not seats. So let's just say that Nikolas and I sat on our luggage for a few hundred miles and Helen and Danika were a few cars ahead sharing one seat. You know it was not that bad, but when we got off the train in Paris we had 45 minutes to get across the city to another train station and the taxi line up was half a block long. We did get a taxi and it even took our entire luggage, but of course the driver ripped me off, but who cares we had to make the next train. We ran out of the cab and into the new station and sitting right in front of us was our next train to Normandy. At first the exchange in Paris looked like we might not be able to catch our train but somehow it all fell together and we managed to make it here to Caen, Normandy.
Let me just give you a quick note on how great this place is before I go to bed.
You see, we have quite a bit of luggage, but we make it work. Vans or wagons, two trips and usually 2 elevator trips, that's the norm for us. Today was no different than any other day, we checked in at the Caen Holiday Inn and Helen and the kids took the first elevator up and I waited with the second load of luggage for the lift to come back down. An elderly gent was waiting for the elevator too, so I asked what floor he was going to, so I could decide who should go in first. As we went up I asked where he was from and was he here on holidays or was he here for the WW II ceremony.
You had to be here (Normandy) maybe for it to impact you like it did me. He replied, "I am from England and I came onto those beaches over there almost 61 years ago". So here I am complaining about our little long day and getting ripped off by the taxi.
This man's name is Stan Snow and he was in the British Special Service, part of the 51st Highland Division. He was 23 years old and was wounded for the 3rd time only 6 days before the end of the war.
 Stan has many medals for his service I am sure, he was wounded his last time by a German 88mm shell on what was his last tour. He was in the Special Service, which means he was one of the hundreds of thousands of volunteers who stormed these beaches that day. I have some more to say, but it is 2am and I have to get to sleep. One minute we are in downtown Brussels and the next in a hotel full of WW II Vets in Normandy.  Very cool.
(Next Day - June 4, 2005 Written by Steve)
Today we went for breakfast and I brought all of our important documents such as passports, cash, and cards in a backpack because our room does not contain a safe. I have a couple of choices; one, to hide it all under the bed or two, put it in the back pack and take it with us where ever we go. The trick is to not set the back pack down or let it out of your sight. Well, today I was getting ready to go get our rental van when I could not find the back pack. Yup, you guessed it, I left it on the floor in the restaurant and that was over an hour ago. Everything from all our cash to passports was gone and we would be in some serious trouble if I could not get it back. I raced down to the restaurant to see if it was there, but it was gone.  I was totally freaked, so I ran to the hotel lobby and asked if anyone brought one in. The gent smiled and went into the back room and brought out my pack untouched, I could have kissed the guy! Anyways we were back in action and I had just learned a very valuable lesson for the second time. So off I went and picked up our station wagon that we were going to use to drive to Paris after we were done in Normandy. They had a huge 6 speed, 9 seat 2 ton van waiting for me, so I said to them that I did not need anything that big. In the end I drove it away, so now I have something that takes up a lane and a bit and I can't find parking for. Oh well, why not make driving a little tougher in the hardest country to drive in?
We got our van and headed off to Juno beach, where the Canadians landed in Normandy on D-Day. Did you know that they were one of the first soldiers to come on to French soil that day? The beach is quite long and all along the road for many miles all you can see is French and Canadian flags. We walked out into the bunkers and walked the beach and tried to imagine what took place in that spot 61 years ago. The 3rd Canadian Infantry Division and the 2nd Canadian Armored infantry Division were the first to hit the beach in Normandy on June 6th 1944. The 6th British Airborne Div and the 1st Canadian Parachute Div were also on the ground in the eastern Flank of Caen. The 82nd and the 101st Airborne (Screaming Eagles) came in past Utah beach. You know the movies Band of Brother and Saving Private Ryan?  Well, those movies are about Utah and Omaha Beaches, where the Americans came on that same day.
We then drove to the Canadian War museum that is truly a fantastic site. Eleven years ago when all the Canadian vets came back here to celebrate the 50 year anniversary of D-Day, they were very disappointed to see only a couple of Canadian flags waving and a plaque and nothing else. They went back home and put the screws to Ottawa but did not manage to get any help or backing. I guess the Liberals must have been to busy setting up the Sponsorship program. Anyway, these Vets were determined to get some kind of museum built here in Normandy for the 60th anniversary so they looked at the private sector. They had schools, large corporations and regular citizens pitching in to help raise enough to build a monument and museum. You know who the biggest sponsor was? Wal-Mart Canada. That's right, an American company put up some major bucks to help out our vets, and it wasn't until that happened before Ottawa threw in a token donation. The museum is out of this world, it is absolutely fantastic! If I sound like I am a little excited, it is because this place is so well done and it pays a real tribute to the 45,000 Canadians who lost their lives in WW II. As for Ottawa, well once again they should be ashamed of themselves!
I know I am not supposed to get political, but if a government is going to spend money anywhere it should be to protect its own country and take care of the folks who did it in the past.
People here hang Canadian flags from their balconies and have signs in their windows that say "Welcome Liberators".
Did you know in WW II Canada had the 4th largest Navy in the world?
Did you know Canada, at the end of WW II, also had the 4th largest Air force?
That's right, the 4th largest in the world! Look at us now, subs that catch fire, ships that will float but won't run and military personal that would love to do a good job, but don't have the tools to do it.
I am done, no more Ottawa bashing. It's just sad, that's all.
So after the museum we drove up to Beny-Sur-Mer-Riviers and saw the Canadian WW II Cemetery. All I can say is that you have to see it for yourself to understand how overwhelming this place is. It is the nicest Cemetery I have ever seen and so it should be. It looks over the beach of Juno from about 5 miles away. I can't explain how you feel.  It is between feeling so very proud and so kind of guilty at the same time. I don't know why I feel that way, but it all just seems like such a waste of young lives. It makes me think of what's going on today in Iraq and it just seems all the more crazy. It was hard to walk past all those head stones and I was doing really well until Danika asked what all the stones were. I told her that some brave soldiers had been killed in a really bad war a long time ago. She then asked if I could read the names of the people and where they were from as we walked. I said sure and we walked down the middle of the cemetery. After reading about 6 head stones I was unable to read anymore names and she was becoming very impatient and kept asking me who was buried here. She then said "Dad, if you ever have to go to war, will you promise to try really hard to kill the bad guys, so they don't kill you?"
I was very choked up so I walked by myself for awhile. That was not any easier, and we stayed for about an hour and then headed towards Caen.
If you're ever able to come to this place and see this tribute to the soldiers who gave their lives, please do it. I guarantee, you will never forget it.
I know I am ranting and raving about only Canada here, but you could spend 2-3 weeks just seeing all the memorials .I realize on the first day here I really had little knowledge about what when on here back on June 6th, 1944. So basically we are trying to catch up, and we will start with our own heritage and then work our way over to the Brit's and the U.S. You know my father saw action in WW II and has told me many, many stories about those day's in the 40's, but I don't think I was listening very well. I don't think I will let that happen again, (Ah, I can see I made you smile, eh Dad?).
<![if !vml]>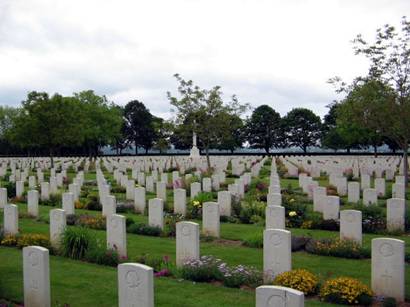 <![endif]>
Canadian WW II Cemetery in Cintheaux, Normandy
On our second day, we went out to Cintheaux, the larger of the two Canadian Cemeteries. It was the same as the first, huge maple trees, beautifully kept gardens; only this one had 1000 more graves. We read as many head stones as we could (not out loud this time).  The ages on headstones ranged from 16 to 32, but mostly between 21 and 25. So many of those stones were dated on June 6th or 7th, and they were from every Province, Halifax to Victoria. We were the only ones there and it was kind of strange because it was the day before the 61-year anniversary ceremonies. We walked and the kids went off on their own.  Every once in a while we stopped to read a head stone. We left there and drove back to Arromanches and watched the 360 degree movie about the D – Day landings. It was all live footage and they had shots of soldiers and tanks moving down a street and then they would fade it to a colour shot of the street today. Very well done, even Nikolas thought it was excellent. We left there and walked down to the little town which was packed with people, bag pipes, vets and old army vehicles racing around. We had lunch there and then tried to drive to Colleville-sur-mer (The American cemetery) but it was too late so we headed back.
Tomorrow we are going back to Juno Beach and to Pegasus Bridge and then St Mere Eglise. You might know the bridge from "Saving Private Ryan" and the Church, St Mere Eglise, from the "Longest Day". A paratrooper named Bob M. had his parachute catch on the spire of the church in the dark of night. He hung there until the light of morning when he was finally spotted by German soldiers and they shot him dead as he dangled. They have a large monument dedicated to him at the same church.
Talk to you soon.
I just want to say a special thanks to Benoit from Brugge (Crowne Plaza) who went out of his way to provide us info, book a hotel and a train for us to get here. Thank you so much Benoit, we are very grateful.