Wales
(Written by Helen, Aug 17)
Wow, what a great day!  We have just come 'home' from our day spent touring Cardiff and its surrounding areas with Father Ray O'Shea. 
Yesterday we took a catamaran across from Ireland to Wales that took about 2 hours and then had a very long drive from the ferry terminal to our hotel in Cardiff.  It took 2 hours and that was a lot longer than the 20 minutes we were told by the reservation staff when we made our reservation for the hotel.  Anyway, we made it and arrived after 11pm to a very old stinky room.  The air conditioning system was not working and the room smelled really bad.  We were so tired we just crashed and the next morning we cancelled our two other nights and changed over to the Holiday Inn that was right in the city centre.  It was a much nicer hotel and it had air conditioning and the room was much cleaner and bigger so we were happy.  We were even happier when we finally found a launderette and handed in our huge load of dirty clothes that were just starting to ferment.
That evening we met up with Father O'Shea and let me tell you it was really great to see him.  He looks fantastic!  The last time we actually saw him was the night he had his heart attack.  He actually told us that he saw us at the night market in Hong Kong that night and literally 5 minutes later he started having his problems.  We were so happy to see him and he was extremely warm and gracious to us.  The kids were very excited to see him, especially Nikolas.  He took us back to his home which is located right beside the parish where he works as an assistant.  He is now retired.  He showed us around and we settled in his study where the kids had a blast looking at all the wonderful things Father O'Shea has collected throughout the years.  Nikolas said that it was like a museum in there.
That first night we went down the street to a great little Italian restaurant and had a fantastic meal.  We talked and laughed and reminisced about our days aboard the old QEII.  The food and company were great!!
The next morning we woke up to a glorious sunny day which apparently isn't the norm here in Wales.  We headed back over to Father O'Shea's house and we all squeezed into his cute little "sports" car.  He loves to drive and since Steve has been driving for thousands of km's in the last few days he was more than willing to hand over the honours.  Father O'Shea had a few ideas for the day and on the way to our first stop we made a detour and decided to visit a place called Llancaiach Fawr Manor.
<![if !vml]>
<![endif]>
This manor was built on the site of an earlier medieval dwelling in the heart of historic Rhymney Valley in South Wales.  It is a Tudor Manor House with gardens and when you step inside you are transported back to the year 1645.  The servants of the owner of the manor offer a warm welcome and are dressed in period costume and speak in 17th-century English.  They offer a very vivid and humorous portrayal of their life and that of their gentry masters.  It is a great experience and is highly recommended!  The manor was constructed for the Prichard family and it was built to be defended.  The walls are 1.2 metres thick and access between floors was by stairs inside the walls.  The entire house could be divided in two if attacked and only those in the secure east wing had access to the toilet tower. 
The tour takes you to different areas of the manor and in each of these rooms there is a 'servant' there acting his or her part telling you what life was like in that era.  They are very funny and often ask the tourists questions to get them involved.  You visit the kitchen, the servant's hall, the great hall where King Charles I dined in August 1645, the parlour, the master's bed chamber and Colonel Prichard's study.  When we entered the bed chamber we noticed that the bed was very short.  We soon found out that it was because the gentryfolk slept half sitting up due to a superstition.  The belief was that if the Angel of Death passed by in the night and saw you lying down asleep he would think that you were ready to die.  To fool him, they would sleep sitting up.  Very bizarre!  It was a very educational and entertaining experience and the kids just loved it!
From the manor we drove the breathtaking countryside of Wales and admired the spectacular scenery.  We drove through a few quaint little towns and finally found a fish and chip stand where we bought our lunch.  Father O'Shea drove us out to the hills and we parked the car and ate our lunch as we watched some beautiful horses chase each other across the scenic hills.  It was wonderful.
From there we headed to our original destination.  The Big Pit.  It is the National Mining Museum of Wales and is a real coal mine and one of the U.K.'s leading mining museums.  I had decided at the start of the day that I was not going participate in this part of our day.  I am a little claustrophobic so I thought I would sit this one out.  When we got there I changed my mind and boy, am I glad I did.  It was an amazing experience.  Big Pit stands on the edge of Blaenafon; a town that played a vital part in the industrial revolution.   Big Pit was a running coal mine for many years until it closed in 1980.  Three years later it opened up as a museum and all the tour guides are actual miners.  When you arrive you are given a hard hat with a light attached at the front and a belt that holds the battery and a portable gas mask in case there is a fire when you are down there.  It is all quite serious yet at the same time the men are very jovial and are bantering amongst themselves and with all the tourists.  When they found out I was nervous they promised me that they would have me crying by the time the tour was over; more from laughter than anything. 
Next, they ask you to remove all substances that could cause a spark such as matches, lighters, cameras, cell phones, watches and keys.  At first I thought he was joking but sure enough, everyone handed it over and he placed them all in a big bag and locked it in a locker.  At this point I started to get just a little concerned.  We then got herded into a cage and the doors closed and you slowly descend into the earth.  Immediately you feel the change in temperature as the air grows colder and damper.  Some water actually drips into the cage and you can hear and see the water running down the walls of the shaft.  You keep going and going until we finally reach the bottom.  That's 300 FEET UNDERGROUND!!!!! You get out and your miner takes you on an hour tour of the coal face.  It is so incredible to be in there and actually feel what it was like for the thousands of men who worked there.  What a strenuous and dangerous job!  As you tour the mine you walk down another 100 feet and sometimes you have to bend over quite far to get through the eerie tunnels. And there are tunnels everywhere.
<![if !vml]>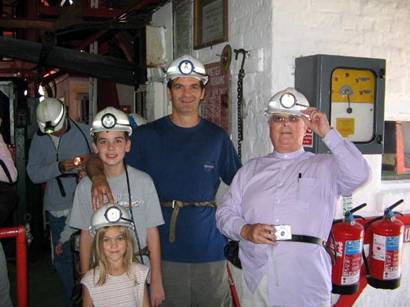 <![endif]>
A picture just before going down into the mine
So if you can picture it.  You are walking along in a tunnel that is held up by pieces of wood that look like they are hundreds of years old.  The path is wet and slippery, it is pitch black except for the lights on our hats and I found myself listening for any cracking sounds or explosions (there goes that imagination of mine again).  At one point, as the miner explains to us that kids as young as six worked down in the mines, he asks us all to turn off our lights and envision what it must have been like for those kids.  Their jobs at that age were to man the doors.  It was very important that the doors were opened when the coal or men were making there way through the tunnels, but more importantly, it was imperative that the doors be closed behind them as well.  That was the job of the children and the miner told us that for most of the day the kids would sit there in the pitch black and wait.  He said that there would be rats scurrying about their legs and big beetles would fall from the ceilings all while they were in the pitch black.  No thanks!!!!  If Nikolas complains ever again about making his bed I'm going to remind him of this story.  Never mind, if I ever complain about my job ever again, I will think of this story! 
Anyways, he takes you along and explains all the machinery and how they bore holes into the walls.  He showed us the stables where the horses were kept.  He explained to us how some men, himself included, had to work in holes that were less than 2 feet high and how they were usually sitting in water up to their waists.  The stories were amazing and he told us that the camaraderie amongst the men was very strong and I can surely see why.  If you are ever in the area, this museum is a must-see.  Nikolas thoroughly enjoyed it and because Steve's dad used to work in a coal mine I think Nik has a new found respect for him. 
Father O'Shea told us some sad stories about the history of the coal mines in Wales.  He told us that in Sengenydd they had the worst mining disaster in all of Great Britain.  It happened around 1912 and tragically, 343 miners died when a spark from one of their modes of communication caused a massive explosion.  He also told us that in Aberfan, a slurry tip collapsed after severe rains onto a primary school just after 9am in Nov. of about 1968.  143 people died in that tragedy and over 100 of them were children. 
From Big Pit we took a drive up to the top of the mountain and had a spectacular view of the valley below.  Along the way we encountered some very cute sheep and lamb and it was truly beautiful. 
As we headed for home we stopped at a wonderful park called Roath Park.  It is right in the middle of Cardiff and it reminded us of Stanley Park back home.  The kids got to play on the huge playground and we took a stroll through the impressive rose garden.  There is a large man-made lake in the middle of the park and it was lovely to see all the row boats and swans floating along.  A quick drive to the Cardiff Bay area with its grand new opera house and hip dockside and finally we pulled into Father O'Shea's garage. 
To top off this fantastic day we ordered Chinese Take-out and enjoyed another delicious meal with our wonderful host.
Thank you so much for an extraordinary tour of your incredible city Father O'Shea.  We look forward to seeing you one day in our little part of the world!!!!