Vancouver and Whistler
Canada
<![if !vml]>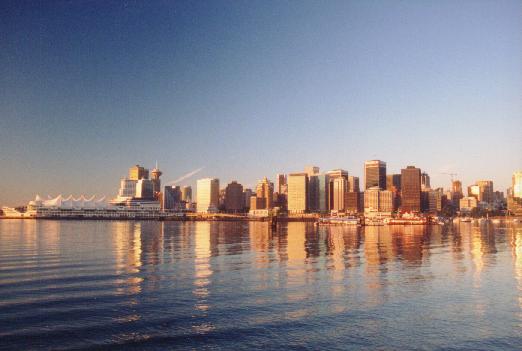 <![endif]>
Downtown Vancouver
What can you do while in Vancouver?
Cycle around downtown's English Bay or have lunch at Granville Island. Hike your way up the North Shore's Grouse Mountain via the Grouse Grind. Maybe tee off at one of the many world-class Golf courses or check out the Vancouver Art Gallery. How about a run, walk, bike or roller blade around the world famous Stanley Park Seawall?  The Capilano Suspension Bridge used to be one of the most popular attractions in Vancouver. The bridge is pretty cool but kind of pricey if you ask me, $27 for adults and it is over in less than an hour. The best bang for your buck is Granville island, 12 to 14 Million visitors hit this place a year. I am not quite sure why but every tourist we meet when we travel has something to say about Granville Island and how they loved it. Vancouver was rated one of the most beautiful Cities in the world, and if you get here you have to see it from the water. Rent a boat for an hour when you are on Granville Island, it is quite cheap and you will have a great time.
http://www.seegranvilleisland.com/
If you are short on time then cruise the shops on Robson Street and savour a meal of west coast cuisine; we have so many awesome restaurants you will be in heaven if you love food. Maybe catch some rays on one of our many beaches or head up to one of the many local mountains for some skiing or snowboarding. Whistler is a world class ski destination and is only a 90 minute drive from downtown Vancouver. The choices are endless in Vancouver and with the City being so small you can actually hit most sites in one day.
China town is a must see, but it is in a not so nice part of town so just be careful.
I love this city so you might think I am pumping this place up a bit too much, but I am not. It does have it's problems. The only real ugly part of Vancouver is around Main and Hastings (east end) and I strongly suggest staying out of this area, it is a real eye sore for the city and a tad dangerous. We have traveled though 40 countries hundreds of major cities and I have never seen a 3 block stretch of city this ugly. Aside from that I have no worries about you and your family coming up here for a vacation, this city is pretty safe for the most part.
And if you are coming up to my neck of the woods (Vancouver Canada) and don't have any idea what to do or where to eat, email me at steve@traveltheworld.ca and I will try and steer you in the right direction and help you in any way I can.
Happy Travels
<![if !vml]>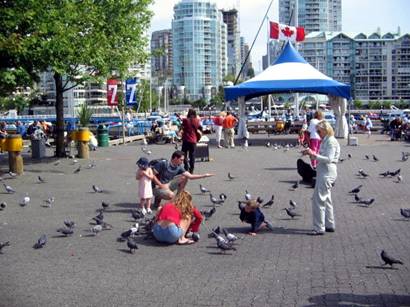 <![endif]>
Sights to See in Vancouver!
Granville Island = www.granvilleisland.com/en/public_market The # 1 Attraction
Capilano Suspension Bridge = www.capbridge.com # 2 Attraction
Stanley Park = www.city.vancouver.bc.ca/parks/parks/stanley # 3 Attraction
Butchart Gardens = www.butchartgardens.com/main.php # 4 Attraction
Gastown = www.seegastown.com # 5 Attraction
Victoria = www.tourismvictoria.com # 6 Attraction
Grouse Mountain = www.grousemountain.com/adventures.cfm # 7 Attraction
Robson Street = www.bcpassport.com/shopping/robson.html # 8 Attraction
Whistler / Blackcomb = www.tourismwhistler.com # 9 Attraction
Yaletown = www.myyaletown.com # 10 Attraction
<![if !vml]>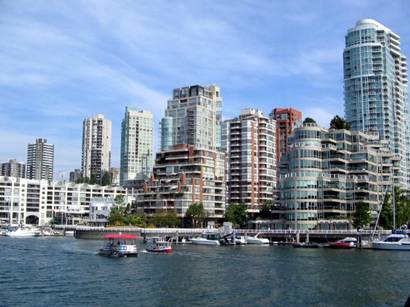 <![endif]>

Places to eat in Vancouver!

Click on the link below to find out what the health department has to say about your restaurant

Feenies  = www.feenies.com

Reddoor Chinese = www.reddoor.ca (One of our favorites)

Sun Sui Wah = www.sunsuiwah.com/e-about-1.html

Joe Fortes Seafood = www.joefortes.ca (The place to be seen)

Sand Bar Seafood = www.vancouverdine.com/sandbar/about.html (Our #1)

Cannery Seafood House = www.canneryseafood.com

Grouse = www.grousemountain.com/grousemountain-observatory-restaurant.cfm

Gothams Steak House = www.gothamsteakhouse.com (Best Steak)

Araxi Whistler = www.araxi.com/araxi (A great meal, but a tad pricey)

Bridges Ganville Island = www.bridgesrestaurant.com (Very casual)

Glowbal Grill = http://www.glowbalgrill.com/index.cfm

Check out the link below for the rest of Vancouver's restaurants based on price

www.opentable.com/rest_list.aspx?m=73

Great Bars

Lucy Mae Brown = 862 Richards St., Vancouver map : Lounge/Bar - PHONE: 604.899.9199

Yale town Pub = 1111 Mainland Street  604-689-7000

Bar None = www.bar-none.ca

Best Ice Cream

Mum's ice cream

 855 Denman Street
Vancouver, BC
604 681-1500

Helen and Danika at the base of Blackcomb/Whistler
20 Things to Do in Whistler
Whistler is super expensive, but here is a few things under $25 CDN.
A Day at Rainbow Park
Jump on Whistler's local transit the Wave (it costs only $1.50) and ride out to Rainbow Park. Go for a swim if it's summer. The mountain views are sensational and there's beach volleyball, space to play frisbee, catch a ball, relax or even train spot (trains rumble past nearby). There's also the heritage site of Myrtle Philips, Rainbow Lodge still in existence.
Latté, Coffee, Frappé
There are more than a dozen coffee shops in Whistler Village. They all have outdoor patios perfect for people watching. Read the local newspapers, write a postcard, and enjoy your day.
Go for Ice Cream, Chocolate, and Candy
Cow's ice cream, Rogers' Chocolates, the Rocky Mountain Chocolate Factory and The Great Glass Elevator Candy Shop provide a day of indulgences. Watch chocolate making, sample new flavours, and try candy imported from the UK. Yum!
2010 Whistler Information Centre
Visit the 2010 Whistler info centre and find out what's happening in Whistler in 2010. Mount the podium and be a medal winner.
Shopping for Whistler Souvenirs
A stuffed bear from Bear Pause. A Roots cap. A dream catcher. A special gem made of jade. These unique, inexpensive items make perfect gifts or souvenirs.
A Dog Day Afternoon
Enhance the life of a homeless canine friend and walk a dog from WAG Volunteers are welcome to pop in and walk a dog or visit with the kitties in the cattery at designated times.
Find Lost Lake
Where's Lost Lake? Take the kids, the grandparents, the family dog and trek along the trail from the Village to this isolated oasis with a beach, picnic tables, and mountain views tucked into the forest.
Fresh Mountain Goodness
The Whistlers farmers Market has the freshest produce around. Pick up your favorite berries, home-cooked goods, artisan crafts, candies, fruits and more.
Brewery Tours
The Brewhouse offers free brewery tours every Thursday and Saturdays at 3 p.m.
Discover the Whistler Museum & Archives
For a ticket price of less than $5 the Whistler Museum is a real treasure.
Visit the Whistler Library
Lose yourself in a good book at the Whistler Library.
Rainbow Theatre
Make way to the Rainbow Theatre under the TELUS Whistler Conference Centre. Tickets are only $5 a show! ($3 on Tuesdays)
Appetizers for Less
If you like oysters - some higher end restaurants in Whistler have oyster bars (such as Araxi Restaurant & Bar) or offer special deals on appetizers.
Live Music, DJs, and Local Bands
Check the Pique listings where Venues charge less than $10 cover to see great local Whistler musical talent.
Experience the Interpretive Forest
Take The Wave (public transit) to the Whistler Interpretive Forest south of Whistler. It is a self-guided route through an old growth forest with educational signs to guide you; an excellent choice for an afternoon excursion.
Meadow Park
From swimming to weights, from a spa to exercise bikes, Whistler's Meadow Park is an inexpensive - and healthy - way to spend your afternoon or evening. Drop in and play.
Whistler Kayak Club
For only $5, you can kayak with the Whistler Kayak Club on Wednesdays at Wayside Park. Call 604-905-2925 for details.
Yoga
Stretch, breathe, stretch some more. There are several Yoga studios in Whistler that welcome drop-ins from locals and visitors alike.
Riverside Greens Putting Course
For only $10 CDN for adults and $6 CDN for kids you can put the 18 hole mini-fairways at Riverside Resort and Campground just 5 minutes north of the Village.
Art Gallery Tour
Did you know that there are half a dozen Art galleries in Whistler worthy of a look - and all of them are free to the public.
Whistler restaurants
http://www.dinehere.ca/results.asp?l=28
Other great Whistler links
http://www.skiingbc.com/whistler_links.html
http://www.cougarmountain.ca/links.htm
http://www.whistlerwebcams.com
http://findwhistler.com/page.cfm/2829
Info for Skiers
Whistler/ Blackcomb = Now that both mountain resorts are jointly operated, your pass gives you access to both ski areas. Locals have their preferences, but the truth is that both resorts offer great skiing. Whistler Mountain has 1,502m (4,927 ft.) of vertical and over 100 marked runs that are serviced by a high-speed gondola and eight high-speed chairlifts, plus four other lifts and tows. Helicopter service from the top of the mountain makes another 100-plus runs on nearby glaciers accessible. There are cafeterias and gift shops on the peak as well as a licensed restaurant. Blackcomb Mountain has 1,584m (5,196 ft.) of vertical and over 100 marked runs that are serviced by nine high-speed chairlifts, plus three other lifts and tows. The cafeteria and gift shop aren't far from the peak, and the licensed restaurant is worth the gondola trip even if you're not skiing -- the view is spectacular, the food decent. Both mountains also have bowls and glade skiing, with Blackcomb offering glacier skiing well into August.
No altitude sickness here-your at sea level. You'll make more turns than you ever have and your legs will be screaming before you hit lunch. Franz and Ridge runner where just so much fun and this is one of the few mountains that Snowboarders and Skiers can get along. It's that kind of place Make sure you are in decent shape if you are going to attempt to ski here, it was not rated the best mountain in North America for nothing

Blues are almost double blues...I'd pay attention to the guidelines. But if your expert you will be in heaven-they have a restaurant at the top with an amazing breakfast and all the black runs you could imagine. Once you ski here, you will never want to ski any where else.

Jackson Hole has some tough terrain" so ask some folks the skinny before you head down.
Make sure you spend a few extra bucks and do the first tracks at least once while you are up here. This is where they take you up the mountain before most are even awake and you get to enjoy the first run and all that powder before anyone else gets to even touch it. So worth it!

Walkie talkies don't always work because the mountain is too big. Phones work fine.

For green skiers and families, luckily most of the green is top side and magnificent. The mountains are so beautiful-you'll be inspired to keep up your skills.

The weather is usually very cold after Dec and the snow just keeps coming. However, if water makes you "melt", a jacket with a hood comes in handy. Jeans and snow boots and layers will be best on some days because you might feel fine before you get on the lift but once you get to the top you will freeze your butt off!.
Happy Skiing