If Only We Had Known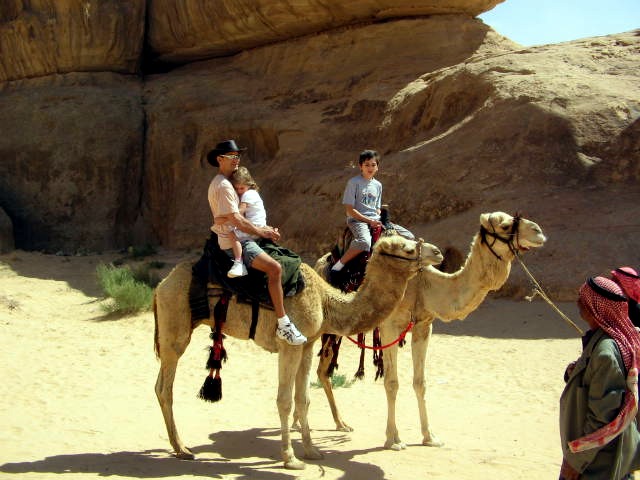 Riding camels in Wadi Rum, Jordan
"Twenty years from now, you will be more disappointed by the things that you didn't do than by the ones you did do.
MARK TWAIN
The world is actually a very safe place, just stop watching CNN.
Pack 2 suitcases per person. One is the must have, the other is the I think I will need. Leave the I think I need one behind.
It's more important to bring home stories rather than souvenirs (could someone tell my Wife that).
It is true. The best things in life are free, unfortunately the transportation costs will kill ya.
The journey is as important as the destination, so try and pick the right cab or driver.
Brings clothes that can be washed and dried in a dryer, don't bring cold water or dry clean only clothes.
If you are traveling with your kids, teach them always to hold your hand in crowded areas and not to wander. Always check for travel advisories the day before entering a country.
If you are going to travel around the globe, do it from east to west. We are doing both ways and west to east is a killer.
Travel is as much about the people you meet as it is the destination you visit.
Traveling with children can be a little trying, but very rewarding.
The greatest travel tools you could buy for your kids is a portable DVD player and a game boy. It makes those 15 hour drives seem like only 10.
Every Hotel is just dying to give you a discount, all you have to do is ask. Ask what kind of discounts they offer; AAA or Amex ,etc.
Always get a hotel membership, it's free and next time they might upgrade you.
Sites like Travelocity, Orbitz and Priceline are NOT the best deal. Book directly through the hotel, most will guarantee the lowest price.
Sleep and sugar will affect your children more than anything else when you are on the road.
Use a Travel agent you can trust! Thanks Paula.
Get a 40+ page passport as some countries will use a whole page.
If you rent cars, sign up for a membership and try to use only one rental company.
60 percent of the worlds population does not use toilet paper, a tidbit you should keep in mind when shaking hands.
The Hotels or B&B's never look the same as the pictures in the brochure, that's why we book as we go.
Don't be afraid to travel with kids because people will go out of their way to help you, especially in Asia.
Don't take more than you need! Too much luggage = bigger sweat stains. And the more you smell, the more laundry you will have to do.
A couple small hockey sticks and a soft ball can make an airport wait quite fun, better yet a hotel lobby can be a blast.
Its better to reward your children for being good, than to punish them for being bad.
Traveler's Cheques use to be a good idea, not anymore. Take two Credit Cards, a bank card and cash.
Eating from street vendors is not the best idea, and bottled water is best.
Keep tabs on the closest Embassy and get vaccinated. To find the vaccinations you need, try www.cdc.gov/travel/vaccinat.htm
Make sure the Taxi you are taking has a permit to operate, a $25 fair can turn into $75. Use taxi stands and insist that the driver use the meter.
Spot pickpockets before they spot you. Don't wander from the herd, carry only the cash you need and wear a money belt.
Most of the world is very safe, but always check your destination on a foreign affairs web site.
UK = www.fco.gov.uk Canada = www.voyage.gc.ca Australia= www.dfat.gov.au US= www.travel.state.gov
More to come, we just have to find it.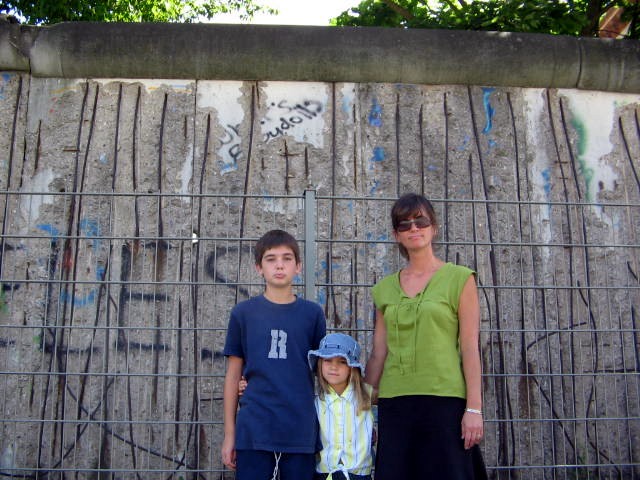 The Berlin Wall
Don't do too much walking in one day, or else you will look like us, pooped out.
On a funny note:
Teach a child to be polite and courteous in the home and, when he grows up, he'll never be able to merge his car onto a freeway.
"The cost of living hasn't affected its popularity.
"Protons have mass? I didn't even know they were Catholic.
Two can live as cheaply as one, for half as long.
What is a "free" gift? Aren't all gifts free?
I used to be indecisive. Now I'm not sure.
If the world was a logical place, men would ride horses sidesaddle.
Is it my imagination, or do buffalo wings taste like chicken?