Sydney Part 2
(Written by Helen Sept. 21, 05)
Letís seeÖ.. 22 hours of flying, was it worth it? Absolutely! The first time we arrived on this massive island in February we, quite honestly, were not that impressed. I think we were not in the right frame of mind having just come off the QEII because our cabin was flooded. But this timeÖ.itís a whole different story! We just love it here. What a country. It is everything you can possibly imagine all in one perfect location. The weather is just perfect right now. It is the start of spring and the average temperature during the day is about 20-25 degrees Celsius. Not too hot or too cold. Just perfect. Everyone walks around with shorts on and it has a very relaxed, easy-going feel to it all.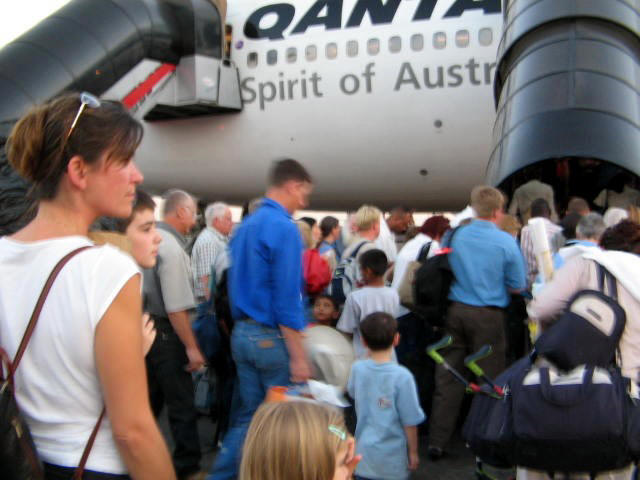 We arrived in Sydney on a flight from Johannesburg. It was a Qantas flight and we flew 11 hours on tail winds on a 747. Apparently it is normally 14 hours without the windsÖcan you imagine??? I was really worried (what else is new!) because we could only get window seats near the back of the plane. I hate sitting at the back of the plane. I donít know why, I just feel like you feel so much more movement back there and it makes me feel that much more claustrophobic back there. But in the end the flight was actually just fine except for the landing. As we were about to descend into Sydney, the first officer cheerily announced that there were some very strong cross winds blowing at the airport and that our landing may be a little bumpy. Ha! How can an aircraft of that size be thrown around so much by wind??? It was a very bumpy landing and when we were exiting the plane I actually asked one of the flight attendants if that was considered a bumpy landing and she told me that it was the bumpiest that sheís ever experienced. Now, I didnít ask her how long she has been an attendant BUT, that says a lot!!! But, we made it and here we are in the land down under!
We stayed at the Crowne Plaza at Coogee Beach and I mean right at Coogee Beach. We had a great view of this little beach right in the middle of the city. Steveís work has had a few work exchanges with guys from Australia and it use to bother me when they laughed at our beaches when they saw them but now I completely understand. You have to see these beaches to really appreciate the beauty. And the whole country is surrounded by them, itís amazing!!! Anyway, we took a few days and really did nothing but laundry and sleep. The time difference between South Africa and Australia is 8 hours and it was really the first time we had to adjust to a time difference. When we were on the QEII we made our way from west to east so gradually that we never really had a problem. But flying from West to East does cause a problem and they say it takes as many days as is the hour difference before you feel normal. That is, if it is an eight hour time difference, it will take you eight days to adjust your body and sleeping habits. And sure enough it took us about 8 days to get our sleeping habits in sync. And because Danika was the only one who actually slept on the plane, she was the first to get in the right time frame than the rest of us. The negative side of that is that she was awake when we were asleep and vice versa. It was a difficult few days to say the least. And of course, when we havenít had our sleep we are all just a little cranky.
The biggest highlight of our second stay in Sydney was the visit we had with a very near friend of mine from school. Lisa and I have been friends since the first grade and she moved out here about 7 years ago. I missed seeing her on our first stop in Sydney because of an e-mail address mix up so I was adamant about seeing her this time, for sure! We went out for dinner with her and a friend and it was so great to see her and to see her so very happy. I have a lot of very happy memories of her and it just wasnít enough time to really catch up and talk about everything. When I came back to our room that night after the dinner, I thought about a hundred other questions I should have asked her while we were together. The good news is that we will get together again just before we head home in November. I canít wait!
<![if !vml]>
<![endif]>
From Coogee Beach we headed to another suburb of Sydney. We were fortunate enough to have been asked back to stay with friends of ours that we had met over two years ago when they were in Canada on a trip to Banff on the Westcoast Express train. When we were in Sydney in Feb. we stayed with them and had such an excellent time. This time was no different. In fact it was even better! Our first day we met up with the family at a track and field meet that was being held in one of the old Olympic sites. Their sixteen year old son was participating in the meet and we spent the afternoon watching him win first place in the long jump. The meet was an annual event that was very special to the five private schools participating. It was such a pleasure to sit in the crowd and watch these prestigious schools compete with each other and to witness the impressive morale and commraderie that was exhibited by every one of the schools involved. It actually made Steve realize that maybe private school is a positive option after all! The stadium was nearly full of students all in their various school uniforms, cheering on their fellow classmates. It was quite a sight to see! The kids had such a great time and when Cameronís name was displayed on the huge scoreboard in first place, Nikolas was very impressed. Hopefully it instills in him a desire to try his best at any sport he chooses and gives him the dream of seeing his name on a board one day in the future! It was a great day and to top it all off, Cameronís school ended up winning the whole thing and that made everyoneís day!!!!
We spent four days with the Battenís and we can honestly say that it was like our home away from home. They made us feel so comfortable and we enjoyed some amazingly delicious home cooked meals and some great conversation. They are a very special family and we cannot thank them enough for their truly wonderful hospitality. We are so looking forward to next summer as their daughter may be visiting us and we can return the favour and show her a fabulous time in Vancouver!
With much regret from our kids we left the Battenís and headed north up the eastern coast of Australia. The side we didnít do on the cruise. We are now in Surferís Paradise and as Steve stated in his little blurb, we just love it. It is so cool here. It is a tropical oasis without the worry of a language barrier, bad food or water, beach peddlers or bugs. The beach here is never-ending. It has sand that looks exactly like brown sugar and water that is turquoise and perfect for body boards and surf boards. The sun is always shining and there is this lovely gentle breeze blowing to keep you at a perfect temperature on the beach. The city itself is quite touristy and is full of high rises but it doesnít feel over done or cheap. It feels light and refreshing. Very clean and everyone seems very happy and layed back. You feel safe and itís just a great place to bring your family to have a fun or relaxing place in the sun. We went to a theme park today and just had a ball. I think the kids thanked us about a hundred times for the day we had today and they both fell asleep instantly when their heads hit the pillow. We like it here a lot. The only scary thing about this place is that both Steve and I agree that it is definitely a place we could move to!!!!!!!!!!!!!!!!!!!!!!!!!!!!