Queensland
Byron Bay - Noosa - Hervey Bay – Fraser Island – Rockhampton - Arlie Beach – Lindeman Island (Club Med)
(Written by Steve) - received October 9
I will leave all the yakking to Helen, but just want to update ya on what we are up to. We are in our second day here in Cairns and just spent 6 action packed, fun-filled days on Lindeman Island at Club Med. What a blast. Have you and your family ever spent a week together, I mean every day, sometimes 24 hours at a time? Well, try 10 months! Spending so much time together is not natural, in fact it borders on weird don't ya think?
Anyways, Club Med was just what the doctor ordered; I actually felt some of my grey hairs turning back to their original colour. We had such a great time, and only saw each other at bed time, way to go Club Med you made our week! Our kids had some really fantastic people looking after them and we are so grateful to you gals.
So right now we are in Cairns and if you love Bats, Sharks and Crocodiles then you will love Cairns. I asked a gal tonight if it was possible to swim in the ocean or in the nearby lakes and she just looked at me if I was a complete idiot. She told us that under no circumstances should we swim anywhere because the place is full of Crocs, yup even the Ocean.
We were in the night market tonight and they have a picture of a 9 Metre Crocodile and dated at 200 years old, I am not joking.
We are planning our next adventure into the Outback and heading towards Ayers Rock and then down to Adelaide. My father thinks we are nuts to drive 3000 km into no-mans land, but we have already driven 4000 Aussie km, so why not a few more. Love this country and having a blast!
(Written by Helen)
As we head north, the weather keeps getting better and better. We are in Cairns right now and I am looking back on the last few weeks. Unfortunately Steve was right again. I kept telling him that I would write later and sure enough I have forgotten some things. He nags me everyday to write and I keep procrastinating. Story of my life!
We drove from Surfer's Paradise up the coast on the No. 1 (Bruce Highway). The road is okay, usually just one lane with a few potholes here and there. The only distraction is the dead kangaroos on the side of the road. Hundreds of them. Apparently they are attracted to the headlights and jump out in front of cars and trucks. Most of the semis on the roads have huge push bars on the front of the trucks specifically for hitting 'roos. So I couldn't quite relax completely because I was on the look-out for suicidal kangaroos.
We stopped in Byron Bay for lunch and it was a picture perfect day. It was very warm but there was a nice cool breeze blowing in from the ocean. I had read about a restaurant on Shelly Beach in our Lonely Planet book and it was in the most perfect location. It was situated on a cliff overlooking the beach and crashing surf. The restaurant is just a little hut but the food was fantastic. Very funky and organic foods with huge portions. It was delicious and the kids got to play on the beach for a bit afterwards.
We were on our way to Noosa which is just North of Brisbane. We drove through Brisbane but did not stop. It looked very nice from what we could see from the car. This area of Australia reminded us of Kelowna in British Columbia, except much bigger. Everyone seems very relaxed and sporty and everything seems to revolve around "the water". Swimming, sailing, surfing, parasailing, fishing…the list goes on.
We finally arrived in Noosa and it was as beautiful as everyone told us it would be. The name Noosa actually covers a group of small communities around the mouth of the Noosa River. Most of the action is concentrated on Noosa Heads which is where our friends live. We met this wonderful family on the Rocky Mountaineer trip we took almost two years ago at Christmastime. They were on a big trip and we just clicked with these great people and spent some time with them in Banff. We kept in touch via the internet and they graciously invited us to stay with them when we arrived in Noosa. Glen is a builder and over the years he has told us about the houses he has built and has even sent us photographs. Well!!! Nothing prepared us for what we saw when we pulled up to their home. It was absolutely breathtaking. Their oldest daughter was home waiting for us and she showed us around her magnificent home. You enter the home through these massive wooden doors and the whole lower floor is tiled. There is a swimming pool that starts in the front of the house outside and weaves itself inside the house like a creek and then makes it way to the back of the house where it flows out into a large swimming pool in the back. Inside the house there is a little glass bridge that takes you over the creek inside. The outside walls of the house are all glass and the whole back of the house opens up completely so that you get the feeling that you are actually outside. The kitchen has a huge counter bar and the kitchen and family room are big and open. Just the way I like it! It was dangerous for me to see this home because Steve and I are starting to look for homes on the internet in preparation for when we head home. They live right on the river and actually have their very own little sandy beach with a dock and two boats. You can go shopping or out for dinner via your boat or the car, it's very cool here! Another place we could actually move to quite easily except that we could never afford it. The house prices are very high! Glen is a very talented builder and we had the pleasure of meeting the architect he works with as they came for dinner on our first night. They have won House of the Year Awards for all of Australia, they are that talented!
Glen and Gail have two daughters and one son. Brandon is a year older than Nikolas and they had a blast together. It was as if they've been friends for years. It was great to see Nik with some buddies again and we pretty much just let him run loose and he had a fabulous time. He actually cried when we had to leave. Danika followed the girls around everywhere and even though they were both much older that her they were very nice to her and treated her like their little sister.
The first day we settled in and like I said earlier they had invited their friends over for some Thai food. It was delicious and the company was great as well.
The second day we got an early start and headed to a town called Eumundi and walked through their very famous market that is held every Wed. and Sat. The market sells just about everything…clothes, food, garden stuff, arts, crafts, everything! We had a great time and I bought some very cool things. Steve and Nik went surfing with the boys and they had a great time too. See Steve's story below.
Surfing, Noosa Style
By Steve
Today was a great day up here in Noosa, as Glen, Paul (Aussie friends) and I took our kids surfing. Well actually they go surfing every week, so they were actually taking Nik and me out for some waves. We were going to a local beach called Sunshine Beach because it supposedly had the best waves. So we loaded up the Land Cruiser with Surf and Boogie boards and headed to the beach. I was very excited to show these Aussies that Canadians could ride the waves as well as some of these local folks.
When we got down to the beach I looked out and saw what appeared to be little waves that would not provide much fun for a couple of experts like me and Nik. We got all lotioned up, waxed the boards and headed out into the Ocean. As we were walking towards the water I noticed no Shark nets out there and said to Paul, "hey where are the nets?" He replied by saying to just stay on the board and I'd have nothing to worry about. Good advice I thought, just ride these waves and the sharks would be attracted to my skinny little legs. So everyone hopped in the water and began riding their boards and paddling at the same time. Just like motor boats they all pulled away from the beach.
<![if !vml]>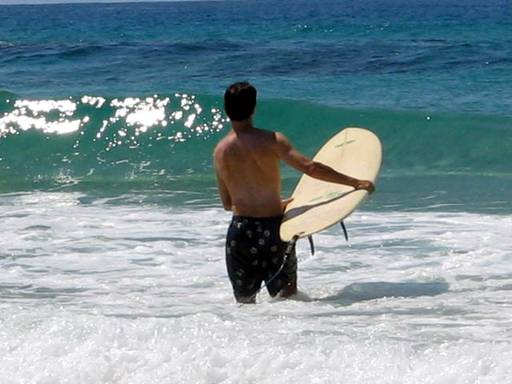 <![endif]>
Here I am scoping out the waves as any pro surfer would do before entering the water.
I had a pretty big board, which was a little embarrassing for such a good surfer like myself, but I would make the best of it. So I did what it appeared everyone did, threw the board in the water and jumped on. The only difference was that as soon as I did that the first wave came in and dumped me in the 2 feet of water right near the shore. O.K. it's been 20 years since my last surfing episode but I felt ready to ride some waves so it would get better when we got out there; or so I thought. Maybe 20 feet from the beach I got dumped again while Nikolas and his pals had already been in once and making the second trip. Maybe it would be best if I walked out as far as I could and then tried to paddle, take my chances with the sharks and my little bait legs. I started to walk out and when I hit chest deep water a large wave came and took the board I was pushing in front of me and smashed me right across my head and then the waves tumbled me into shore. I could feel the few hundred people start to say "hey, check that loser out, he has no clue." Well, after 20 minutes I battled and swam and flipped and got dragged and then managed to get up. It lasted for about 5 seconds and I was on the smallest wave of the day, but I did it, I am going to tear up the waves now, or so I thought.
<![if !vml]>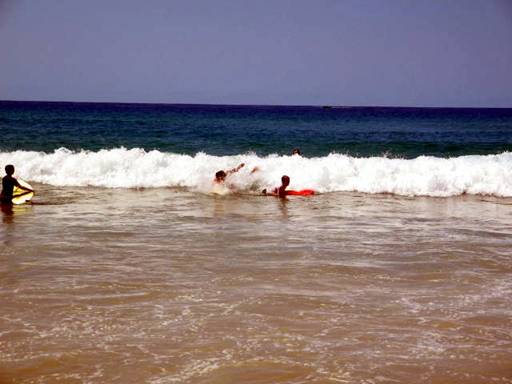 <![endif]>
In the distance you can see a young lad running for his life as I glide on the waves looking as if I have been surfing all my life.
After about 45 minutes I had not gotten up again and was getting pounded, and was ready to give up. I must have done about 15: "O.K. Last one, I will quit if I can't get up this time". If you have tried surfing and suck at it like I do, you now know what clothes feel like when they are in the washing machine.
So after about an hour we shut it down and I collapsed in the Sun on the beach; the place I should have stayed and watched the kids in the first place.
I am kind of glad I gave it a shot, heck; I sure entertained the folks on the beach for that hour. My friend Glen was laughing his head off and was very happy I kept going back out for more.
Maybe I will just stick to snorkeling next time.
<![if !vml]>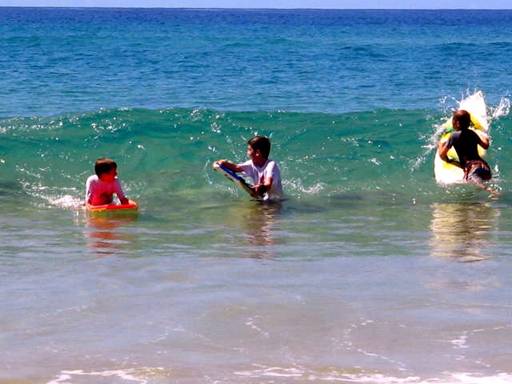 <![endif]>
Nikolas did not let his Dad's wave bashing affect any of his Boogie boarding.
(Helen's story continued)
The rest of the days were spent driving around Noosa Heads, walking their beautiful National Park, eating, laughing and feeling very comfortable with this great family. We also got to see their eldest daughter's horse. We drove to the ranch where the horses are kept and she introduced Danika to her horse and we all got to pet the horses and feed them hay and grass. We walked the horses down to the green pasture and then watched as Jess rode one of the ponies that she has been training. It was amazing to watch as these young horses were just trained in the last few weeks. It was funny to see the difference between our kids and theirs. Ours are definitely city folk whereas their kids are extremely comfortable in the great outdoors. I guess that's what happens when you live in Australia!
We were very sad to leave Noosa, especially Nikolas. It's hard to come up with the right adjectives to describe this place; you really have to see it. The landscape is so beautiful with the turquoise water and the fine white sand. The palm trees blowing in the breeze, the lush green trees everywhere and constant blue sunny skies are a sight to behold. All this beside a promenade street that is lined with trendy cafes and restaurants, makes it all just wonderful! We all had an excellent time and are very grateful to our friends for their hospitality. We are hoping that they will visit Canada again and we can return the favour, hopefully in the near future.
From Noosa we headed North to Hervey Bay, the gateway to Fraser Island. We stayed one night in Hervey Bay and it is a small whale-watching community that really has nothing more than a few shops and restaurants, a nice beach and the marina. We did stay in a very nice beachfront suite and loved our room and view so much that we decided to buy some food and eat in our room. The view was spectacular!
The next morning we woke up VERY early and hopped on a bus that took us to the ferry terminal. Our destination? Fraser Island.
It is said that all the sand from Australia's east coast eventually ends up at Fraser Island. It is a gigantic sandbar measuring 120km by 15km, created by thousands of years of longshore drift. Although it is made almost entirely of sand, Fraser Island has a remarkable variety of landscapes, from vast, rolling sand dunes known as sandblows, to dense tropical rainforests and deep freshwater lakes. Fraser Island is one big recreation ground for anyone who loves camping, fishing, walking, off-road driving or simply the exhilaration of the great outdoors. The island boasts nearly 200 freshwater lakes for swimming. That's just as well, as the sea is a definite no-go: there are lethal undertows as well as the odd man-eating shark or 10. The island is sparsely populated and, although more than 20,000 vehicles a year pile on to it, it remains wild and rugged. A network of sandy tracks (roads) criss-crosses the island and you can drive along great stretches of beach-but it's 4WD only! There are no paved roads!
The only downside of the island is the threat of a dingo dog attack. There are about 160 of them on the island and unfortunately in 2001 a nine-year old boy was mauled to death just 75m from his family's camp site. Because of this there are signs everywhere teaching you to be 'dingo smart' with the main emphasis being that you are not to leave your kids alone. Fortunately we did not come across one during our great adventure on the island.
<![if !vml]>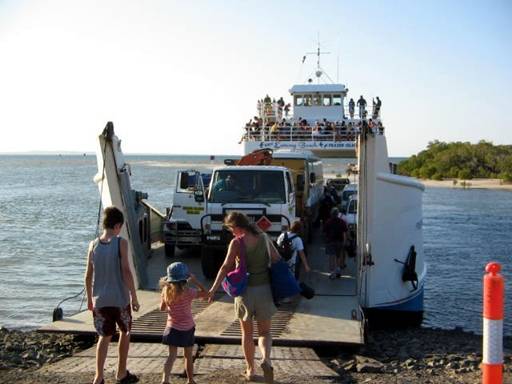 <![endif]>
A short ferry ride takes you to the island and once you arrive you are loaded onto a huge 4WD bus. The majority of the travelers are young backpackers and the ferry has room for a few cars as well. Our bus was full and our guide was a great guy who epitomized the typical Aussie. Blond, leathery sun-tanned skin, strong accent and a great sense of humour! The roads are all sand and the bus barely makes its way along the very narrow route. There is just enough room for one vehicle at a time and as our guide stated, "the biggest vehicle has the right of way!"
Our first stop was a 30 minute walk through the rainforest and it felt like we were in a jungle. It was a very comfortable walk because we were on a beaten down path and the huge trees and foliage were perfect shade from the scorching sun. After that it was back on the bus and we made our way to the resort we were staying at. We were only there to have a nice buffet lunch and then it was back on the bus and we headed out to the beach and drove along the waters edge. The beach stretches for miles in either direction and you can see cars and trucks driving back forth on the sand. It really looks a little crazy!
We parked the bus on the beach and then we were told that we had a 45 minute walk to get to one of the fresh water lakes. This walk was A LOT tougher. The path was mostly sand and we had sandals on so the going was slow and very physically draining. But we made it and the effort was so worth it. Lake Wabby is surrounded on three sides by eucalypt forest, while the fourth side is a massive sandblow (sand dune). It was a huge relief to tear off the clothes and jump into the refreshing water after that long hike. The kids had a blast as they would run down the sandblow and jump in the lake. It was beautiful! The walk back seemed to be a lot easier and faster for some reason and we were herded back onto the bus.
He drove us back to the resort and we got our key to the room and went to get ready for dinner. The room was nothing to write home about, a typical backpacker's dorm with two sets of metal bunk beds, tiled floor, sink, shower and toilet. Very cold and very plain but it suited us just fine! We showered and went to the restaurant where we enjoyed a very nice buffet dinner. You sit with all the other passengers and of course we got to know some other great people from all over the world. It just amazes me how many young kids go out backpacking around the world by themselves. I don't know if I could have done that when I was in my twenties. I give them a lot of credit.
The next day we were up early and back to the restaurant for a buffet breakfast. All the meals on the tour are included in the price. It cost us $800 for the whole thing and it was worth every penny! After breakfast we were back on the bus and this time we drove for over an hour to the tip of the island. Steve went for a plane ride and met us half way down the beach. The planes actually take off and land right on the beach. He said it was excellent but very bumpy. He told me that I certainly would not have enjoyed it. No thanks! As we drove up the beach we stopped at the rotting hulk of the Maheno, a former passenger liner that was blown ashore by a cyclone in 1935 as it was being towed to a Japanese scrap yard. About 5km north of the Maheno we came across the Pinnacles. They are an eroded section of coloured sand cliffs and a great photo opportunity. Then we drove another 20km stretch of beach before we came to the rock outcrop of Indian Head, the best vantage point on the island. When you hike up and reach the top you literally sit on the edge of a cliff and look down into the water. We saw sharks, manta rays, dolphins, turtles, fish and in the distance some migrating whales. It was fantastic!
From here we stopped at Champagne Pools and some of us took a dip in the only safe salt-water swimming lagoon on the island. It is set within a circle of rocks and looks fabulous from a distance (I didn't swim here).
Our next destination was McKenzie Lake. This time it was only a short hike to this lake and it is one of the most popular ones on the island. There were a lot of people here and the lake itself is spectacularly clear and is ringed by sand beaches making it a great place to swim. As expected, the kids had a great time swimming and playing in the sand.
From here we had a short stop at Eli Creek which is the largest stream on the east coast and a nice spot for splashing around. You can walk along the stream into the 'jungle' with the water never getting higher than the tips of your shorts. It was a lot of fun!
<![if !vml]>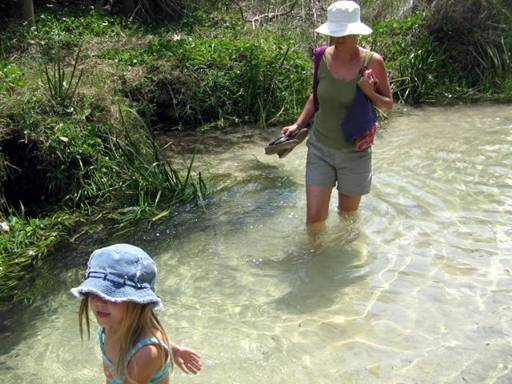 <![endif]>
It was back to the resort for dinner and after two FULL days we all hit the hay pretty early and got up the next morning and headed back to the ferry.
We landed back at Hervey Bay at about 5pm and decided to bite the bullet and start driving to our next destination without staying another night in Hervey Bay. We knew that our next leg of the trip would be around 10-12 hours so we thought we would shave a few hours off on the first day. It was a good idea until we reached Rockhampton at about 10:45pm and could not find a motel that was opened. All the reception offices were closed and we drove around for half an hour with no luck at all. We just started to get a little nervous when we finally found a place. It was over a hundred years old and there were a lot of drunks stumbling around the place BUT it was open! It looked like a haunted house and when we walked up the stairs they squeaked so loud we were sure we were going to fall right through! The room was very old and musty but it worked just fine for one sleep even though it was hard to sleep with the squeaking bats that must have been living in the attic. We got up early the next morning and resumed our long drive.
After driving all day we finally arrived at Airlie Beach. It is the gateway to the Whitsunday Islands which are 74 beautiful islands called the Whitsunday Group. They are probably the best known of Queensland's holiday islands and attract hordes of national and international visitors year-round. Airlie Beach (pronounced Ally) has an artificial mix of tourist offices, backpackers hostels, holiday apartments and restaurants, the whole place revolves around tourism and pleasure boating. It attracts a bustling and diverse bunch of 'boaties', backpackers, tourists and divers, all here for a good time, and it has a pretty energetic atmosphere to it. It reminded me of Waikiki Beach about 20 years ago. We stayed in Airlie Beach one night and were up at 5am to catch two ferries over to Lindeman Island where we were treating ourselves to six nights at Australia's first Club Med. It is the only accommodation on the whole island and it is set into the cliffs so that every room has a view of the water. It is a very casual, fun atmosphere here and at first I was appalled at how all the children just run wild within the resort. But by the second day my kids were one of them and we all had a blast! It was exactly what we needed. The kids went to the kids club at 9am after breakfast and we never saw them again until 5pm. Even then we had them for an hour and a half to get them showered and then they went back to the kids club for dinner and we didn't pick them up until 8:30pm. Never once did I feel guilty either, because we have just spent the last 9 months with them and they needed their space. They also begged us to let them go so we knew that they were having a very good time. They swam, did archery, played tennis, played on the trapeze, rehearsed for the shows and many other activities. Every night they were involved in a show for the whole resort and it was pretty cool watching them on stage.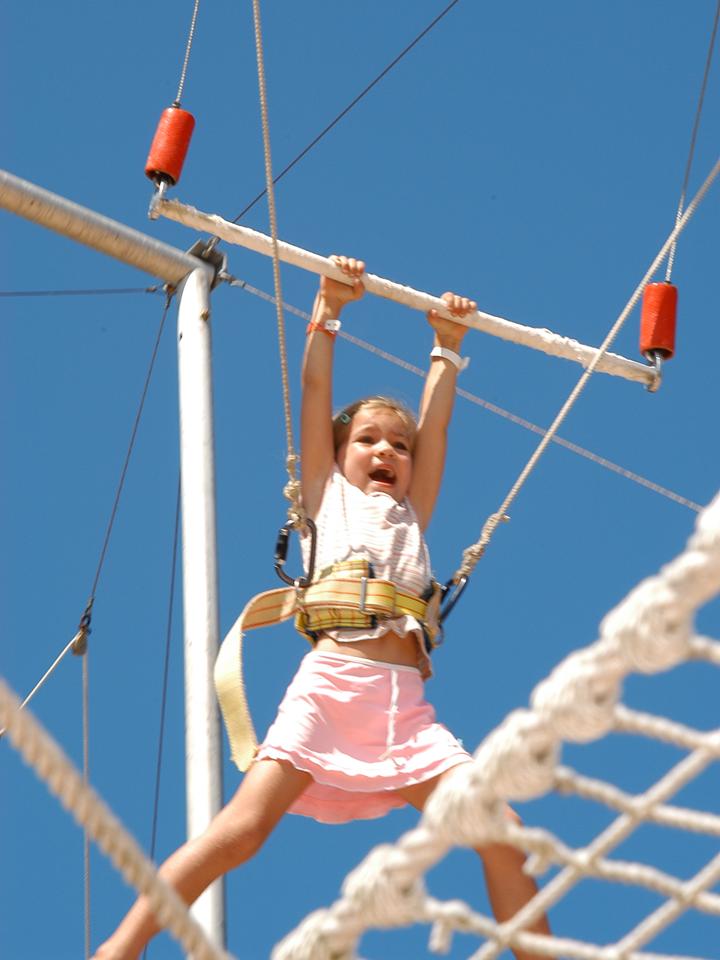 The Amazing Trapeze Artist "Danika"
The food was awesome and the drinks were "free" too so Steve and I had an absolute blast! It was a great idea! We certainly recharged our batteries and we were all very sad to leave when the six days were up! Nik has begged us to come back for his 12th birthday. Who knows!
We are now in Cairns and are planning the next stage of our trip. We are hoping to make it to Alice Springs and then make our way to Adelaide and then Melbourne. Lots of options, we just have to pick the best one. So that's it for now and now I feel like I don't have any more 'homework' left to do. The story has been written Steve!!!!
********************************************************
Surfer's Paradise
(Written by Steve Sept 19, 05)
After arriving in Australia, we spent a few days in Coogee Beach and then at our friend's home just outside of Sydney. The last time we stayed in Sydney we did not like the place, but I take it all back now.(Helen has already told you about that )
We have now left Sydney and are now heading north on our way to Cairns. We drove up the coast through Coffs Harbour, Byron Bay and then all the way up here to this tropical rain forest.
So here we are in Surfer's Paradise, and 'Crikey' is there ever a ton of high-rises, this is no rain forest. I thought this area was called Surfer's Paradise because of the waves and the rain forest, but I had no idea the city was so big. You know, people here (in Australia) don't use the word Crikey except for that T.V. guy, Steve the Crocodile hunter. It appears Steve the Crocodile dude makes his living off the "Crikey" word, and everyone here in Oz can't stand him. He kind of gives the average Ozzie a bad name, as we were told.
This place (Surfer's Paradise) reminds me of Oahu, Hawaii with its streets, low cost souvenirs and the way the hotels line the shores of the beach. The only major difference is this place is much nicer, cheaper, much safer and full of fantastic people, but aside from that the two are very similar. The other thing that is similar is all the Japanese tourists in Surfer's, and how most of the real estate is owned by folks from Japan.
<![if !vml]>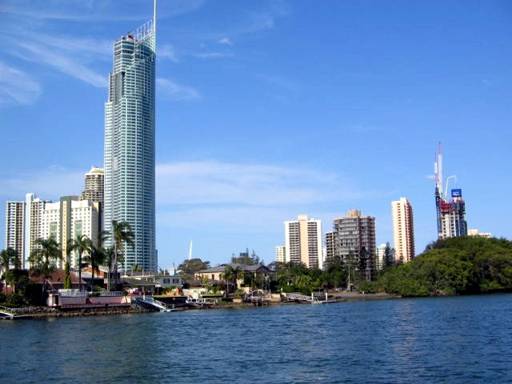 <![endif]>
I work with a few guys from my Fire Department who have exchanged jobs with a couple of Aussie guys from Surfers. The way it works is you have to find someone in an English speaking Fire Department (anywhere in the world) and then get your departments approval and then away you go. I now understand why the guys from Oz were not too thrilled to see old Surrey, Canada, and wonder if I could find someone who wants to pull a switch like that.
Well anyways, I guess you get the idea that we like it here, love it actually. I can tell you of the 40 + countries we have been through, Australia is the place to live and raise a family. I say that because everything here makes sense and the politicians are doing a pretty good job, and trust me I don't like Politicians so that is hard for me to say. Health care, Schooling, Climate, and a low crime rate make this place very attractive. They even have the ability to change their laws if need be, and that is something that is my country's (Canada) greatest downfall.
We are driving up to Noosa tomorrow to stay with a few friends. We will then go up to Cairns for some Scuba diving out at the Great Barrier Reef and then do something most Aussie's have never done. We are thinking of driving form Cairns to Darwin and then to Ayers Rock. The only problem is the rental car companies will not let you drive their cars into the Northern Territory, so we can only get to Mt. Isa. I am not sure how we are going to get to Darwin from there, we will have to figure it out once we get there. That is what I love about traveling without a plan… the challenges.