Santo Domingo Story
So, itís just after 9:30 pm and I just finished dinner and am sitting here in my room. The rest of my pals are down at the restaurant sharing stories. We have only been here a couple of days and I already have an idea of what is in store. We are staying at the Samawa Hotel just on the outskirts of Santo Domingo , and itís quite nice for South American standards. On my way to my room I passed a security guard with his little short barreled shotgun and nice white shirt and tie. There are 2 things in Santo Domingo that you must get used to: tons of security guards with really big guns and the smell of burning garbage. Those are the two things that I think, aside from the wonderful people that we met here, will stick in my mind. I have been told that Santo Domingo is one of the most dangerous places in South America next To SA Paulo,Brazil .
About 4 months ago a friend of mine told me that the YMCA was going to be coming down to Ecuador to build a bunch of community houses and asked if I would be interested. I told him that I would be but I would have to discuss it with my wife first. My wife was not thrilled about the whole idea but agreed to let me go and so here I am.
I am down here with 11 people from the Surrey YMCA and 7 Surrey firefighters and our goal is to put together 3 community houses in 3 different boroughs. The roofs and foundations are already in place and all we have to do is build the walls out of concrete blocks. Even though none of us have ever done concrete blocks it looks like it would be quite easy. Well that is what I thought, and now that I have tried it I have a whole new outlook. Tools are limited and we use our hands for everything; lifting, placing filling and all the concrete work. Actually today someone brought a couple of trowels but we already got use to doing it with our hands so we just kept going without the use of tools. When we first got here and I saw what we were supposed to be doing I thought we would be finished in no time. Well after only 2 days of work I can tell that I am spent. I am now a little worried that we might not pull it off and I donít know if we can keep working at this pace.
This whole trip started back on October the 5th at the Vancouver International Airport at 6am. 18 of us boarded a plane for a flight to Quito , Ecuador with a pit stop in Houston , Texas . We arrived at about 10:30 pm in Quito and crawled to our bus after a tough day of travel and a few beers on the plane. The arrival at the hotel was anti-climactic but a small group decided to go for a walk around Quito . I was a tad nervous for them as they had no idea what they were doing and arrived back at the hotel safely at around 4am. We awoke at 8am the next morning, ate and walked down to the market but it did not open till 10 am, so Quito was bit of a blur. We then loaded ourselves onto the bus and headed towards Santo Domingo . The drive took us from Quito (10,000 feet) to Santo Domingo (300 feet) and after a small pit stop, it took about 4 Ĺ hours. We stopped at our hotel to drop off our bags and then headed to the local YMCA where we were told about the city and what the objective was for these community houses that we were to build. The centers were going to put in these areas to teach Aids Prevention and to teach children and young adults sexual respect. After leaving that meeting I felt very good about being here and was ready to start changing the world with my hands. Thatís the coolest thing about this trip, no meetings just hard work and everyday you get to see what you have accomplished.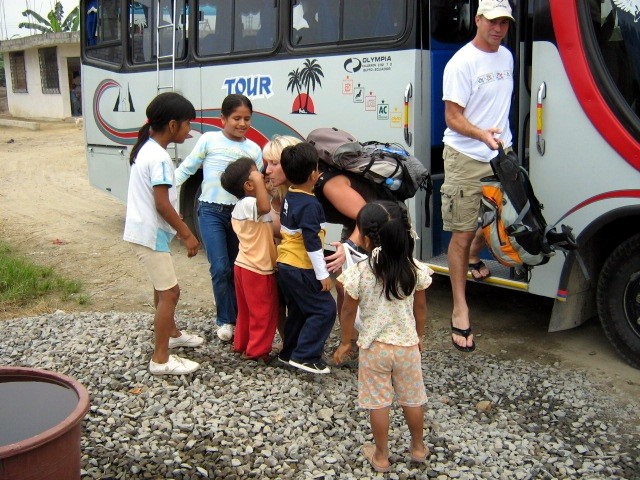 One of the many warm welcomes on Site 2
We drove to each one of the sites and received a warm welcome from the locals at the 3 separate locations. The towns are some of the poorest in Santo Domingo and are about 15 miles apart, so the commute takes about an hour. On our first day it went late into the evening and we were very tired and looking forward to just eating and hitting the sack. If you know any firefighters you will know once food, beer and wine hit the table you might want to cancel your 5 am wake up call because there is a good chance it is going to be a long night. We got up at 6:30 the next morning and headed to the work sites, a group of 5 being dropped off at each borough. My group was at site 3 and we were all very excited to get working. When we arrived on the first day we had some communication issues. There was no concrete, no one to show us how to get started and no real direction. The only thing there was to do was to dig a hole for the outhouse. 3 of us started to dig this hole that we thought would be about 2 feet around and 3 to 4 feet deep. Unfortunately for us one of our interpreters was telling us this hole had to be 1.5 meters by 1.5 meters in width and 3 meters deep. I said that is 5x5 wide and 9 feet deep, and she confirmed it had to be 9 feet deep. Well letís just say by 11:30 we had no walls started and had only dug a few feet of the 9 foot hole and nothing else was done. We were having Cervezas (Beer) when the YMCA organizer showed up and I donít think he was too impressed.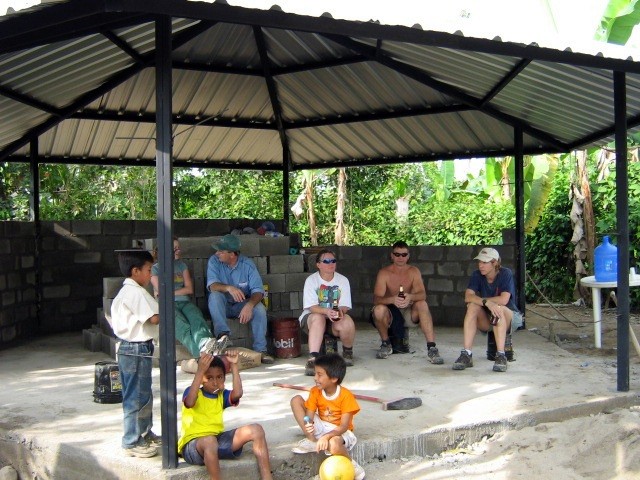 Cervezas Time again
After only being on site for 10 minutes, he (Alistair) had us running all over the place getting concrete and water, putting up blocks. From that moment on we never stopped, and without question Alistair (YMCA organizer) brought the best out of our group at site 3.
One of the coolest things about this trip was all the wonderful gifts the volunteers brought down here with them from Canada . People brought clothes, toys, books, school supplies and personal hygiene products. We (Firefighters) brought down 100 soccer balls and gave a few dozen of them out whenever we arrived on site. One night, after a long days work we decided to stop the bus and throw a soccer ball down to a dirt field that was about 300 meters below the highway from where we had stopped. We got out and kicked the ball and it landed right in the middle of a group of small kids playing on the field. One of the kids trapped the ball and passed it over to one of his buddies and they started making their way down the field in an organized fashion. Without even glancing around these kids were in full play, it was so bizarre to see these kids just start playing with a ball that fell from heaven. They never looked around or even thought to think where this ball could have come from. It would be interesting to see who got to take the ball home and how they worked that part out at the end of the game.
We went back to our hotel and showered, ate dinner and then once again tried to change the world with conversation, beer, wine and laughter.
The days seemed to get harder and longer but also they became more and more rewarding. We bonded with the handful of locals and kids who came out to help each day. After school, kids would come by for lollipops and to play soccer or play on the new constructed playgrounds.
We ventured into Santo Domingo a couple of times and one thing was very consistent each time we ordered. Meals took about 3 hours on average to get to your table and it could take up to another 2 hours to get the bill. This was bizarre because some of the restaurants knew we were coming and one Italian restaurant only had 2 bottles of red wine and one of them was bad. No Joke! This poor owner served the same bottle of wine 3 times to 3 different tables. Every time one table would taste the wine they would spit out the wine and they would put it back into the bottle. The owner would take it and serve it to the next table and they would, in turn, do the same, spit it out and pour their glasses back into the bottle. It just kept going around the restaurant, kind of funny unless you wanted red wine. What kind of Italian restaurant does not have red wine?
After those meals we went back to our hotel and yup, you guess it, tried to solve the worldís problems with wine, beer and laughter.
We would stop by the grocery store every other night on our way back from the job site to buy food, beer and treats for the kids.
The work days were never dull and I can also tell you that those first few were the hardest I have ever worked in my life. The laughter and joking was always in full force so the long days were always forgotten once we sat at the dinner table.
Our hotel had a hot tub and a swimming pool so a couple of nights we just went for a swim and then into the hot tub. Actually the hot tub was never hot, it was luke warm or freezing cold. The hotel would be like a 2 Ĺ - 3 star in North America but I can assure you it was a 6 star in Santo Domingo . It was the perfect place for us and one of the reasons we all had such a great time.
We stopped by the local fire hall and got some pictures and souvenirs and that was a blast.
After about five days of work we had the walls up, playgrounds in and now were doing stucco and plaster. You could feel the energy between the community and the volunteers as we could see the wonderful project was coming to life. I know I speak for most when I say I felt very proud that I was a part of this project and the difference it was going to make in these poor communities.
The one downer about site 3 was that the massive outhouse crater (9 foot hole) that we had dug was still sitting back there and some of the locals were now asking why we dug it. We were told to dig it by someone but could not find the person who told us. The locals told us they were nervous that one of the little kids might fall into the hole and break their neck, and that made us nervous. We had used all that dirt to fill the gardens and level the playground so we did not know what to do or how to fill the hole. We saw a spot down by the road that we could dig a ditch and thought we had better fill this thing in before it kills someone. So after spending 2 days digging this massive hole we were now spending half a day to fill it in. Whether is was getting concrete, water, or moving dirt we were always timing each other or involved in some kind of race against each other. We busted our butts and had that crater filled in just over an hour but now we were getting dirty looks because of the ditch that we had just been told was O.K. to dig. And on the last day we ended up filling in the ditch from another because the locals did not want any more ditches.
I have to tell you at times I felt a tad frustrated because we were without direction or told the wrong thing (I.E. Ė a 9 foot hole). I will also tell you that It did not matter because we fell in love with these locals and I enjoyed every moment of everyday that I was with them. Even if it meant doing a dayís labour for no reason, it is just the way things work down here.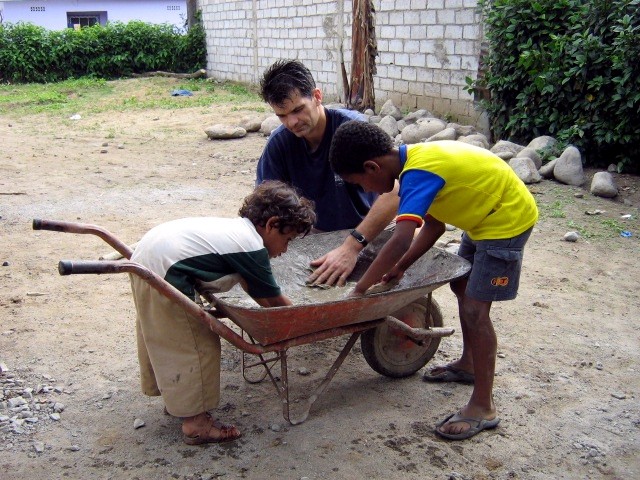 Cleaning concrete with my 2 best buddies
When it all wrapped up and we presented our 3 Community houses I felt overwhelmed and super proud of what we had accomplished. When I first came down here I was worried we were not doing enough, but every day when you have people waiting for you to arrive with hugs and running after the bus when you leave you feel worthwhile. We came down here to do some feel good stuff for people who have so much less than us, but in the end the folks of Santo Domingo left us with more than we could have ever given them. Pride! Our hearts were heavy on our last day and we all cried when we had to leave but many of us will most definitely be coming back. I personally have never been involved in something that felt so rewarding and I will tell you it is without a doubt one of the best things I have ever done in my life.
<![if !vml]>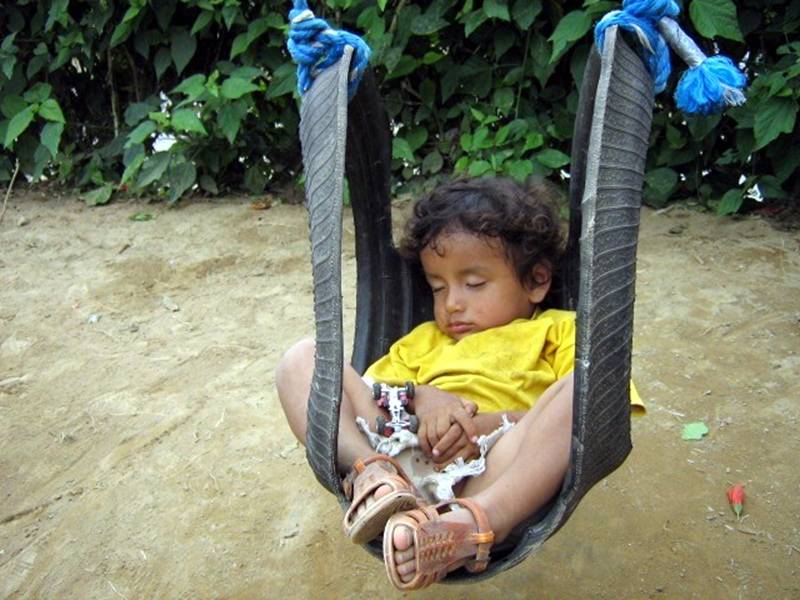 <![endif]>
Only 1 hour after putting up the swing set
I would also like to say something about the 18 folks who paid there own way and volunteered 2 weeks of their life. We all came from different backgrounds (aside from us firefighters) and we were side by side for 2 weeks without too much bickering. You see Firefighters are a very strange, misunderstood breed and it is something that the general public never sees. Being with and seeing the side of firefighters off the job can be pretty intense. I was a little worried for the first few days because the other volunteers were a little taken aback at all of our joking. I canít speak for everyone but I can say that I feel that even though we firefighters sometimes were a tad irritating, most of the volunteers accepted us for who we were and enjoyed being part of our childhood antics. I feel very fortunate to have been part of this project and am very proud to be part of the YMCA and this group of people. I will always remember what we did, the people we did it for, and most importantly the people I was honored to do it with.
They say a trip is about the people you meet and not the places you see, well I will never forget any of them!
The YMCA is in over 130 countries and is an incredible organization; I can say this because I got to see how they are actually changing the world in a small way.
<![if !vml]>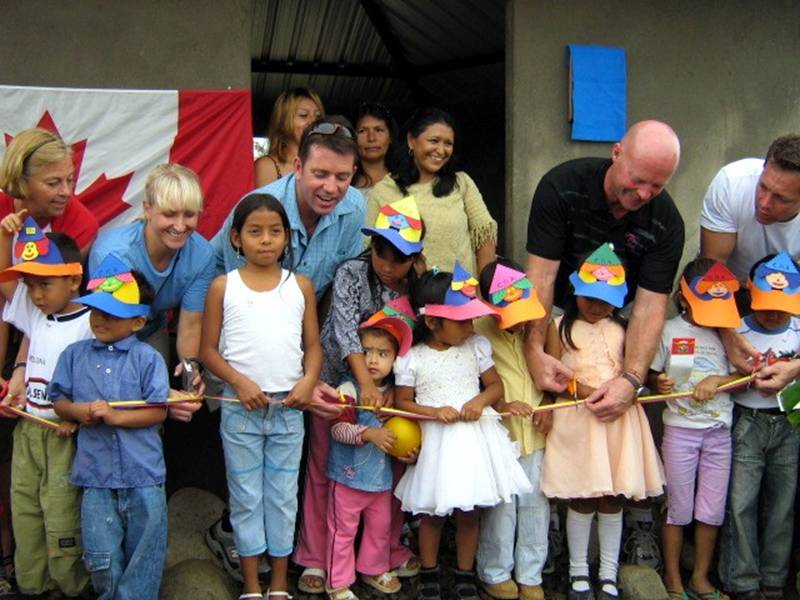 <![endif]>
You tell me who looks happier? The volunteers or the locals?
Not so funny things:
∑ All the sand Fleas
∑ Joyce getting bitten by a possible rabid dog
∑ Seeing the conditions these folks have to live in
∑ Blisters on the feet
∑ Looking at your cuts only to notice they are full of flies or larva
∑ The kids in Ecuador and what they donít have
∑ Ice cold showers
∑ Digging up Ecuador ís deadliest spider
∑ Gigantic poisonous moths
* A 5x5, 9 foot deep hole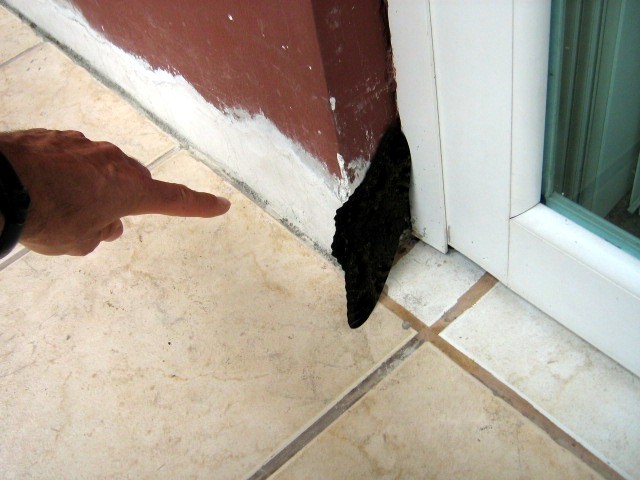 Now that's a moth!
Funny Things:
∑ Ball from heaven
∑ We were passing out balls from our bus to buses passing by and this one poor kid wanted a ball so bad but could not get his window open. Unfortunately for the small boy our bus stared moving and we left his bus behind giving the balls to other passengers. The funny thing was when that same bus passed us blocks later and that poor kid was still shaking the window trying get it open as his bus screamed past us at 60 miles an hour. Poor kid
* Midnight Beer, Wine and Laughter!
∑ Roberto getting nailed at customs for forgetting his cell phone and getting roughed up.
∑ Robertoís legs after being bitten by a 1000 sand fleas
∑ Roberto wanting red wine a Italian rest and waiting 3 hours hours for his meal
∑ Roberto ordering a Grande pizza and getting a mini one
∑ Hoagie screaming at the waiting when he brought the bill
∑ Robertoís Super King size bed
∑ Roberto try to take a picture of an iguana only he took off when Roberto stepped on his tail.
∑ The never ending bottle of (Bad) red wine
∑ Roberto being asked to bend down by little girl so she could pop a pimple on his face
∑ Roberto, Hoagie and Serb bragging about how much sushi they were going to eat only to get a little sampler plate they had to split. Ha!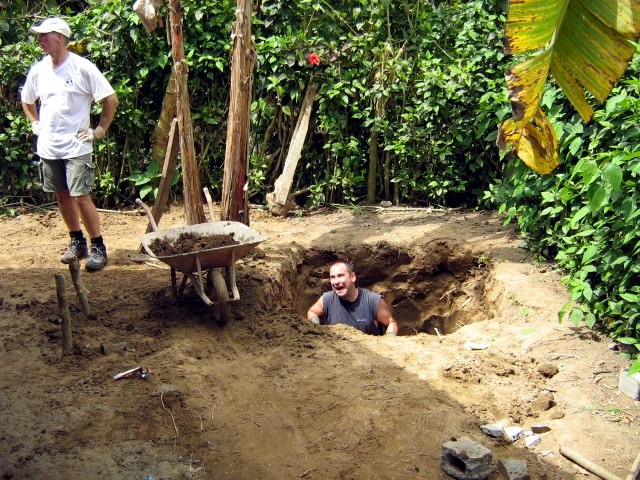 Ian and John half way through the 9 foot mystery hole