Are we there yet?
<![if !vml]>
<![endif]>
France – "I love my brother" ya right!
Some Special Moments
Jordan -  Nikolas drove his first car in Wadi Rum, Jordan.
 We were also offered 5 camels in exchange for Danika in Jordan (No Joke). We thought about it, but declined.
Brugge, Belgium -  Danika learned to swim.
Paris, France -  Danika learned to tie her shoelaces.
Heidelberg, Germany – We are staying at one of the nicest hotels in the city; Crowne Plaza. They have a spa next door and we are allowed to swim in the pool, so our whole family heads into the pool. The folks in the pool there have frowns on their faces, as this is obviously not a place for children. We try to ignore them, but we start to notice white things floating in the water and we start to get turned off about swimming. Nikolas is doing some kind of funky chicken dance by himself over in the corner. I swim over and ask him what the heck he is doing. He replies," I forgot I had a whole bunch of Kleenex in my pockets and now it is all in the pool". When we (and everyone else) got out of the spa pool, it looked like one of those snow globes.                                                                                They had to drain the pool the next day.
Nikolas
Sept, 2004 – "I don't want to go on this trip. I want to stay at my school and hang out with my friends. I think my parents are only thinking of themselves when they planned this. It's not fair and none of my other friends are doing anything like this."
Oct, 27 2004 - We have sold our home and getting ready to move to a rental, lots of boxes everywhere.  Nikolas came home from school and saw we were packing things in boxes. "I can't believe we are leaving this house, I love this house and I don't want to move.  I can't stand the rental place we are moving to, why are we doing this trip?"
Nov 5, 2004 - A friend of ours asked Nikolas if he was excited about his big trip, and he replied, "Please don't talk about that, it is making me feel sick to my stomach."
Nov 10, 2004 - "The trip is too long, I just want to go for an hour and that's it. Even though that would not even get half way to New York." (Our first stop)
<![if !vml]>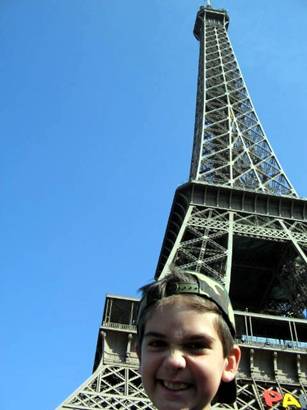 <![endif]>
Nov 30, 2004 – We moved from our home into a little B&B in White Rock, and put almost everything we own in storage. Nikolas was very upset and anxious just before the move but there was no turning back. He told us that the B&B we were now living in was pretty cool, but the trip we are about to go on, is still the worst thing to ever happen in his life.
Dec 26, 2004 "Why do we have to move out of our B&B and into a stinking old hotel, I love this place".   Nikolas was very upset about leaving after only a month of living in our little B&B
Dec 29, 2004  - "I don't want to go on a plane.   You said you wanted us to have fun, and we are, so let's just stay at the airport, I don't want to go to New York"
Dec 30, 2004  - Times Square, New York City, in the Toys "r" Us store - " I love this city, it's so cool, it's just like watching Third Watch".  Being in Toys "R"Us when Nikolas made that statement may not have hurt.
Jan 1, 2005 -  We were walking through a  tougher part of Soho, Nikolas looked up and said, " I could move here you know".   Helen and myself looked at each other in shock and I said "What are you talking about, it was like dragging a cat into a bath tub, trying to get you to come here".   Nikolas replied " I  just wanted you to think I did not want to come, I always really did".   He had a big smirk on his face.
Jan 27 -  After a day being in a bad mood and talking back to his parents, I (Steve) told Nikolas to go into his cabin and cool off. He stormed off and said "why did we ever have to come on this dumb trip anyways" I went in after him and said to him that if he really felt that way, I would look into ending it and we could maybe go home and then I walked out of the room. After a few minutes he came out of his cabin and said "I'm sorry I said that dad, but you don't understand how hard it is for me to not have anyone to play with".  For the 3rd time on this trip I again questioned myself about this trip being such a good idea for the kids.
After that argument we had one of the best father and son talks I can ever remember.
Feb 23 - We have decided to leave the ship early and get off in Malaga, Spain in April instead of South Hampton, U.K.
 Nikolas overheard us talking about it and was actually begging us, "please Mom and Dad, can we please not get off early. I want to go to the end, please".  Every time we bring it up he does the same circus act, begging us not to get off early.
Mar 3  -  "If I could go on this trip again I would most definitely go to more theme parks. I am still having a good time though."  (Nikolas)
Mar 3 - We were sitting at a Chinese restaurant and Nikolas said, " I love those green onions in the Won Ton Soup," so I said, "well eat them  if you want." He replied, "It's O.K. Dad, I have my whole life to eat them."
Mar 11  - After touring the poorest part of Bangkok, Nikolas saw his first Temple  and said: " So that's what they spend all their money on".   He was wondering why people there were so poor.
March 22  - Mumbai, India.
We are sitting in a cab and two kids about the same age as Nikolas come up to the window of our cab and start asking Nikolas for food, and for him to give them his hat and shirt. They were wearing rags and looked very poor, I was terrified of what he was thinking. To break the ice I (Steve) said, "people sure are poor here aren't they?" Much to every ones surprise Nikolas said, "Not really, we have seen poorer people". His comment caught us off guard and I asked "what are you talking about, who has less than these people"? He replied "Do you see all the new buildings here, and how many nice cars there are? We don't have cars this nice at home. The people in Sri Lanka had no nice cars, no nice houses, very little. Just because Mumbai has more people begging than Sri Lanka, does not mean that they are poorer" and with that we all just quietly drove back to the ship.
March 22 - at Sea, off the coast of Iran.
We are eating dinner and I asked John, who sits beside us, if U.A.E was the richest country in the world. He said that he thought it was, if not the richest, it was very close.
Nikolas overheard us and said "I thought the United States was the richest country in the world"? John told him it was not even close, and why would he (Nikolas) think that. Nikolas said "I just thought it was the richest because New York had the biggest toy stores in the world." ( I.E. FOA Schwartz and the monster Toys R us).
<![if !vml]>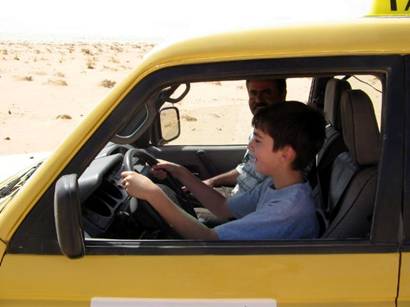 <![endif]>
Nik's first time driving (Wadi-rum, Jordan)
April 8 - Nikolas finished book 1 of the Lemony Snicket's Series of Unfortunate Events a while ago, and in the section he was reading the parents both get killed. So he turned to Helen and Myself and asked "Hey Mom, if you and Dad died, who would take care of us" and Helen replied "Well if your old enough, maybe you could live together." She then asked Nikolas if he would take care of Danika. Nikolas replied in a very excited voice "Ya  Dani, we could buy a house together and you could live in the basement!"
April 25, 2005 -
We are walking home from the beach in San Pedro, Spain when Nikolas says, "Sometimes I feel like my life is a video game". When we asked why he felt like that, he replied, "I don't know, it just feels like someone else is controlling my life sometimes". (Yikes, a little deep for a nine-year old).
May 7,2005 - Madrid, Spain
                  We are walking down the street and Danika asks me (Steve) if she can pick who is going to be the boss today? I said,  "No, Mommy or Dad always are the boss until you get older". Danika then asked "who is the boss of the whole world, is it god?" And before I could reply, Nikolas blurts out aloud 'NO" I asked Nikolas who was boss of the whole world. His reply was with complete certainty, "George Bush, who else".
(June 8th 05) Paris
Nikolas – We got the kids up early and got on a subway train to Paris.  Both kids were very grumpy that morning and wanted no part of sightseeing. Our first stop was the Louvre and the kids decided to take a stand, they would go in but they were going to complain about everything. We just finished seeing the Mona Lisa and were making our way to see Venus de Milo when Nikolas said "You guys are forcing us to see these things against our will, it is like torture for children!"
(July 3, 05)
   Nikolas-  After a depressing day touring a concentration camp in Dachau, Germany, we were sitting in McDonald's having lunch when Nikolas said, after taking a big sip of iced tea, "Thanks for taking us to McDonald's dad, this is so refreshing after you dragged us through that desert of horrors."
(July 1, 05)
 Nikolas-  We were driving to Austria in the car and Steve asked Nikolas if we were closer as a family.  Nik said, "Yes, I do think we are closer because we talk to each other more than we use it.  Well, there's no one else to talk to."
(July 9, 05)
Nikolas – We were sitting in a restaurant in Nurmberg, Germany waiting for our food when Nikolas said "I am so hungry I'm dying!" Then he paused and said, "Well, I shouldn't say that because the people in Africa really are dying of hunger.  They only eat about once a week and I eat five times a day."
<![if !vml]>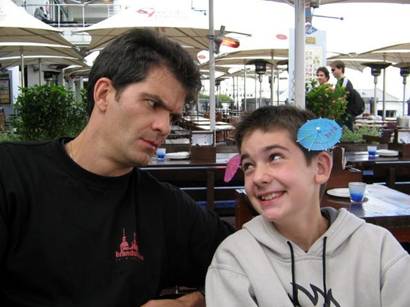 <![endif]>
I sure love driving my Dad crazy
(Aug 16, 05)
Nikolas – I (Steve) am not a big drinker, but I never shy away from a glass of wine at dinner, but I usually don't drink beer. I used to love beer when I was younger and I always drank Guinness or Bass, those were my two favorites. I thought I may as well drink Guinness when I get to Ireland because you can't find a better pint of beer on the planet than a real Irish Guinness. So when we sat down in our first pub in Killarney, I was quite excited to have my first real pint of Guinness. Nikolas waited till I ordered, he waited till the bartender put the beer on the table, and then he waited till I raised the glass to my lips and said "Dad, I am sorry to say this, but you sure have been drinking a lot on this trip". I put the pint down and looked at him and then he said "I'm sorry to have to say it Dad, but it is true". Make no mistake about it, I drank that pint but it just was not the same. This kid is a killer!
(Aug 20, 05)
Nikolas – We are in Heathrow Airport, London. We were about to get on a plane for an 11 hour flight to Cape Town, South Africa when Nikolas says, "Hey Dad, what happens if the plane runs out of fuel?" Helen is already terrified to fly and could start freaking, so I try to ignore him.  I can't believe he threw out this motza ball at the 11th hour, especially when he knows his Mom is terrified. He just keeps asking until I answer and then he just carries on. Every answer I gave was not what he wanted and he just kept asking the same question over and over. I (Steve) was not happy with him because he just kept going, so I said very bluntly "We'll I guess we will crash". We did not talk about the flight any longer.
(Aug 20, 05)
Nikolas – we are just walking across the tar mat towards our 747 to Cape Town when Nikloas says just loud enough for me (Steve) to hear "It sure will be nice when we get to our hotel in South Africa; that is if we survive the flight!"
If I could have got my hands on him at that moment, Arggggggggggggggggggg!
(Sept 7, 05)
Nikolas – We just returned to our little hut in Skukuza Rest camp in Kruger, South Africa.  We just experienced a full day of viewing all the wildlife. We had just managed to watch 5 lions and 3 lion cubs roll around only feet in front of our vehicle and were now sitting talking about it when Nik said. "I know I have complained about this trip and really did not want to come, but I am so glad we came here, it was worth the wait".
(Oct 10, 05)
Cairns, Australia
Nikolas- We just got an email that they have a new Amazing Race and it is all families. Helen looks at Nikolas and say's "how would you feel about us being in the Amazing Race"? Nikolas replies "would the cameras follow us into the showers"? Helen say's "of course they would" Nikolas ends with "No thanks! I would have to change my name, cut my hair and sell tomatoes for the rest of my life, my life would be ruined"
(Nov 9, 05)
Sydney, Australia
Nikolas – We over heard a joke from a comedian on T.V. that went like this: I once dated a virgin Stewardess and she worked for British Airways. Helen and I laughed and Nikolas said, "that's not funny" Helen replied "do you know what a Virgin is" And Nikolas rolled his eyes and said "Mom, of course I do, it means Non-alcoholic!"
<![if !vml]>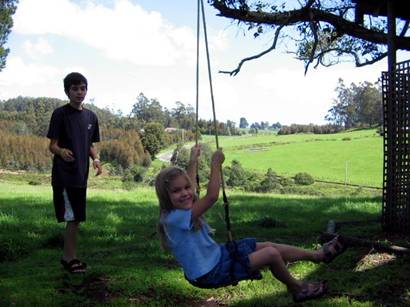 <![endif]>
Sometimes we are best of friends, and sometimes we are not!
Danika
Aug, 2004 – "I really want to go on this trip, because we might find a swimming pool, and I want to meet new friends in the swimming pool and somewhere else."
Oct 21, 2004 – "When we come back to this world, can I have my birthday at Chucky Cheese?"
Nov, 10 2004 – "I am very happy about going on this trip because when we come back to this world we are going to be in a new house. And my new bedroom is going to be a princess room with a high bed."
Dec 29, 2004 - "I don't want to go on a plane, they hurt my ears!"
Dec 30, 2004 - New York – "The best part about this trip is I have decided to collect a doll and a bear at every new place we go." That was news to myself and Helen of course.
Jan 20  - We were walking home from the kids club one evening, when Danika looks up and says, "It's fun being a kid you know Dad? You know if we did not have any parents we could do what ever we wanted".  That's all she said and she just skipped all the way back to the cabin without another word.
Feb 27 - I was putting Danika to bed when she said in the most serious voice, "Dad, would you ever sell me or Nikolas?" I replied, "No." and asked why she would ask that. She said "You know, if you sold us, you and mom could do what ever you wanted" I looked at her and said, "we are the bosses, and we can do what ever we want now".  She smiled and closed her eyes and went to sleep.
April 27, 2005 – Danika
We had just arrived at our Hotel in the Algarve, Portugal, and we are walking through the grounds. We heard a lady disciplining her young child and he was crying. He was saying, "sorry mommy, I will be good, I will be good". After walking for about 5 minutes Danika blurted out "You know, all the countries in the world are the same, you can always hear little boys and girls saying they will be good."
(June 9th 05)  Paris
Danika - We were walking up the Champs Elyssee in Paris when a police car went zooming by. One goes by with its siren wailing about every 5 minutes and Danika says: "Those things sure are irritating, that is all you hear in this city, beep bo, beep bo, it is very annoying".
 (June 10th 05) Paris
Danika – On our way back from the restaurant we took the kids to the front gates of Euro Disney even though it was closed. As they ran up to the gates, both kids got on their hands and knee's and started bowing to the gates as if it was some kind of temple of worship. Danika was bouncing all over the place and screaming, "Disneyland" over and over. She ran up to me (Steve) and said "You are the best daddy in the whole world for bringing us to Disneyland" "You know when I said I wanted to trade you and mom in for new parents?" "Well, I don't anymore; you're the best parents in the whole wide world". And then ran down Disney Street screaming Disneyland over and over.
(June 10th  05) Paris
Danika – We are eating at one of Paris' finest restaurant called the Pied de Cochon near the Chatelete Train Station. This restaurant is famous for their pig's trotters and even though we really did not want to order it, we felt it was a must. So when Helen's plate showed up with a huge pig's foot on it, Danika went EWWWWWWWW, really loud and asked if that was a pig's foot. We told her it was and she replied "That's mean, they raise that pig on a farm and pretend to be really, really nice to that little pig even though they know they are going to kill it and bring it here". Right after making that big scene she asked if she could try it.
(June 14th 05) Paris
Danika – We were all on the ride "Pirates of the Caribbean" and two little girls behind us were splashing each other.  The first few times were funny when we got splashed too, but the third time wasn't and Steve turned around and yelled, "Enough already!"  Danika looked up at Steve and said, "That's so embarrassing!  Why did you say that?"
(June 30, 05) Nurmberg
   Danika- We were walking down the street in Nurmberg, Germany, when Danika all of a sudden said that she was not going to do anything when she grows up.  She firmly stated that she had just decided that she wasn't going to work when she gets older.  I told her that she needed to work to earn money to buy food and water and she said, "No, I don't need to eat or drink."  Then I said what about toys and she hesitated and said, "okay, I need toys."  Then she paused and said, "okay, I guess I will work to make money to buy toys and a little food and water." 
(July 9, 05) Nurmberg
Danika – Danika was giving out good night hugs, and when giving Helen a big good night hug, she said "I am going to miss you mom" Helen looks down at her and says "Is one of us going somewhere?" Danika said nothing else and went to bed.
(Aug 30, 05)
Danika – We are in Aquila Game reserve and they have 3 lion cubs that are located right next to our Hut. On the first day we were there, Danika went to see those cubs about 20 times. She kept saying "I love those little Lion Cubs, I just want to give them a big hug". The funny thing was, those cubs followed Danika's every move.  No matter where she was they were always watching her. I asked the ranger there why they watched Danika so closely, and the ranger replied that the cubs were stalking her. The next day Danika was really down and would not come see the cabs so I (Steve) said "What's wrong Danika, don't you like the cubs anymore?" Danika replied "I do like them, I just wish they did not want to eat me." She just dragged her sorry little butt around for the rest of the day.
(Sept 5, 05)
Danika – We are driving through the back roads of Kruger National Park when Danika blurts out, "I am bored."  Nikolas then pipes right up with, "what are you talking about Danika, we are on a safari in Kruger Game reserve, one of the most famous wildlife parks in the world!" Danika then shot right back, "What are you talking about, this is not a safari, we are in a rent-a-car!" Nikolas just shook his head, but I think Dani got him with that one.
(Sept 9, 05)
Danika – We are sitting in Johannesburg airport when Danika says, "Dad, me and Nikolas are going to play a game on your computer". "First Nikolas is going to play and then I am going to play until the batteries run out, O.K." I said "Hold on a second, it sounds like you are telling me what to do, like you are the boss or something." Danika replied, "Yes, I am the boss" and she took my laptop and walked away. She is only 5 years old, what am I going to do when she is a teenager?
<![if !vml]>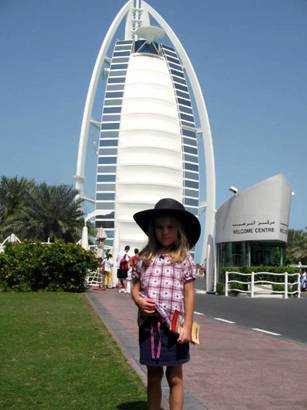 <![endif]>
Dubai
(Sept 15, 05 Sydney)
Danika – So we are still trying to get over the jet lag thing from our long flight from South Africa to Australia and everyone is a little cranky. We were heading out to Breakfast and Helen asked Danika to put her shoes on. Danika just layed on the bed and did not even acknowledge her mother. After being asked 3 times, Helen said "If you don't put those shoes on right now you are going to lose your new stuffed Zebra."  Danika got up and stormed over to her shoes and said, "Why are you guys always so mad?" "All I have ever wanted my whole life is to belong to a happy family. But I only have this family and it is the meanest one ever".
(Oct 13, 05)
Danika - On a ferry out at the Great Barrier Reef, Australia, Danika – We are playing cards (Go Fish) and Danika drops her cards below the table. She bends down and picks them all up and says, "Hey, did any of you see my 7?" We all looked at each other and said, "No", and continued to finish the game. (Wow, a blond moment!)
(October 21, 05)
Danika – We just spent 5 days driving through the Australian Outback to get to Ayers Rock. On the day we drove out to see the rock, Danika was in a really bad mood and did not want to go. When we pulled up to within 50 feet of Ayers Rock we were all amazed but Danika blurts out, "Is this what we drove a week for?" "This is just a big rock, what the heck is the big deal!"
(November 9, 05 Sydney)
We are walking down the street getting the last few things for our return to Canada towards the end of our journey. Helen asked the kids if they were happy to be going home soon and Danika started to sob and said" I want to keep traveling!"
(Nov 27, 05)
Danika – We are in our Hotel back in Vancouver and Dainka is having a bath. As she is splashing around in the tub she keeps calling for her mom. Helen finally says "what do you want!" And Danika won't tell her, she just keeps saying "come here". Helen says "If you are not going to tell me what the problem is I am not coming". Dainka threatens right back with, "Fine then, I guess I will just end up with a bladder infection!"
There were too many bubbles in the bath tub.
    <![if !vml]>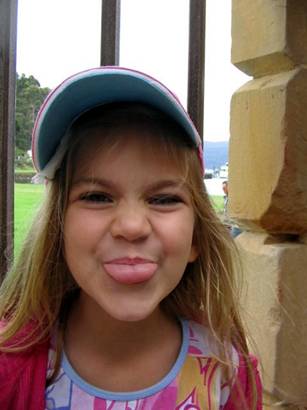 <![endif]> <![if !vml]>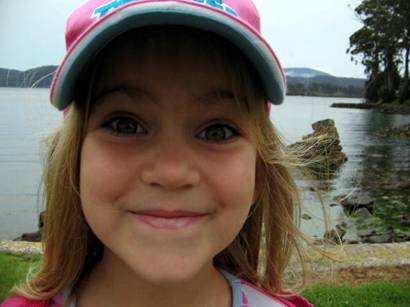 <![endif]> <![if !vml]>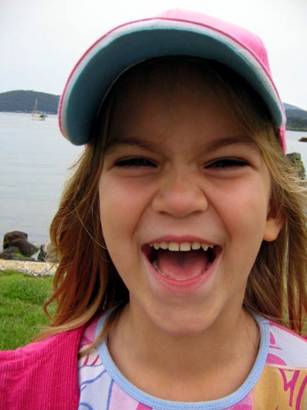 <![endif]>
Great old kid quotes
We were just about to go swimming aboard our cruise ship when the two kids decided to play near the railing of the ship.  I yelled at them to stop! and said, "If you two fall over, that will be the end of you"!!  My daughter stopped, put her hands on her hips and said, "Don't be silly dad, we have our bathing suits on".
We were walking down the street in Quebec City, when all of a sudden we heard a father talking to his young son in English. "How was your history test?" the father asked, "Awful," replied the son, "they asked me stuff that happened before I was born!"
When Nikolas was asked what his favorite subject was, he replied, "Is lunch a subject?"
Just about to leave our hotel room when Nikolas looked out the peep hole of our door and said, "We can't go out there, I see a bunch of cheek pinchers".  For you parents who have never heard this term before either, it means old ladies.
Passenger quotes from the ship - received April 2
"Are those Islands over there surrounded by water?"
"Does the crew sleep on board?"
"Is the T.V. signal on this ship satellite or cable?"
"What time is the Midnight Buffet?"
"Do those stairs over there go down?"
A question asked to a crew member "So you are married, are your kids on board with you?"
<![if !vml]>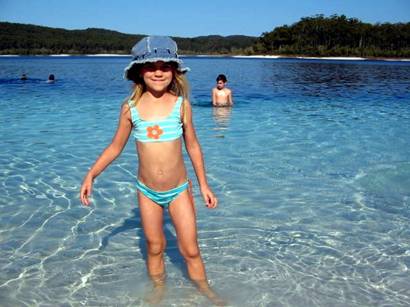 <![endif]>
This traveling thing is not all fun you know!