MARMARIS, Turkey Ė April 6
†††††††††††††††††††††††††††††††††††††††††††††††††††††††††††††††††††††††††††††††† <![if !vml]>

<![endif]>
TURKEY Ė received April 8
(written by Helen)
After gliding through the beautiful Suez Canal we sailed into the Mediterranean Sea and headed to a place called Marmaris in Turkey.† Marmaris lies at the head of a fjord and when we woke up this morning and looked out the porthole we were very surprised.† The pine-covered hills against a mountain backdrop look amazing as they rise from the coast that boasts turquoise-coloured water.† We docked in a beautiful bay and the whole coastline consists of gorgeous coves and many marinas.† The buildings are all white washed with dark blue roofs.† Although Iíve never been to Greece, it reminded me of what some of those Greek Islands would look like.†
We got off the ship at about noon and jumped on a shuttle bus that took us to the town square.† When we arrived we found a quaint little city center with many shops and restaurants lined up for us to browse through.† We walked along and a few of the merchants tried to entice us into their shops but we were just looking.† I was a little excited about this stop because Turkey is known to be a great place to buy leather.† Well, we asked a few prices and they all seemed to be twice what I would pay in Canada so we walked on! We then found a store that sold phone cards and I called my mom.† We thought it was about midnight in Canada but it was actually after 2am but my mom said she had woken up for some reason and said that it was like she knew I was going to call.†
We then decided to hop in a cab and drive along the coastline.† In the distance we could see some huge hotels and we told the driver to take us to one.† He dropped us off and we walked around a bit but there was not that much to see even though it was a five star hotel.† Apparently, Marmaris is a very touristy town but the season doesnít start until May so everything is not open yet and this hotel was like a ghost town.† We decided to walk back a bit on our own and see if we could check out any of the other hotels along the way.† The weather was perfect.† Sunny and clear with the temperature at a comfortable 19 degrees Celsius.† We stopped at a shop and bought a few knock-off shirts like Quicksilver and Dolce and Cabanna.† The prices werenít great and weíve come to realize that we are certainly not great bargainers.† Iím sure the merchants laugh when we leave with our loot that we paid way too much for!† We asked one guy where the best place was to have some lunch and he said McDonaldís.† Iím not kidding.† He said that you canít be sure how clean any of the other restaurants are right now because business is really slow.† He said you can always be sure that McDonalds will be good.† So, thatís where we ate!!!!!† And it tasted exactly like it does everywhere else in the world.† Steve had something different though, he had a McTurco.† Itís pita bread stuffed with their McChicken pattie with lettuce and tomato.† He said it was pretty good.
The people here are relatively friendly.† We certainly felt more at ease than when we were in Egypt and Oman.† We did notice that it was very quiet yet you could see the people building and setting up stores and restaurants in preparation for the coming season.† We didnít really do very much here but it was actually quite nice and relaxing.† We would definitely come back here and we would actually like to see more of the ďrealĒ Turkey, like Istanbul.†
We got a few souvenirs from here that ended up being quite comical.† Steve bought himself a gorgeous Rolex watch.† It cost $15.00U.S.† It was advertised as a genuine fake Rolex.† It was so nice he ended up buying another one and one Gucci watch for me.† The funny thing was, he didnít think to make sure the watch actually worked before we left the shop.† When we got all dressed up that night for dinner he proudly said he was going to wear his new watch!† Well, he put it on and noticed that it was not working.† Then, he gave me mine and when I went to put it on I noticed that the band had fallen off and we couldnít get it back on.† Oh well, it serves us right!† You get what you pay for!!† Good thing we didnít buy any leather jackets!!!†
***********************************************************************
Retrieved from http://www.lonelyplanet.com/destinations/middle_east/turkey/
Check your Midnight Express stereotypes at the door - this is a rapidly modernising country with one foot in Europe and one in the Middle East. It's not all oriental splendour, mystery, intrigue and whirling dervishes but it is a spicy maelstrom of history knocking up against a pacy present.
The Turkish people have an unrivalled reputation for hospitality, the cuisine is to die for, the coastline is a dream, and many Turkish cities are dotted with spectacular mosques and castles. And while costs are rising, Turkey remains the Mediterranean's bargain-basement destination.
There's an enormous variety of things to see and do ranging from water sports to mountain trekking, archaeology to night-clubbing and river rafting to raki drinking. Whether you leave Turkey with magnificent carpets, amulets to ward off evil, belly-dancing tips, an appreciation of its history, or just a tan, you're likely to want to go back for more.
Full country name: Turkey
Area: 779,452 sq km (483,260 sq mi)
Population: 65.7 million
Capital city: Ankara (pop 3.7 million)
People: Turks (85%), Kurds (12%), other Islamic peoples, Armenians, Jews
Language: Turkish
Religion: Muslim
Government: Republic
Prime Minister: Recep Tayyip Erdogan
<![if !vml]>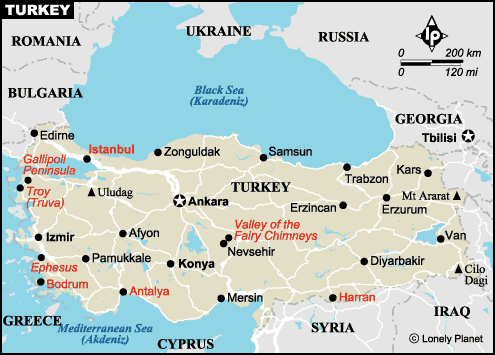 <![endif]>