ALASKA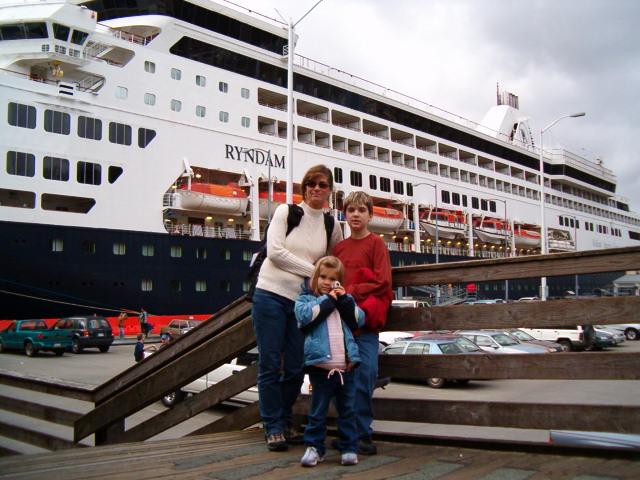 Helen and the Kids before boarding the ship in Ketchikan
Well, it's amazing but we finally made it on board the Holland America Line 'Ryndam' ship. We have been planning this trip for months and there have been many obstacles but we are officially on our way.
This trip is a celebration of two boys who are turning 40 this year; Steve, my husband and our dear friend Mark. It is also the celebration of 10 years of marriage for our friends Mark and Joy and this get-a-way was long awaited! BUT, my mother got quite sick the weekend before we left and seeing as she was our main child care provider we were left with the fact that we had two choices: don't go or take the kids. So as we speak the children are arguing in the one corner as we all try and get ready for dinner. By the way, my mom is feeling much better.
We arrived at Canada Place and went through the dreaded embarkation procedure quite smoothly. We have been on quite a few cruises so we knew the drills, starting with the token picture right before you enter the ship. The Ryndam is a 10 year old ship which is considered 'old' in the new age of cruise ships. As you enter the ship, the friendly crew walks you to your stateroom and you are always surprised how small they are even if you upgrade like we did. There is something to be said about having a window in your room no matter what anybody says. We were fortunate enough to upgrade to a room that had floor to ceiling windows and a small balcony. I am sure that will come in handy when we cruise the Inside Passage and will be able to take in the spectacular views.
We were all starving so we went straight up to the buffet to have a quick lunch before we had to participate in the mandatory lifeboat drill. This is where everyone has to go to their respective rooms and put on their lifejackets and make their way to the lifeboat station that corresponds with their room number. It really is quite a spectacle to see all these people on deck with bright orange bulky lifejackets on trying to line up for role call.
Back to the room and after a few drinks we tour the ship so that we have a sense of where we are going tomorrow. It always takes a few days to figure out where everything is and what level your room is. It also takes a day to get organized and hang up your clothes and get your new home ready for the 5 day adventure.
Dinner tonight was casual and it gives you a chance to just get settled. We were seated at a table for 7 and because there were only 6 of us we were joined by a very nice lady from Toronto. She was sailing on her own and it was her very first cruise. The dinner was delicious and the kids were very happy with the meals they chose from the kid's menu. Steve and his new diet he has been forced to follow, found the maitre'd very helpful and accommodating.
After dinner we ventured into the Vermeer Lounge for Showtime. It started with the ship's ensemble dancing and singing and ended with a fantastic ventriloquist that made me laugh out loud on numerous occasions. The show was short for the first night because a lot of the people on board are tired and have spent the day traveling in from far away places. One thing we've noticed is that when you compare cruise lines, Holland America has great food and average entertainment and Royal Caribbean has average food and great entertainment. This, of course, is just our opinion and I'm sure if you ask someone else they may beg to differ.
A quick walk through the casino and we were back in our rooms getting ready for bed. Our room has a king size bed and one single pull-out couch. Guess we will be sharing our bed with one of our little munchkins!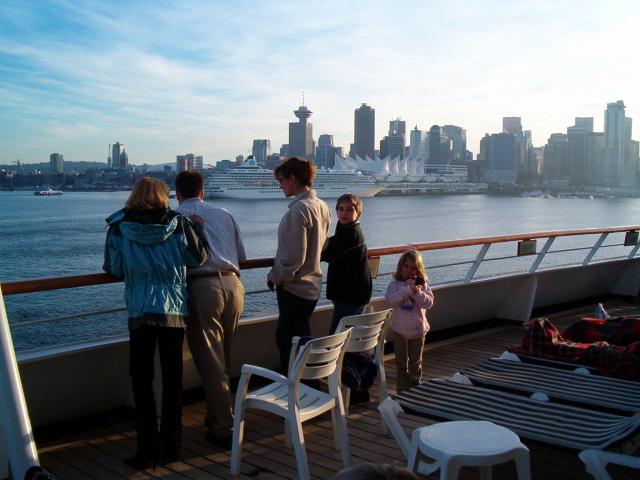 Leaving our home, Vancouver, B.C.
Day 2:
Just when I finished writing at 1am last night the ship started to list a little to the left and then a little to the right. Everyone was sleeping away so I was left alone to try and calm my fears and fall asleep. You see, not only am I afraid of flying, I don't particularly feel a hundred percent safe on a large piece of steel that floats on water. As I lay there trying to fall asleep, I thought to myself, "How the heck am I going to last 31/2 months on a ship next year?" Anyway, after a very restless sleep I woke up to find the boat rocking A LOT! I didn't feel that great but I tried to concentrate and deep breath and we all made our way to the dining room for breakfast. That lasted all but 30 seconds as Nikolas and I started to turn a particular shade of green. We headed outside and took in some fresh air and a walk around the promenade deck. It helped a little but that really is one of the most horrible feelings: sea sickness when there is no end in sight. They say the worst place to go is your room but I was too embarrassed to puke anywhere else so I went to our room, puked a little (my stomach was empty) quickly took a Gravol and tried to fall asleep. It worked. The ship stopped rocking and I suddenly felt really hungry. We had a quick lunch in our room and then Joy and I went to a Pilate's class in the gym. After that we went for a swim, well actually, the pool was freezing so we did the hot tub instead. It was wonderful. It was then time to get ready for dinner. It was formal night so we needed some extra time to look spiffy! Some people don't like formal nights but I actually think its lots of fun. It's the rare opportunity to dress up in ball gowns, wear lots of make-up and do special things with your hair. We all looked fabulous and we waited in line to have our pictures taken by the ship's photographer. Dinner was excellent. I had all five courses: shrimp cocktail, lobster bisque, Caesar salad, filet mignon, crème Brule. I certainly made up for missing breakfast. Danika was so tired, after her appetizer she curled up on her chair and fell asleep. Amazingly, she didn't wake up until the next morning! (We did bring her to her bed)
We watched a bit of the show in the Veneer Lounge and then Steve and I went back to the room and waited for the babysitter to arrive. It was the first time we have ever done that but she was a wonderful lady from the front desk and we felt very comfortable leaving our sleeping children with her for two hours. You see, originally this trip was planned without our children, that would have been a first for us. Our friends were now having to share us with our kids, and we felt a little guilty, so we used a babysitter.
In hindsight we probably should have kept the kids with us because we ended up in the casino and proceeded to give away a few bucks to the casino, proving once again that casinos are designed to make themselves money and not give it away.
As usual as soon as everyone fell asleep back in our room, the ship started rocking. I took a Gravol again before I crawled into bed and it helped keep the nausea away but not my nervousness. I stayed up listening to every creak and bump until at least 4 in the morning. At 8:30 am breakfast arrived and it was the start of a brand new day!
*Our day was completed with a little lecture from our 4 year old. We had our swim suits on and just about to head to the pool when the kids started chasing each other outside onto the balcony. Steve yelled at them to stop it and told them that they better be careful because if they fell over, "That will be the end of you". Danika rolled her eyes and replied in a huff "Dad, don't be silly, we have our bathing suits on". Oh, to be young again.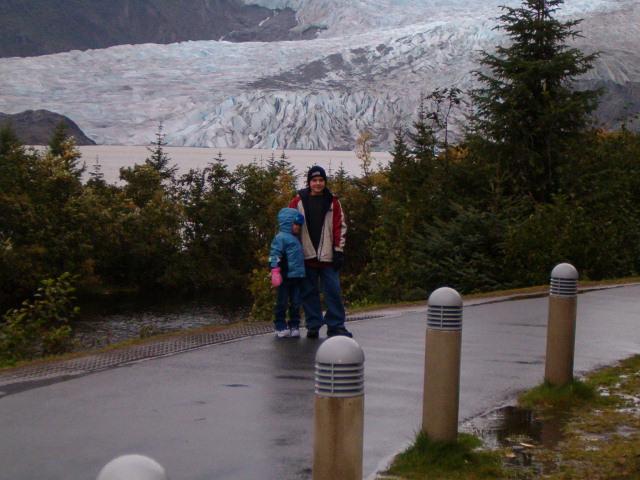 Mendenhall Glacier
Day 3
We were awakened by smooth seas and the sight of a huge glacier and ice bergs floating by. The colour of the ice is amazing, this clear turquoise blue. There are little chunks of it floating out beside the ship and, of course, Nikolas made a few references to the Titanic. We had room service for breakfast and then Steve went for a quick run and Joy and I went to the gym for a workout. It's quite spectacular to be on a treadmill or elliptical trainer and be looking out floor to ceiling windows on the beautiful landscape of Alaska. We saw a few whales as we tried to burn some of those calories we consumed on this great trip.
Back to the room and we got our warm clothes on in preparation for our tour of Juneau, the capital city of Alaska. We were a little disappointed as we disembarked. First of all, it was pouring rain and second of all, there isn't all that much to see. Realistically it could take you half an hour to tour this little city, if you walk real slow. Nikolas even commented that it looked like a ghost town. The stores are lined up one after another with pretty much the same thing in all of them; lots of t-shirts, cups and glasses with the 'Alaska' logo on them. The one positive thing was that they were all 50% off because this is the end of the cruising season up here. We also found out that is why this trip was so cheap. The end of the season usually means inclement weather which usually means a bumpy ride. Great! Anyway, we hailed a cab and he took us to the Mendenhall Glacier.
It's just a 15 min. drive from the port and is kinda cool but a little anticlimactic. The weather was very dreary and in some ways it was perfect for 'Alaska'. It was cool and rainy. Surprisingly, it was not as cold as we had thought it was going to be. We were quite comfortable with fleece and light jackets. Our cab driver told us that it does not snow much up here, and the temperature varies by only 30 degrees from summer to winter. To sum up Juneau the best is to quote a joke on one of the t-shirts for sale: Juneau, a small drinking town with a fishing problem. The following is a brief history lesson about…….
Juneau, Alaska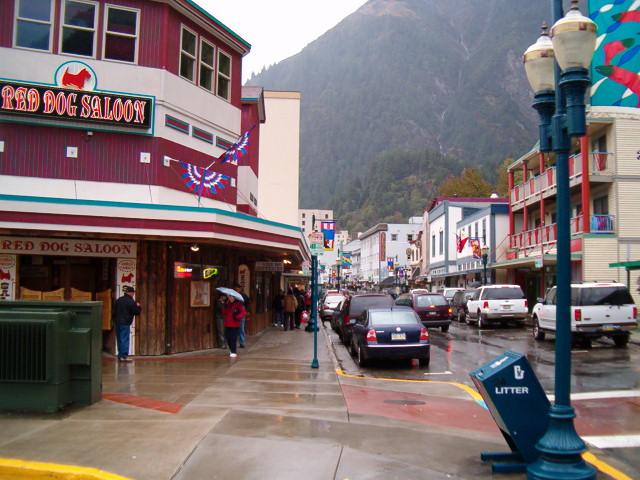 The bustling little City of Juneau
One afternoon in the 19th century, a Chief named Kowee led a couple of drunken prospectors to a creek that emptied into the Gastineau Channel. In less than one day of planning, Prospectors, Richard Harris and Joe Juneau struck Gold. On October 4, 1880, Harris and Juneau laid claim to the area which was later named Gold Creek. The discovery produced one of the largest finds in history of the Alaska Gold Rush era. Juneau is between Mt. Juneau (3576 feet) and Mt. Roberts (3819) which provides the town with natural protection against the cold winds and permafrost. The Glaciers like Mendenhall, Taku and Hebert keep the town isolated from the rest of the state and help provide for a moderate climate. You would think that every place in Alaska gets loads of snow, but that is not the case in Juneau. The temperate varies about 30 degrees Fahrenheit from winter to summer, and very little snow. In 1912 the Capital of Alaska was moved from Sitka to Juneau, where it has been till this day. Unlike most countries, it is not uncommon to find the capitals in the U.S. to be very small towns or cities.
After our short tour we headed back into the ship and decided to get a little snack before dinner. Then we went to the Vermeer Lounge and watched a fantastic magic show. The guy is a comedian too and his show is hilarious. We had some time to get ready for dinner and Nikolas decided to skip dinner and go to Club Hal instead. For a guy who didn't want to go on this trip he sure is having a great time. The kid's program is excellent and Stacy, the kid coordinator, is wonderful with the kids. The only downside was that Danika was too young to go without a parent, so one of us had to be with her when she wanted to join in. We thought of telling a fib and saying she is 5 years old but teaching your kids to lie is probably not the best thing to do. After dinner we watched a little of the show with some of the passengers involved in it and then after the babysitter arrived we went up to the Crow's Nest and had a few drinks while we listened to some great music. From there we went back to the casino and threw away some more money. It was my turn to go back to the room and be with the kids. And as usual, just as I put my head on the pillow the boat started rocking and I started getting very nauseated and nervous. Steve arrived a short time later after losing more at the casino and I had to get out of the room so I got dressed and headed back to the casino where I proceeded to close it down with four other people playing blackjack. It was 3:30 am and the ship was sailing along smoothly so for the first time I actually fell asleep as soon as my head hit the pillow.
The cool little City Of Ketchikan
Day 4
The next morning we had our usual breakfast in our room as the ship sailed into Ketchikan. The weather was much better than in Juneau and the town is much prettier. As you come into port there are cute little homes right on the water on stilts and they are all different colours. We got ready and set out to tour Ketchikan, here is a brief history on it…..
Ketchikan, Alaska
The site of an ancient Native fish camp, it began with the establishment of a salmon cannery in the 1880s. During the Gold Rush, it enjoyed a brief boom supplying goods to prospectors headed to the Yukon gold fields. For most of the 1900s, the town thrived as a fishing and timber centre. Today, tourism has joined fishing as the economic mainstay.
It is located on Revillagigedo Island and has a population of 15,000. The picturesque harbour is filled with fishing boats and the houses are tucked into steep foothills where wooded stairways serve as streets. Several of the downtown streets lie suspended across trestles and pilings. Huge salmon runs pass through the downtown creek.
Ketchikan is also the gateway to Misty Fjords National Monument and is known as "Alaska's First City", because it is the first town travelers reach when ferrying north. It is also dubbed "the capital of liquid sunshine", because it is drenched by an average of 160 inches of rain every year.
Most of the major sights are located within easy walking distance of the dock. Tourists especially enjoy visiting Creek Street Historic District, a historic district lining a curved plank road along Ketchikan Creek. Dating back to the Gold Rush days, this row of colourful houses was formerly a red light district that housed many brothels. Today, it overflows with gift shops, art galleries and restaurants. The only hint of its racy past is Dolly's House, a former brothel named after renowned madam Dolly Arthur. For five dollars you can tour the original house she bought in 1919 and view all her original décor and clothing. My 4-year old daughter joined me on the tour thinking it was a house full of dolls, she kept asking me, "where are all the dolls?" Thank goodness she didn't get it.
Ketchikan's other major draw is its Native heritage. A vibrant centre for the Tlingit, Tsimshian, and Haida tribes, it boasts more totem poles than anywhere else in the world.
We enjoyed our tour of Ketchikan and it was back on the boat. As we got ready for dinner the boat left the calm narrows and headed back into the rough open waters. We were getting somewhat use to the motion by now and we sat down at our table and started our meals with some escargot. Even our 4-year old ate them although we did not tell her what they really were. At this point the boat was starting to really rock and roll and our daughter started to feel sick. We're not sure if it was the escargot or the motion of the ocean. Steve took her back to the room and I went around the ship and tried to find some children's Gravol because I had run out of the package I brought. They only had an American version of Gravol that stated in bold letters NOT RECOMMENDED FOR CHILDREN so I was out of luck. When I got back to the room our daughter was just fine and she was lying on the bed in her pajamas watching a movie on the portable DVD player we brought. Our room was right above the dining room and I could hear some loud marching music coming from there and I realized that tonight was the night they were serving flaming Black Alaska for dessert. I wanted her to see this as the waiters light sparklers and march across the dining room with the dessert held up high. I grabbed her up and ran up the stairs and into the dining room just in time to catch the show. It was great! So all in all, the night was okay even though I only got to eat a few bites of my steak and lobster. Walking back to the room I had to take my heels off because the boat was moving so much and I actually had to hold on to the railings along the wall as I walked. Once the babysitter arrived and my son came back from Club HAL it was off to the casino again to get my mind off the motion. It worked.
Day 5
This was our last full day onboard so we tried to do our shopping in the duty free shops. Steve bought the alcohol and I bought perfume. The prices are not that great but they are just a little cheaper so we bought just a little. By this time the boat had entered the Inside Passage so the sailing was smooth and the weather was sunny so we had beautiful scenery to enjoy. In the morning there was a meeting in the Veneer Lounge to explain the disembarkation procedures and for a final farewell from the ship's crew. I found it to be quite emotional even though we were only on the ship for 5 days. They had everyone on stage and they sang a wonderful farewell song. It was quite funny too because the cruise director had a top 9 questions asked on the trip. I don't remember all of them but some were hilarious, like: 'What happens to the ice sculptures after they melt?' 'Do the crew sleep on board?' 'Are those islands over there completely surrounded by water?' 'What religion are those people with the patches behind their ears?' "Are the televisions on this ship cable or satellite?" and many more. After a workout we went up to the Crow's Nest which is a lounge at the highest point of the ship. The view was spectacular and we stayed there for a few hours enjoying our drinks and appetizers. We noted that we should have come up a lot more often during the trip because it was awesome. Steve took Danika swimming in the freezing outdoor pool and I went back to the room to leisurely get ready for our final night.
Our dinner was wonderful and everyone was in good spirits because the boat was sailing smooth again. Our final night in the casino was very fun but not that lucrative. We went to bed very late and had to get up at 6:15am for breakfast before we left the ship. We probably should have had an early night but hey we had fun and that's all that counts.
Like we've said before, this trip was supposed to be kid-free, but in thanks to the two ladies at the front desk, Club HAL and our understanding friends, we were able to enjoy the best of both worlds. Bringing your children on a cruise is actually a great thing to do and we wouldn't hesitate to do it again.
One thing we didn't mention is the Russian history that prevails in Alaska, along with its Orthodox religion. Alaska's thriving Russian Orthodox Church still has 90 parishes, 35 clergy and an estimated 20,000 faithful. Russia ruled Alaska for 126 years until it sold the territory to the United States in 1867. The land of the Czar's however, left a rich legacy for today's travelers to Alaska, a wealth of Slavic surnames and an impressive collection of cultural and historical artifacts.
By the mid-1800s, the fur trade was declining, and Russia's support for its colony was fading. Fearing it could not defend its territory from attack, it sold it to the U.S., preventing it from falling into the hands of its old enemy, Great Britain. In 1867, U.S. Secretary of State, William Seward, braving widespread derision from Americans, completed the purchase for 7.2 million, or about 2 cents an acre.
You see Russia had never intended to colonize Alaska. Never more than about 800 Russians lived in Alaska at any given time. So after the transfers, most Russian Alaskans elected to go back home rather than accept U.S. Citizenship. Some Russian's, however, had married Indians, so the heritage of early Russian trappers endures in Alaska to this day.
If you're planning your first cruise to Alaska, make sure you are going to the Hubbard Glacier and Glacier Bay, because that's what real Alaska is all about. Your ship goes into the water's of the glacier and parts of it will break off and crash into the water only a few hundred meters from the ship.
Happy Sailing