WHISTLER / BLACKCOMB
Whistler Pictures (click here)
Whistler - formerly know as Alta lake and renamed Whistler in 1975, the resort took it's name from Whistler Mountain. Locals had nicknamed the area Whistler because of the shrill sound made by the many Western Hoary Marmots which resided in the area. The picturesque village has now become the number one ski resort destination in the world.
Written by: Helen
Whistler has been rated the best ski resort in North America for years, and it's no wonder people come from all over the world to ski there. If you love deep West Coast powder, world class night clubs and restaurants, well then, Whistler is the place for you. The village in Whistler is like a Bavarian paradise, with its beautiful streets and European shops throughout. Walking in the village is almost as good as the skiing, definitely more relaxing. The bars and nightclubs are very high end, with a bit of a New York feel and the L.A. line ups. Once inside these club it is very high energy and a great place to people watch, or dance the night away. Whistler is a must see, and it will be the best skiing you will do in a long time. If your going on only one vacation with your family this year and you are looking for affordable family fun, maybe skip whistler. Don't get me wrong, nothing compares to skiing Whistler if your kids are older, but there is nothing else for them when the runs close. In fact if you have very young kids, its almost like the resort does not want your business. Unless of course your kids love world class night life and restaurants, if they do, Whistler rocks. The only other big beef I have with Whistler is the cost. I put my 3 year old daughter, my 8 year old son and my 2 nephews in a one day lesson. They have a special package that includes the lesson, the lift pass and the equipment for the day. It cost me $637 bucks for the four of them, and I don't think my 3 year old ever actually had her ski's on. If that's the special, I would hate to see the regular price. If you want to bring your kids and do stuff as a family, you might want to try some of British Columbia's other gems. Sun Peaks, Big white and Silver Star just to name a few.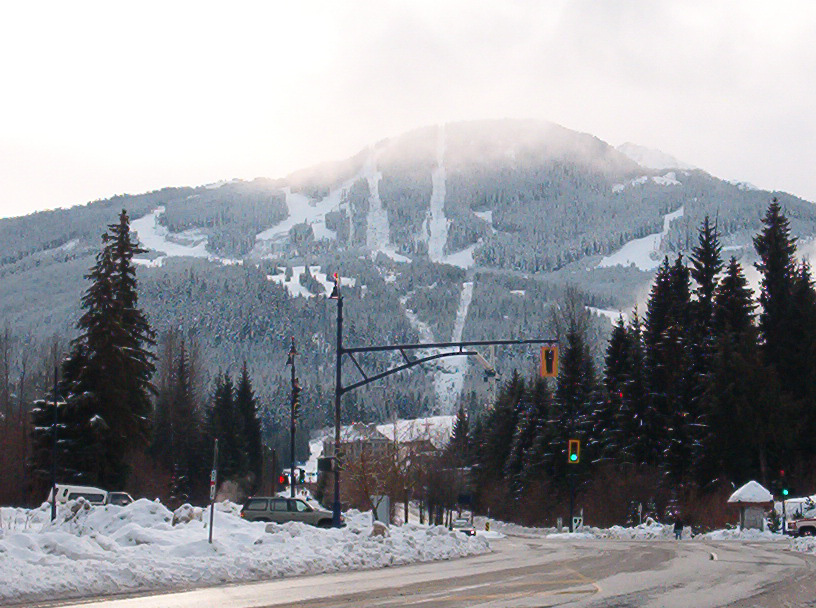 A picture of Blackcomb from the Market place
DINING in WHISTLER
For a fantastic meal, go to ARAXI'S (French-Italian) 4222 Village square
For a great family and kids menu, go to MILESTONES #19-4308 Main St.
For the best food and prices, go to THE WILDWOOD 4500 Northlands Blvd.
For the best cafe, go to the BEET ROOT in the market place, Whistler Village
Accommodations at Whistler will always come down to price, but location is actually quite simple. There is not a ton of nightlife in the Creekside village so if that's what you are looking for, stay in the main village. All major Hotels offer wide ranges of packages and price plans. Check out the Westin or Delta Hotels, and then look up the Montebello complex if you want a great family townhouse at a fair price.
These next mountains are designed around families and smaller children.
Big White is just outside of Kelowna, B.C. and gets more snow than any of the other interior mountains, but along with all that snow it also gets tons of fog. Its nickname is Big White out! The mountain itself is setup so that most accommodations are ski in-ski out, and also has many activities for children besides skiing.
Silver Star is somewhat similar to Big White except it is not set up for ski in - ski out, as the homes are scattered all over the village. I have to say though, this mountain is very well thought out and the Gingerbread homes are very tastefully done and would lose some of there appeal if the were all clustered together. This mountain is awesome for families along with great skiing, tubing and skating. This mountain is just outside Vernon, B.C.
Our favorite family ski destination is Sun Peaks just outside of Kamloops, B.C. (There are daily flights from Seattle to Kamloops via Horizon air)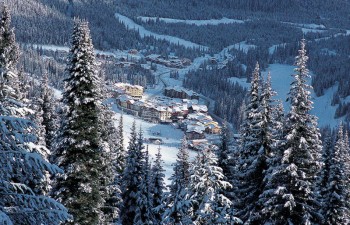 We took our two kids, our nephew and my mother up to Sun Peaks for four days during spring break. We booked the day before we left and got a pretty good deal for two rooms that included lift tickets. It cost us $110 per adult and we just had to pay for the kids ski passes. The only other time we have been up to Sun Peaks was about 2 years earlier and at that time we had rented a house with three other families. This time we decided to try staying in the village, and man, did we luck out on the location of our rooms. We stayed at the Hearthstone Lodge and it's located right at the bottom of the platter run and it just so happened that our windows looked out onto the run. The hotel itself is quite nice and the rooms are very spacious. They both had kitchenettes with a stove, a dishwasher (small) and a full fridge. The main bed was a wall unit that you pulled down from the wall so that during the day the rooms are huge because the beds are out of the way. With six people that was very ideal. The best location for a Hotel is the Delta, it is huge and has an outdoor heated pool that is at the base of a run and looks over the village.
My mother is seventy years old and NOT a skier or very fond of snow in general but I can say that she absolutely loved it up there. She loved walking through the village and just loved watching her grandchildren ski either from the bottom of the hill or from the luxury of her hotel room. We are extremely protective of our children yet we had no trouble leaving our eight year old son and our ten year old nephew on the mountain by themselves as we sat in our rooms and watched them as they went up the t-bar and down the platter for hours on end. We had walkie-talkies for communication and our kids had a fantastic time.
The village is not very big as it would probably take you less than five minutes to walk from one end to the other. But there is this amazing feeling of comfort when you are there. It reminds you of a little Austrian ski village that you would find nestled in some mountain. Even the architecture of the building are 'Bavarian' with little flowers painted on the outside stucco and shudders on the windows. There are no huge hotels and no huge crowds and there is A LOT of children everywhere. The best part about the ski mountain itself is that every run ends up at the same spot so it is so easy to keep track of everyone you are with and it is very practical. Even Mt. Morrisey a new mountain they opened recently has all it's runs converging at the village.
We didn't experience the night life at the village but from looking out the windows it didn't look too exciting. There are many lovely restaurants in the village and the meals seemed somewhat reasonable as we peeked at some menus. On average the main course will run you between 15-30 dollars. Right beside our hotel was a pizza joint that make some outstanding pizzas. After a long day of skiing that smell makes its way up the stairs of the hotel and into our rooms. We ordered from them twice and could have, quite honestly, eaten there every night.
My husband is a great skier as he used to ski patrol on Grouse Mountain (just outside of Vancouver). He didn't get a chance to ski too many advanced runs but he was quite happy with the amount and the variety. I haven't skied in at least 15 years and even then I was not very good at it so I decided to take a lesson. It started at 10am and I was put in a Level 2 class as they told me that Level 1 was for people that have never, ever been on skis before. I had a wonderful instructor named Don who lives on the mountain in the winter and on Shuswap Lake in the Summer. What a life! We went up the platter once and then straight to the chairlift and up the mountain. I was one of the 'weaker' skiers in the group but everyone was very friendly and supportive and I made my way down the mountain in one piece with just one episode of total loss of control. The snow was beautiful on the top 3/4 of the mountain but near the bottom I found it to be quite icy and slushy at the same time. This made sense as it would snow in the morning and then be warm and sunny in the afternoon, nothing like spring skiing! We did another run and ended up going over the two hours slotted for the lesson, but our instructor was very good about it and did not rush us even though he was missing part of his lunch break. We didn't get down the second run until after 12:30. By then every single muscle in my legs were aching, even ones that I didn't even know existed, so it was time to rest and have lunch. And as I said earlier, I just sat at an outdoor patio at the village and waited for everyone else to make their way down the hill.
After the ski hill closes at 4pm the tube run opens and it's right at the top of the platter which also stays open until 8pm. The boys had a riot on the tubes but I have to say that the tube park in Silver Star is much better. It has more runs and longer ones too and the most important bonus is that they have a type of t-bar that drags you and your tube back up the hill. At Sun Peaks, you have to walk back up the hill but they don't make you take the tube too. They have a snowmobile that hauls the tubes up for you. Our three year daughter went down by herself but she was not impressed. It was a little too scary for her and she refused to go again. Thank goodness my husband only bought her one trip down. That's the other part that's not so great. You have to pay for each run down the hill so before you come to the tube park, you have to decide how many times you want to go down and pay for that down at the village, quite a ways from the top of the park. Our kids also went to the outdoor pool and they really enjoyed that too. It is quite big and very warm, like a hot tub and it also has a separate toddler pool and a smaller hot tub. Considering that it was spring break the pool was not crowded at all. The skating rink is right next to the pool but it was closed because the weather was too warm. At the bottom of the runs they had a bungee ride set up as well. Our kids wanted to try it but this was one attraction that was really busy so we never got them on it. It's two sets of bungee elastics connected to a harness that is strapped around your waist and between your legs and you are on a trampoline and there is a guide that gets you bouncing and the elastics propel you up very high and you can do somersaults if you want. It looked very fun.
The four days went very fast and nobody wanted to go home. We can honestly say that we enjoy Sun Peaks way more than Whistler in the winter. It's a fantastic FAMILY-friendly mountain and we will definitely be back again. It took us three and a half hours to get there from South Surrey and a little longer to get home because there was a bit of a snow storm on the Coquihalla Highway. It is twice as far as Whistler but we think it's well worth the drive!!
We have been to Whistler about 6 times in the last 6 months and we strongly suggest going there in the summer with young kids, its spectacular and very fun. We will spend our winters in Sun Peaks from now on, only because our kids keep comparing it to Disneyland.
Happy Skiing!