Viva Las Vegas
One day in July my wife said "Hey, lets go to Vegas". I started to look for air fairs when my wife (who is afraid of flying) said lets drive instead. Driving from Canada to Vegas is like driving from one end of the United States to the other. It's a lonnnnnng way! Not only does she want to drive, she wants to bring our 3 year old daughter and 8 year old son. I see this plan as a disaster in the making, as our 2 kids are usually at each within about half an hour on most trips.
I agreed, and just before lift off my wife throws a major motza ball. She asks if we can bring along her mother. O.K. that was the last straw. I really had no desire to go and in my opinion it could not work. But 2 days later here we were, leaving Canada and bombing down the I-5 towards Seattle. My idea was to leave about 6 pm and I would drive straight to Reno while the family was snoozing all comfy in the back. BAD IDEA! After only a few hours of driving everyone started to fall asleep, including me. I could not understand it, my buddies and I used to drive straight to Reno every year, back when I was in my twenties. Why could I not pull it off now? I gave it my best, but at 4am I was done. So I pulled into a Best Western in Medford, Oregon and we all crashed for 3 hours, got up, ate breakfast and headed down the I-5 towards California. Traveling with kids can be a killer, but we brought along the greatest travel tool ever invented: a DVD player. I realize that having your kids watch movies as you drive across some of the most beautiful landscape is not for everyone, but that was the only way our kids were going to pull 12 and 13 hour drives in our truck. We drove down through Medford, Redding, AREA 51 and east on HWY 395 towards Nevada. That drive from Oregon to Reno was a blast, our kids were awesome and the scenery was very cool. We pulled into Reno about 6 PM and were very tired, so we pulled into Bally's, had a great meal and went to bed.
We headed out from Reno around 8 AM down HWY 395 through Sparks, Fallon, Walker River Indian reserve, Walker Lake and through the Hawthorne ammunition depot. Driving through Hawthorne gives you an idea of the military capabilities of the United States. There are thousands of football field- sized bunkers that are dug deep into the ground. They are on both sides of the road, and you won't see any people walking around until you get to the town of Hawthorne. As a Canadian I might be a bit ignorant when it comes to ammunition storage, but I had no idea the amount of amo being stored in the U.S., and I was told this is only one of many. Freaky!
As we drove through the scorching desert, a wonderful thing happens and its called Tonopah. This wonderful little town, with a population of 3000 people, appears out of nowhere and brings something that you don't see in many Nevada small towns, Mcdonalds! We don't eat there very much, but it was a welcome site. We loaded up on burgers, fries and ice cream and then headed out on our last leg to Vegas. If you have been to Tonapah, you'll know that if your car or your air conditioner is not working properly, you will most definitely become Buzzard bait. Tonapah was only a few hundred miles of desert behind us as we cruised into Goldfield, then Indian Springs and finally, a site that tells you that you are near a big American city: a prison.
Hey, I know that Americans spend 46 billion dollars a year and have 60,000 people locked behind bars, but couldn't they keep the prisons away from the cities? I was playing hockey a few years back in Colorado Springs and one of the things that I was shocked to see is how many prisons that area had and how close they were to the city.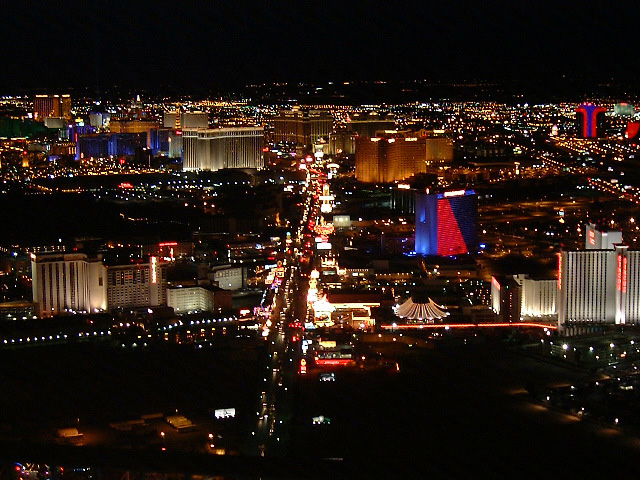 The Strip
So having said all that we pulled into Vegas at around 4 PM and started looking for a hotel. My wife has always wanted to stay at the Mirage, so that was the first place we hit, and as luck would have it, we were there on the weekend of a convention. So, No Mirage, No Treasure Island and No Rio. We stayed at the Rio last time and I strongly recommend it, but we grabbed a great hotel called the Luxor. The kids were pooped out, and I was in no mood for a night of sight seeing so we ate at the buffet and walked the strip a bit and then hit the sack. In hindsight and for future reference it is definitely better to book a room ahead.
Vegas is one rocking city, and if you have never been awake for more than 48 hours, then you and your body are in for a treat. I am not sure what it is, maybe it has something do with air being pumped into the casino's or maybe its something in the food or drinks, but whatever it is, it's 4 am before you know it. We brought our kids to Vegas and we were looking for some kind of family entertainment, something other than cocktail waitresses and the ding, ding, ding of the slot machines. Vegas used to offer such a wide variety of cheap buffets and free shows, but times have changed and things are quite expensive for the non-gambler. I have to admit, I could sit on a bench and just people watch all day, only the kids were not that big on that activity. The first time my wife and I saw this city we were in complete awe. The palm trees, the heat, the lights, the absolutely massive hotels. My wife was so excited for our kids to have the same reaction but to her dismay the first thing my son said was, "Cool, an arcade". I just don't think they quite got it. Our hotel, The Luxor, really is a very amazing hotel. The room was adequate in size, not huge, but very nicely decorated. The lobby is amazing too, because you look up and the floors are all visible and you really are inside a pyramid. Walking into all the new hotels it seems like they just try to be bigger and grander than the last. After a few days you almost get 'sick' of all the money ie. marble everywhere, waterfalls, tigers, dolphins, moving statues, chandeliers that probably cost more than a car. It's a little overwhelming.
Bellagio
Don't get me wrong, Vegas is a must see. We spent most of our time between the Luxor, the Excalibur, New York New York and the MGM Grand. Mostly because my mother-in-law became a major boat anchor. Her legs swelled up any time we got near the slot machines, and mysteriously could not walk another inch without taking a few hours of rest. So we would leave her at the slots and continue our sightseeing , only to return at about the same time that she was plunking in her last dollar. The kids enjoyed the Rainforest Cafe but we made the mistake of going on a Sat. night and it was packed. We had to wait an hour just for them to call our name and then even after that we had another 45 min. wait to be seated. It could have gone faster, we noticed, if we would have slipped the manager 50 bucks. We chose not to do that. The food was great and the wait was worth it. We used that 50 bucks to take our son to the Jousting Show at the Excalibur which was really fantastic. He loved it and we thought it was pretty cool eating food with our hands and banging our mugs on the table instead of clapping. The show itself is quite spectacular with lots of special effects. Highly recommended.
One thing that our kids did enjoy, that we did very little of when we came without them before, was the hotel swimming pool. The weather was very hot and the pool was busy but there was room for everyone. Even our three year old enjoyed it because they had a very shallow section for toddlers. It was great. You also don't have to worry whether they are eating enough because the buffets have everything under the sun for adults and children. My son had pizza for breakfast, lunch and dinner, he was in heaven.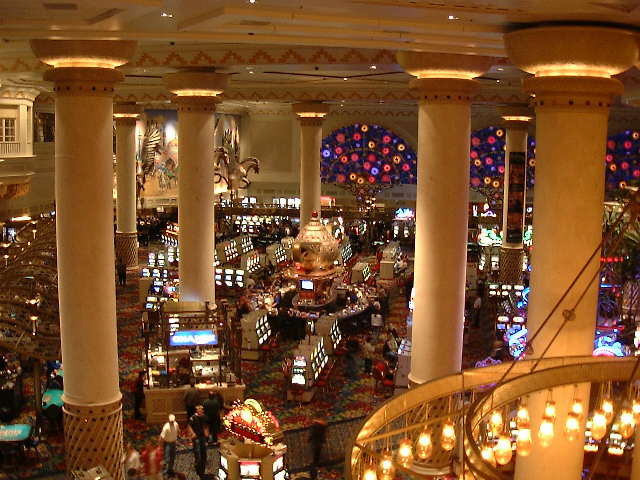 The Aladdin Casino
We stayed in Vegas for 4 days, and that was not enough to see even a 1/4 of the strip, never mind the old part of town. If you are going to Vegas, make sure you bring your best walking shoes and buy a big bottle of water. I'm glad my kids had a chance to see this city, but it's really not designed for kids. They are even closing what little there was for kids, or changing things, like the pirate show in front of Treasure Island. O.K. they have roller coasters and a few little theme rooms, and some cool magic shows, but they know your kids are not going to drop any cash while staying so why bother with them. If you have been to Vegas, you know it's the city of sex and gambling; walking and eating are no too far behind, with so much going on behind the scenes, its not really a nice place for kids. If you are going to Vegas with kids it's best, if possible, to go during the week and not on the weekend. The prices are way lower, the availability is better and lineups are shorter.
We left Vegas and headed out on the I-15 through Mesquite, Littlefield (Arizona), and then to St. George (Utah). Make sure you go through Zion National park if you are in the area. From there we stayed on the I-15 through Cedar City where we made what I like to call "The Pizza Hut Blowout". Lets just say we stopped here to eat, but before we did that, I lined the kids up and ranted and raved until they promised to behave on the next leg. It was nothing a cold Coke and a pasta dish wouldn't fix. We plowed on up through Provo and after a few more hours we knew we were close to Salt Lake City when we saw it, yup, you guessed it, a big prison right on the edge of town. Its kind of weird to see hundreds of miles of churches and then to see this huge prison. Maybe I'm crazy but if all these people were going to these churches all the time, who would have time to do the crime? We arrived at night, so sight-seeing was limited and we were, of course, pooped out again, so we had dinner and some complimentary drinks at the Embassy Suites Hotel. The next morning everything was going as planned until my back went out. This was not good as my wife had a bad kink in her neck and could not rotate her head. My 8 year old son also decided that he had had enough driving and was not at all keen about doing anymore. We were still 963 miles from home. I told my wife that the best way to get through this was to take some Tylenol and push on.
We drove through Ogden, Pocatello, east on HWY-20 from Idaho Falls through Rexburg and then took a break just outside of Yellowstone park. We stopped at a place called the Bear park, it has a 1000 pound Grizzly and a number of big black bears that walk freely as you drive by them in the park. Pretty cool if you don't mind seeing these wonderful creatures in their non-natural habitat. My wife was also a little nervous when the young girl at the gate told us not to panic if one of the bears climbs up on the hood of the car. Apparently this is quite common and you are just suppose to wait patiently in your car until a park warden comes to get the bear off. Thank god they stayed away from our truck.
We headed into West Yellowstone and wanted to go through the park, but unfortunately the forest fires were quite bad and they had closed the east entrance to Yellowstone, so we didn't. We headed up to Big Sky (Montana) and headed West on the I-90 through Belgrade and Butte and then we pulled into a smoke filled Missoula after 13 hours of driving. I was in some pain and driving made it even more uncomfortable. The Hotel we were staying at advised us that the Town of Missoula was on the highest level of evacuation alert and we could be asked to leave at any moment. I could only take my muscle relaxants at night because they knocked me out, so I popped a couple and hit the sack. Well, at 3am the fire alarm started to ring and people started to evacuate. I was out of it and when my wife woke me up to tell me that the fire alarm was ringing I told my wife to call the front desk. I have been a Firefighter for 14 years and could have reacted a little different than I did, but I asked my wife to check the hallway for smoke and went back to sleep after she said there was none. It turned out to be just a false alarm. I woke up at 7 AM and I just wanted to get back on the I-90 before they closed it due to the forest fires. That would have added another 5 hours to our trip if they did. At this point I could hardly walk to the truck, but I just wanted to get closer to home, so we headed down the I-90 past the fires into Idaho through Alberton, Silverton, Kellog and one of the prettiest places we saw on our whole trip, Coeur D' Alene. We drove into Spokane and ate lunch and rested before heading west on HWY 2 arriving in Levonworth in the Cascade Mountains. Wow, we drove through the Rockies and Cascades all in one day.
Levonworth is a small Bavarian village, at the base of the Cascade Mountains. This place must be amazing at Christmas time because it is the cutest little three block stretch of gingerbread homes you will ever see. They have lots of little shops, bookstores, cafes and really the only thing missing is Julie Andrews walking down the street singing The Sound of Music.
We blasted through Wenatchee mountains, Everett and back to the Canadian border. It was around Midnight when we arrived at our door, so we slid the kids in their beds and we crawled into ours. What a killer those last couple of days were. I am very glad we pulled it off, but another 3 or 4 days would have made it much more relaxing. So if your going to try a trip like this, don't rush, it's not worth throwing your back out.