HAVANA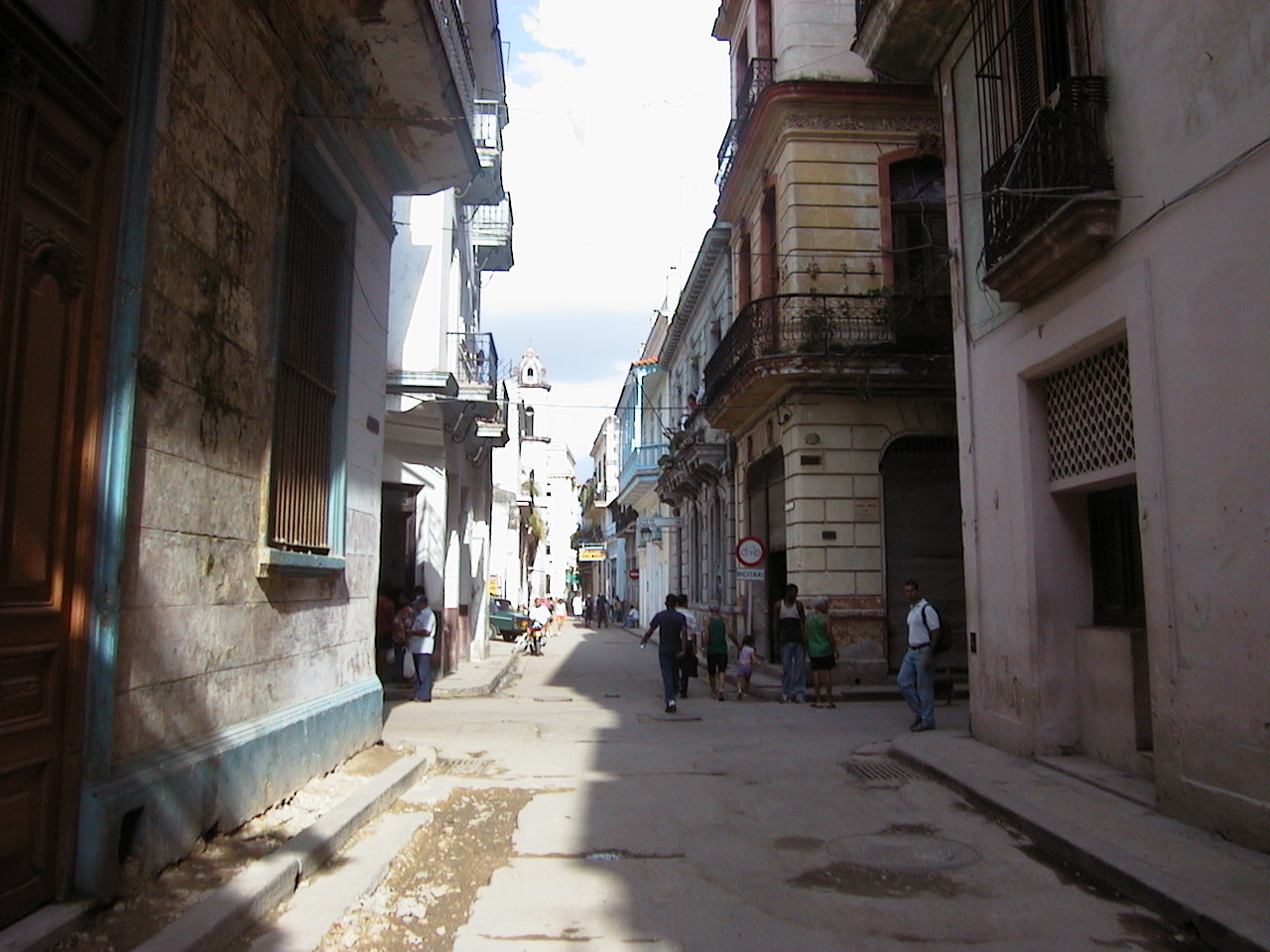 A STROLL THROUGH OLD HABANA
Written by Steve
Driving into Havana is like traveling in a time machine and is definitely an experience you must see to believe. I hope they get the Olympics in 2012 because it is an amazing city with a population that is both patriotic and extremely proud. You can spend weeks here if you are a historian, heck, you could spend months just going through the book stands at the park. There are thousands of books for sale on rows of racks. The selection is incredible, my wife wanted to buy a book written in the 1930's but it was over 200 dollars. Everything about this place screams ancient Spain, without the crowds and the travel. Everything in Havana is located within only a few miles of each other and you may need some road transportation, but not that much. Don't take the bus (Camel) if you can at all help it. Havana is very safe but not when you're talking about the transportation system, it is very archaic. Rent a car or pay someone to take you because it can be a very long day if you choose the camel. When you see the flea market you'll know that you are close to the heart of the city. Several museums in old Havana contain furniture, silverware, pottery and items from the colonial period. The best of these is the Palace of the Captains-General, where Spanish governors once lived. The Museo Nacional de Bellas Artes contains work by Rubens, Goya and Velazquez. Other museums such as the Casa de los Arabes and Casa de Asia have Middle and Far East collections. Havana's Deposito de Automovil is full of old American cars with one very impressive car, a Cadillac, dating back to 1905. If you can't find the time to see this Museum don't sweat it, you'll see an amazing collection of 1950 era cars fully restored driving the streets of Havana. At night in Havana you can literally follow your ears through the streets. Bands of musicians entertain tourists in bars and restaurants. One of the hottest spots is the Hotel Ambos Mundos, known as the famous place where Ernest Hemingway lived. Be sure to stop in the bar downstairs and try an authentic Cuban Mojito. Other spots are the Bar Paris, the Ambrosia, Revolution Square, Cathedral Square, El Template, Arms Square, La Bodeguita del Medi Bar and of course the Club Tropicana which is outside the city: Calle 72 No.4504 y Calle 43 Marianao, Havana. One of the most spectacular sites is the Cristobal Graveyard. Ask anyone in Cuba and they will recommend that you go see the graveyard. If you go on your own, you will be stopped by a Police Officer. Just give him a dollar for every person in your party and you'll be allowed to freely walk through. There is a funeral service every 20 minutes, and there are certain plots that have line-ups of Cuban's waiting to visit. I can't really explain it, but if you go to Havana make sure you check it out, you won't regret it. Havana has many things to do for everyone, even the kids will love the flea market, just be careful. The market was very busy and we made sure we held our kids' hands at all times, as it is a bit of a different crowd. After all this site-seeing you will be very hungry, so make sure you go to a Paladar in old Havana. Paladeres are privately-owned restaurants run by families out of their own homes. Authentic Cuban cuisine at very fair prices, and another chance to meet more of these wonderful people. Cuban's are very entrepreneurial people and you will be confronted often, but not aggressively, and when you say you are not interested they will not bother you again. We were always together as a family, and were only asked to buy Cigars. Even the panhandlers in the square were polite and non-threatening.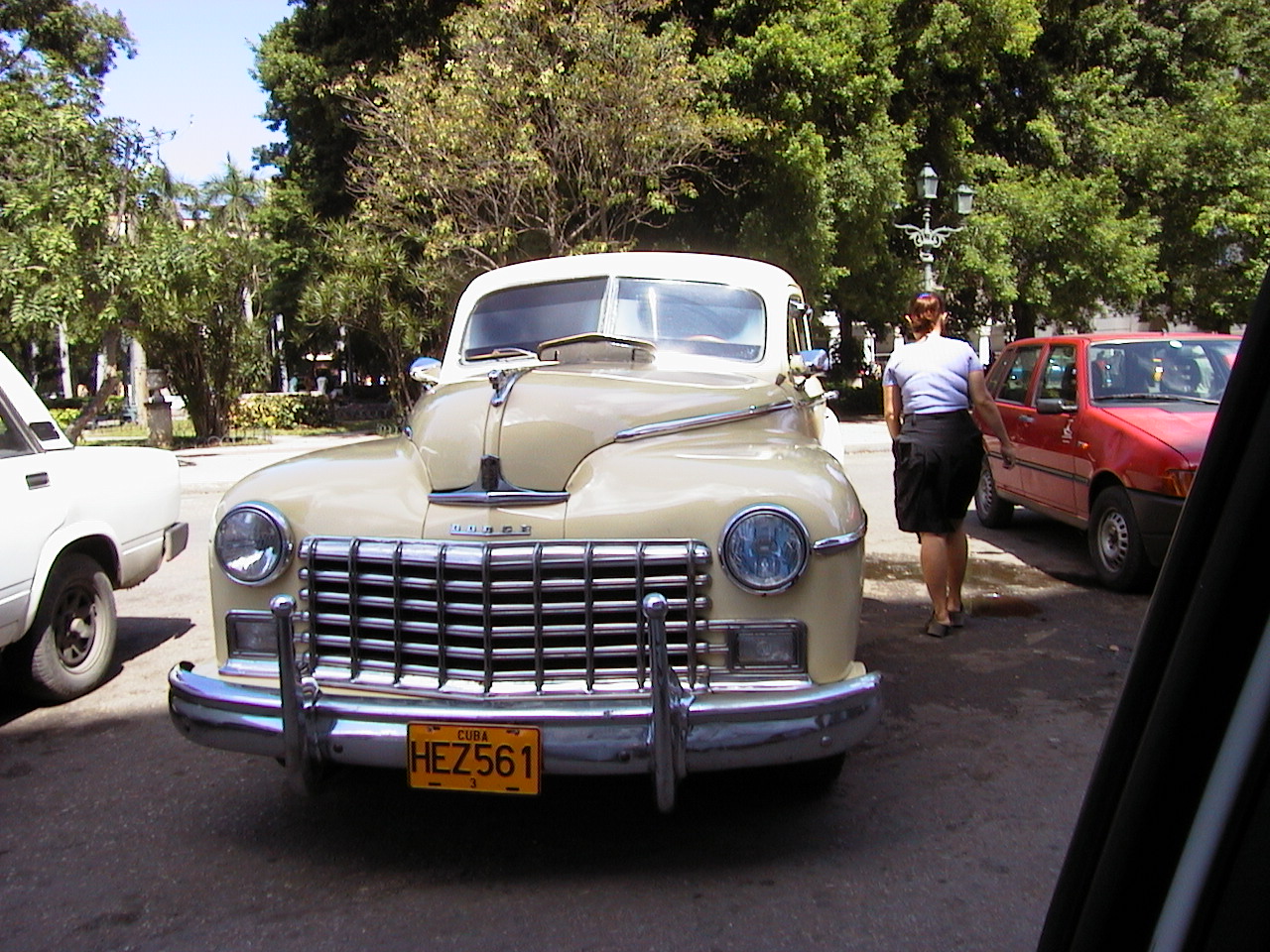 JUST A TYPICAL FIFTIES CAR THAT ARE ABUNDANT IN HAVANA
Resorts =
If you don't want to go to Havana, then go to Varadero or Holguin, they are both beautiful. Varadero's shores are lined with Hotels much like Waikiki and the water is very nice. The 18 kilometer-long Varadero peninsula lies in the Hicacos region of Matanzas province and boasts the most famous beaches in Cuba. The luxurious stretches of blue Caribean water, with a temperature that holds steady at a pleasant 25 º Celsius year-round, have a long history of enticing visitors.

Long before the arrival of the Spanish, this land was inhabited by the Siboney Indians, a sub-group of the Cubacanán people. Hundreds of years ago, they decorated many of the caves in the region with drawings and geometrical designs. One site in particular, the San Ambrosio cave, can be visited today and continues to fascinate tourists, both Cuban and foreign. The arrival of black slaves left another equally vivid stamp on the area as the Africans used the same caves to perform their religious rites. The strong Spanish influence in Varadero is observed in everything from architecture to cuisine.

The Spanish began mining salt at Las Salinas in 1587 and the town of Matanzas was founded in 1693. The names, which means "Killings" in English, is said to refer to the massacre of local indians by the conquistadors, although an alternative explanation attributes it to the killing of hundreds of Spaniards by marauding pirates. Despite the grim history, Matanzas, the "Athens of Cuba", is a great cultural center and has had many musicians, poets and writers settle in the area. Still today, much artistic activity occurs here. A third title, "City of Bridges", owes to the city's many bridges crossing the two rivers, the Yumuri and San Juan, that slice through it.

The swimming in Varadero is excellent, and in the 19th century it was a popular destination for Havanans who would make the trip here in steam boat. Today, the beaches are surrounded by hotels that offer vacation packages for the whole family. We know some people who have stayed at Breezes and Beaches and speak very highly of those two resorts, we could not stay there with kids. We chose the Tryp Pennisula, the resort was huge and fully loaded, but I would not stay there again. The kids club was great, but we paid full price for our 2 year old because the baby club was supposed to be fantastic. It was a room with some toys and you could get a baby sitter to stay with your child, A little different than what the brochure implied. The resort was over booked and the staff was having some problems with management when we were there, so it was not a super fantastic experience. Varadero itself is a gated pennisula that will only allow registered guests and employees of the hotels. So its not really Cuba, even though that is what a lot of people might be looking for. I personally found Varedero to kind of a fantasy land, the most important thing is how much can you drink and eat, like a Vegas buffet. Like I said, that great if that's your kind of holiday, but I would rather have a bit of culture in my vacations. The winds are always blowing so you will have no problem laying or playing on the beach all day without breaking a sweat. The mosquitoes can be a little pesty, but all the resorts have trucks that drive around at night spraying some sort of toxic goo that kills all the bugs, and god knows what else. If you want some culture and experience a little of the real Cuba and you don't want leave Varedero just ask one of the hotel workers if they know of anyone who offers meals from their home. Hotel workers will offer to make you and your family or friends dinner for about $10 bucks a head at their home. Its a bit of an underground economy that can be a real blast if you want a bit of a change from the line ups at the buffet in your hotel. All in all, Varadero is very nice and we made some very nice friends there, but for us it did not compare to Havana.
We did not get a chance to get to Holguin, so I will give you a second hand comparison.
Cuban history:
Europeans came to know Cuba in these lands. It was in Bariay, October 27, 1492, that Christopher Columbus arrived in his three caravels and it was here, captivated by the unequaled beauty of the land, that he exclaimed: this is the most beautiful lands that human eyes ever have seen. What the great Admiral did not know was that, five centuries later, this territory still has the beautiful landscape that he found then.
According to history, in 1545 and with an entourage of 80 colonists, Francisco García de Holguín and his wife Doña Isabel Fernández de Sandoval founded small hamlets in the lands of the Indian settlements of "Bayatiquirí", "Maibé", "Cucibá" … that were inhabited, at the time, by 25 000 natives.
García de Holguín and his retinue placed these lands under the protection of Saint Isidore, building a church in his honor in a neoclassical design and where the founding mass of the city was officiated. Later they added Our Lady of Rosario and in 1792 they included Saint Idelfonse and Saint Michael.
This region was also the scene of battles against the English many years before Havana was taken in 1762. In May 19, 1745, in the proximity of Gibara, a battle was waged against the British forcing them to retreat with 70 losses.
However, it was not until January 18, 1752, that the Spanish King granted the title of the City of Saint Isidore of Holguín. According to records of the time, 1 291 whites and 135 slaves lived in the new city of 211 houses.
The province of Holguín is one of the most picturesque of Cuba and covers an area of 3 591 square miles (9 300 square kilometers) – the fourth in size in Cuba – with about one million inhabitants and where 50 percent live in urban areas. On the west it borders with Las Tunas, to the south are Granma, Santiago de Cuba and Guantánamo and to the north is the Atlantic Ocean. Its main economic spheres are the sugar and mechanics industries as well as nickel (one of the largest reserves in the world) and tourism that has dramatically increased in the last decade.
The capital of the province, about 466 miles from Havana, also called the City of Parks has 11 parks for adults, 22 for children and 23 smaller parks. It is a city with a great cultural activity in its theatres, museums, culture houses and other institution. Perhaps the most important expressions are the Iberian-American Festivals (Las Fiestas Iberoamericanas) and the May Festivals (Romerías de Mayo). The latter begins with a pilgrimage to the Loma de la Cruz to the north and ends with a lively popular celebration and the raising of the flag with the Hacha de Holguín (the Holguín Axe), symbol of the city.
Holguín is also noted for its straight streets with numerous educational, scientific and industrial institutions, for its hotel and restaurant networks. It is the birthplace of eminent and popular personalities such as El Guayabero , one of the most well known vernacular troubadours in Cuba or the curiosity of the "burro de Mayabe" (a donkey that likes to drink beer for the enjoyment of the visitors – it has been calculated that he has downed 50 000 beers in 29 years) and whose descendents have followed in his favorite pastime.
Since May 28, 1982, the symbol of Holguín is the Axe that represents an anthropomorphic masculine figure. Found in 1860 by an officer of the Spanish Army, the piece is believed to have been made by the Indians of the XV century and rests on an olive green peridotite stone measuring 14 inches (350 mm) in length, 3 (76 mm) in width and 2 inches (48 mm) in thickness There are 41 exceptional beaches with clear blue green and warm water, fine white sand and lush vegetation along the northern coast of Holguín, about 37 miles (60 kilometers) from the Frank País International Airport. Outstanding are Guardalavaca, Playa Esmeralda and Pesquero , the latter with many sites for scuba diving.
The Bahía de Naranjo Nature Park, near Playa Esmeralda , has an extension of 247 acres (about one thousand hectares) and whose main attractions are the "Las Guanas" ecological and archeological trail, sailing in yachts, the aquarium in the sea, native food in the countryside and the wealth of almost virgin and endemic flora and fauna.
In the foot of the Yaguajay hills, only 5 miles (8 kilometers) from Guardalavaca is the Chorro de Maíta , the largest and most interesting ceremonial site of the Cuban native Indians and nearby is the Taíno Village that represents the life of these Indians who worked pottery and farming, as well as the city of Banes, well known archeological capital of Cuba.
Saetía Key – the largest in Cuba – is another fascinating site of Holguín that is found in Nipe Bay. This nature park has an area of 16 square miles (42 square kilometers) – 65% of which are covered by forests) – appropriate for safaris, horseback riding or swimming in any of its 12 beaches.
The La Mensura National Park in Pinares de Mayarí , southwest of the city, is 3 264 feet (995 meters) above sea level where you can observe about 300 endemic species of flora and enjoy other cultural and recreational options, including the impressive Gran Salto de Guayabo , the largest waterfall in Cuba.
The Bariay National Monument Park is a monumental complex that recreates the arrival of Christopher Columbus. It also has a replica of a Spanish fort, stables, a restaurant and Playa Blanca with its fine white sand and clear warm waters. From here the visitor can observe two of the most striking sights of Holguín: La Silla de Gibara that owes its name to Columbus for its resemblance to a saddle, and the Mezquita de Colón, named in honor of the Lovers Cliff located between Archidona and Antequera, that recreates a beautiful legend of Andalusia.
Other attractions are the Baní Indo-Cuban Museum in the city of Baní and Villa Blanca in Gibara with remains of forts, walls and a history that recalls the lives of generations of inhabitants of Holguín throughout the centuries.
According to the press, the tourist potential of the province includes 34 rivers, six waterfalls and reservoirs. There are also several sites for those who like to go scuba diving, 19 historical and cultural places, 21 caves, 135 archeological sites and 6 deposits of medicinal mineral mud and water, 12 protected areas, and 41 beaches of excellent quality. Here is the habitat of 30 percent of the endemic species of Cuban flora and about one thousand species of animals, typical of Cuba, that can be observed, specially birds and butterflies.
The hotel network of Holguín has 4 179 rooms in over 20 hotels, villas and cabins or bungalows in 8 beach areas, in several keys and two national parks, always ready to receive the visitor who wants to observe the most beautiful land that human eyes have ever seen , as Christopher Columbus, our first tourist, exclaimed when he sighted the panorama upon his arrival half a century ago.
Things to give away = Running shoes, Anything that say's Nike, Ball Caps, Crayons, Hot wheels, Barbies, Nice soaps, Shampoo.
Hotel workers do very well, so try to go into the city when you give stuff away. You will find doctors, teachers, working in hotels, because the wages with tips and gifts can get them way more than working the best paying jobs the country has to offer. Walk into any grocery store and look at the prices and then ask someone what they make a month and you will be shocked. A bartender in a nice Hotel can make up to 10 times more than a doctor. The hotel workers will trade what ever you give them and get food or things they need for family, that's part of the Cuban underground economy. So if you can go into the big cities, places that don't see many tourists and give away your stuff, it may help someone who would normally never see a gift like that.
Buying Cigars = One of the best places to buy cigars is at the airport. The Cigar factories and and Hotel shops are the most expensive and the the quality is the same at the airport. The black market Cigars are a crapshoot. The guys who sell them will tell you that they are the real thing, and that may very well be the case. The only problem with black market cigars is that they have been stored in kitchen cupboard or a box under a bed for months in the heat by the time you get them. Cuban Customs will confiscate any cigars that you can not provide a receipt for, and they are pretty good at finding them. Monti Cristo #4 Cigars go for $100 us. at the Factory and the Hotel shops and $75 us. at the airport. The black market Monti Cristo #4 Cigars go for $20-30 us. and can be bought from any bartender, lifegaurd or street vendor. H. Upmanns and Quinteros are the best bang for your buck at the airport, but everyone always goes for the Monti Cristo #4. We took a tour through the largest factory in Cuba and it was like watching a 50 year old movie. Everything is done manually, I mean everything! It was almost like it was a set up for tourists, the only thing that was missing was the donkey drawn carts pulling tobacco from the fields. My kids loved that tour, and I strongly suggest you check out one of the factories and you will see what I am talking about. I said to my wife when we left the factory, "do you think they have a huge modern factory up in the hills pumping out perfectly rolled Cigars ready for export" I would not put past old Fidel. If you don't know anything about Cigars, Good luck. I strongly suggest you do some research before you go.
Cycling = I spoke to a gent at the airport who cycled around Cuba for 2 weeks and he told me it was fantastic. The best thing about riding the island was there was not a lot of traffic and he had no problem finding places to stay. He ran into very few problems and said he would not hesitate to do it again.
For tourists who may have heard about Cuba not being a safe place, well you have very little to worry about. Well maybe one thing! Even though the Cuban Goverment think they have figured out how to deal with crime and unemployment, they sure have not put much time or effort into their transportation system. So if you have any fears about your safety, it will not have anything to do with getting robbed, it will be getting killed on a bus (Camel). A motor vehicle accident that resulted in 127 people being injured and over 40 people being killed happened when we were there so think twice about taking the bus. Whether you are in Havana or Varadero, you will see people on the side of the road waiting for a ride. Open flatbed trucks can be seen everywhere with up to 20 people hanging on for dear life as this vehicle flies down the road. Medical Care in Cuba is the best you'll find in the world. The only problem is the hospitals don't have a ton of western medicines and getting you to one when you are injured can be a bit of problem. The golden hour rule does not apply in Cuba, and if you need an ambulance right away, you may be better off taking a cab to the hospital. I was swimming with my two kids in front of our resort when we noticed a crowd of people huddled around someone lying on the beach. I ran my kids over to my wife and ran up there to see if I could help. There was a man in his 60's that had drowned out in the waves, before anyone noticed. I was told later that he must have had a heart attack and drowned and floated into shore. That was our last day at our resort, and so lets just say we took a little break from swimming that day.
What to bring that you won't find in Cuba = Pepto Bismal, Imodium, Tums, Bug repellant, Tylenol, and Ozanol.
We have been all over Europe and North America, and I can honestly say that Cuba is one of the most beautiful Cities in the world,
If you have the opportunity please go to Cuba, Go and enrich you life.
One other thing that may be very important. If you are traveling to Cuba and then onto the United States, do not let the Cuban Custom Officer stamp your passport, it will no longer be valid in the U.S.????????????
Happy Traveling