ROCKY MOUNTAINEER ROCKS!!!!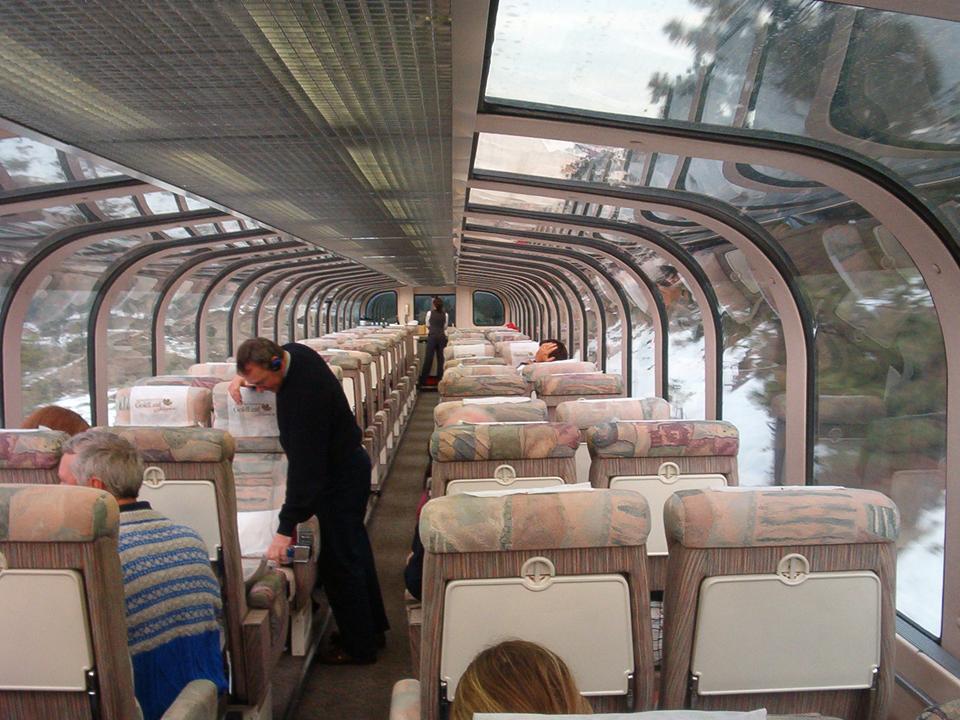 From the moment we entered the CN Station in Vancouver we knew this trip was going to be special. Awaiting us at the station were all the staff of the Rocky Mountaineer Railtours Company, dressed in Santa hats and reindeer antlers, giving out hot chocolate, cookies (huge), and candy canes. A quartet arrived and started singing beautiful Christmas carols as we waited in line to check in. We heard the all too familiar "All Aboard!" and as we walked to the train, every employee from R.M.R. lined the gangway, wishing us a wonderful trip. They stayed, all those wonderful people, until the train pulled away from the station and they all waved to us as the train gathered speed. What a send-off!
Once on board, we were seated in the 'bubble car', where you have a panaramic view with windows that extend up to the ceiling. This was an option to a regular car and we highly recommend it, it is certainly worth every penny extra. Soon we were toasting our departure with champagne and orange juice and sitting back in very comfortable "airplane" seats ready for the journey.
Breakfast, downstairs in the dining room was excellent. The tables are beautifully set with crisp white linens and fine china. The waiters, there were two of them, complimented each other nicely. One was a bit of a stuffed shirt with not much of a sense of humour and the other was the complete opposite, a football player-looking guy ( size wise) with a fantastic sense of humour. They played off each other and provided wonderful service. To start there was a basket waiting filled with delicious muffins and croissants. Next came a variety of juices, coffee/tea and a wonderful fruit plate. The selection off the menu was impressive: eggs benny with spinach and lobster, steak and eggs, banana pancakes. It was all delicious. While having breakfast we met a very nice family from Australia whom we would end up spending a lot of time with.
Back to our seats and we were able to turn one set of seats around so that we were facing each other. It was now time to relax, sit back and just enjoy the view and hope that our kids would sleep as our day had started at 4:30am. Before you know it, it's time for lunch and remarkably, lunch is even better than breakfast and really resembles more of a dinner than a lunch. The food is excellent with such entrees as: wild mushroom soup, venison and duck. Thank goodness there was a kids menu too! We went back to our seats with bellys full especially after the huge, incredible desserts. The route you take is quite remarkable as you come through towns through the back way. We went around Kamloops Lake which we did not even know existed as we entered into Kamloops itself. We came in very slowly and what was very impressive, if not eery, was the First Nations Cemetery. It has an eternal flame burning at its entrance and because it was so dark, you could just make out the hundreds of crosses haphazardly placed, some tipping over, in no particular order. We finally arrived at Kamloops, which is native for meeting place; where the Thomson meets the Fraser River.
The buses took us to The Plaza Hotel which on the outside looks quite old and not so inviting but once inside and in our rooms we were very surprised and impressed by the quality and the cleanliness. Our two children were with us during this trip and they did quite well on the train although we did hear that question, "Are we half way there yet?" about five minutes into the trip. We had one hour to rest and freshen up and then it was back on the buses and we were whisked away to a community center where we were to have a wonderful buffet and show. The center on the inside is decorated like the gold rush days and all the staff are dressed in old-fashioned clothes. The food was quite good (not as good as the train), and they started the show by having all the kids come to the stage to sing Christmas carols. It just so happened that our three-year old daughter was singled out and joined the main female singer on stage to sing the carols. She was quite a hit, we were so proud!!! After the carols they put on a musical about Billy Miner and it was excellent but too long. Most people, like us, had been up very early and it was coming on 10pm so by the end everyone was eager to go back to the hotel and SLEEP.
The next morning we were up at 5:30am and back on the buses for the ride to the train for the second leg of the trip. This time we were on the second seating for our meals so as we sat down the wonderful staff upstairs in the bubble car offered us coffee/tea and muffins, croissants, etc. The view the second day was so much more beautiful as we entered the Shuswap Lake areas. The feeling the second day is so much more relaxed and enjoyable as we eased comfortably into train transportation; the rhythm of the train is tranquil and soothing. The staff on board are also very knowledgeable and periodically, through a microphone, talk about the historic sites and their significance. We certainly learned a lot about our province and country, especially about our rail lines.
The kids were excited when they found the kids car which is one railcar for kids to do crafts and just be kids. There is an amazing man named Jim that works in this car and is very wonderful and patient with the children. There was a very cool miniature train that the kids made trestles and tunnels for and tons of supplies were available to make very Christmassy crafts. Our children were the only Canadian kids there, the rest were from Australia.
The second leg of the journey was spectacular. At one point as we were mesmerized looking at the scenery, one of our Aussie friends said to us, "you have a very beautiful country, you must be proud." And we replied, "Yes we do, and we had no idea just how beautiful it is!" As the train slowly wound it's way through the Rocky Mountains the sights were of a winter wonderland. The virgin white snow covered the ground like whipping cream and the incredible evergreens had their branches topped with snow from top to bottom. A collective gasp would erupt in the car when we would pass an incredible waterfall that had partially frozen. You could see the water falling behind a wall of transparent ice. The train would slow as we took a corner and because we were in the very last car we had some great photo opportunities to get shots of the front of the train entering a tunnel. One thing I was concerned about before the trip was the possibility of motion sickness, because my son and I are susceptible. But even as we were taking turn after turn we never once felt ill. Thank goodness! The second day seemed to pass a lot quicker than the first and soon we were passing through Lake Louise. We did not stop here and no, you do not get to see the actual lake itself but the sites are still very impressive.
Unfortunately, when we arrived in Banff it was dark so there wasn't much we could see. As we said our goodbyes to our outstanding staff we stepped off the train and into the cold. We had to wait, for the first time mind you, for our buses to arrive and this was probably the most disorganized portion of the trip. It did not last long as we were ushered into our buses and headed to our ultimate destination The Banff Springs Hotel. At this point I had turned to my husband and said, "If our trip ended right now, I would be completely satisfied".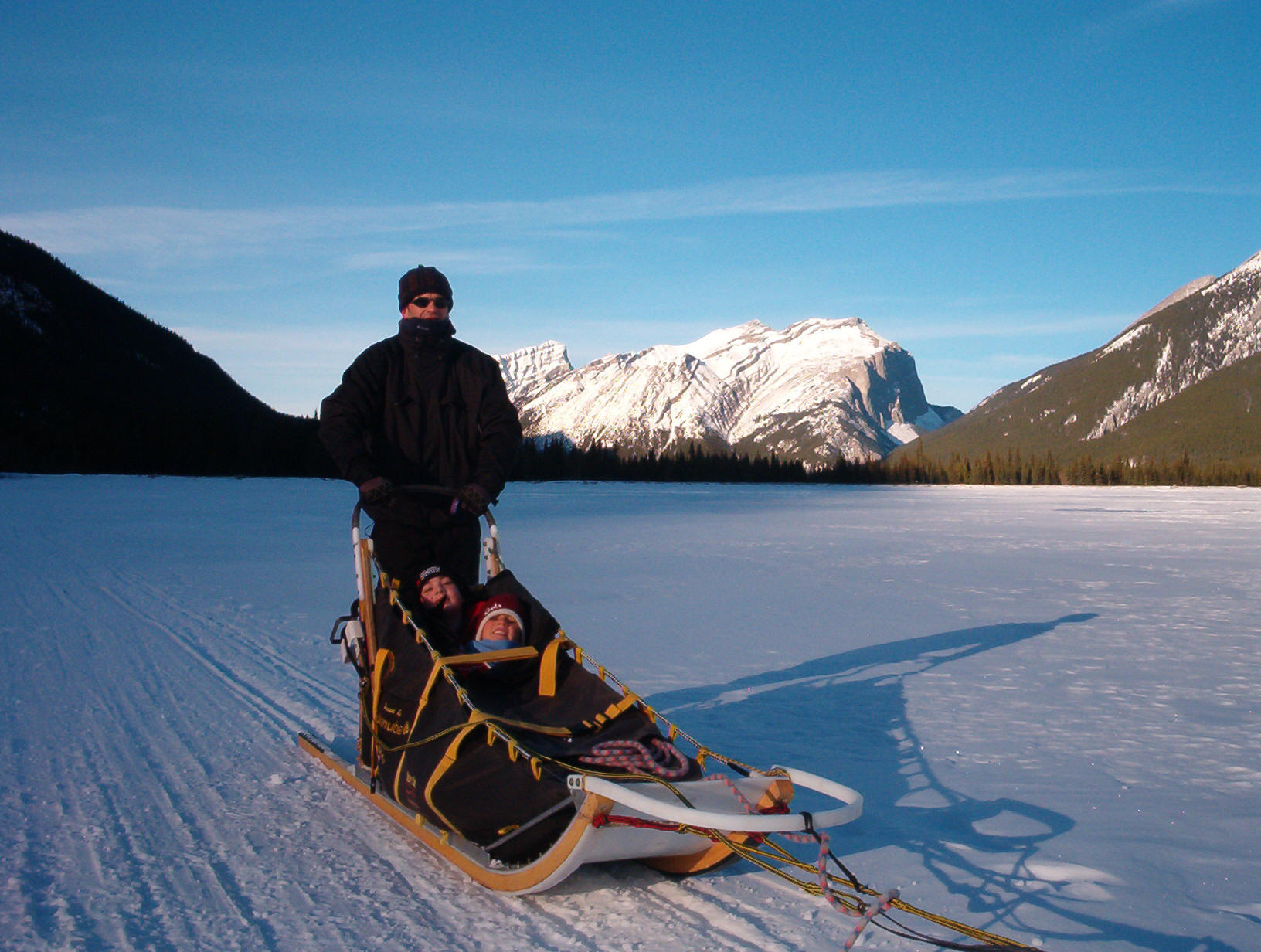 Steve, Nikolas and Brandon dog sledding across a lake in Canmore, Alberta
BANFF SPRINGS HOTEL
The buses transported us through the quaint town of Banff which was a lot bigger and more 'commercialized' than we expected. We had to laugh when we passed The Old Spaghetti Factory (restaurant) and a Mac's Convenience Store. We had just pictured it to be much smaller and more remote. When we arrived at the Banff Springs Hotel we were surprised again at how close it was to the actual town. In all the pictures, the hotel seems to be situated in the middle of nowhere, nestled deep in the forest. The Hotel itself is breathtaking. The building is in Scottish Baronial style with dormer windows poking out of steeply pitched roofs. As you stand before it you can just feel the history eminating from it. Although its foundation dates back to 1888, the first winter guests didn't arrive until 81 years later. Among those that have graced its premises are King George VI and Marilyn Monroe, the Queen Mother and Lassie, Benny Goodman and the Maharajah of Baroda. It owes its existence to the same railwayman who persuaded the Canadian government to preserve the natural beauty of the area; Van Horne.
The building of Canada's transcontinental rail link - for which Van Horne is commonly credited - was an achievement that had as much to do with nationhood as with running trains. With the Canadian Pacific railway completed, Van Horne's next task was to fill the trains. Which is where the Banff Springs hotel came in.
Plans had already been made for refreshment stops where passengers could break their journeys for food and lodging. Van Horne went a step further, by commissioning a hotel that would be a destination in itself. The site at Siding 29, later renamed "Banff" in honour of the Scottish origins of Van Horne's predecessor as president of the railway, provided the ideal setting. It had stunning scenery, which Van Horne protected by lobbying for what was to be Canada's first national park; it was accessible only by rail; and it was blessed with a natural hot spring - a near-essential for a 19th-century resort - discovered by a group of railway navigators on what is now called Sulphur Mountain. The spring still pumps out warm, smelly water; it is fed at 40C into a public, open-air bath. The scenery remains stunning, and the railway operational (though thanks to the Trans-Canada Highway it now carries only freight and tourists, the latter on Rocky Mountaineer Rail tours). And the extraordinary hotel that Van Horne commissioned and helped to design survives.
Like a fairy-tale castle in the sky, The Fairmont Banff Springs beckons visitors to its splendid Rocky Mountain location. An enchanting backdrop of snow-capped peaks and towering trees completes the magical experience here. This hotel is elegance defined, with interiors inspired by Scotlandís baronial estates. Activities are plentiful at this resort, where skiing and championship golf are two favorite pastimes. The Willow Stream spa is a highlight of the resort, offering a well-rounded treatment menu to help guests further relax in this majestic setting. 770 rooms, 9 story. Pets accepted, some restrictions.
Until 1969, the Banff Springs was only a summer resort; since then it has been open for the winter season, giving easy access to three ski areas. The nearest, Mount Norquay, is only a few minutes away: it is small and tough. Sunshine Village, which is about 20km from Banff; is set right on Canada's continental divide and it gets enough snow not to bother with snow-making, spending its money instead on high-speed lifts. But despite some excellent wooded runs and the fearsome-looking Delirium Dive bowl, Sunshine's terrain suffers by comparison with that of the Lake Louise area, 45 minutes away from Banff along the Trans-Canada Highway. Lake Louise offers three different mountain faces with a wide range of skiing, a massive back bowl off the 2,672m Mount Whitehorn, and a fantastic, neck-twisting panorama of the surrounding, 3,000m peaks.
We had heard heard that the rooms were very small in the hotel and so we were pleasantly surprised to find a rather nice-sized room that held the four of us quite comfortably. The view from our room was spectacular. In the morning when we opened our curtain, this massive mountain stood there in all its glory with the suns rays sparkling off the snow like diamonds. The mere size of it really did take our breath away. The rooms have not been modernized and the plush furnishings and "antiqueness" made us feel like we had stepped back in time and were kings and queens traveling from far away places. Walking through the hotel you are instantly aware of how massive a place it is. It seems to go on forever with hallways that branch out at every corner. It took us a full 2 days to make it back and forth to our room without getting lost. The children were captivated by some of the staircases that resembled those found in old castles. The stairs spiralled up quite steeply with stone walls on either side and low lighting to give it the perfect ambiance. As we walked through, we came upon many grand rooms that at one time must have been ballrooms. The furniture for the hotel was made by a company in Montreal and the pieces are exact replicas of original designs from European castles and manor houses. Each of the grand rooms had its own massive Christmas tree. They stood at least 25 feet high and each one was decorated beautifully. The decorations throughout the hotel were done tastefully, elegantly and heightened our Christmas spirit even more.
On our first full day at Banff, we decided to ride up Sulphur Mountain on the Banff Gondola. The 8 minute ride takes you 2281m or 7486ft above sea level. At the top you'll find the original 1903 stone observatory and a cafeteria-like restaurant. The wind was blowing hard and cold that day and it was almost painful to be outside but the view was so spectacular that it almost numbs you from the cold. At the base of the tram there is the famous hot springs pool but unfortunately we did not indulge ourselves. We heard from our Aussie friends that it was an average experience so we weren't too sad that we missed out.
We were really tired that first day so we just went to The Castle Pantry, found beside the foyer (very grand), for dinner. The food was really good and it's a cafeteria-type eatery with a nice selection of sandwiches, soups and pastries to name a few. Very casual and reasonably priced. After a short walk we ventured out to the outdoor heated pool and had a swim. There's nothing like swimming outside when there is snow all around and yet you feel so warm and comfortable. The steam rising from the pool was so thick it was hard to see across the pool.
The next day we were up early and on our way to Canmore to The Snowy Owl Dogsled Tours with our Aussie friends we met on the train. We were told that it can be extremely cold during the trip so we were all dressed in at least 5 layers of clothing. Our friends from Australia rented their clothes because they have no winter clothes in their wardrobe; no need for them where they live. When we arrived we were given a half hour course on how to "mush" and then we were sent off in groups of 3 and 4 to our respective dogs and sled. I chose to sit in the sled with my 3-year old daughter and I had a qualified instructor driving my sled. My husband ( the more adventurous one) chose to drive the sled himself and had my son and his friend in the sled.
For some reason I imagined the trip as being a very smooth and relaxing experience. It was not. Don't get me wrong, it was incredibly more fun than I ever imagined but it was very bumpy and you had to time your leaning or else the sled would tip over. And let me tell you, those six beautiful dogs pull fast and hard. Once the shock wore off, I was able to sit back and revel in the absolute beauty of our surroundings. At one point we were going over a huge frozen lake and the sky was an intense blue, the sunlight was sparkling off the snow and, other than the dogs barking once in a while, you just heard the sound of the sled 'whooshing' on the snow. It was an experience we will never forget. I even asked to drive the sled near the end of our trek. My instructor was beside me on the one slat and I was on the other with full control of the steering (although they really steer themselves) and the brakes. What struck me as funny was when we were going up a hill the dogs actually look back and make sure you are helping out with one foot or else they will quit. The experience was great except for the part where the instructor and I were talking and did not anticipate a turn and the sled hit a snowbank and because my hands were numb from the cold I went sailing through the air and landed right on my butt. Needless to say, the dogs don't really care (there's less to pull) so you have to run, fast, after the sled and jump back on. Fun!! My daughter slept through the whole ride and was more interested in the dogs themselves than anything else. A nice treat at the end was a bonfire with hot cider and big, delicious cookies.
Since our Aussie friends had their snowsuits rented for the day we went tobagganning when we came back to the hotel. Behind the hotel is a manmade ice rink and a large bank of hills just waiting for us. We rented the tobaggans and had a great time there with the hotel perched on a hill to the left and a massive mountain rockface to the right. This view is indescribable. Right beside the ice rink is a restaurant called The Waldhous Restaurant. We went there for dinner that night and it is highly recommended. It is a German restaurant; the wooden stairway that takes you down to it from the hotel (outside) continues past it all the way to scenic Bow Falls. The latter portion was closed during the winter season for safety reasons. The food was excellent, and they had Kraft dinner and grilled cheese sandwiches for the kids! We started with a cheese fondue that could have been our meal. It was delicious. I ordered the duck and I must say it was the best I have ever tasted. My mouth waters even now when I think of it. For dessert, a chocolate fondue. I could hardly breath when we left!
The following day my husband and son went skiing at Lake Louise so my daughter and I strolled through our "Hogwarts"-like castle and entertained ourselves for a few hours at the craft room. A wonderful room with lots of kids making all sorts of special Christmas crafts. A nice touch was the complimentary coffee/tea/juice. After that we went bowling (yes, it has its own bowling alley) and then wandered through the gift shops. Every night at 8pm there are "Bedtime Stories" for the kids with complimentary cookies and milk. The kids come down in their pajamas and sit/lie on big pillows and it's great fun! Another option is the movie night (yep, it has its own movie theatre) and we did that one night with popcorn and everything!
The next day was Christmas Eve and my husband and son rented skates and played pond hockey. That night we had reservations at The Bow Valley Grill for our Christmas Eve Buffet. The selection here was endless, from salad bar to soup bar to seafood to bison meat, to an incredible dessert bar and everything in between. The food was delicious and although it was very pricey it was well worth it. It started snowing that night, the first time since we arrived and the timing could not have been any better. I actually thought they were on the roof faking it!
After dinner, we all gathered in one of the hotel's spectacular grand rooms to bid Santa farewell. There was Mrs. Claus, Rudolf, Frosty and many other characters all singing and dancing and the place was packed with children. It was very festive and my daughter was thrilled to see Santa and wished him a safe journey. Then we headed to one of the huge lounges and sat and had a nightcap while we listened to a quartet sing beautiful classic carols. The mood was set and off we went to bed.
Christmas morning my husband snuck our presents we had brought down to the closest grand room and we lucked out and had the whole huge room to ourselves. With a fire (gas) going in the beautiful wooden fireplace and our very own 25ft. Christmas tree, we opened our presents and had one of the most memorable Christmas' ever.
We had reservations at The Bow Valley Grill again for brunch, but we were so tired of eating and a little tired of the whole "Santa" thing we decided to cancel and go to Lake Louise instead. We rented a car and as we approached The Chateau Lake Louise, it started to snow quite hard. Perfect for Christmas Day. When we drove up and parked I realized that this hotel was situated the way I had envisioned The Banff Springs Hotel would be situated. The hotel itself is not as big or as grandeur as The Banff Springs but its surroundings are spectacular. It is situated in the middle of nowhere with a huge frozen lake behind it and its own set of amazing mountains. We took a walk on the frozen lake and they too had a man-made ice rink where a gentleman was creating a miniature version of the hotel out of ice. It was fascinating as we watched him work.
We went inside the beautiful hotel and decided to sit at the lounge in front of these huge windows that overlooked the lake and mountains and had a small meal of soup, crackers and fine cheeses and wine. It was a very relaxing, untraditional Christmas dinner and it was perfect! As it got dark, we decided to buy tickets to go on a horse and sleigh ride. My son and I sat in the first two seats behind the driver and my husband and daughter sat behind us. As we pulled away and made our way alongside the lake on a narrow trail, you could look back and get a terrific view of the hotel all lit up in the darkness. The horses had bells around their necks and as they trotted along the sound of their bells was mesmerizing. My son giggled and gagged a bit as the horses passed large amounts of gas and stool. I buried my nose inside my cup of hot chocolate and thoroughly enjoyed our sleigh ride.
The next day, we drove to Calgary and boarded our flight home to Vancouver. All in all, that was truly one of the most enjoyable trips we have ever been on. My husband asked me if I wanted to do it again next year and I said no. The experience was magical and I want to remember it and cherish the memory. Maybe years from now we'll do it all again.