"TOP TEN QUESTIONS"
By Steve & Helen
<![if !vml]>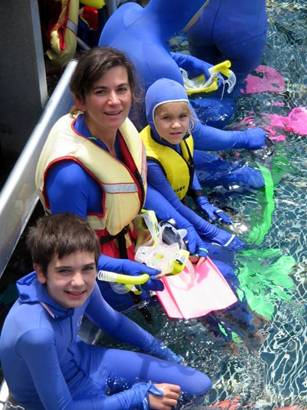 <![endif]>
Great Barrier Reef
Questions we get asked   
  (Written in Dec 2004)
So, here we are back home after 40 countries. We are a little pooped, but are excited about being home. We have traveled 33,000 km by water (5 ships and 9 ferries). We have driven 23800 km through Europe, Scandinavia and Ireland, 4175 km through South Africa, over 10,000 km through Australia and another 3850 km by Train. We have also traveled over 34,000 km by Air;
We did not expect to have so much movement when we started, but we really enjoyed the traveling part. We did all this land travel without a GPS, but if you are going to do an extended trip of any kind, make sure you get a good car GPS. Try a Magellan 700.
We have received many emails and questions about certain things that people seem to be very interested in.
  (Written by Steve - Jan. 25, 2006)  The two main questions we have been asked since being back home are:
"Why did you take your family on this trip" Click on "Our Story" on our home page for that one.
The main thing people ask us since we have come home is:
"What was the best place or most memorable thing that happened to you "
 Most folks want to know what the best City or Country was and where would we go back to. Well… we loved every place we went to (almost) and there were so many places; Mumbai, Japan, Jordon, Scotland, Oz and so on. There is not just one place we could say is the best, and it is not the destination so much as it is the people you meet.
The one major thing that has happened and I can honestly say it is one of the best things is:
Our family relationship has improved so much, and now we are really close.
My son (Nikolas) and I (Steve) were starting to drift apart slightly over the last few years.  We would argue regularly and he was getting tired of always being told what to do. Back in December 2004 before we started this trip, I can tell you that our Father and Son relationship was not the greatest.
Now, Nikolas will come right up to me and sit on my lap and give me a big hug, even when the room is full of people. We are so close it is kind of scary. A couple of days ago I took Nikolas to his first Rock concert (Nickleback) and it was so awesome; I felt like I was there with my best buddy.  I am not sure how this all happened, but I am so grateful that I have a relationship like that with my son now.  Maybe it was spending everyday together and being forced to really get to know each other that did it. I am very proud of him and it was amazing to watch him mature into a young man in the last year.
I know it is not a place, but it is the answer I give when people ask me what was the best thing about our trip.
For me (Helen), the best part of the trip was again not necessarily a place but the fact that I realized that the world is a wonderful place.  Before we left, I have to admit I had a negative view of the great big world out there and was a little nervous to wander around it.  I feel that the media does a disservice to this amazing world we live in and portrays it as a very scary and dangerous place with lots of nasty people out there.  Well, it's not.   Through our travels I have come to the conclusion that the world is not as big as it seems.  It is very accessible and that every part of the world is different and beautiful in its own way. The biggest pleasant surprise was the realization that the majority of people out there, regardless of culture or beliefs, are helpful, peaceful people.  We had complete strangers that we had only just met invite us over to spend time with them in their homes.  Most people would go out of their way to help or try and make you feel comfortable.  I would not hesitate to send my kids out with their backpacks when they finish high school to go travel the world again.  That would be the best part of the trip for me! 
O.K., these are the top 10 questions we were asked when on the road.
#1 -The number one question that we get asked is "how much does a trip like this cost"?
#2 – How do you school your children on this trip, and are they having fun?
#3 - Do you get tired of being on the move so much, and are you homesick?
#4 – What's your favorite place so far?
#5 – What is the biggest surprise in your travels?
#6 – Is it fun, does it feel like a holiday everyday?
#7 – Are you having trouble speaking the different languages?
#8 – Have you met any interesting people?
#9 – Is a web site a good way to keep family informed and is it easy?
#10 – Is their a trick to traveling as a family and do you fight a lot?
#1 – Are we getting sponsored? = No. We are so fortunate that we have the funds, the time of and our health to be able to pull a trip like this off. We were spending about $7300 bucks a month (without cruise) for all of us and that includes food, accommodation, rental and lease vehicles, flights and entertainment. So it actually is not that bad when you think of it, considering we are always on the move. Our total bill was $118.300k CDN for everything including the cruise and all the pre trip stuff. The total cost could be way under 100k if we did not travel aboard the QE II, and between 50K and 75K if we backpacked. The killer costs are transportation, accommodation and sometimes food. We usually stay in Holiday Inns because they are super clean, safe, family spots that are the same price as most hostels. The coolest thing about this trip is we have nothing planned so we just go wherever we want. Once we are on the road we just call up the Holiday Inn and ask them if they have a hotel in that city. If we can find a Holiday Inn in the city, we book it for one night and if we like it we extend it, if it sucks, we just move on. I would not hesitate to recommend the Holiday Inn chain to any family who is traveling the world.
<![if !vml]>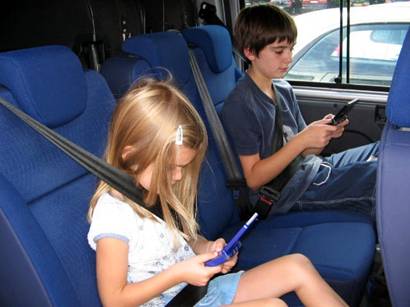 <![endif]>
Game Boy hour in the car
#2 – (Written on Aug 15th,05)
How do we school our children when traveling? What is it like to be taught by your parents? Well, if you ask Nikolas he would shrug his shoulders and say "It's O.K.". The poor kid has no one his age to play with and in the last few weeks has had a really tough time. He usually moans and groans when we tell him that it's a school day but once he gets started he does great. He does get breaks from doing his school work, but we don't let up that much because he will always try to get just a little more break time so we stick to our guns. He gets tested 3 times a week on spelling and math and is timed. He gets rewarded for getting 90 percent and a very small reward for getting less than that, providing it's over 75 %. He told me the other day that he was not very happy and we had a real heart to heart talk. I asked him if he wished that we never did this trip and he said that he is glad to be doing it but he also said that he sometimes wishes he was back home with his buddies.  It is very hard for him not having anyone to play with. So we think he is having a good time, but it's not the same as having fun with your friends.
*School Update – (Nov 25,05) We just left our Internet teachers and the kids were evaluated at a provincial level through some testing. Danika far exceeds her Kindergarten criteria and Nikolas just blew them out of the water, except for math where he only received a C+.Thanks to Pat (Internet School teacher) and Helens hard work, this kid managed to gain instead of fall behind. We are very proud of of both of our kids!
Dec 15th, 05 = Nikolas just received his report card on July and he received an A in Language Arts, a C+ in Math, A in Social Studies, A in Science, A in reading, A in writing and a C+ in Phys Ed. Wow, we have no real idea how this happened because the kid had all C's when left back in Dec, 04.
*School Update – (July 25, 06) Nik just completed his year of school since being back home. His report card was 8 (That's right 8) = A's and 3 =B's.  When we pulled Nikolas from school in December 2004 to start this trip, he was struggling (1= B, 5 = C's and 3= C-) and we were terrified that he might have to miss a grade because of the trip. Like I said before, I have no idea why his grades have become so high, he just does his work now without complaining. We used to have force him to sit at the table and do it, but now he say' we can't go out because he has to finish his homework. Cool!
Danika had fun on the ship. Everyone on the ship knew who the Little Princess was and Danika was quite aware she was a hit. She strutted around and played it up; it was kind of cute and kind of disturbing all at the same time. Now that we are driving up to 10 hours a day she is missing all that attention and is really homesick.  Once in a while she will just burst into tears and say that she misses her friends so much.  This will be in the middle of walking down the street, in the middle of lunch, in the middle of colouring in her colouring book.  Then just as quickly she is fine again and it's back to normal. 
#3 – Did we get sick of being on the road for so long? Oh Ya! How's that! You know as a family we do way better when we are on the road then when we are in the same place for more than a few days. We have some great days and some tough ones, but this opportunity is only going to happen once so we are going to try and push through the tough days. All in all, this trip went quite well so far, after 11 months and more than 40 countries we ran into little problems.
(Written Sept 3rd, 05)
Of course we are home sick! Our Kids are having some really tough day's which have surprised Helen and myself. They both really miss their friends and never having a routine is tough on us, never mind the kids. So ya, we miss Canada, but you know, the more people we meet and the more countries we see, the tough days seem to be less each week.
<![if !vml]>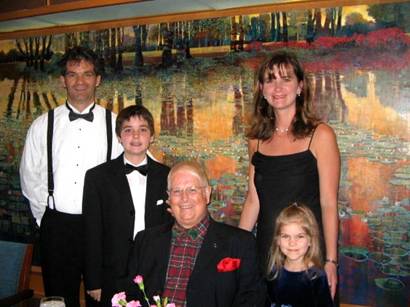 <![endif]>
We have met some wonderful people along the way
#4 – What's our favorite place so far? Without question, the most beautiful places (in our opinions) are Moorea, Andorra, but our hearts are in Sweden. If we could move anywhere from what we have seen so far, it would be Sweden. Talk about feeling safe and living in a clean country and it happens to have the nicest people we have ever met. Usually the people make the country and that is the case here, only add beauty and culture and you have it. Paradise! I (Steve) loved Scotland and Wales and I could go back there in a heart beat.
#5 – The one thing that has really surprised us is how HUGE religion is in the world. From places like Jordan, India, Japan, and so many others, it is such a major aspect in their lives. The other thing is how many people smoke, and how many cars there are in this world. Every city we go into it is bumper to bumper traffic and I don't know how many cities there are on this planet, but we need a whole lot of fuel to fill all those cars.
How 'alone' we feel sometimes, kind of like a depression thing that comes over our whole family and I can't really explain it, but it is very strange.
The world is a really small place. I am standing waiting for a pay phone in Turkey and the lady in front of me asks me if I know the country code for the USA. I told her I knew it for Canada, and I thought the USA had the same one. She said, she was actually from Canada and that was the code she wanted, so I asked where. She told me Vancouver and I told her I was from a city just outside Vancouver, called Surrey. She told me she actually lived in Surrey. In the end this gal lived only 6 blocks from where we lived and we would end up meeting in Turkey. Small World, Eh?
We bumped into someone else that we had met last September in Alaska, and we met him again in Asia.
There was a gent on the QE II who kept telling us he knew us from some where. For months he kept saying don't worry because he never forgets a face and it would come to him. A week before we were leaving the ship he tells us we were in Maui, Hawaii in 1999. Yes we were there, but we did not remember meeting him. He told us we never actually met, he just saw us sitting on a wall near a restaurant and he thought we looked like a happy family and he remembered us. That one is really bizarre because we are really not that happy. Just joking!
Another really big surprise for us is how difficult it is to clean your clothes.  In Spain it was extremely difficult. The Spanish don't use dryers and don't have a lot of laundry facilities, and it can be very costly for a family of four.  Their laundry facilities are not like ours where you bring in your laundry and wash them yourself.  Instead, they take your laundry and wash and dry it for you and charge you by the kilogram.  Our last batch cost us about $70.00 Canadian.  That darn euro!!!!
The other strange thing is we have only seen 3 days of rain in six months.  Strange but great!!  (That was back in July, 05)
<![if !vml]>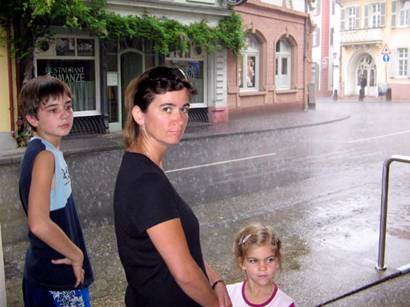 <![endif]>
I just had to go and say we have not had any rain.
Heidelberg
#6 – It is not a holiday everyday, sometimes school work takes us 4 hours instead of 3.   Are Mom and Dad having a good time? Yes! This trip may sound like a holiday and it is in many respects, but traveling with kids makes it a little more interesting. We have had some downs on this trip but that's normal.  There are definitely more positives and we are having a wonderful time. We meet new people everyday and see different places every other.  We sometimes forget we are on a trip of a lifetime and complain a little about petty stuff. That is human nature, you take what you have for granted, and we are no different.  We get used to the routine and start to find some negatives. We are having a good time, and hope we can pull the whole thing off, but we will take it as it comes.
#7 – When we were back on the ship is was very easy, because we were only in most places for a day. When we were in Spain for a month and most people there (or where we have gone) don't or won't speak any English. I say won't because there is a little bit of an anti- American movement and people let you know you're not that welcome. We use our foot and mouth Spanish to get by and so far it has been fine. We are in Germany now and the people here make it so easy, they are very nice and most speak some English.
<![if !vml]>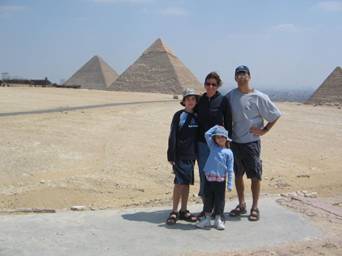 <![endif]>
Something we will never forget
#8 – Terry Waite (Author), Jeffery Archer (Author), Our kids hung out with Justin Hawkins and his kids one afternoon (Lead singer for rock group The Darkness), "Blue" (Canadian WW II War hero), "Sparks" (NAC cell mate with Nelson Mandela). Some of those names may seem interesting, but nothing like all the other people we met. We met a woman who is head of the United Nations food supply for Africa. We met a gent who is in charge of donations for dozens of African countries and is in charge of the distribution of those funds. We met a very interesting doctor from Ethiopia who is moving to Australia because, as he put it, "Africa will never change"
Our conversations with these folks educated so much on the African people; we just can't stop thinking about what they had to say.
We have met people from all walks of life and it will be those folks that we will never forget.
You know who are some of the nicest people you will ever meet? Make sure your sitting down when you read this: Americans! We have met so many Yanks along the way, they are some of the nicest folks you will ever meet!
We also ran into a few fellow Surrey firefighters along the way too. We bumped into Mike W. in Frankfurt, Ron L. in Czech Republic, Rob K. in Barcelona and Derrick S in Hawaii.
It's a small world, folks.
#9 – This site was supposed to be a way for us to keep a log of our travels and force us to take pictures and document the trip for Danika and Nikolas, so they would always remember. Then some of our family asked if they could follow it too, so now it is also keeping our family and friends up to date.
 We call our family about every two weeks, and when the terrorist attack in London happened all they have to do is look on our web site. We were on our way to London but were still in Europe at the time. It (The site) gives them our location within about a day, and they feel better when they can just run and look on a computer. The Site itself has become something that we never imagined. People we don't even know have been following and contacting us and wishing us well. It blows us away to see all the countries that have been logging on. We have people from Iran, South Africa, South America and Russia, places we have never been to and don't know. We were a little nervous about writing down our true feelings and putting pictures of our children on the web. We did a bit of investigating and not telling the full story is way more work, so we just write it like we feel it.
Some people have asked if it is easy to do a web site when you travel. If you can use "Word" and use a template like I did, then it is very simple. If you could hook up to a high speed connection every other day you could run it on your own, but that is impossible. So when we can't connect our laptop we just send our info and pictures to a friend who loads it up for us. I can only tell you that we could not do this without our friend Ron. He spends countless hours loading our info and pictures onto our little site for us and does a fantastic job. So unless you find someone who is as dedicated as our friend it would be a lot more difficult and I don't think we could have pulled it off. So all those compliments we get on this web site are thanks to Captain Ron. You can make a site in a day and it is very easy to maintain, you just need to find a connection, and high speed is a must if you are loading pictures. That has been the toughest part of having a web page and trying to update as you travel.
<![if !vml]>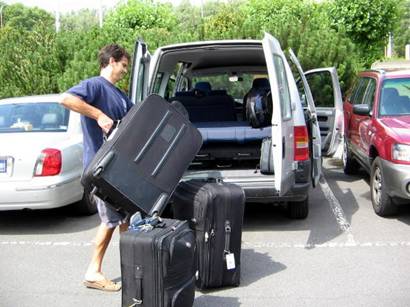 <![endif]>
Loading Luggage in Belgium