THAILAND Ė March 11
Bangkok - part 1
(Written by Steve)
We pulled into a port called Laem Chabang, which is right next to Pattaya. I don't know if you remember Pattaya, but it is where the GI's used to go for R&R during the Vietnam War back in the 60's. We hopped in a van with our 2 friends Suzzanne and John (from the Florida Keys) and drove just over 2 hours into Bangkok. I will start off by telling you what we enjoyed about Bangkok and then I will tell what I really feel about the place.
The sites are absolutely incredible and something you can't see anywhere else. There is the Emerald Buddha next to the Grand Palace, and the Golden Buddha which weighs 51/2 tons, and then there is our favorite the Reclining Buddha. It feels like you are standing next to a 10 story building that is laying on its side. It is absolutely massive (see pictures) You can go on a canal tour that shows you how so many people here live in complete poverty, which was very sad. The canal tour is on a home made long boat powered by a Chevy 350 engine (sans muffler) and a prop connected to a long drive sticking out of the transmission. What a ride! You can go for a famous Thai massage or eat the wonderful food, or just swim in the river. NOT!!!!!!!!!!!! There is a picture in our photo album of this woman washing dishes with the water from the river. Just before she started washing those dishes a kid went to the washroom right where she got the water, and he did not urinate. Whoops, I am starting to tell you how I really feel and I have not finished the pleasant parts yet. The people here are very friendly, and the gracious jesters that are made when greeting or saying thank you are very nice; they hold there hands as if in prayer, close to their mouths and they bow. O.K, that lets me tell what I really think!
<![if !vml]>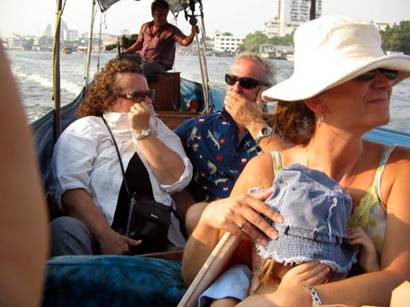 <![endif]>
I was worried about coming here because of the devastation from the tsunami, but Bangkok is a good 12 hour drive from Puket. The people here don't seem affected one bit, and really the few we asked did not know anything regarding the tsunami, and that surprised me a little. We have been in Thailand a full day already and I can assure you itís NOT a place for kids. We have done a canal tour, lunch, seen a couple of Buddhaís, an alligator and snake farm that we ending up leaving after only a few minutes because it was in such poor condition. Bangkok is super dirty, crazy, overloaded with people and it stinks, in everyway you can think of. Six million people live here and a whole whack of tourists come here for a lot more than just sun. We are staying at the Peninsula Bangkok, and are on the 35 floor over-looking the city, or what we can see of it due to the heavy smog. I just watched the sun come up and it looks incredible at night with all the lights from the boats and buildings, but no so nice in the day time. This is a whole new world here folks, let me tell you it took me by surprise. I expected Hong Kong to look this dirty, but thought Thailand was a lot different than what I am seeing today. The City of Bangkok is really, really, big! We sat in traffic for about an hour and we only had a few miles to go. The area that we are in is a really run down area and not a hope that we will be walking the streets around here without a police escort (at least with our kids). A good friend of ours has asked me if it would be O.K. for her 16 year old daughter to come here to work in a school, after she spends a few days in Bangkok. I told them I would not let my daughter spend one minute in this city alone, and they should be nervous about sending her to this city.
I told you back in Japan that as soon as you walk out of the Airport, Ship, Bus or whatever your means of transportation is, you get a feel for the place. Well as soon as we got out of our van, Helen said "this is a naughty place", and I felt unsafe the minute we drove into the city, I did not even have get out. If I was coming to Thailand on a relaxing holiday, I certainly would not come to Bangkok. I would come here for a history lesson or if I felt the need to see a couple of monster Buddhaís. I most certainly would not come to get away from it all. Cruising around on the long boats was very cool for about 2 minutes, until you sit in one and get splashed with all that sewage water from the river. The folks here throw everything from their garbage to food, wash clothes, and use it as a toilet. O.K. all the world travelers out there must be saying ďthis guy has not seen anything yetĒ and I am sure I will get the big wake up call in Bombay. I have to tell you though, this place is not a smart place to bring small kids, and had we known we most definitely would have went to a beach close to the ship instead if we were given the heads up. I am glad I saw Bangkok, and we loved the hotel but I donít think we will be back as a family for a very long time. The sex trade here is right in your face, right in this 5-star hotel and in no way do our kids need to learn about that at this age. Bangkok is very beautiful at night and the people here are very friendly, and I would have no problem coming here with a few buds way back when, or just Helen and myself but not as a family. The city transportation is a little better than 3rd world and crossing the street is not the safest thing to do if you value your life. I met a couple last night who are here on their honeymoon and I thought, what for? After talking to them for a bit, they told me they are going home in a day and have barely left the Hotel. That I canít understand, what the heck is the sense of flying into this place if you are not going to see it. I am glad we saw it, but that does not mean we have to like it, right? I am so glad Nikolas got to see the way these people live, and maybe he will think twice about crying when he canít get a new game cube. I doubt it, but it did have some impact on him, you could see it in his face. On that note, I still question myself about what he is thinking about all this, and we should have spent some time with a family Psychologist before we left to find out what kind of effect it would have on them.
That all I am going to say, Helen will write you in a couple of days to tell you how great the shopping is here.
Bangkok - part 2
(Written by Steve)
I just finished reading what I wrote about Bangkok and I donít think I was the happiest person when I wrote that. Have you ever said something but† wished you hadnít, but it was too late to take it back. Thatís how I feel about what I wrote about Bangkok.† It may have been a bit unfair to say all that.
†1000 years of history is absolutely amazing, and the people were very friendly, so I think I should write it a little differently today (3 days later).
I think I was so worried about going to this country because of the Tsunami, but I donít think life in this city changed one bit since it happened. Our drive from the ship to the Hotel was a real eye opener, and then the area the hotel was in was very poor. I felt guilty for staying there when the people right outside the front door lived with so little. We then went on a canal tour through the shanty shacks of the city, and it again was very disturbing. That night when we were in our Hotel I saw something happening with a couple of Thai Girls and an American guy that made me want to get the kids up to the room. As the comedian at the show said last night ďHe did not realize that Bangkok was such a family oriented city, Watching the dads walk down the street holding hands with their daughtersĒ. He was unaware that so many western men had Thai children. Thatís Bangkok and Pataya in a nutshell, very disturbing.
So please forgive me if that little message I wrote on Bangkok seemed a little harsh, I was just a little overwhelmed.
So, if you ever get the chance to go to see the Temples and the Buddhaís in Thailand, do so because it is incredible.
(Written by Helen)
We were so excited to get to Bangkok because it was an overnight stay and we were going to stay in a hotel.† We were imagining how wonderful it was going to be to sleep on a normal mattress and a king-sized bed of all things!† We had made arrangements with a couple to share a ride from Laem Chabang (I love saying that!) which is where the ship docked to downtown Bangkok.† We lucked out and found a guy that would rent us his van and driver for $75.00 each way.† That was way cheaper than the going rate of $125 for a taxi and not even a van.† The ride takes about 2 hours and we were actually quite comfortable in the air-conditioned van.† The driver knew a little English and all in all it was a good ride apart from the occasional moments when I though for sure we were going to get in an accident.† It really wasnít anything our driver was doing, it was the other cars and BIG trucks that would change lanes in front of us and I mean they would literally veer in front of you.† This is while we are going over 100km/h on the freeway.† They also tailgate like crazy so that when someone slows down up front everyone slams on their brakes.† It was pretty scary.† As we drove we noticed a lot of farmland that looked like sugar cane.† Every so often a building would pop up and in between would be these beautiful shrines and temples.† Even in the parking lot of a huge manufacturing plant there is a temple set up, it quite amazing.
We arrived at our hotel and the minute you step through the doors you realize what a magnificent place it is.† The white gloved doormen are their instantly and will not let you carry anything.† They greet you by holding their hands in prayer close to their mouths and they bow, it really is gracious.† When Steve booked our room he was told that they only allow a maximum of 3 people to a room so we had to book a deluxe suite.† When we got to our room we went crazy.† I guess after spending the last 2 months in a room that measures about 9x12 feet anything would look huge.† But this place was massive.† It had a living room with wrap around floor to ceiling windows, two bathrooms with one that had a marble bathtub with a TV. built into the wall, a shower, a separate room for the toilet and two huge sinks.† The bedroom was also large and it had a huge floor to ceiling window as well.† All of the windows had curtains that opened and closed by the press of a button.† The kids sure got a kick out of that!† We actually figured that the one bathroom in the hotel room was a little bigger that the whole room on the ship.† Our hotel room looked over the Chao Phraya River which runs through Bangkok and is Thailandís lifeline.† From this river run many canals and at one time Bangkok was compared to Venice.† From our room we could see the many boats of different shapes and sizes whizzing here and there.† We would have a quick lunch in the hotel and then our plan was to take a canal boat tour.
We went to Chinese Restaurant for lunch that was in the hotel.† The service here was truly the best we have ever received.† We had about 3 or 4 waiters standing by our table while we ate and if we needed anything they were there before you even realized you needed it.† When me and Dani got up to go to the washroom they jumped to hold our chairs for us.† And the food was spectacular.† We had lobster filled wonton soup that was excellent, the best sweet and sour pork we have ever tasted and believe me we order it wherever we go.† Steve and I ordered these prawns in garlic and soy sauce that were brilliant.† They were perfectly cooked and delicious!† The kids enjoyed it as well but they were very hesitant to try anything because it all looked a little different then usual.
After lunch we hooked back up with the couple we drove in with and set out to take our boat ride.† The hotel is situated right on the river so we just walked out the doors and across the outside restaurant to the boat dock.† It was so funny because we had booked a tour through the hotel and when we got to the dock there was this brand new gorgeous looking boat sitting there with the name of the hotel on it.† We thought, Wow! This is going to be great.
Suddenly however, this boat motors out of the way and this old decrepit long boat pulls up and is waiting for us to jump in.† The thing looked like it was hardly holding together.† It was shaped like a canoe but the front was pointed and it curved upwards.† In the back was this cute little shoeless man holding a pole that was connected to the motor.† Imagine an outboard motor that was actually a 350 motor from a Chevy car and it actually had a transmission from a car connected to the back of it.† It was absolutely unbelievable.† The exhaust from this thing was black and the noise it made was deafening.† Once again I crawled into a boat that I felt very unsure of.† I was actually really mad until I saw the life jackets and I made Dani put one on.† The ride across the river was so bumpy because the boat traffic is unreal.† Everyone travels by boat because the car traffic is ten times worse!
I was trying so hard to find the perfect word to describe the colour of the water in this river.† Olive green with a splash of coffee perhaps?† It is so disgustingly dirty.† There is garbage floating in it and the smell is very hard to describe.† Burning tires and sewage mixed together maybe.† We were sitting so low in the water and every time we would hit a wave we would get splashed.† I had to yell at the kids not to lick their lips and I kept wiping our faces with my clothes.† At one point I actually started laughing because I was thinking, what the hell am I doing?† But in hindsight it was an amazing experience and very well worth it.
<![if !vml]>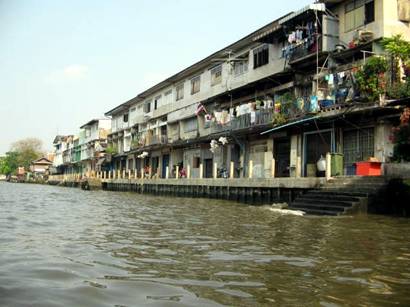 <![endif]>
Once you leave the river and enter the network of canals the water settles down and the ride is quite smooth.† The sights however, are mind boggling.† I cannot begin to describe what we saw, how some of these people live.† Their houses are shacks built over the water and they look as if they are ready to fall over any minute.† Itís amazing to see that some of these places had beautiful pots of plants and flowers on the decks and you could tell the people were making the best of the situation.† They apparently use the river for everything.† We saw a young boy having a bowel movement into the river, we then saw his mother scoop up a big bowl full of the river water and start washing her dishes.† We saw a group of young boys swimming in the water and someone told me they saw a couple of dead dogs floating in the same river.† Everywhere, you see fishing lines and we were amazed that fish could actually survive in this water.† Then we saw this enormous Komodo dragon lizard emerge from the water onto the steps and Steve got a great picture of it.† I kept thinking to myself, Please donít tip over, please!
We did a little sightseeing along the way and were fortunate enough to see the Reclining Buddha.† It is considered the largest and the most beautiful reclining Buddha in Thailand.† It measures 46m long and 15m high and is entirely covered with gold leaf.† The huge soles of its feet are inlaid with mother-of-pearl designs depicting the 108 auspicious signs of the Buddha.
It is most unusual to decorate feet in this way because the Thai people believe the lowest part of the body represents what is spiritually least exalted.† That is why there are signs in some of the temples saying that you should not touch someone elseís head even in joke, as the head is held in the highest regard.† Also in the Grand Palace you cannot go in unless you have your shoulders covered, pants or a skirt that covers your ankles and shoes that cover your feet completely.† We unfortunately, did not have time to see the Grand Palace but heard that it was just amazing.
Another stop on our canal tour was to an Alligator Farm.† We didnít ask to come here but he stopped anyway so we got out, paid the cheap fee and walked in.† Well, we pretty much walked right back out.† The place just gave us the creeps.† We were the only ones in there and itís actually a kind of zoo.† When we first walked in a man approached us and told us that the snake show was starting in 10 minutes.† When we looked we saw a round arena with a few benches and in the middle were three sacks.† Thatís where the snakes were and who knows what kind of show it was going to be.† The animals in this place were so unkept.† There was one enclosure that held about ten huge snakes and when we looked down we noticed that there was a hole in the wall enclosure and they had stuck pieces of cardboard in the hole to keep the snakes from slithering out.† Steve took one look at that and said, letís get the hell out of here.† As we were leaving we noticed a small cage with a huge tiger in it and this big sign that said donít stick your hand in the cage.† And you could if you really wanted to!† It was really sad as we walked out and saw a monkey in the tree and it had a metal leash around itís neck and it was chained to the tree.† We left very quickly.
When we got back to the hotel we decided that we were going to spend the rest of the day and night in the hotel.† We got our bathing suits out and headed to the beautiful pool.† It was great but you could smell the stench from the river as it wafted in with the wind.† And lo and behold we got a little sample of the sex trade as well.† In the pool were a couple of older men and their very young Thai escorts.† It really was revolting and we packed up and ended up spending a lovely evening in our room with room service.† The food was delicious, the view was spectacular ( the city looks great at night) and we felt safe and sound.† My sisterís going to kill me because I didnít get a chance to try any authentic Thai food.† Oh well!
Did some shopping the next day and headed back to the ship.† Steve and the kids went in and I stayed out and did some last minute shopping in the kiosks set up right outside our ship.† And thank goodness I did!† With an hour left before the All aboard I came upon† a kiosk that was selling Thai massages for very cheap.† $20 for an hour.† There was a line up of passengers from the ship and finally it was my turn and let me tell you there is nothing like it.† First she did my feet and legs for half an hour and then she brought me down to a mattress on the floor and started in on my back.† Soon she was sitting on me and grabbing my arms and pulling them backwards.† Then she put her knee on my spinal column and yanked me up again.† I actually started to laugh and then she started slapping my legs with her hands and then sheíd flick my ears.† It all hurt but felt good at the same time.† What an experience!† Poor Steve missed out but I told him to come with me and he wouldnít.† We had heard so much about the infamous Thai massage and he wanted to get one so badly but we didnít get a chance.† I gave him a massage that night with everything I learned!
The Virus numbers on the ship have crept up again and many people are now quarantined to their rooms once again. This thing just wonít go away!†
********************************************************
Retrieved from http://www.lonelyplanet.com/destinations/south_east_asia/thailand/
<![if !vml]>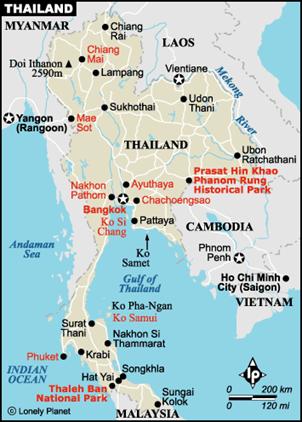 <![endif]>
The Kingdom of Thailand draws more visitors than any other country in southeast Asia with its irresistible combination of breathtaking natural beauty, inspiring temples, renowned hospitality, robust cuisine and ruins of fabulous ancient kingdoms.
From the stupa-studded mountains of Mae Hong Son and the verdant limestone islands of the Andaman Sea, to the pulse-pounding dance clubs of Bangkok and the tranquil villages moored along the Mekong River, Thailand offers something for every type of traveler.
Of course Thailand, like other Asian countries, has been influenced by contact with foreign cultures. But the never-changing character of Thai culture has remained dominant, even in modern city life. Often depicted as fun-loving, happy-go-lucky folk (which indeed they often are), the Thais are also proud and strong, and have struggled for centuries to preserve their independence of spirit.
Full country name: Kingdom of Thailand
Area: 517,000 sq km
Population: 62 million
Capital City: Bangkok
People: 75% Thai, 11% Chinese, 3.5% Malay; also Mon, Khmer, Phuan and Karen minorities
Language: Thai
Religion: 95% Buddhism, 4% Muslim
Government: constitutional monarchy
Head of State: King Bhumibol Adulyadej (Rama IX)
Head of Government: Prime Minister Thaksin Shinawatra
GDP: US$166 billion
GDP per capita: US$2,168
Annual Growth: 3.5%
Inflation: 2%
Major Industries: Computers, garments, integrated circuits, gems, jewellery
Major Trading Partners: ASEAN, USA, European Union