Oz and Tasmania
The last few days by Helen
Devonport Ė Hobart Ė Port Douglas Ė Queenstown Ė Strahan
Cradle Mountain Ė Lanceston
(Written Nov 12, 2005)
Iím actually writing this from our hotel room in Waikiki. We arrived here yesterday morning and have really settled in nicely. When we were on our way we questioned whether this was such a great idea but now that we are here we are soooo happy we decided to take a pit stop here before heading home. Iíve been really lazy in my writing duties and havenít written very much while we were in Australia. I thought I would just write a few memories and kind of sum up our thoughts about the country and our trek through it.
Last time I wrote we were headed to Adelaide from Alice Springs. We drove along the coast all the way to Sorrento which is a suburb of Melbourne. We were meeting our friends Mel and Ann from the QEII there and they had rented a house while theyíve been staying here. They got off the ship in February when we were in Sydney and have been living here ever since. They are planning to jump back on the ship when it makes its next world voyage in 2006. They will pick it up in Sydney and head home to England which they tell us they miss very much!
We spent a week with these amazing people and had a very good time. I havenít laughed like that in a very long time. One night we put the kids to bed early, started playing poker and told jokes all night while the music and alcohol flowed smoothly! The next morning we asked Danika if the music kept her up and she said, ďNo, but I would hear talking for a little bit and then all of a sudden everyone would start laughing very hard!Ē Of course that was all the joke-telling and Iím hoping that Steve remembers some of the ones we heard because they were hilarious! Ann is a very charismatic and wonderfully warm person. She lights up a room when she enters it and can chat up anybody that she encounters. Danika just adores her and Ann was very patient with her when she latched on and wouldnít leave her alone. Mel is the most talented person I have ever met. We had the most delicious dinners that he would whip up in an instant. My favourite dish: fried cheese. A killer in cholesterol but man is it ever good! Mel has written many songs and has just completed his first novel. He literally woke up one day from an interesting dream and decided to make it into a book. That is the kind of person he is. He just does it! I felt very inspired after talking to him about his ventures. Itís so thrilling to imagine what he will think of next.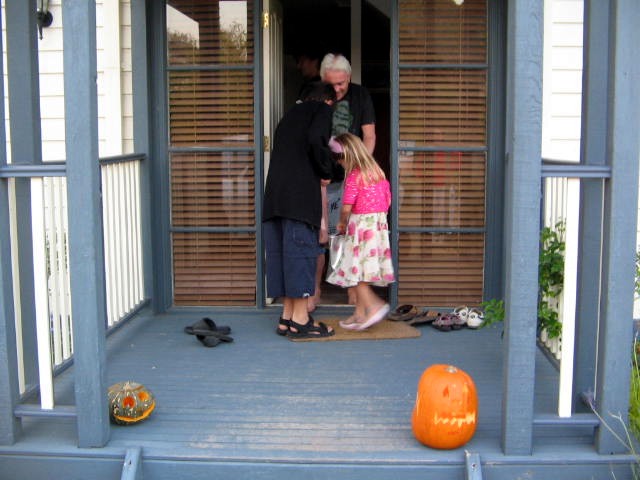 We spent Halloween with them and even though Australian kids donít really celebrate it, we decided to dress the kids up a bit and head out in the neighbourhood. Danika was a princess and Nikolas was a zombie. We bought a couple of pumpkins and Steve and the kids carved them and we put them out on the porch with candles in them. Steve and Ann took the kids around the block and it was so bizarre to be outside for Halloween and have a T-shirt on and to feel warm! I didnít think they were going to get any candy but was pleasantly surprised to see them over an hour later with a bit of candy in their bags. Just a few homes were receptive to the idea with one lady giving them five bucks because she didnít have any treats to give. The kids were very happy and while they were gone a group of about 7 kids came to the door and were trick-or-treating as well. There costumes were a little lame and they were carrying a roll of toilet paper with them. They said that if a person doesnít give them any treats they will toilet paper the lawn. Oh well, maybe thatís why Australia doesnít celebrate Halloween. When the kids came back we roasted marshmallows on the gas stove and everyone was very content!
Our days spent with Mel and Ann were very comfortable and restful, exactly what we needed. They were ready to do what ever we wanted but we just wanted to stay Ďhomeí and relax. It was a very enjoyable week and they have promised us that they will come visit us next year in June. Canít wait!
From Melbourne we caught a ferry over to Tasmania. It was a huge ferry and we booked a room so that we could sleep for the ride over. We left Melbourne at 9pm and arrived in Tasmania at 7am the next morning. The ferry has restaurants, bars, a small casino and a cinema so itís like a mini-cruise ship. Not everyone chooses a room as there are seats that you can book and you sleep on them. The ride over was pretty smooth but for some reason I couldnít sleep. I was feeling anxious about some of the motion and that really surprised me because I thought I got over that after spending over 300 days on a cruise ship. Anyway, we got to Tasmania safe and sound and rented a car to start our trek across the big island.
Weíve already written some things about Tasmania so I wonít repeat any stories. Overall we enjoyed our stay there but certainly didnít find it as spectacular as everyone seemed to tell us it was going to be. I think the reason for this was because the terrain and landscape in Tasmania is very similar to Canada. Because we see mountains and lakes all the time back home it wasnít all that exciting to see them in Tasmania. Donít get me wrong the sights were truly spectacular and we certainly did not spend enough time in places like Cradle Mountain where you can hike up and canoe on a beautiful lake. Like a lot of our trip we kind of drove around and saw a little of a lot of it but did not stop and really see certain areas in depth. Thatís why sometimes I feel uncomfortable writing about an area or city or country because we donít always see what itís really like. All I can do though, is write about how I feel or felt about the place and thatís ultimately what this journal is about. It certainly is not a travel guide!
We stayed in Hobart at a fantastic hotel called the Wrest Point Hotel and received some of the best service on our entire trip. The hotel has a casino in it (no, didnít go) and on our last night there we experienced a massive wind storm that shook and rattled our windows so bad I thought for sure they were going to smash. We could actually feel the whole building sway it was that bad. The next morning we asked if that was normal and they said No way! Hobart is a beautiful little city; it was a lot bigger than we expected, even though it is the capital of Tasmania. We spent a couple of days just walking around the shops and cafes dodging the occasional downpour. From Hobart we drove to Strahan which is a quaint waterfront village that is nestled in a snug corner of the west coast wilderness. It reminded us of Vancouver Island or one of the Gulf Islands. We stayed in a cozy cottage that had two separate bedrooms and a huge sitting area. We had lots of room and we took advantage of it. The kids each disappeared into their own rooms and Steve and I had some peace and quiet for once. It was great!
<![if !vml]>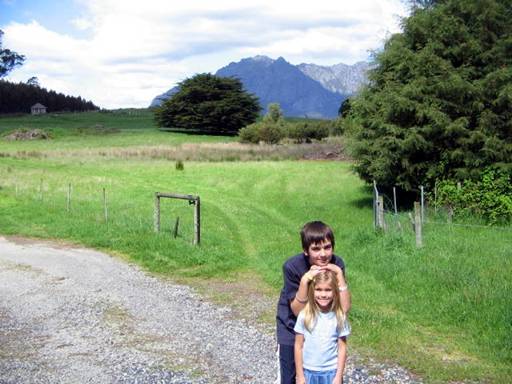 <![endif]>
Granary, Cradle Valley
From Strahan we stayed in a place just outside Cradle Mountain. Our cottage this time was even bigger. It had a bedroom with two beds plus a bunkbed, a living room with DVD player and stereo, a full huge kitchen, bathroom, laundry room plus a loft with two beds up there as well. Outside, in the back yard, the kids had their own tree house and swing. Down the lane was a games room that had free X-box, Nintendo, Playstation, airhockey, and a wall full of DVDís to choose from. Across from that room was a basketball court and about 10 bikes to choose from. The kids had a ball to say the least! The place is called The Granary and is run by a gentleman named Alan who owns the 125 acre land and has about 10 units on it that he rents out. Worth every penny and it was reasonable too!
Through a friend from work Steve heard that there was a firefighter from Powell River doing an exchange with a fellow from Lanceston. Steve called the guy and he invited us over to his house for a bar-b-que. It was so nice of him and his family to have us over and they made a delicious meal that we enjoyed very much. They have three beautiful kids and it was very interesting to hear their story of how they have lived in Tasmania since January. As can be expected, they had both positive and negative things to say about their experience but ultimately have no regrets about their decision to do the exchange. It was interesting for us because we had actually contemplated doing an exchange ourselves. This family opened their home to us and we are so grateful. We are hoping that we can return the favour one day back in Vancouver!
Soon it was back on a ferry and across a body of water that is considered some of the most unpredictable waters in the world. This time however we were sailing from Tasmania to Sydney and not Melbourne. We left Tasmania at 3pm and didnít arrive in Sydney until 3pm the next day. Now this sailing was very bumpy! It felt like we were on a roller coaster. You could really feel the movement in your stomach and when it would hit a wave it was a very loud ďBoom!Ē Of course I didnít sleep very well; I told Steve that he could have saved some money and not get me a bed! When I asked the next morning if it was unusually rough they said not really. Apparently a few months ago the ferry was three quarters of the way across and they hit some 20 metre waves. These waves smashed all the windows at the front of the ferry so it had to turn around and go back. Wow! Thank goodness that wasnít me!
Well, we were back in Sydney and we stayed at the Crowne Plaza right near Darling Harbour. The night we arrived we got together with my girlfriend Lisa again for dinner and it was so nice to see her again. We went to her apartment and we had an excellent time listening to her stories of ďlife in AustraliaĒ. She loves living there but she is still a Canadian through and through. The maple leaf tattoo on her arm and the words, ďtrue north strong and freeĒ on her back is testament to that! It sure brought back a lot of memories of my childhood being with her again. Boy, time sure flies!
Our last few days in Sydney were a little bittersweet. We were sad to be leaving Australia but in some ways it felt right to be leaving when we did. We felt satisfied that we saw as much of the country as we could and it was an unbelievable journey through an amazing country. During our last few days in Sydney they had an elevated security alert in the city due to some expected terrorist activity. We couldnít quite feel totally safe and at ease because of this so it was okay that we were actually leaving. Our last day was spent on Bondi Beach with some of our most favourite people (The Batten Family) so it was a perfect ending to a wonderful experience. We loved our trip to the land down under and will never forget our time there. I even think that I can handle another 14 hour flight if, or should I say, when we come back!
<![if !vml]>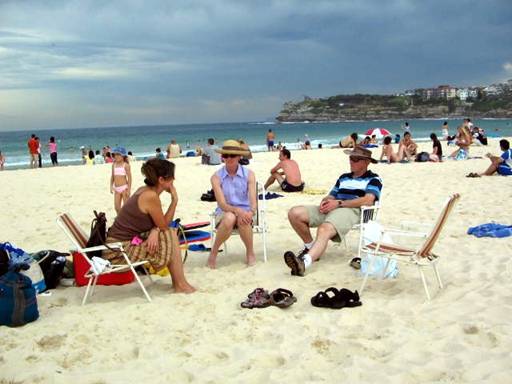 <![endif]>
Hanging out on Bondi Beach
TASMANIA
By Steve
(Written on Nov 7, 05)
So right now I am sitting at a small desk writing in my cabin aboard the Spirit of Tasmania. It is 11:51 pm and we are somewhere out in the middle of the Tasman Sea, on our way to Sydney from Tasmania. I have been bugging Helen to write this story, but she is too preoccupied and is out there pacing the hallways of the ship. We are getting pounded by 4 meter waves and this ship does not seem to handle them very well, tons of up and down movement. The kids are fast asleep in their bunks beside me, but we have all had our second dose of sea sickness meds and mine are not working, so here I sit.
O.K. Tasmania.
We were going to finish this last leg of our trip by hitting some Fijian Islands and some other Hawaiian Islands that we have not been to, before getting home. The reason we changed our plans and decided to go to Tasmania was because so many Aussies told us to skip Fiji and see Tasmania as it was supposed to be one of the most beautiful parts of Australia.
We took the ferry over from Melbourne and landed in Devonport at 7 am, we then picked up a rental car and drove 3 hours south to Hobart. What a beautiful city Hobart is, the ocean, boats, restaurants, mountains and some of the nicest Architecture we have seen since we landed here in Oz. We did a day trip over to Port Arthur and walked around the Historical prison grounds, some of Australiaís family trees end with the root being a relocated British prisoner.
The town holds the Old Prison that housed some of the very first British prisoners. It also has the infamous Isle of Death; an island that was converted into a graveyard. This whole town is said to be haunted and there are several photos on the wall of folks who have taken pictures and noticed ghostly shadows when they have them developed. When you walk into the entrance of the village you see a wall that is full of pictures of ghosts, and it is quite spooky.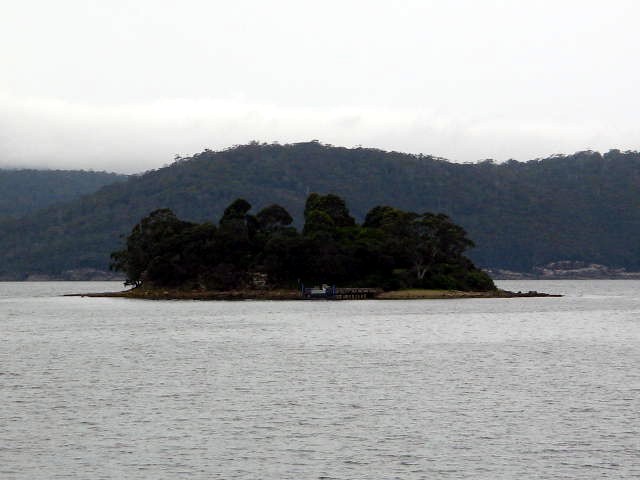 Isle of Death
There is some more history here that made news around the world back in April of 1996.
On the morning of Sunday 28 of April 1996 a young man armed with 3 semi-automatic machine guns drove to the Port Arthur Historical village, which was full of tourists.
He arrived at Port Arthur and went into the cafeteria and sat down and ate a meal, he had already killed 2 people that day on his way to the village.
After eating he took out one of his guns and started shooting, killing 20 and injuring dozens of innocent people in the first 90 seconds. He then walked over to the car park and killed 4 more people and injured several others. He was arrested the next day in a home, but he had managed to kill 35 people and injured many more on that one horrific day. I tell you this because you can feel something strange about this whole area. I am not sure if it is the dark things that happened when the convicts were here, or the awful events of April Ď96.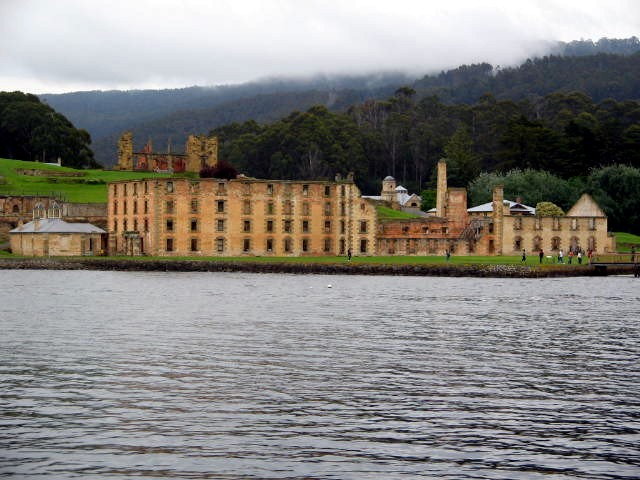 The main Penitentiary, Port Arthur
O.K., back to the old history of Port Arthur when in the 1840ís over 2000 convicts, soldiers and civil staff lived here. This place became a major industrial settlement, producing ships and shoes, clothing, bells, furniture, worked stone, brooms and bricks. When the probation system was introduced in 1841, many convicts were sent to outstations around the Peninsula to work in timber-getting and agriculture. Port Arthur became a punishment station for serious repeat offenders.
When you look at the way the Prison was laid out, you get the impression that this place held some real bad people. I say this because there were several prison buildings quite far from each other and in many different sizes. They had punishment cells, solitary confinement cells and rooms that were not marked and left to your imagination. When I was a kid I managed to mix with the wrong crowd and got into a wee bit of trouble. If someone had of brought me to one of these old prisons, I think it would have sacred me into studying theology. On that note, there are a couple of churches on the grounds that are very beautiful and they reminded me of the ruins we saw in the Scottish Highlands.
The old jail has a spot where they used to do all the hangings and many of the cells are still intact. The large main building you see from the water is actually only walls being held up by metal scaffolding that is set up on the inside. Most of the buildings donít have roofs or any windows, but you are allowed to walk through all of them.
The penal settlement finally closed in 1877. Many of the settlementís buildings were pulled down or gutted by fire. Others were sold to private settlers and gradually a small town called Carnarvon, was established.
They started tours immediately after the settlement closed and some of the remaining buildings became Hotels and Museums.
Like I said before, there is something really spooky about this place and even though we spent only 4 hours walking around, I was glad when we left.
Of course you have to come see this place and all its beauty, because it is a magnificent place.
We went out on a catamaran that toured the boyís prison and the Isle of Death. This establishment had boys imprisoned from as young as 9 years old, and they would do the same hard labour as the men in the main prison. Everyone we have met here are so nice and cheery, it is so hard to believe that most of their ancestors were criminals. Some of the buildings on the site have been converted into a Comfort Inn hotel and every night they would take tourists on a haunting ghost walk through the dark Penitentiary grounds. Ah, no thanks!
The rest of our Tasmanian adventure will be along soon.
Hobart
(Written by Steve, Nov 2) -

received November 2
So, here we are in southern Tasmania, Hobart to be exact. We decided that Nikolas was doing better so we hopped on the Spirit of Tasmania Ferry and we arrived in Davenport the next morning. The medication the doctor gave Nikolas is finally kicking in, and he is now returning to normal. I say this because he is giving us all kinds of attitude, so he must be feeling better, and we donít mind a wee bit of back-talk if he just gets better. He still has one of those super deep coughs that could clear an elevator, but he is eating again and that was our biggest worry. He lost a ton of weight in those ten days of sickness, who the heck gets Pneumonia in the out back anyways?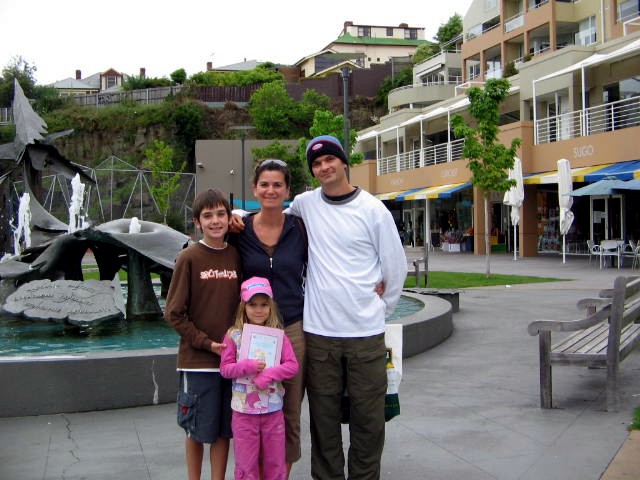 So anyways, we hopped off the Ship and drove straight down to the capital city of Hobart, down here in Southern Tasmania.
I really love this place, very old and busy and have met many super nice people. For you folks up there in B.C. Canada, imagine Victoria but about twice the size. Of course it has been raining all day and they are calling for Thunder Showers for the next couple of days. Oh well, we have to get used to those shower as we will be returning to sunny (Joke) Vancouver in less than two weeks now. Wow, that last year is a blur, but very cool!
So Helen will get you the full update when we leave here, but so far we LOVE Tasmania!
We are not going to tour the Fijian Island and have cut the Hawaiian Island short and will just head straight home with a pit stop in Honolulu.
So see ya soon!