SYDNEY – February 9
<![if !vml]>
<![endif]>
SYDNEY 
(by Helen)
There is a picture that Steve took of me and the kids in front of a flag that says 'Welcome to Sydney".  We took it in the airport after coming off a very bumpy plane ride across the Tasman Sea on a 767 Qantas flight.  Without repeating myself there were lots of different reasons why we left the ship in Auckland but one of the small reasons was that we heard that the Tasman Sea is one of the roughest bodies of water in the world.  I thought, forget that I would rather fly across.  The irony, of course, is that the voyage across ended up being one of the smoothest on record.  Even the captain commented over the P.A. system that it was unusually smooth.  Go figure!!!  Actually it serves me right.  It was our first flight on Qantas and apart from the weather, which cannot be controlled, the flight was excellent.  There are very few airlines out there that offer that kind of service and it was very refreshing.  We had a delicious meal.  Well, I should say, everyone but me as I cannot eat on an airplane.  The drinks were free, alcohol too!  We all got an ice cream bar as well.  I definitely ate that, couldn't pass it up!
We had this great plan to spend 2 weeks in Australia and then fly to Exmouth to catch the ship but after that flight our plans changed a bit.  Poor Steve.  I did tell him that I would do it, fly that is, but he said that it probably was silly to stay off the ship for that long when we are paying to be on it.  I think he is only trying to make me feel better but he was adamant that we get back on in Sydney. 
Anyway back to that picture we took at the airport.  If you notice in the picture I have a huge smile on my face and it looks like I am ready to jump up and down.  Well, that's exactly how I felt.  I don't know why I had such emotion when we landed but it felt so amazing to have finally arrived in Australia.  Australia!!!!  I never thought I would ever make it here only because there is no way I would ever fly the 18 hours to get there.  So when we were finally there after a month long journey on a ship across a huge body of water (the Pacific) I felt elated.  I actually thought how amazing the explorers must have felt when they sailed forever and then finally reached a piece of land they had no idea was even there.  When I thought about how far from home we were and where Australia is located in the grand scheme of the world it was mind boggling.  Obviously I don't get out much but it really did affect me immensely. 
From the airport we hopped in a taxi and made our way to the Sheraton Hotel located in downtown Sydney right beside Hyde Park.  Steve and his amazing computer got us booked into this beautiful hotel and when we walked into our room I almost cried when I saw the King-Sized bed.  Slight exaggeration but it was great to see a bed that's big enough to hold a grown man.  When Steve sleeps in the single bed in our room on the ship his feet hang over the end.  The hotel had just been renovated and they did a terrific job.  The location of the hotel was great too.  It was not right at the harbour but that was a good thing.  The hotel was situated right beside this beautiful park that had huge green spaces and walking paths and these amazing trees that create a canopy over the walkways.  We walked there every night of our stay and the kids were able to run around and play while Steve and I sat on a bench with our Starbucks coffee, having a relaxing conversation.  We would then come back to the hotel and have a swim in their rooftop indoor pool that had a fabulous view of Sydney and then get ready for bed.  We had asked for a cot for Nikolas but they sent a crib instead.  We were going to send it back but Danika begged us to keep it and she ended up sleeping in it for the whole stay.  She goes through these phases where she wants to be a baby one day and then the next she will be posing in front of the mirror with a new outfit on and she looks like a 21-year old.  It's frightening!!!
The second day we were in Sydney we took a ferry over to the Taronga Zoo.  I won't go into detail about that trip because Nikolas wrote a story about it and it pretty much covers the whole story.  What I will say is that we thought it was the best zoo we've ever been to and we highly recommend it as a must see.  The kids got to feed the giraffe's apples and carrots and the gorilla exhibit is outstanding.  Danika was in a bird show.  When we were talking to a couple from another cruise, one of the workers came up to me and asked me if Nikolas wanted to be in the bird show.  Ha Ha!  I laughed, because Nikolas has a bit of a bird phobia, but I told her that my 4-year old daughter would probably do it.  Sure enough, when the lady asked Danika if she wanted to be part of the show she said Yes!  The lady told me that Danika would wear a leather glove and that a 'baby' owl was going to fly up and land on her arm.  Sounded very cute and wonderful.  Well, when it was time for Danika to do her thing we all looked up and there was this HUGE owl flying towards her.  They failed to inform me that 'baby' owls are full grown when they leave the nest.  She was a real trouper and even though you could see the terror in her face she still did it with a very nervous smile to boot.  We have a great picture of that.   As you can see in the background it was a beautiful, sunny, very hot day.
<![if !vml]>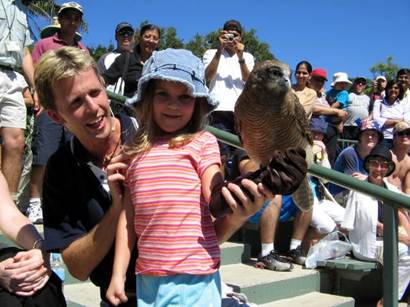 <![endif]>
The star of the Taronga bird show
The next day we decided to check out the monorail system in Sydney.  It looks like our skytrain at home.  We got a family ticket and that got us on the monorail all day and into the Powerhouse Museum.  Luckily for Nikolas there was an exhibit on from Lord of the Rings.  He wrote a story about that too so I won't go into too much detail again.  It was very interesting because they had all the costumes and weapons they used in the movie.  They also had little information videos talking about how they created all the special effects and how they created a lot of the monsters in the movie.  The make-up for one of the Orc's took 10 hours to apply.  The guy actually sleeps through most of it because they apply the make-up and mask during the night.  It was very interesting for all of us!
After that we got back on the monorail and headed to Darling Harbour and the Sydney Aquarium.  It was great too.  It's quite big and we saw some cool sharks and a platypus.  The kids loved it and it was a super hot day so it was a good idea to get out of the heat and head for some air-conditioning. 
We had promised Nikolas that we would go for Chinese food for dinner that night so we got back on the monorail and headed to Chinatown.  There is a massive Asian presence in Sydney, similar to Auckland.  The Chinatown area is huge and when we got off the monorail we starting walking as we were looking for a specific restaurant that Nikolas had seen advertised on the T.V. in the plane.  We walked and walked and walked because Steve was sure that this restaurant was just around the corner.  He finally did stop and ask directions but twice we were directed the wrong way.  After walking for almost 2 hours (I'm not joking) we finally found this restaurant and wouldn't you just guess that it was just down the street from where we initially got off the monorail.  Was it worth it, you ask?  Yes.  The food was excellent, especially the sweet and sour chicken.  The restaurant was called the B.B.Q King.
We had booked our room at the hotel for another 4 more nights but Steve decided to cancel the rest, unfortunately, and we packed up the next morning because the Q.E.2 was pulling into Sydney that morning.  When Steve had e-mailed the ship to ask them if our rooms were ready we got a very brief reply from the Purser's Office (Mathew) that our rooms were "back in action" with a whole bunch of exclamation marks.  When we got back on board and got to our rooms we found that our one room was actually not "back in action" and I question whether he even bothered to take a look at our rooms before he made that comment.  Just a hint of bitterness there, sorry!  Steve had to actually put one of the beds back on the frame and the closet floor still had tons of dust and debris on it.  We were not too impressed.   We put our things away and decided to walk around the harbour and sight see around the port. 
Our ship was docked at the Overseas Passenger Terminal at Circular Quay West.  Circular Quay is the area that surrounds Sydney Cove.  There you will find The Rocks, Sydney's first settlement.  You'll find historic streets, shopping and dining, museums and galleries here.  Circular Quay is also the ferry hub where you find the ferry that takes you to Darling Harbour.  Circular Quay is also where you get the great view of both the Harbour Bridge and the Opera House.  It reminded us of Granville Island in some ways but way bigger and way more busier.  The restaurants are all along the waterfront and they all have tons of outdoor seating.  As you walk along you just pass one restaurant after another with no real dividing line between them, and they were all packed at all times of the day.  Very expensive!  Most entrees averaged around $25-30.  Lots of seafood and lots of Asian food.  We went back to the ship for dinner and the headed back out and went for a walk to the Opera House.  It was such a beautiful night and just below the Opera House we stopped at an outdoor bar area and got two glasses of wine and sat right at the seawall.  There was a funky band playing and there were tons of young professionals at the bar having a great time.  The kids played on the stairs and we had a very relaxing evening.
The next morning we woke up early and met with Ann and Mel, Lana and Curt, as they were disembarking that day.  We had a quick visit with them and then we packed an overnight bag and set out for the Sydney train.  Last Christmas when we went to Banff on the Rocky Mountaineer Train we met a wonderful family from Australia.  Peter, his wife Keren and their kids Kiera and Cameron had Christmas dinner with us and we really seemed to 'click' when we were up in the Rockies.  We had told them about our traveling plans and we had kept in touch via the internet for the last year.  They actually took time off work to meet up with us and we were very excited to see them.  We took two trains out into the suburbs of Sydney and Peter picked us up at the train station and drove us to their amazing home.  Steve calls it the Batten Ranch.  It's a beautiful home on five acres and it backs onto a creek.  Their backyard looks like a jungle with not a house to be seen for as far as the eye can see.  Steve fell in love with their swimming pool because it was created to look like a natural pond with huge rocks in place of a diving board.  To top it all off there is a huge rock waterfall that flows into the pool and the one end of the pool has a low lying ledge so the water looks like it is flowing off the edge of the ridge it is on.  They have a two-level backyard with a huge grassy yard on top and another down this big hill.  Beyond that is just wilderness and Peter took us down but we couldn't quite make it to the creek because the terrain was quite steep and treacherous.  We felt like such 'city folk'.  They were the most gracious hosts and we felt so totally relaxed and comfortable there, it was truly amazing.  It felt like home and the kids went swimming and played with their very cute dog named Sonny.  Cameron had play station so Nikolas was in heaven.  Nikolas and I also went to watch an indoor soccer game that Cameron was playing in and it was a great experience for Nikolas.  Having a home cooked meal was such a treat and that night when we went to bed it was amazing to hear absolutely nothing but the sounds of crickets.  The next morning when we were packing up the kids were begging us to stay.  We are so very grateful to the Battens for the wonderful hospitality!!! They drove us back to the city and on the way we stopped at the site of the Sydney Olympics.  It was amazing to see the arenas and stadiums that were built for the games and we toured inside the aquatics centre.  What an amazing sight!!  It made us excited for the upcoming Whistler event.
They drove us to the Sheraton at Hyde Park because we were meeting Mel and Ann there.  When they disembarked they decided to stay at that hotel because we had raved about it.  We were to meet them for lunch because they were leaving the ship and touring around Australia.  We are going to try and meet up with them when we come back to Australia later on in the year.
This couple is truly amazing.  They have this aura about them that is just intoxifying.  They are so fun to be with and the kids just adore them, especially Danika.  She does not leave Ann's side and just beams when she looks up at her.  We had a fabulous lunch at the Circular Quay with the ship just behind us and then it was back to the ship for us as Mel and Ann stood at the pier and waved us good-bye.  They had made so many friends on board that you could hear people yelling good bye to them from all over the ship.  Danika actually cried when we were waving from the ship.  As we left Sydney there was quite a crowd on the pier waving us off and there were tons of passengers on deck with a band playing in the background.  It was quite the send-off.
Back on board turned out to be okay.  It was nice as we walked through the ship to hear so many people say "Welcome back".  We had a great little break from the ship and we were happy to be back 'home'.
Sydney History
Sydney was founded on Jan 26 1788, when the 11 convict-bearing ships of the First Fleet arrived from England to establish the colony of New South Wales (now the state that Sydney is located).
The city was named after Thomas Townsend, the first Viscount Sydney, who was Secretary of State for the Colonies of Britain at the time of NSW's  founding.
Convicts were transported to Sydney and New South Wales from 1788 until 1840.
Sydney was officially created a city in 1842.
Sydney's Harbour Bridge was completed in 1932, and the Opera House was opened in 1973.
Sydney is home to over 4.1 million people-well over half of the state's (NSW) total population of almost 6.7 million.
18.7 per cent of Sydney's households earn over $75,000 a year.
7.3 per cent of the workforce are unemployed.
**************************************************************************************
Sydney Australia
(written by Steve) received Feb 7
We are in Sydney and have been traveling the City for the last 3 days.
This place is big, beautiful and is very touristy, something we are not real fond of. Yes, we really like it here and the kids are having a blast, but everything is quite expensive and the Aussie's attitude towards the tourist is not happiest. You see we just came from Auckland and absolutely loved that City and the landscape, the nicest people we have ever met. Then we came here and were maybe expecting something like the Kiwi's had to offer and are maybe a little disappointed. We are all doing fine and heading back to the ship this morning (Tuesday Feb 8) and are looking forward to spending a few more days and discovering more of what Sydney has to offer. The detour we took from New Zealand to Australia was just what the doctor order and have been told our rooms on the ship are complete, so we are heading back to the QE II.
We will let our 9 year old tell you what we did while we were here. He just learned how to use the font on the computer, so look out!
My Day at the Zoo By Nikolas,
<![if !vml]>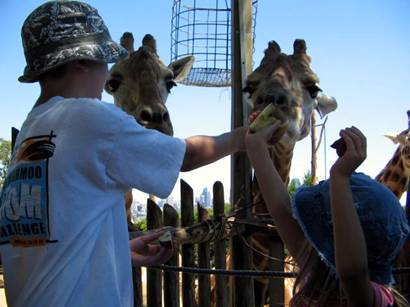 <![endif]>
Feeding the Giraffes at the Sydney Zoo
I am not ready to write because I want to go swimming and I don't feel like writing. I am having a good time but the stinking homework sucks!
We went to the Sydney zoo today and I had a awesome time!
We saw a huge komodo dragon and it was so cool! Fact: komodo dragons eat deer, wild pigs, and possibly humans! Oh by the way we  went there on a really fast ferry and then we went on cable car up a big huge mountain to the entrance. Ok back to the zoo, We also did another really cool thing………… WE FED GIRAFFES!!!! Well me and danika did. But it was really cool we fed them old apple slices with herbs on it. And we also saw really big tigers and one was in a really bad mood because another tiger went into the other tigers spot and the bad mood tiger charge and fought the other, and the bad mood tiger was very nasty cause he clawed the other harmless tiger on the side of its face!  We also saw a huge feircem elephant who was probably having a real bad day because he was trying to break out of his cage and it wasn't a very nice sound either cause all you could was booooooming!!! Crashing!! And chains snapping so it was freaky.
Danika was one of the main actors in a bird show in the zoo. She did not want to do it but my parents bribed her with a toy. The lady who asked her to do it said it was going to be a baby bird but it was a humangus owl with huge claws and my sister felt the claws even with padded leather glove so she was pretty freaked until she got that toy. He he he! We also saw some huge 2 feet turtles that looked like they were 200 years old. We also saw some cool gorillas and monkey and we found a secret window that had a great view of some. One came right up to the window and ate food! He was sooo cute! (that's what a sissy girl would say by the way)I would say he looks awesome! Yep! There was one big huge fat gorilla and he was the big boss! He was charging at all the other gorillas cause he needed some food. (He's actually called a silverback.)  I really liked the zoo and I hope you enjoy my story about it cause im da best writer in the family! (just kidding!)
I really like Austrailia and I hope I come back soon.
By: nik the pik
                         Komodo Dragons
Did you know the Komodo dragon live in south central Indonesia on an island called Komodo. This island is an national park and protected
by the government of Indonesia. These giant monitor lizards can grow up to 10 feet long, 300 pounds and live up to 100 years. They mostly eat wild pigs, Goat, and Deer. I would like to see Komodo island but I wouldn't want to camp there.
<![if !vml]>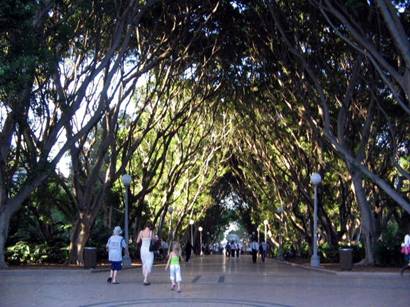 <![endif]>
The daily family stroll through Hyde Park
Museum, Sea World and China Town
At the museum there was a lord of the rings exhibition and it was so cool! They had all the swords the characters used and they all had dents from hitting things but some were plastic weapons. There were also some really cool shields and armour. They had Gimlis armour they had legolases armour  and they had gandalfs staff and clothes. They also had aragorns armour and by the way they had all the weapons with the armour. They also had some of the orcs weapons and armour. Me and my sister and my dad got pictures of us as hobbits and it was so cool because they made it look like one person was bigger than the other. It was sooo funny! We got one picture of danika being bigger than me and one with me bigger than my dad.  You were aloud to see how they created Gollum, and the main orcs it was so cool cause the people who played the orcs had to sit in a chair for 10 hours and were painted and they got rubber masks and glued them to there faces. They actually slept in the chair! So it was really cool but its only around for a limited time.
By: nikolas
SYDNEY AQUARIUM
We went to the Sydney aquarium and it was great! We saw really nice fish and some were really big. We also saw a 20 pound crayfish and it was absolutely huge! We also went thru a little glass tube and saw huge sting rays and sharks that were over 10 feet long that had huge sharp teeth! We also went thru a small room that was glass every were even glass floors and we saw weird big fish that looked like sharks mixed with sting rays. We also saw a fish that looked like Elvis. THE TANK THAT HAD THE GLASS ROOM IN IT WAS HUGE! It had all the fish and sharks you could think of it was cool. They also had all the finding nemo fish in most of the tanks cause there was A FINDING NEMO EXHIBIT ON.
By: nikolas
                                 Chinatown
Today we went to china town because it's the most popular Chinatowns in the world and we had an ok time but not great because we wanted to eat at a Chinese restaurant called b.b.q king. So we asked a man and he said two blocks down that street then turns left so we did. But it wasn't there?! So we asked two ladies were it was and they said across the road and turn right at a golden tree so we did. BUT IT WASN'T THERE!!!? WE WERE SO ANGRY AND TIRED SO WE ASKED 2 GUYS AT A BAR AND THEY TOLD US WERE AND WE DID IT. AND IT WAS THERE!!!!!!!!!! AND IT WAS WORTH THE WALK IF YOU CAN BELIEVE CAUSE WE WALKED OVER 12 BLOCKS AND THE FOOD WAS UNBIELIVIBLE!
BY: NIKOLAS   
Next stop Melbourne, so we will talk to you from there.