SRI LANKA - March 19
Sri Lanka -
(Written by Steve)
Well after a bit of a run from Kuala Lumpur, we managed to get to the small city of Colombo, Sri Lanka. From first glance it looked very tropical, but we were docked at a container port, so most of the view was blocked by towers of containers. We managed to get on a bus with a bunch of other passengers and ride out of the terminal. It was a good couple of kilometers to get to the front gate. The one thing we saw as we left the terminal is dozens of sand bag bunkers complete with army personal and a machine gun. We had only been in the city for a few minutes and I have to admit, I was a little concerned about the number of artillery positions spread all over the city. At first I wondered if all these guns were brought out since the Tsunami, but we were told that this was normal and they have been there for years. Apparently, back when the Tamil Tigers (an extremist group that wants its own state) tried to cause problems and still do to this day, the government wanted to portray a show of force to persuade them not to cause any more problems.
<![if !vml]>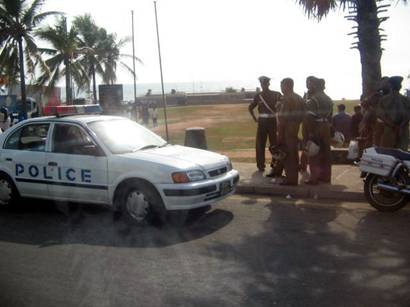 <![endif]>
The bus we were on took us all over the city, even through a few nice areas. Finding an area that is not over run by poverty is very difficult, but they do exist. We drove past the Presidentís Palace, the Hilton, and many other hotels. The city itself is crumbling away and then all of a sudden a huge Hotel pops out in the middle of nowhere protected by a few machine gun bunkers. It is a funny feeling walking down a street with your kids and you notice that the machine gun in the bunker in front of you is pointed right at you. The same thing happened every time we walked by, the guy in the bunker would see Danika and wave and yell something at her, yes folks, she was the princess in Sri Lanka too. We ended up at the Pettah Bizarre, and I can assure you that Bizarre is the perfect name for this place. As soon as you are out in the open, people run up to you and try and get you to come in their shop so you can buy some of their fine goods. They are not threatening and donít mean any harm to you, just right in your face. I felt very safe, only a little overwhelmed sometimes with all the folks bumping into us and touching us. One problem we had was that everyone wanted to touch Danikaís hair, feel her face, or squish her cheeks. I put her up on my shoulders, but they would just grab onto my shirt and reach up and grab her face, sometimes more than one person at a time. At first it was kind of O.K., but it soon became a problem and we quickly felt overwhelmed, and Danika was freaking out (as Nikolas would say). She kept asking me if we could leave and saying, ďI donít like this place Daddy, can we go?Ē I wanted to get out of there too, the only problem was we were a couple of blocks from an exit. Those couple of blocks were kind of scary for her, and Helen let me know she was not happy, but in the end we were safe and sound. Well not really, to get out of the place, we got into the car of the first person who said they would drive us out. We were moving through traffic in some beat up old van, but the old guy did quite well and got us safely to a hotel. You see, the people of Colombo are very poor, but they are extremely friendly, and we wanted to see more but it was just a little too crazy and we were very hungry. The man picked us up at the Train station, which was one of the worst parts of town and dropped us off at the beach. How the heck do we keep ending up in the bad parts of the city? We have seen some very interesting places on our journey, since leaving New York. (I can hear my mother-in-law again) Well anyways we managed to get this real nice gent to drive us out of the center of town and it all worked out just fine after all. Helen and myself had some words and then we ended up at The Taj Hotel, which was very nice. We ate lunch there and were allowed (for a fee) to swim in the hotel pool, it was very refreshing. We hung around there for a few hours watching a bunch of cricket players swim in the pool. The national cricket teams from Pakistan, India, Sri Lanka and Britain were staying at the hotel and a few of them were walking around showing off their muscles. You should have seen the bodies on these guys. Why the heck do they need to be so cut to play cricket? Helen would fall into a trance every time one of these guys would walk by her and Nikolas and myself would have to pop a few rocks off her head to snap her out of it. As we lounged around the pool I asked Helen what time we needed to be back at the ship, and she replied with a ďNot sureĒ comment. There are only a couple of ports where you did not want to miss the ship and this was one of them. Flying from Sri Lanka into Mumbai would not be much fun without our passports or any extra clothes, so we decided to leave at around 4 pm and hopefully make it back to the ship in time. We grabbed a cab and headed back into the city and I snapped some more pictures and we soaked up a bit more culture. We spoke to the guards outside the hotel and they were very friendly (they also just loved our little princess) and gave us all kinds of information regarding the Tsunami. The damage was felt right in the area where we were standing but fortunately no one was killed in Colombo. As he was telling us we were looking out on the beach in front of the hotel and the guard said that the wave just came half way up the grassy area. I can tell you we could not see anything that looked like it had been damaged, but I assure you, these folks need our help. These poor folks live with very little and a tsunami was the last thing this country needed. The tourism appears to be non-existent on this side of the island, and I am not quite sure how these big hotels survive, but maybe itís just off season or something. I am so glad we were able to come to this place, and I am sure one day we may return. Itís the people that make the difference, and the people of Sri Lanka are very kind and thoughtful.
Sights to see in Sri Lanka:
Presidential Secretariat
Grand Oriental Hotel
Taj Hotel
Lighthouse Clock Tower
Cargills and Millers department store
Pettah Bizzare
Dutch Museum
National Museam
Vibaramabadevi Park
Jami ul Alfar Mosque
Pinnewala Orphanage (Elephant Orphanage)
†(Written by Steve - March 19)
Hey Folks, we are in Sri Lanka and we have just stepped into the Taj hotel to send this. The email system is very slow, I guess its better than nothing. This place is very 3rd world, we have never seen anything like it. People are very nice, but lots of poverty and very, very crowded. We are going to eat lunch here and then try and get back to the ship. I am not exactly sure why but we have seen many bunkers along the roads with military people with heavy machine guns, its a little scary. We are fine and not going to stay out long, so I'll send you a message when we get back to the ship and give you a full update. I will try and send out some pictures from Kuala Lumpur, but I don't think we will be able to get many of them out from here, so i might have to wait till we get to U.A.E.. Hope all is well back home and bye from Sri Lanka,
****************************************************************
retrieved from http://www.lonelyplanet.com/destinations/indian_subcontinent/sri_lanka/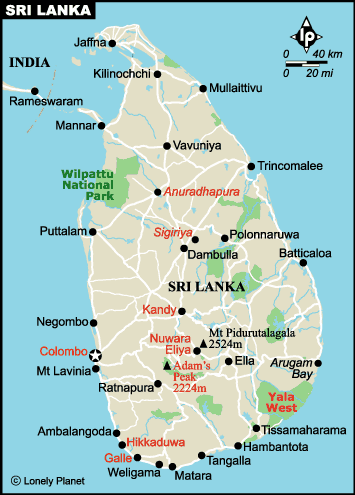 For a small island, Sri Lanka has many nicknames: Serendib, Ceylon, Teardrop of India, Resplendent Isle, Island of Dharma, Pearl of the Orient. This colourful collection reveals its richness and beauty, and the intensity of the affection it evokes in its visitors.
Head for the rolling hills to escape the heat of the plains in the cool of tea plantations. The entire island is teeming with bird life, and exotics like elephants and leopards are not uncommon. To top it all off, the people are friendly, the food is delicious and costs are low.
Marco Polo considered Sri Lanka the finest island of its size in all the world, and you'll likely agree after exploring the country's fabled delights. What takes your fancy? Beaches? The coastal stretch south of Colombo offers palm-lined sandy expanses as far as the eye can see. Culture? Try the Kandyan dances, a procession of elephants or the masked devil dances. Ruins? You'll find enough ancient and inspiring architecture in the cities of Anuradhapura and Polonnaruwa to satisfy that inner archaeologist.
Full country name: Democratic Socialist Republic of Sri Lanka
Area: 66,000 sq km
Population: 19 million
Capital City: Colombo
People: 74% Sinhalese, 18% Tamils, 7% Moor, 1% other
Language: Sinhalese, Tamil, English
Religion: 69% Buddhist, 15% Hindu, 8% Muslim, 8% Christian
Government: republic
Head of State: President Chandrika Kumaratunga
Head of Government: Prime Minister Mahinda Rajapaksa

GDP: US$48.1 billion
GDP per capita: US$2,500
Annual Growth: 4.7%
Inflation: 9.3%
Major Industries: Processing of rubber, tea, coconuts, and other agricultural commodities; clothing, cement, petroleum refining, textiles, tobacco
Major Trading Partners: US, UK, Germany, Japan, Singapore, India, Iran, Taiwan, Belgium, Hong Kong, China, South Korea