SINGAPORE – March 14
(written by Helen)
"On a world map, the island of Singapore is just a dot at the tip of the Malaysian Peninsula.  This tiny 625 sq km island has blossomed into one of Asia's strongest economic countries, having the second highest standard of living next to Japan.  Sir Stamford Raffles established a free port which rapidly grew in importance due to its strategic location on the great East-West trading routes.  The opening of the Suez Canal resulted in increasing prosperity during the latter part of the 19th and early 20th centuries, and from a sleepy Malay village, Singapore's population grew rapidly with migrants from China, India and neighbouring Malaya and Indonesia.  Today, Singapore's population of close to 3 million is a melting pot of cultures."
(taken from the front of our Daily Programme)
We were really excited to see Singapore because Nikolas's best friend from school is from here.  Josh has told Nikolas all these wonderful places to see and we initially had only one day in this beautiful city.   As it happened, the ship broke down and we ended up spending two days instead.
The ship had a bus charter into the city center from the boat dock and we piled onboard and set off.  The ride there took about 20 minutes and it was very enjoyable.  The city of Singapore is such a drastic contrast to Bangkok, it's unbelievable.  The city is very, very clean and the most remarkable thing we noticed is that all the signs are in English.  Later, when we enquired about this, a taxi driver told us that 90% of the population speaks English.  Even all the radio stations playing in the taxi cabs are English.  We were listening to Willy Nelson, Ann Murray, it was hilarious.  Someone made a joke and said they traveled all the way from New York to find an English-speaking taxi driver.  Not only is the city clean but they have very modern architecture with their sky scrapers surrounded by tons of greenery.  Lots of palm trees and huge green spaces dispersed throughout the city.  They obviously take great pride in keeping the city well-kept.
<![if !vml]>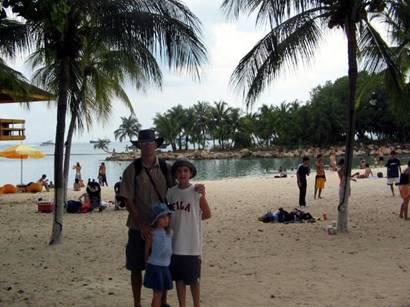 <![endif]>
More than a decade ago a young man named Michael Fay was caned after getting caught doing some graffiti.  The rules have not softened since then.  Jaywalkers are fined on the spot.  Litter and you pay (including cigarette butts!), you can be fined for chewing gum in public, and drug peddlers earn a death sentence.  Media is scanned at the state level for content and "inappropriate" websites are blocked.  Seems a bit harsh but it works.  You can walk fearlessly in Singapore at any time, day or night. 
The tiny country consists of the large island of Singapore, and 63 smaller islands at the tip of the Malay Peninsula.  It is just 90 miles north of the equator so the climate is always tropical.  Of the 3 million that live on the big island there are 14 major nationalities, but most people belong to one of seven or eight Chinese groups.   Chinatown is one of the largest districts and we were dropped off their today and Steve finally bought a camera.  He has been shopping around and was so disappointed that he didn't buy one in Hong Kong.  He was just about to and then the merchant started to really pressure Steve and actually starting yelling so Steve walked away.  But, he bought one today and as I write he is tinkering with it as if it was a new TOY!  The shopping in Singapore was a big disappointment.  Everyone said that it was as good as Hong Kong but I say NO WAY.  It was very expensive.  Other than the camera, we bought nothing but a couple of T-shirts at the portside market.
On our first day in Singapore we took a taxi to the harbour center and got on a gondola that takes you from Singapore to an island called Sentosa.  I think I have finally realized that it is a fear of heights that makes me nervous when I fly because when I was in this cable car I felt exactly how I feel when I fly.  Even Steve admitted (at the end, mind you) that he was a little freaked.  These cars, that each hold about 6 people, tangle from a cable about 15-20 stories above the ground and water.  It is so high it feels unnatural.  On the way back a strong wind started blowing and I just about fainted as it was making us sway back and forth.  Of course Nikolas thought my terror was humorous so he started banging his feet on the bottom and moving quickly so that the car swayed even more.  The ride across only takes about 10 minutes but it felt like hours to me!  It was worth it though, because the island is beautiful.  It is a kind of resort and the whole island reminds me of a very small Disneyland combined with Stanley Park.  There is a tram that takes you around the whole island and you can get off anytime you like if it comes to an attraction that you like.  We stopped at the Underwater World (aquarium), Mini-golf, and a gorgeous beach.  Other attractions included a Bug Museum, nature walks, lost civilization city, volcano land, gardens, golf courses, and a huge resort and spa.  Very beautiful but very busy and everything costs a fee to get in or see.  Very commercialized.
Once again we did not experience the flavours of Singapore, instead, we had Subway the first day and McDonalds the second.  Our kids are very spoiled.  But really, after spending 2 months with gourmet dinners every night, I have to admit I was craving it too.   We went back to the ship and we were supposed to set sail by 9pm.  When midnight rolled around we were quite confident that we were not leaving.  At that time, we had no idea why not.  Not till the next morning when we woke up and realized the view was the same out of our porthole did we get the announcement that due to "technical" problems we were not leaving until later in the day.  Apparently, one of the engines that controls the jet propulsion system broke and it took them a while to fix it.  There were rumours circulating that the cruise was now cancelled and everyone was getting flown home.  Steve started that one.
So we had another day in Singapore and I already told you that we spent the day in Chinatown buying a camera.  When we got back and talked to the passengers we got a lot of them describing Singapore as boring.  I beg to differ.  Although it wasn't terribly exciting I really enjoyed our stay there and would most certainly come back.  We will see what awaits us in Malaysia!
********************************************************************************
Retrieved from the net - http://www.lonelyplanet.com/destinations/south_east_asia/singapore/
Singapore has traded in its rough-and-ready opium dens and pearl luggers for towers of concrete and glass, and its steamy rickshaw image for hi-tech wizardry, but you can still recapture the colonial era with a gin sling under the languorous ceiling fans at Raffles Hotel.
At first glance, Singapore appears shockingly modern and anonymous, but this is an undeniably Asian city with Chinese, Malay and Indian traditions from feng shui to ancestor worship creating part of the everyday landscape. It's these contrasts that bring the city to life.
One day you're in a hawker stall melting over a bowl of Indian curry, the next you're enjoying high tea in whispered environs complete with air-con, starched linen table cloths and gliding waiters. Super-safe and mega-clean Singapore may be, but its sultry rhythms wash inexorably beneath the regimented beat of big-city life.
In the crowded streets of Chinatown, fortune tellers, calligraphers and temple worshippers are still a part of everyday life. In Little India, you can buy the best sari material, freshly ground spices or a picture of your favourite Hindu god. In the small shops of Arab St, the cry of the imam can be heard from the nearby Sultan Mosque.
<![if !vml]>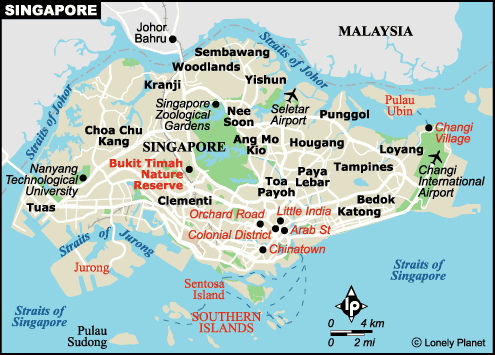 <![endif]>