Great Barrier Reef
(Written by Steve) - 0ct 13
This trip out to the reef would be the most selfish things I did on this whole trip. You see, my wife does not feel comfortable in a swimming pool, my son freaks out if a fly lands on him and my daughter can't swim. So here we are going out to the great Barrier Reef to snorkel and I am going out scuba diving on my own, leaving the kids with Helen. When our boat arrived out on the reef the dive master yelled for all divers to get their gear and get in the water. I looked over at Helen and said "are you sure you will be O.K.", she replied "yes' and told me to stop thinking about her and just go have a good time. So I came out of the water after my first dive and there was my family with life jackets, Masks, Snorkels and stingers suits about to enter the water, I felt so proud as they walked towards the swim grid. I had to go and get my lunch and then get back into the water. As I was getting ready to enter the water (about 20 minutes after last seeing them) I looked out into the water and there was my family swimming. I could clearly see Danika and Nikolas snorkeling with Helen about 100 meters off the swim grid. I felt so proud I wanted to scream, but I had to get into the water for my second dive. As I turned around and walked back to get my diving gear I saw Helen, Nikolas and Danika sitting underneath the swim grid. I was stunned, I just spent 5 minutes watching some other family swim around at the great barrier reef. I ask Helen why they came back so soon and she looked at me with burning eyes and replied "we have not been in the water yet"
I will let Helen tell you the rest:
(written by Helen) - Oct 13
by Helen:
We are all sitting in an internet cafe, Steve and I checking e-mails and the kids playing computer games. We just had a great dinner and it is finally starting to cool down; it's 8pm. Everyone told us that Cairns is beautiful but we don't really agree with that. I think it's because it is sort of the gateway to the Great Barrier Reef, but in terms of a nice town, it is not.
We are staying at the Holiday Inn again and it is really nice. We have done a few day trips while we were here, one to Port Douglas, another cute little town up the coast, and another organized trip to an aboriginal centre and a crocodile farm. The weather has been unreal. Extremely hot and very humid. It has been over 30 degrees Celsius everyday. You walk outside for 10 minutes and your shirt is soaked.
Yesterday we took a tour to the Great Barrier Reef. When you walk along the streets of Cairns, every second store is a tour office. They have a million different options of tours everywhere. We finally decided on a Quicksilver tour that took us to the outer ribbon reef of the Great Barrier Reef.
We had to wake up at 6am and they picked us up by bus to take us to the boat dock to embark on our tour. We hopped on a catamaran that took us to the reef itself. We were a little delayed with our departure as a poor elderly lady fell down the stairs and Steve and I joined the first aid crew in helping this poor gal out. They ended up calling an ambulance and taking her to the hospital so our departure was delayed .
When we finally got going we stopped at two different towns to pick up passengers and by the time we arrived at the reef it was almost noon.
We unfortunately picked a day that was a little overcast and windy and the seas were a little choppy. This particular tour has a pontoon that is stationed out at the reef and the catamaran docks against the pontoon and it becomes a huge sight for the hundreds of passengers.
Because we were late leaving we had a huge buffet lunch on the pontoon and then we were ready to jump in the water. If it was only that easy!!!
Steve had booked himself into a couple of diving expeditions so he left the three of us as soon as we docked at the pontoon. Me and the kids had lunch and then we set about getting our gear on. Well, this took about an hour as we had to put on these blue space suits (lycra) as the stinger's were out in full force apparently. They are jelly fish that have a sting that can be deadly so we decided to stay on the safe side and rent the stinger suits. Well, they are like putting nylons on your entire body and try doing that to two kids that are sweating! Women will understand what I am saying because it is next to impossible to do this when your skin is damp. While I am struggling, Nikolas is complaining that he is not going to have time to snorkel and that everyone on the pontoon is already in the water and we are the only ones not ready...etc. I just about threw him off the pontoon at that point and the day had just started!
We finally got the suits on and now it was time to get our snorkeling gear. Well, my son's feet are enormous and of course he could not find a single pair that would fit him properly. I watched him as he sat on the floor writhing around like a fish trying to get his flippers on his feet, all the while telling me that we were taking too long getting ready. Needless to say it is really hard to put flippers on dry feet but he would not understand this and insisted that it was all my fault that he had big feet. I struggled with the strong desire to take the flipper and whack him across the head with it, but I didn't. This was the Great Barrier Reef and I wasn't going to ruin the day. Then, of course, it was Danika and her mask. Every time I put it on her and that in itself would take 15 minutes to get all her hair out of the suction part, she would take it off to talk to me. It took me half an hour to explain to her that she could talk to me without taking her mask off.
Finally, we had all our equipment and on the pontoon there is a little staircase that leads into the water and that is where we put on all our stuff.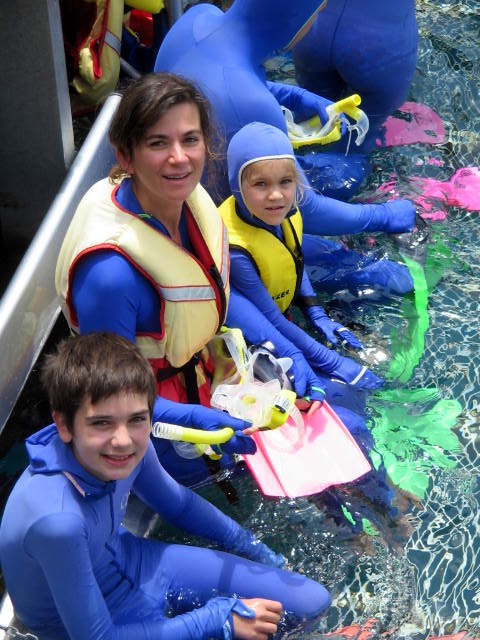 Sitting on the swim grid
You sit down on these benches and are sitting in chest deep water. As we are sitting there little tropical fish the size of Danika's hand start swimming around us and my kids start screaming. Nikolas is yelling that he sees a shark and all the people start looking at us very strangely. I am just about ready to just call it quits BUT, it is the Great Barrier Reef and I will not ruin the day. The funny thing is that I actually got bit by something and it hurt a lot but I could not tell my kids this. We are sitting there getting our stuff on and testing our equipment by putting our faces in the water. Of course, Danika's mask is leaking and Nikolas is obsessed with this "shark" he sees even though there are twenty thousand people snorkeling in the water before us. As we are about to actually enter the water Danika gets nipped by whatever bit me and she starts crying and saying she doesn't want to do this anymore. Nikolas starts to freak out and then he gets nipped in the leg as well and that's it for him. He thinks it was the shark. As I am cursing Steve under my breath for leaving me here with this mess I tell myself that we have to do this. I assure Nikolas that if it really was a shark the company would certainly evacuate the area and stop the hundreds of people from getting into the water. He actually starts to believe me even though the lady that is helping people with their gear actually tells me that it is a shark. But just a small one. Well, now I am having second thoughts. We are out in the middle of the ocean and I am responsible for these kids and I am not the greatest swimmer in the world and not the most courageous person in the world BUT it is the Great Barrier Reef and we are going to snorkel if it's the last thing we do. At this point Steve shows up and takes pictures of us getting ready and says, "Hey, what are you still doing here?" He thought that we were out there hours ago and had been taking pictures of a family of three thinking that it was us. Now, I really had to do it.
My other problem was myself. When I put my head in the water to test my equipment I almost hyperventilated. A bit of my claustrophobia was sneaking up on me. I actually said out loud that I didn't think that I could do this. Of course, right away, Nik says, "me neither". It was then that I said THAT"S IT! Let's go!!!!!! It took me half an hour to lure Danika into the water once I jumped in and Nik would not go unless she did (he is 10, she is 5). Well, out of the blue Danika suddenly said, "I am going to do this!" and in she jumped and just miraculously started snorkeling, just like that. Of course, Nik saw this and knew that he had no choice so in he jumped after making sure the shark was nowhere to be seen and we all snorkeled the Great Barrier Reef!! It was fantastic. Well, it was okay. The water was very choppy and there were hundreds of people in the water so we kept bumping into fins and bodies. The water was a little cool and a little murky because of the wind and the coral is not that impressive. No real colourful stuff but we did it and I am so proud of my kids!
After we came out we went in a semi-submersible and took a tour of the reef and that was very cool. It's a glass bottom boat and we saw way more than when we snorkeled. Of course, as soon as we came back and Nik saw Steve he said he wanted to snorkel again as if he was an expert and off they went the two of them to snorkel a bit more. Me and Danika got changed and soon our tour was over and it was back on the cat and back to Cairns.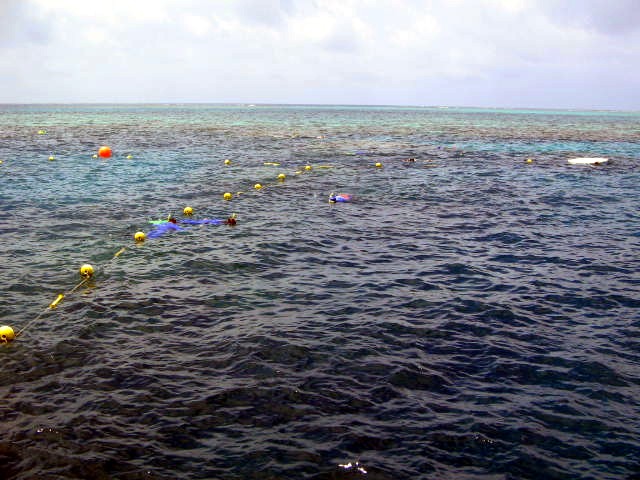 The family Snorkeling at the Great Barrier Reef