Fuerte, Panama - arrived January 11, 2005
(written by Steve - received January 10, 2005 )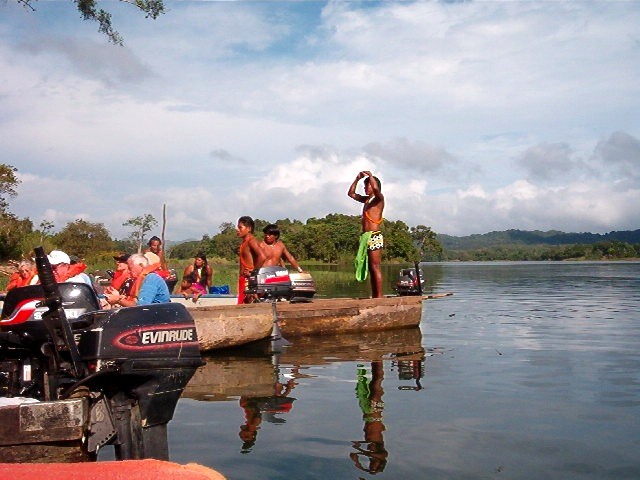 Hello Folks,
We just went through the Panama Canal, in the Caribbean sea in the morning and Pacific in the afternoon. What an amazing trip that is going through the canal. I know many of you have done it, but we never have and it was absolutely incredible. We have tons of pictures and we are also fully loaded with stories, only one problem. We can't get you the dang things. We hope to have them posted, well at least the stories on the web page by the 14th or 15. Nikolas is writing up a storm and having the time of his life. Danika is getting a huge head and can barely walk anymore because everyone on this ship thinks she is just the cutest thing. They have not seen the little princess when she has not had enough sleep and does not get what she wants. Anyways we are all having a much better time, even Helen has found new life. She has even wrote a little story, even though I can't get it to you. The problem is the ships email is like 14.4, and it would take 1/2 hour to get out 100 word story. I usually load them onto my phone and send them as a text, but I can't log on to this Central American network. So I am mailing the pictures to Captain Ron (The Webmaster) and I hope to send the stories when we get into Mexico in 4 days. I guess I could try and find a Internet Cafe in Panama, but Nikolas and myself have been invited to go to an Indian Village. We are taking a coach into the jungle and then paddling 40 minutes across some alligator infested swamp to a native village. I am not kidding, Helen was going to go but the guy on the ship who is putting it together said it would not be safe for Danika. So at that's when Helen said she was out too, but we are going to go with about 12 other people from the ship. So I have to be quick, and please excuse the spelling errors, as this is just an update and I'll replace once I get online.
The trip so far is going great, the seas roughed us up a few days ago, but we had one nice day and Helen got to sleep and has relaxed a bit. The seas were so rough and the ship was rocking so bad that our porthole was actually under water at times. I have a picture, and it was kind of freaking us all out. I love everything about this ship, from the crew to the layout. Everyday we meet a few people who just enrich our lives with their stories about life and about the travel they have done over the years. Some folks have come on this cruise to get away from little kids and make no bones about letting us know we are out of bounds. We just ignore those folks and have a good time in spite of them. The kids are having a blast and everyday seems to bring them something new. Helen is not happy about being in the Pacific because she is terrified of the crossing to Hawaii. Oh well, we can't turn back once we start across so we will let you know how it goes.
Please give us a couple of days to get those stories posted and we will talk to you then.
Take care and miss you all,
Steve
(by Helen - received January 11, 2005)
Well, here we are in Panama. The canals themselves are absolutely mind-boggling. We hear people say that it's their fifth or sixth time through and it's still exciting and we can now understand why. When you read about the construction, the fact that the locks are almost 100 years old, it is truly amazing when you enter a lock and look at the gates and the walls that have endured for so long. Our ship just barely fits through. There is literally just three feet on each side of the boat and the ship is almost too long. It costs the Cunard line 250,000 dollars to pass through the canals because of it's size and because it is a passenger ship. It is amazing to go through and have a cargo freighter right beside us within a few feet going through the locks right beside us. There is one point where we pass a building and there are hundreds of people on the decks and they are all cheering and clapping as we slowly float by. It is amazing to watch as we enter a lock and we wait for the gate to close behind us, then they empty the water from the lock we are in and it lowers the ship about 45 feet. Then the front gates open and we slowly sail on through. You do that a few times until you reach the Pacific Ocean (starting from the Caribbean Sea). We started at 8am and were done by 5pm, it is an art in itself. Beside the ship on either side are these carts on rails called mules and there are about eight of them, four on each side. They have these cables connected to the ship and they roll along beside us making sure we don't hit the sides. The tension in the cables keeps the boat straight.
We anchored today off of Fuerta Amada which is a short distance away from Panama City. It was very hot and muggy, someone said it was 110 degrees out. Steve and Nikolas went to an Indian village today. They were in a canoe that took them up this lake to this authentic village, where they were greeted by the wonderful people. Steve said that the ride up was quite interesting. The canoe is just a dug out log with a motor on it and every so often they would ground out and almost tip over. They were wearing life jackets but Steve said they were told that there were vipers (snakes) and crocodiles in this lake. Yikes!!! Once there though, they had an excellent adventure. They ate authentic food, they watched the local dancing with drums and homemade instruments and Steve said that the locals actually put on some clothes for this visit, normally they don't wear much. Nikolas was given a homemade bow and arrow by a local who said he was the first young boy to visit his village. Needless to say, Nikolas was thrilled!
We are now headed back to the ship and are at sea for two days on the way to Acapulco. Hopefully it will be a smooth ride and hopefully by the time we get to Los Angeles the bad weather there will pass.
Take care and talk to you soon!!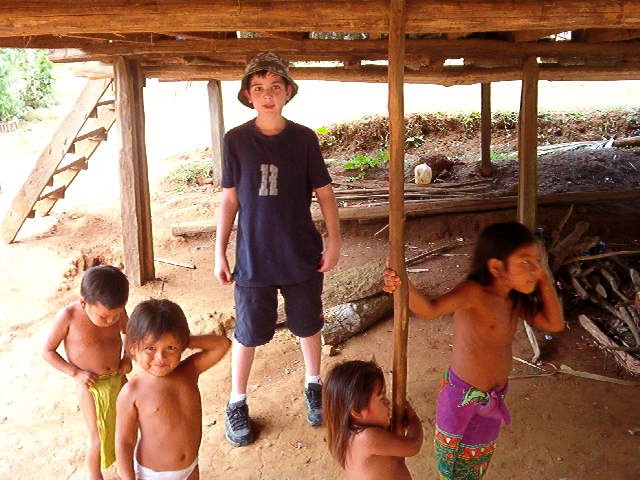 Panama Jungle - RAIN FOREST AND EMBRA TRIBE
(written by Steve - received January 15, 2005 )
We just went through the Panama Canal yesterday, and I can only say that it was one of the most spectacular things I have seen in a long time. I never knew 25,000 people lost their lives making the railroad and 85 million gallons of fresh water move out of that lake with every ship's pass, that's right, 85 million! And the gates are the original ones from 1914. What part of school did they teach this, and where was I? The price for the Queen E to go through is 250,000us not 92,000, and it will be twice that for us to go through the Suez. Anyways I was so blown away with all that I could not imagine anything on this trip affecting me the way the canal did. I had kind of wished it came a little later in the trip because we now don't have anything that cool to look forward to. Boy, was I wrong, less than 16 hours later Nikolas and myself went on a trip that he nor I will ever forget.
We left the ship at 7:30am and boarded a tender to take us ashore near Panama City to a place called Fuerte Amador. Waking up Nikolas at 6:30 in the morning is never an easy task, but I was surprised how easy he got up considering he never got to sleep till 11 pm. I was very surprised how many people had heard about this trip into the rainforest to meet an Indian tribe. The region we were going to was the jungle area that was up in the mountains behind the City of Panama. There were two cruise ships in that morning and many of us wanted to go to this part of the jungle and see one of the 4 tribes that lived in the National park. The tribe we were going to see was the Embra Tribe and lived the furthest way up the river. Panama is right in the middle of its dry season and the river we were going to go up was very shallow. The crocodiles and cayman would not pose any problems because the river was quite cool, so they would come down to the lake and sun. If there was going to be any problems it would be with one of the 40 types of different snakes in the region. Our translator and guide (Anna) told us that the tribe would have all the dogs out and let them run around to keep the snakes away. Oh ya, that made Nikolas and myself feeling real secure about our little adventure. Originally we were all going as a family, but one of the directors asked if the boat overturned would Danika be able to swim on her own. We had no idea what kind of boats we would be getting on and no one said anything about Crocs and Snakes when we agreed to go. I am so glad we went, but if we had all the info right from the start, I don't think we would have taken the chance with Nikolas. Anyways we got on a bus and headed through Panama City and up the mountain to the national park reserve. Forget about the reptiles, driving through a 3rd world country like this was your best way to get killed. The drive lasted about 1 1/2 hours and was very entertaining, but we made it and the boats and tribesmen were waiting for us at the lake when we arrived. The canoes were carved out of a single trunk of a tree and were about 35 feet in length and each one had an 8 hp motor on the back. I was thinking, was this some kind of a setup, with the locals dressed up with a couple of handkerchiefs for Speedo's to make some quick cash off the tourists? That all changed when I heard them speak. This was no act, these folks were most definitely from the jungle and now I was getting a little bit more nervous. Of course like any blind tourist I was willing to risk myself and my young son for a little adventure, because we had already come all this way. O.K. not really, there was only one time on the whole trip, when I felt we were in any danger. And that was when the canoe almost flipped in the river after we hit the bottom on the way back. That was the only time. So lets move, because Helen might read this and then I'll be in real trouble, I can hear her "what are you nuts" she'll say. We crossed the lake and made it half way up the river with no real problems, but then we came to shallow water. We stopped and the tribesman gunned the motor while the other tribesman used poles to push us off. After about 45 minutes in the canoe, we came to a spot where women wearing beautiful skirts and head dresses were on the shore greeting us. Anna, our guide gave us a quick lesson on what we could do and what we could not. Pictures were allowed and we could go into their houses if we asked and were given permission. We were welcomed by the chief and his greetings were relayed through the translator. He told us that he moved the tribe (4 families) there from the Columbia / Panama border just over 30 years ago. We were told that the gorilla army had come to that area and was attacking the women and killing the men, so they had to move. The village now had 24 families for a total of 92 people. The greatest celebration in the tribe is when a girl becomes 15, and that is the day that she is a women and they have a great celebration. He also told us that they do not mate with their own tribe, you must leave the village to find a sole mate. They do not marry but will be with their mate for life. If a Westerner comes into the tribe and falls in love with a tribal member the member must leave the village.
Walking through the village was like being on assignment for National Geographic, and Nikolas was in awe. This was one of those moments when a father and son share something that will be with them forever. I can honestly tell you that I absolutely loved watching Nikolas in this environment, and it did not hurt that he came running up to me every 2 minutes saying, " Dad come and look at this". We were told not to wander out of the village and to stay close to the houses, but I wanted to see the water pipe up the hill, so I headed up there a bit. Nikolas would not come, he went to the craft table instead. I heard that they had some running water and they had a ½ inch piece of poly pipe that ran down to one of the little shacks, with a facet on it. Later I was told that the pressure from the river pushed the water up to this one tap and they used it for everything. They also used the river for everything from food source (Fish), to bathing, to transportation, to washing laundry. They don't have much laundry because they mostly walk around naked, but the adults were wearing clothes for our visit. Nikolas came running up to me and said "dad a man wants to talk to you", so I headed over to the crafts area. A tribesman came up to me and said "I give this to your boy, he is first boy to come to my village". The man (Mattu) gave Nikolas a bow and one arrow to hunt with, he said. I asked how he knew English, and even though it was only a few words, he said he went to a school for a bit in Panama City. Mattu cut his hair like a westerner, and said he knows someone who went to California so he keeps trying to learn more English words. I was very humbled by his gift and Nikolas wanted to go get Danika and Helen to see if we could move there. For a kid who did not want to come on this trip, I was very surprised by the statement that he said and has said at every port we have been to. You know I could move here, he would say. I laughed at it everytime, but was very surprised that he was willing to move to an Indian Village in the middle of the Jungle in Central America. I think there are very few times that you can actually touch or affect the way a 9 year old feels. I don't think things are that important in a young kids life, and they very rarely get the message, if you know what I mean. Well let me tell you that this kid just got rocked and was very aware of how these people lived and he really enjoyed their lifestyle. He told me that he wanted to help Mattu and the tribe by maybe giving them money because he thought it would help. Yes, this tribe did use money unlike some of the others, but only to buy rice and fuel and metal parts for crafts and some electronics. I told him that they did not need help, in fact they were probably living a better lifestyle than us and that Mattu did not give him the Bow and Arrow to get money. Nikolas was not convinced, but he was glad that they had everything they needed and he was so happy he made a friend. I'll try and get the picture online of Nikolas and Mattu, it's a keeper.
There was a man in the village that was bitten by a viper and survived, he did almost die and was missing most of his lower calf. He was the son of the medicinal healer and even though he did end up going to the hospital, he was treated in the village with roots and herbs for about 3 weeks. I can go on and on about this place, but nothing I say will do it justice and I will never forget the gift it has given me and my young son. I know I just said this yesterday, but I can't see anything that will have an affect more than this adventure, that's why I am glad I took so many photo's. Most of the pictures I took are of the young kids and babies playing and running up to you. There was this one little guy (2 year old) who would grab onto you when you knelt down and just touch your clothes and look into you eyes and just laugh and laugh. I have many pictures of this little nino, and I will ask our webmaster if he could make a separate photo album for this place, so I can show them all to you. I am going to stop because the pictures will tell the rest of the story and hopefully inspire you to travel to Panama and see all it has to offer. This place still has a 3rd world feel and I am sure the drugs still move through, but the people, water, city and culture are worth coming to see.
I really wish Helen could have seen this wonderful place, but I told her we will just have to come back. Yes, Helen and Danika could have easily made the trek, but taking a 4 year that cannot swim is not a smart thing to do . It would have been great for her to see it, but we didn't want to take the risk.
Next stop Acapulco
I have never been to Mexico, but one of our friends (Vanessa) lived there for a while, and her stories have always made us want to go. I am sure it's going to be hard, but we will try to get away from the all inclusive beaches and the tourist traps and at least see a little of real Mexico.
Take care,
Steve
****************************************************************************************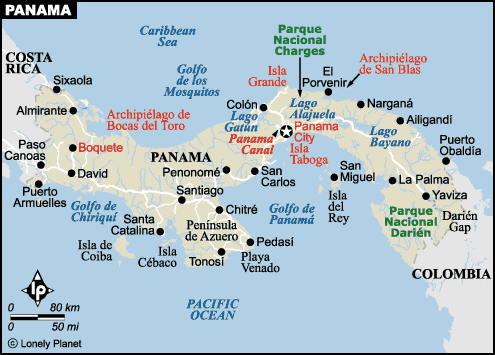 (Info below from Internet - webmaster)
While Panama is known mostly for its famous canal, the country's natural attractions offer an irresistible lure to far-sighted travelers. This overlooked country offers some of the finest birding, snorkeling and deep-sea fishing in the Americas.
It is a proud nation that offers astounding wildlife adventures, that respects its seven indigenous peoples and that celebrates its Spanish heritage with frequent and colourful festivals. There's an inescapable feeling that you're in on a secret the rest of the traveling world has yet to discover.
The country's indigenous name means 'abundance of fish'. Rafters can ride 20 sets of rapids in a single day, wildlife abounds in the scarcely-visited national parks, and a person can snorkel in the Caribbean Sea and swim in the Pacific Ocean...on the same day! It's no wonder the locals boast that Panama has much more to offer than nearby, traveler-soaked Costa Rica.
Full country name: Republic of Panama
Area: 78,200 sq km
Population: 3 million
People: 65% mestizo, 14% African descent, 10% Spanish descent, 5% indigenous
Language: English, Spanish
Religion: Roman Catholic (85%), Protestant (10%), Islamic and Jewish (1%)
Government: constitutional democracy
Head of State: President Martin Torrijos Espino
http://www.lonelyplanet.com/destinations/central_america/panama/