New Zealand – February 2
AUCKLAND     
(Written by Steve)
We have just traveled half way around the world only to end up in almost the same country as the one we came from. New Zealanders are super friendly, very good looking (Helen says that about the men here) and very similar to Canadians. This is the first place we have been to on this trip that I will say, I think I could move here. I think! We have walked down Queens Street a number of times and you see the same thing, everytime,… colour.  It is like looking at a bouquet of flowers.   Auckland is full of culture and even though I'm sure I am being naive,  I feel a sense of safeness. People here are from everywhere, India, Japan, China, Australia, England and anywhere else you can think of. This country is in the middle of nowhere, yet it's a hub for this part of the planet,  that is why there is a Flight centre on every block. I have never seen as many travel centers as I have seen here in Auckland, on every block there are at least 2 or 3. The one thing that is the same is that the folks here all have the same thing in common, that snappy, sexy Kiwi accent. It's so funny to see someone who appears to be from another country and hear that refreshing New Zealand slang.
<![if !vml]>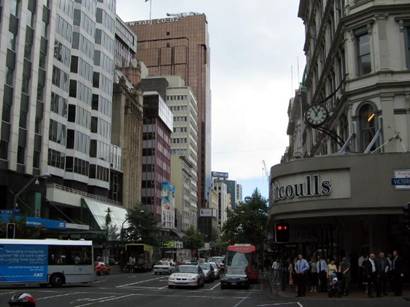 <![endif]>
Auckland is so much more advanced than North America, it is absolutely astonishing, everything here makes so much sense. The toilets here have 2 buttons on them, one for #1 (uses very little water) and the other is for #2 (which uses about the same as in North America). The taxi driver said, "yellow is mellow, brown has to go down!"  How smart is that? And who the heck (being nice) is in charge of helping us conserve energy? When we first got here I thought "who designed these wall plugs? After looking at them, they certainly  work better than ours. There is only one type of plug instead of our 3 different types.  North America has the standard 2 prong, the wide ground 2 prong and the 3 prong, what's with that? Did I mention they do not use pennies here? That's right, they have a 5, 10, 20, 50, $1, $2 coin and NO PENNIES! They just round everything off, I love this place. Wake up North America, get with the program! If you see their buses, their cars and the size of their homes, everything about this country makes sense and is so practical. If they would only drive on the right side of the road! I am sure somehow that makes sense, but I just don't know how.
Does it sound like I like this place? Well I do. We will come back and explore the whole country, not like the little part we did this time.
Anyways back to Queens Street. For the people back in Canada, it's like a short Young Street or a super long Robson Street. It's full of shops, business and café's, really bustling. The architecture in Auckland is a mix of old historic and new Deco design, a very nice city. I can see why those English folks fly the 29 hours to get here and relax, it must be a different world from London. When you travel ( by no means are we experts) you get a sense of feeling safe, and New Zealanders are very polite and courteous. Aside from watching the guy get thrown in the paddy wagon on our first night, I think Auckland is quite a laid back city. It certainly is nice looking, one of the most beautiful cities we have seen so far. Just think of Vancouver without the snow capped mountains and replace it with rolling hills and clear turquoise water. The harbour looks like Victoria B.C. but a lot bigger and not so touristy.
<![if !vml]>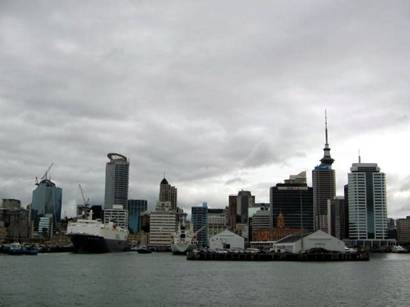 <![endif]>
We went to Kelly Tarlton's Antartic World and I can only tell you coming from Canada,  that it is a bit of a tourist trap. Yeah, it's nice, but 63 bucks to get in and 40 bucks in cab fare, I think it a was a little much. The aquarium is nice but aside from the Penguin exhibit and the underwater aquarium, the only thing left to do is to spend your money at the gift shop. The aquarium itself is pretty cool, as the fish (Sharks and Sting rays) swim right over top of you. The kids thought it was very cool for the first 10 minutes and then you end up in the gift shop. Say no more!
I speak for the whole family when I say Auckland is a must see! We are sure the rest of New Zealand is as nice and most likely more beautiful, so if you want a reasonable holiday, check this place out.
Auckland and Waiheke Island   received February 4 @ 3:45 am
(by Helen)
What a great idea this was to take a break from the ship and stay in Auckland.  I think it was exactly what we all needed.  I've have a couple of wonderful night's sleep without the 'motion of the ocean' although I have woke up each morning feeling dizzy.  It's amazing how your body gets accustomed to your surroundings.  Our hotel is very nice.  Somehow through Steve's ingenious work he got us on their club floor for a very reasonable rate.  We are at the top of the hotel and have to swipe our card in the elevator for it to reach our floor.  Another perk is that we have breakfast included and the best part is a "happy hour" from 5-7pm.  Yahoo, free drinks and canapés!!!!  It's quite embarrassing because we take full advantage of this treat! The room that hosts the happy hour has an incredible view of the harbour and we sit there and stare out at the beautiful sights.  Our room has a view of the Sky Tower.  It is a huge tower in the center of the city that looks very much like the Space Needle in Seattle.  Steve was going to jump off of it but he chickened out.  Just to clarify, it's a base jump by wire off the top of the Sky Tower at 630 feet.  Airtime is about 16 seconds as you plummet at around 75 km/h.  Maybe I can convince him to give it a go before we head to the airport tomorrow! 
Like Steve said this city is really beautiful.  It has all the beauty of Vancouver with the one thing that is missing at home and that is beautiful blue water and white sandy beaches.  The weather has been pretty good.  It has that tropical feel to it.  One minute it's scorching hot and the next there's a cool shower falling.  It makes the heat bearable. 
We've noticed that the prices are quite high here, for drinks and food especially.  The shopping is quite good and the neat thing is that all their prices are exactly what you see on the ticket.  When it says $25.00 on the price tag, that is the price.  The tax is included in the price so you don't have to think about how much it's really going to cost you because it's right there.  Doesn't that sound practical? I went shopping tonight, right downtown, by myself and felt absolutely safe.  Not sure if I'm right but it felt very safe and there were lots of people on the streets.  One thing that surprised me was the strong Asian influence here.  I know I should have expected it since they are quite close to Asia but it still really amazed me.  A lot of the shops, especially those below our hotel all are Asian.  There is Hello Kitty everywhere and tons of Thai, Vietnamese, and Japanese restaurants. 
Today we decided to take a 30 minute ferry across to Waiheke Island.  We were told by a nice lady that works the happy hour in our hotel that it is a must see for tourists.  We hopped on the noon ferry and while we crossed the harbour we met a nice couple from Boston, Pam and Paul.  They were very friendly and showed us pictures of their adorable grandchildren and we exchanged e-mails and this wonderful couple invited us to Boston to visit them. 
When we arrived we hopped on a bus and it drove us, very quickly, to a beach that we were told was great for kids.  When we got there we were a little disappointed.  It was nice but the way the beaches were described in the brochure and by the lady at the information desk we expected it to be a little nicer.  It was in a little cove and the sand was white but it was also quite full of ocean debris.  We finally figured out that the body of water we were admiring was the Tasman Sea.  The beach was pretty quiet when we got there but throughout the day more and more people arrived.  We found a nice spot under a tree to shade us from both the sun and the rain.  The kids also had a little playground with a jungle gym and swings which was very nice.  They did spend most of the time playing in the sand with Steve while I had a lazy day and spent the whole time lying on a towel reading my novel.  After spending a few hours here in Little Oneroa we decided to walk the 10 minutes to Oneroa Village.  It is another larger bay that has a bunch of shops and restaurants above it.  We found a great little restaurant called Vino Vino and sat in the back on a small balcony that overlooked the bay.  It was beautiful, even when the rain started and the wind picked up.  They rolled down the plastic walls and that kept both the rain and wind off of us but we still had the view.  We had a fantastic dinner there.  Steve and I ordered a platter for 2 that was loaded with Italian sausage, chicken, bar-b-que ribs, calamari, salad, and focaccia bread with two dips and roasted garlic.  We also ordered a bowl of olives and a great bottle of New Zealand wine.  This island is full of olive groves and vineyards and tomorrow is their annual Wine Festival, too bad we missed it!  We finished off the great meal with cappuccino and espresso and then Steve went into the wine store in front of the restaurant and picked up two bottles of the wine we had just drank because it was so good.  We then jumped in a taxi and drove back to the ferry terminal. 
<![if !vml]>
<![endif]>
This island reminded us a little of the Gulf Islands back home.  The people that live on it are a little beatnik and even the waitress at our restaurant said that it attracts a lot of backpackers from all over the world.  She in fact was one of them, from England and she told us she had met her boyfriend on the island, he is from Canada.  There is a very laid back, easy going feeling on this island and the landscape is a cross between Ireland, P.E.I. and the Caribbean.  I know that sounds crazy but hopefully the pictures will prove my point. 
Overall, we had a great time on this island and in this great city.  I have a feeling, if I can knock myself out for 18 hours, that we will one day fly back here and have a much longer more in-depth visit.