NAPLES, Italy – April 8
                                                                                  <![if !vml]>

<![endif]>
PART ONE (written by Helen) - received April 11
NAPOLI – POMPEII – SORRENTO – POSITANO - AMALFI COAST
"In Napoli, when love is real,
 When boy meets girl,
 Here's what they say…
 When the moon hits your eyes,
 Like a big pizza pie,
 That's amore!"
Whenever we hear that song we are now going to think of our wonderful trip to Naples.  We lucked out and found this amazing taxi driver that showed us around this beautiful place.  His name is Salvatore Salomone and he is a very special man.  From the moment we got into his car he made us feel welcome and comfortable.  His English was excellent, actually he sounded like he was from New York; he had a New York accent.  He actually lived in Montreal for a few years in the early 1960's so he also speaks French, Spanish, German and he even spoke a little Yugoslavian to me. 
Our first stop was Pompeii.  The fee to enter was quite reasonable at 20 Euro for the four of us.  This archeological site was more spectacular than we ever imagined.  It was huge!!   You stroll by the forum, temples, homes, shops and other structures that were buried by ash and pumice stone during the Mt. Vesuvius eruption of 79 AD.  The city of Pompeii was built from stone and brick and so much of it is still standing, it actually looks as if the top of the city was cut and destroyed.  The base of it is in remarkable shape considering that it is 2,000 years old.  You walk along the cobblestone streets and you can still see the grooves in the stone made by the wagons of long ago.  It is such a complete city and what is most amazing is how advanced they were so long ago.  We were in there for about an hour and a half and we hardly saw a quarter of it.  You could spend days touring this site and having a tour guide is a must. Here is a brief excerpt from the encyclopedia about this ancient city: 
"Pompeii, ancient city of Italy, in the Campania Region, built at the mouth of the Sarnus River (now Sarno), a few miles south of Mount Vesuvius, between Herculaneum and Stabiae. The city was founded about 600 BC by the Oscans, who were later conquered by the Samnites. Under the dictator Lucius Cornelius Sulla it became a Roman colony in 80 BC and later a favorite resort for wealthy Romans, reaching a population of about 20,000 at the beginning of the Christian era. It was also a place of considerable trade and was the port town of Nola and other inland cities of the fertile valley of the Sarnus. The city was much damaged by an earthquake in 63AD and was completely demolished in79AD by an eruption of Mount Vesuvius that overwhelmed the towns of Pompeii, Herculaneum, and Stabiae. The eruption also changed the course of the Sarnus and raised the sea beach, placing the river and the sea at a considerable distance from the ruined city and obscuring the original site."
From Pompeii we headed to Sorrento with our wonderful taxi driver, Sal.  It was a beautiful sunny day and Sal drove with great care and attention along the coast and we stopped at various locations to take some great pictures.  The views were breathtaking as we looked down and saw the houses perched along these magnificent cliffs.  The beaches looked great with turquoise water that looked very clean and clear.  The busy season starts in May so the beaches were pretty empty. Sal says that in the summer these beaches are just packed as well as all the cafés and restaurants whose verandas are built into the side of a mountain. I could just picture people sitting there having cappuccino as they gazed at the Mediterranean.
As we drove along we came upon one of many roadside stands that sell fruits and vegetables.  Sal parked the car and we all got out and he talked to the cute little Italian lady and then they invited us behind the stall for some homemade wine and liqueur.   It was so "European" to be standing in a lemon grove with cherry tomatoes hanging everywhere while we sipped this very friendly lady's wine and toasted with "Salute".  We ended up buying some oranges, walnuts and a bottle of this delicious homemade lemon liqueur called Limonina (spelling?).  My sister went to Italy last year and brought some of this stuff back and it is absolutely delicious.  We were starving, so the alcohol went straight to our heads and we were very happy as we piled back in the car (me and Steve, that is, the kids did not get drunk)! 
As we continued our drive Sal serenaded us with some Dean Martin songs and boy, can this guy sing.  He was fantastic and then he put on a Dean Martin cassette and we drove along the coast of Italy while listening and singing along to "That's Amore" and "Volare", it was so much fun.  We drove to a city called Positano and apparently this is where Diane Lane filmed part of the movie "Under the Tuscan Sky".  Again, it was so beautiful as we gazed upon the Adalfi Coastline. 
We then headed back and stopped in Sorrento for lunch.  Sal took us to this great pizzeria and we all had pizza, even Steve.  Steve and Sal ordered a pizza with no cheese and it was fantastic!  The adults all shared a bottle of wine and because Sal brought them customers the restaurant gave us some of that lemon liqueur on the house. We were going to order coffee but Sal said that this was a pizzeria not a coffeehouse and instead he took us to a roadside coffee bar.  We ordered cappuccino and espressos and Sal took Nik back to the car to get a sweater because he was cold.  When they got back and he saw me and Steve sitting down he got angry.  He said that as soon as you sit down with your coffee the bill will triple.  Well, we didn't know this and sure enough when we got the bill our 3 coffees cost 15 Euros instead of 4.  Sal just shook his head and kept saying, "Why you sit down?" over and over.  It was quite humorous!  He then took us to a deli that had some amazing gelato and the kid's were in heaven.  This guy knows his way around!  We then walked through Sorrento and enjoyed this quaint little town and then headed back to Napoli.
Throughout our tour Sal drove very carefully and slowly.  He actually got quite a few honks from impatient drivers behind him.  I was thrilled with this of course because the roads are quite narrow and very curvy and there is always a cliff on one side.  Well!  That changed as soon as we hit Naples.  This guy drove like a maniac.  Nikolas just loved it!!!  I truly felt like I was in a video game as he was driving VERY fast and he took these turns at full speed.  I was hanging on for dear life and on more than one occasion I closed my eyes because I thought he was going to plow into someone for sure!  He would take the turns at full speed and turn into these tiny alleyways that were hardly as wide as the car.  The funniest thing was that these alleyways had people strolling in them and they would just step into a doorway to let us go by, as if this was all perfectly normal.  It was unreal!
We finally got back to the ship in one piece and Sal took us for coffee as a final good-bye.  He bought the kids a treat and I must say he will be someone we will never forget.  If and when we ever come back to Naples we will call him and he told us he would show us so much more!
Steve has been to Italy before but this was my first time.  I can honestly say it was everything I ever imagined it to be and I am so glad we had Sal to make it such a perfect experience.  It makes me really eager to come back here during our second leg of our journey and see more of this amazing country.
************************************************************************
Retrieved from http://www.lonelyplanet.com/destinations/europe/naples/
Naples (Napoli if you live there) is raucous, polluted, anarchic, deafening, crumbling and grubby. It's also a lot of fun. Superbly positioned on a bay, Naples has a little - and often a lot - of everything. It pulsates with noisy street markets and their colourful characters.
'Naples is an ill-built, ill-paved, ill-lighted, ill-drained, ill-watched, ill-governed and ill-ventilated city', whinged Cook's Tourist's Handbook in 1884. Italy's third-largest city has made big strides forward since then but Cook's observations retain more than a grain of truth.
The old centre bristles with ancient churches, a medieval university and countless eateries and cafes. It also has a reputation for organised crime and swarms of people buzzing around on Vespas with no regard for traffic rules. But the city forges on, powered by the sheer zest and vitality of its inhabitants. Even Cook's begrudgingly admitted that, despite its faults, Naples might be 'the loveliest spot in Europe'.
Population: 1,050,000
Area: 117 sq km (45 sq mi)
<![if !supportLineBreakNewLine]>
<![endif]>
<![if !vml]>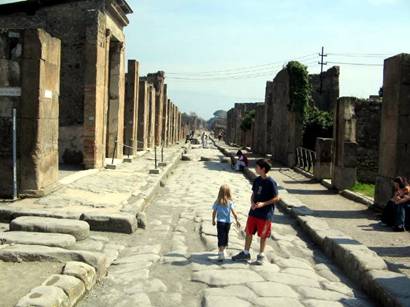 <![endif]>
Pompeii, Italy