MELBOURNE, AUSTRALIA - February 12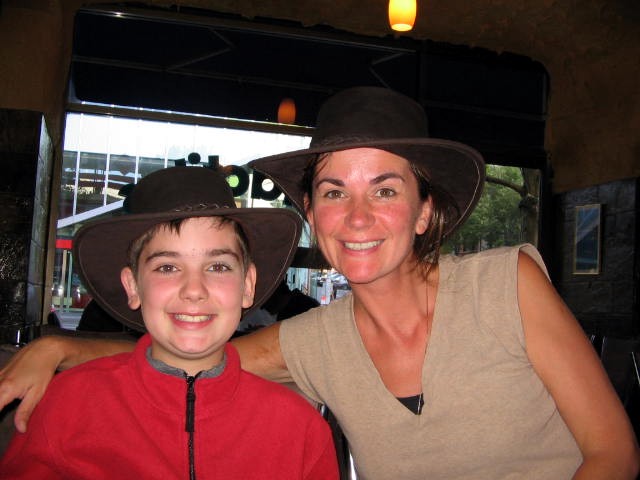 MELBOURNE (written by Helen )
O.K. I am awake and ready to tell you some more, the only problem is we enjoyed our time in Melbourne but really did not see a lot. We have spoken to many people and they all raved about this city, so it must be a wonderful place. Australia doesnít seem to be all consumed with terrorism like the U.S. does. The Aussies are a very proud people who seem to enjoy more freedom. Ask an American or a Canadian when the last time they were afraid of something and Iíll bet the answer will be when they watch CNN just a few hours ago. Thatís one thing that people here seem to feel far, far away from. I really like this country but I donít know if I could live here. Melbourne and Sydney are very beautiful, the way they restore their cities and keep their heritage buildings right along side the new skyscrapers. The theme throughout the two cities is very much the same, but the people seem a world apart. Melbourne reminds me of L.A. and Sydney is like a small New York, one goes up and the other is spread out. The nightlife in Melbourne seems a lot younger and the city is much less touristy. I would normally like this type of city, but Melbourne does nothing for me and I canít explain why. Maybe I am just a little homesick, and not seeing more of the city does not really give me the right to say too much. Melbourne has a very European feel to it and a strong Italian, Greek, Indian and Chinese population and that part I like. Maybe I come from a very clean city (Vancouver), but Melbourne seemed kind of run down and dirty from what I saw. Please take what I have said here lightly because we did not get out to the burbs and that is not really that fair for me to be slamming this place,
So on that note, I am not going to say anymore.
MELBOURNE (written by Steve )
Melbourne is a big busy city that I find very hard to explain. The city is spread out over a large area, with tons of cafťs, many little markets and a very European feel. I canít say it is the nicest city I have seen, but it does have something, I am just not sure what. Lots of Goth and punk rockers, I have never seen so much body piercing in my life. It was one of the few places Nikolas said he would not move to, for whatever that is worth.
Well we just got back on the ship at just after 21:30 and we are so bagged! We walked what I thought was at least 75% of downtown Melbourne, but were told we missed over half. We traveled through the Queen Victoria Market and bought some Aussie souvenirs. We then went up to the Old Melbourne Gaol (Historic prison) and watched a play about a famous Australian criminal named Ned Kelly. The prison itself was very cool and it was restored to look like it did back in 1845 www.nattrust.com.au .
After seeing all that torture, we were getting kind of hungry and with the huge Greek community in Melbourne, we began our search for some great. To make a long story short we walked forever (about 2 hours) and ended up in the exact same place we started, right by the prison. We ate and then tried to call home to Canada and then headed to the Cable Car. Melbourne has the most efficient transit system I have ever seen. It works so well because it is not overloaded, and all of its lines intersect each other. We got on with the idea to head back to the ship, but Helen saw the Crown Casino and we hopped off and checked it out. The Crown Hotel is a city in itself, and the kids had a ball in the arcade and then we ended the night with 4 games of bowling. And then we walked and walked and finally rode a cable car back to the ship. And now we are all going to bed!
Goodnight
*************************************************************************************
info from - http://www.lonelyplanet.com/destinations/australasia/melbourne/
Melbourne is dubbed marvellous for a reason. Healthy hedonism masquerades as high art: Melburnians are equally passionate about football and ballet, nuts for fashion, munchy for restaurants, ravenous for music and hot for theatre. It's a smorgasbord of a city that invites you to take a bite.
A leafy bayside community on the 'upside-down', brown Yarra River, it is cosmopolitan, suburban, cultivated, conservative and a haven for the avant-garde. Visitors come for its shopping, restaurants, nightlife and sporting calendar, and most agree that it's one of the world's most liveable cities.
In the last 10 years the CBD has undergone a renaissance. Innumerable hip boutiques, restaurants and bars crowd the alleys and Victorian-era arcades off the main streets. Its riverbanks and docklands have been tranformed into spruced-up sites for swanky waterside socialising.
Area: 2,025 sq km
Population: 3.2 million
Country: Australia
Time Zone: GMT/UTC +10 (Eastern Standard Time)
Telephone Area Code: 03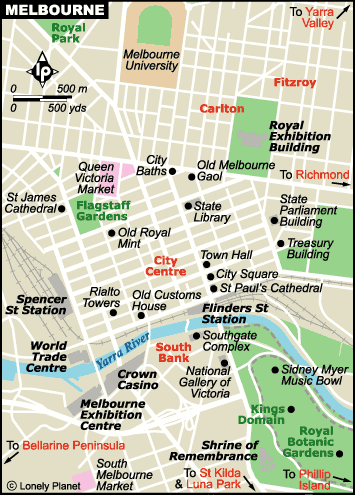 The city centre is about 3km (1.8mi) inland, on the north bank of the Yarra River. It consists of a mixture of elegant and kitsch 19th-century architecture and self-important skyscrapers. The main north-south artery is Swanston St, while Bourke (a pedestrian mall for part of its extent) and Collins Sts, which cross it, are the city's other two main shopping thoroughfares. The Yarra forms the city area's southern boundary.