Manila, Philippines – February 24
(by Helen)
Well, the trip from Australia to the Philippines was awesome! The Indian Ocean was so amazingly beautiful. We would sit on deck with the drink of the day and watch the water. The ocean was clear as glass, a dark turquoise and every so often you would see a school of flying fish burst from the water, fly for at least a few metres and then disappear into the glassy water again. It was mesmerizing. It was also scorching hot. It was between 30-35 degrees on deck with no wind if you can imagine on a moving ship! You couldn't sit out in the sun too long because it was unbearable. What made things worse is that the ship's air conditioning system is not designed for these hot climates so the ship is just stinking hot inside as well. When we would get ready for dinner and get in the elevator to go from the 5th floor up 6 floors to our restaurant we would need another shower by the time we got there because the elevators were an oven. Then if you mix the lovely aroma of sewage once in a while somewhere as you walk through the ship the combination is toxic. Boy, I don't have a lot of nice things to say about this boat do I? I have to tell you that most times I am exaggerating when I describe things, overall it really has been an amazing trip so far.
When we arrived in Subic Bay in the Philippines we were a little cautious about going out because we were told to be careful because it is an impoverished country. But what we experienced was quite the contrary.
Subic Bay was an American Navy Base until 1992 when civil authorities assumed control. The area has since become one of the most fashionable districts on Luzon Island. Unfortunately we didn't get a true sense of the Philippines as such because there are many amenities here that I believe are not available elsewhere because of past American influence. Because we were a little nervous at first we were eager to meet up with our friends from the Casino crew again. We met up with them at the ferry terminal as we were headed to Grande Island where we heard there was a beautiful beach. I should mention that the minute we got off the boat we were covered in sweat because it was 37 degrees and the humidity was through the roof. This was where Terry Waite was disembarking so we were fortunate enough to get a picture with him as we were leaving the ship at the same time.
I, as usual, was a little worried about the safety and 'floatability' of the ferry we were about to board but we were all very pleasantly surprised at the condition of the ferry. It was very modern and well-kept and it got us there safe and sound. We had paid 25 dollars per person, except for Danika, which we thought was too much at the time but then we realized that we were doing the exact same route as some passengers on board that had paid 150 dollars for a tour. The 25 included round trip on the ferry, lunch and use of their exclusive resort on the island. What a deal!!!!
<![if !vml]>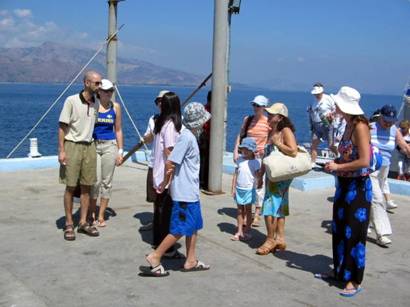 <![endif]>
Like I said earlier, this was not the true Philippines but the resort was very beautiful. It had so much potential. You could tell that at one time it must have been an amazing place. It did have some things that have become run-down but the people who work there are some of the most friendly people we have met so far. They were so gracious and the service at lunch was unreal. They literally stood there and jumped if you needed anything and they would run if they went to get something.
There was this huge pool, if you could call it that. It was more like a huge pond the size of a football field that had sea water in it with little tiny fish inside and some shells and sea plants but the bottom was cement. Every so often this huge machine would roar and it would create waves in the water. Nikolas just loved it!!! He also had a friend from the ship with him and together they played all day long. There were two huge water trampolines in the middle and also a banana boat for the waves. We had a blast. All around the pool were little huts with chairs and loungers and we swam and suntanned and drank their $1.60 beer all day. We were all excited at one point because they had a massage service available for $9.00 for 2 hours. Unfortunately, they were completely booked. I guess so!!!!!!
We had to get back on the ferry at 4pm and we were very sad to leave. We would definitely come back here for an extended vacation, it was beautiful. We would love to see Manila as well, but it was at least 4 hours away.
Steve and the kids went back to the ship and I went to the Duty Free with some of the gang. It was a little bittersweet as we were walking there because there is an area right outside the gates to the ship where they have set up a spot where family's can get together with some of the crew on board. There are hundreds of Philippino crew members on board and a lot of them got off and a new bunch got on. But the ones that still have another 5 months to go on their contracts (like our cabin stewardess) get only a few hours to be with their families and it was hard to walk by and see them hugging and saying good-bye. When we talked to Sylvia after she came back on she said her boys have grown so much since she saw them last. I had to walk away because it made me cry. She was crying too.
Because their wages are so low here, the prices in the stores are just so cheap. There were clothes and shoes and the average price was 10 bucks. I didn't buy a lot because we didn't have enough time and their sizes are on the small side so I bought a few things and we got back on board.
All in all, we had a wonderful time in the Philippines and it's too bad we could not get to Manila to get a true picture of this country. The landscape was beautiful with huge lush mountains and beautiful white sandy beaches. Not what we expected. It was a very pleasant surprise and the people were truly gracious and very friendly and we loved it in the Philippines.
Helen
*****************************************************************************
Received Feb 23 @ 07:55 pm
It's a wonderful day here in the Philippines and we are going to head to this little island by ferry and go to the beach. Then maybe we will do a bit of shopping and then come back to the ship. The weather today is clear with temperatures that feel about 30 degrees. Wish us luck and will let you know how it went tonight.
Steve
Received Feb 23 @ 04:09 am
All is well here in the Philippines, we will be arriving in around 12 hours we hope. I will let you know what we think tomorrow. We will not be heading into Manila because we are docking quite far away so we might just try and go to the beach.
Anyways hope all is well back home,
Steve
*****************************************************************************
Info retrieved from http://www.lonelyplanet.com/destinations/south_east_asia/manila/
Modern Manila is a teeming metropolis, with huge towerblocks crowding those few examples of colonial architecture that survived the bombing of the city during WWII. Many people use it only as a base for further travel, but the more persistent will discover its friendliness and charm.
Many people dismiss Manila as nothing more than an entry point to more interesting rural destinations in the Philippines. While the less built-up areas do have a lot to offer, those who stop to smell the incense and pollution find that the capital city has a few hidden treasures of its own.
Manila is a modern-looking place (a result of virtual destruction during WWII), but the sprawling city boasts its fair share of colonial ruins - enough to keep those historically inclined amused for a while, anyway.
If you're looking for a good time, Manila could be just the ticket: bars and entertainment venues will keep you well fed, well greased and in the party mood for months on end. There is a high-profile tacky downside to the flashing neon, but there are plenty of options open to you even if you don't want nude dancers on your table. If you make it back to your room at night after all the fun and frolics, you're likely to perform an exhausted manila-folder flop.
Area: 636 sq km
Population: 12 million
Country: Philippines
Time Zone: GMT/UTC +8
Telephone Area Code: 02
<![if !vml]>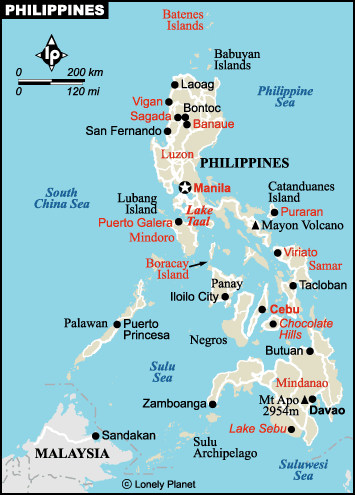 <![endif]>