MALAYSIA – March 15
Kuala Lumpur  
(written by Helen)
"Port Kelang (where we docked) is a small village, but it is one of the country's largest ports.  Serving Kuala Lumpur for most commercial trade, it is busy.  The capital is 60 miles away.  Like Singapore, Malaysia is open and tolerant.  Also like Singapore, Malaysian society is cosmopolitan.  Kuala Lumpur refers to the Gombak and Kelang rivers, which meet in the city.  Kuala Lumpur means 'murky creek'."  (from our Daily Programme)
A day late but we arrived in Malaysia and docked in Port Kelang.  We got up a little late, as usual, and had breakfast in the Lido.  We then got our bathing suits on and lathered up with sunscreen and headed out to a beach.  We didn't know which beach we were headed to so we started asking some questions and found out that the closest beach was at least an hour away.  We weren't planning on going into Kuala Lumpur because it was an hour away by taxi but decided to go anyways because the beach was just as far.  There was a big coach bus sitting there and it was getting ready to leave.  It had just dropped off a bunch of people from Kuala Lumpur (travel agents, I think) and was heading back to the city.  Steve went up to the driver and asked if he was going to KL and the driver said yes but that he wasn't allowed to take any passengers back with him.  Steve said we would pay him cash and the driver looked around and said okay, but don't tell anyone.  He only charged us 20 dollars for the four of us and two of our friends from the casino got on as well.  It was so cool, we had this huge luxury bus all to ourselves.  It had comfy reclining seats, air conditioning and great music.  We really lucked out!
The drive to Kuala Lumpur was comfy but crazy.  They drive just like in Thailand.  Everyone cuts each other off and they all tailgate and nobody really stays in their lanes.  To top it all off there are hundreds of these motorcycle maniacs that drive 'between' the cars.  It is very scary.  The difference though, between Thailand and Malaysia is seen immediately.  It is way cleaner! 
As we neared Kuala Lumpur you could see the skyline and once again I was totally shocked to find such a cosmopolitan city with huge skyscrapers.  There are two towers side by side that you can see from miles away.  They are called the Petronas Towers and are identical to each other.  They are currently the highest manmade structures in the world although they include the antennae at the top.  The buildings are marvels because of their height and because they have an air bridge linking them together at about a third of the way up.  It looks amazing and apparently a famous movie stunt was filmed on the bridge.  We wanted to go up and walk across but all the tickets were sold out for the day. 
<![if !vml]>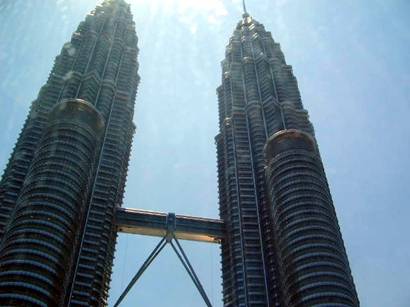 <![endif]>
So, instead, we headed to the mall.  Walking there we were admiring this beautiful city.  It is just huge and bustling and again I was amazed at all the foreigners there and all the English signs everywhere.  I am obviously not the least bit knowledgeable about the cities of the world.  I really envisioned KL as a third world town and instead it is this amazing place.  The majority of the population is Muslim so you see the women walking with their traditional head scarves and covered bodies.  It makes me sweat even more just watching them.  I was in shorts and a tank top and I was just melting, I could not imagine having all that on me.  The colours that they wore though were just so vibrant and colourful. 
We walked into this mall that someone had recommended and it reminded me of a large Metrotown.  It was about six levels and it was humongous.  Of course all the designer stores were there like Liz Claiborne, Guess, Armani, but I just stuck to the cheaper ones.  I actually had some shopping to do for Danika's upcoming birthday so it was perfect.  I loaded up on lots of cute 'pink' things that I hope she will like.  She is getting very excited.  She has been counting down the "sleeps" and apparently the dining room has something planned for her.  I also bought a few pairs of shoes because the prices here are quite cheap and the conversion of their money (ringgit) to American is 3.7 to one American dollar.  So I got my shoes for about 10 dollars each.  Not bad!  While we were there we noticed in the middle of the mall a big stage with two huge pictures of Formula 1 drivers Jacques Villeneuve and another one I didn't recognize.  They were actually there signing autographs and taking pictures and Nikolas was pretty excited about the whole thing when I told him he was Canadian.  The Patronas Malaysian Grand Prix 2005 is being held here in two days.  Very exciting!!!
<![if !vml]>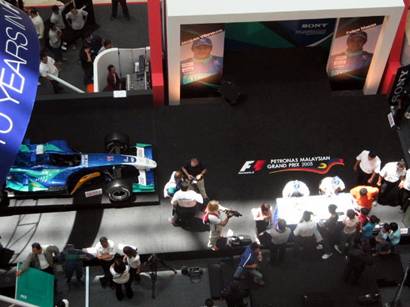 <![endif]>
We met up with Hootan and Cecilia, our other friends from the casino and we shopped with them for a while and then we got into two different taxis and made our way back to the ship.  We are so glad we decided to go to KL and consider it one of the loveliest cities we have seen.  I would definitely come back here anytime!!
We ended the day with a great show in the Grand Lounge tonight.  It was a group from Toronto, Canada and they are Beatles impersonators.  We actually met them in KL in the huge towers and it was funny to see them on stage with the fake hair, the cool suits and the fake English accents.  Believe it or not they had the whole room on their feet dancing by the end of the show.  I can assure you that is a near impossible feat when you look around the room.  These guys were awesome and I can't wait until they are back on stage in two nights.  It is the most fun I've had in 2 months!!!
**************************************************************************
<![if !vml]>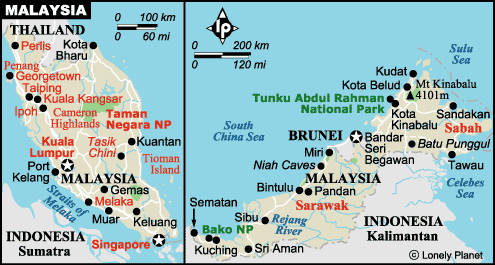 <![endif]>
Retrieved from http://www.lonelyplanet.com/destinations/south_east_asia/malaysia/
Malaysia is one of the most pleasant, hassle-free countries to visit in southeast Asia. It's buoyant and wealthy, and has moved towards a pluralist culture based on a vibrant and interesting fusion of Malay, Chinese, Indian and indigenous cultures and customs.
Most visitors to Malaysia stick to the insane headlong rush of Kuala Lumpur, the colonially soothing Cameron Highlands Hill Station or the hedonistic torpor of Langkawi. However, the island of East Malaysia offers spectacular wildlife, longhouses and the awe-inspiring Mt Kinabalu.
Malaysia's love of Western-style industrialisation is abundantly clear in its big cities. Aside from the gleaming glass of the 21st Century, though, Malaysia boasts some of the most superb beaches, mountains and national parks in Asia.
Full country name: Federation of Malaysia
Area: 329,750 sq km
Population: 23 million
People: 50% Malay, 33% Chinese, 9% Indian, plus indigenous tribes such as Orang Asli and Iban
Language: Malay, Chinese, English, Tamil
Religion: 52% Muslim, 17% Buddhist, 12% Taoist, 8% Christian, 8% Hindu, 2% tribal
Government: constitutional monarchy
Head of State: Yang di-pertuan agong (King) Tuanku Syed Sirajuddin Syed Putra Jamalullail
Head of Government: Prime Minister Dato' Seri Abdullah Ahmad Badawi
GDP: US$99 billion
GDP per capita: US$4,530
Annual Growth: 2%
Inflation: 4%
Major Industries: Tin, rubber, palm oil, timber, oil, textiles, electronics
Major Trading Partners: Singapore, Japan, USA