JORDAN – April 2
                                                                                 <![if !vml]>
<![endif]>
JORDAN - received April 8
(Written by Steve)
What can I say about Jordan? It may be the most fantastic place on earth, really I am not kidding around. Nikolas and Danika would have stayed here for a week I am sure, and it may be the only place they may have gone for an extended stay. When we first pulled in we got the feeling that Westerners were not the favourite tourist here, I wondered if we might be taking a risk by sightseeing. I only say this because it appears that everyone here is from Palestine, and I just felt a little unsure at first. We were only here one day, and I can assure you a week minimum would allow you to see the important stuff. Our ship was docked only about a mile from the Jerusalem border and several passengers went over the border to do some sightseeing. We did not have enough time to see everything, so we will just stick to Jordan this time and do Jerusalem next time. The trick here is to find a good taxi driver or guide, one who can speak English and knows the terrain. We lucked out and found a very nice man from Palestine by the name of Rushdi. He has been taking people on tours here for 25 years and was Val Kilmer's personal driver for the movie Red Earth. The people here are almost all Muslims and, make no mistake about it, they will take your money and drive you around but they do not like Westerners. Rushdi yelled for about half and hour and told us exactly what he thought of George Bush and then once we cleared the air on that subject we went sightseeing. The people here pray several times a day and Allah is the most important thing in every ones life. Several times a day you hear singing prayers over loud speakers throughout the city and people kneel down and pray 4 to 5 times a day. Rushdi did it when we were out in the dessert and as soon as he finished we asked him about it.   He was so cool, he explained to us about his religion and it was so refreshing not to be treated like a tourist for the first time in a long time.
 Our first drive was to Petra.  This is the ancient city of Petra, Jordan's most spectacular historical site.  Its ornate buildings were carved from rose-coloured sandstone cliffs by the Nabataeans some 2,000 years ago, and lay hidden beneath desert sands until being rediscovered during the early 1800's. The site consists of 2,000 year old theatres, temples and streets. The well-preserved Treasury, with its enormous, intricate temple façade is incredibly carved directly from a sheet of rock.  It was in the final sequence of the film "Indiana Jones and the Last Crusade".  There is a row of six carved monuments that are the Royal Tombs and they date back from the 1st to the 5th Centuries A.D.  It is a sight that is very hard to comprehend.
 Our 2 hour drive along a 2 lane highway gave us a chance to see some of the most colourful and beautiful countryside we have ever seen. The colours here are amazing and the flat desert with sharp mountain backdrop make for wonderful pictures. We decided to go to little Petra instead of the big tourist one because you could drive right up to it and spend a few hours and then head out to the desert and do some off road stuff in our 4x4. Little Petra is made up of around 50 buildings that were used 2000 years ago and Rushdi told us it was used when they went to war. Everyone from the big Petra would move into the little Petra and they would close up both entrances and be protected from any kind of attack. Big Petra has hundreds of buildings and thousands of tourists and would have made for a long day. I know we should have gone, but we wanted to see Wadi Rum too, and would not have had enough time to do both. We walked through many of the living quarters and the kids ran around like wild monkeys who had been released from their cages. It was so much fun to watch Nikolas and Danika running around and screaming and letting out 2 months of trying to be polite and proper, and man did they let it out. I said there were thousands of tourists at big Petra, well, we were the only souls in this whole village. It was kind of spooky, but it made it so special to be in something so historic and have it all to ourselves. As you walked along these streets and entered the buildings built of granite inside the granite you couldn't help but wonder what it was like way back then.  We were thinking about what the smells would have been, what kind of music would have been playing and who walked along these same streets 2,000 years ago.  It was such an amazing experience and it will be something we will never forget! 
 After a few hours we hopped into Rushdi's little jeep and started our 3 hour journey out into the desert. We were heading to Wadi Rum a world renowned desert location that has been used in several movies like Red Earth and Lawrence of Arabia. It took us over an hour to get to the road off the highway that goes into the desert. Did I just say road? There is no road, we just turned left at one part and drove out into the sand and kept driving and driving and driving until we were in the middle of the desert.  We got stuck and I was a little worried, here we are 2 hours into the desert and our little 4x4 taxi was stuck in about 3 feet of sand. Actually, I was kind of freaking (as Danika would say) until Rushdi just zoomed back and forth until we were free again. I felt O.K. with this maneuver later in the day as we had to do it at least a dozen times. At first I was thinking," what the heck are we doing out here, are we nuts to risk being so far away from the rest of the world". I thought that for only a little while until I saw the most incredible thing I have ever seen. It was a huge bridge that was about 75 feet in the air and 1000 feet long. The cool thing about this bridge was that it was a natural bridge that has stood for over a thousand years and we could climb and walk across it. I had to yell at Nikolas to slow down as he just climbed and was running along and every once and a while he would yell back and say something. He said, "Don't be afraid dad, there is sand down there if you fall off". We were 7 stories in the air walking along a 30 foot wide uneven bridge and my 9 year old son is telling me not to worry. I guess it is starting already, my son has more confidence than his father, wasn't that supposed to happen at 11? Anyways, we got into the middle of this thing so Helen could take a picture and I could not get off it fast enough, but Nikolas was just whistling along.
We then found these Arabian men with their5 camels in the middle of nowhere and they asked us if we wanted to ride the camels. They had ridden them in from a village 14 km away in the blistering heat. (The funny thing about the desert was that sometimes the heat was unbearable and other times you were freezing your but off). Well, of course the great rock climber Nikolas said he wants to ride one so we stopped and he went over to the men. Nikolas was only up for a few seconds when you could see that he did not like these bumpy animals anymore and wanted to get off. We walked out in the desert for a bit and then we came back.  The ride was short and very uncomfortable, especially when the camels stood up and sat down.  We thought for sure we were going to fall off.  When we got down the men were trying to convince us to take their five camels in exchange for Danika.  Well, we think they were just kidding but we are not completely sure.  We told her that she was definitely worth 10 camels.  She was not impressed.
After riding the camels we hopped back in the jeep and sped down the desert.  Suddenly, Rushdi stopped and said, " Nikolas, it's your turn to drive". Nikolas did not even hesitate and before we knew it Nikolas was driving through the desert.  What fun it was to watch him go. Rushdi was a very nice guy and the stuff he did for us that day went way beyond making money from this all day taxi hire. He told Nikolas that he could now say that the very first time in his entire life to drive was in Jordan!   Eventually Nikolas got us stuck and Rushdi got us out and put Helen behind the wheel and that ended in less than a minute as she too got us stuck. Well, after all that flying sand and spinning wheels Rushdi challenged Nikolas to run up a 100 foot sand bank without using his hands, but it was almost impossible. Danika and I got into the act and we all played until we were pooped and our clothes were filled with sand.  What a super fantastic day this was, I did not see how it could get any better. Rushdi was praying while we were playing and we waited till he finished and then we moved on. As we drove, we all could see this huge body of water and we thought it was the Arabian Sea. When we pointed it out to Rushdi, he just laughed at us. He told us it was a mirage but I didn't believe him, it was way too big and I was sure I could even see waves. He drove us down to it, but the closer we got, the farther away it went.  He was right!  That was one of the coolest things I have ever seen, the way your eyes play tricks on you. It was actually a lake bed that is filled with water in the winter.  It is completely flat and hard-packed and we just flew across it in the jeep.
It was now getting late and we had to get back as I still wanted to see if I could get some emails and pictures out. Rushdi drove us across the sand as if he knew exactly where he was going, I don't know how he could know, but he did.
All in all we had a super great day and hope to return and spend a few days in Petra and Wadi Rum and next time go to the Dead Sea.
*********************************************************************************
Retrieved from http://www.lonelyplanet.com/destinations/middle_east/jordan/
<![if !vml]>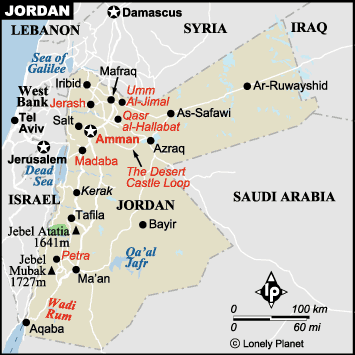 <![endif]>
Bible stories, lost cities, Lawrence of Arabia - Jordan has romantic associations up to its eyeballs. It's a country that ought to be awash with tourists, but the Middle East's bad reputation has kept them away in droves. Don't be fooled: Jordan is, on the whole, peaceful.
More than that, it's one of the most welcoming, hospitable countries in the world. Where else could you leave your belongings on the street for hours at a time, and find them there when you get back? Where else do total strangers with nothing to sell invite you into their homes?
Jordan isn't just a friendly cup of tea with the locals, though. It's also home to two of the most spectacular sights in the Middle East. Petra, the ancient city of the Nabateans, may be overrun with snap-happy day-trippers, but that doesn't change the fact that it's one of the world's most atmospheric ruins. For a slightly more contemplative experience, the startling desert scenery of Wadi Rum enraptured Lawrence of Arabia and has caused more than one traveller to don a kaffiyeh and gaze defiantly into the middle distance.
Full country name: Hashemite Kingdom of Jordan
Area: 89,206 sq km
Population: 5.46 million
Capital City: Amman
People: 98% Arab (60% Palestinian, many refugees), Circassians, Chechens, Armenians, Bedouins
Language: Arabic, English
Religion: 92% Sunni Muslim, 4% Shiite Muslim, 4% Christian
Government: constitutional monarchy
Head of State: King Abdullah bin Al-Hussein (Abdullah II)
Head of Government: Prime Minister Faisal al-Fayez
GDP: US$15.5 billion
GDP per capita: US$3,500
Annual Growth: 5%
Inflation: 4%
Major Industries: Minerals, petroleum refining, tourism and agriculture
Major Trading Partners: India, Saudi Arabia, UAE, European Union, United States, Iraq