HAWAII
Our last stop before returning home to Canada
<![if !vml]>

<![endif]>- Nov 12
Well, here we are in sunny Waikiki, Hawaii. It feels great to be finally getting close to home. I have never really felt super comfortable about traveling through the mighty U.S., but it feels great being here now.
We spent our last day on Bondi beach with our good friends (the Battens) and when we got to the airport I noticed that Danika had a sunburn on her face, as she was really red.
As it turned out she sparked quite a fever as we were boarding the plane and starting throwing up. The flight was one of those short 9 ˝ jobs and was going to now be very interesting as Helen was getting anxious and Danika was barfing as we walked down the tunnel to the plane. O.K. we are in our seats and we are waiting, and waiting and finally the captain gets on and says that we are waiting for this one passenger to board and then we will leave. All this waiting is making Helen pretty squirmish in her seat and now she just wants this bird (747) to get up in the air and get this whole thing over with. Well this guy gets on and at last we pull away from the terminal and wait in line to get on the runway. We are about to head to the runway when the captain comes on again and says a light on his panel is showing that there is a problem with one of the engines and we will have to return to the terminal so the mechanics can take a look at it. Well that was enough for poor Helen, she looked like she wanted to open the emergency exit and head for the hills, but she didn't and after an hour and 2 rolls of duck tape (joke) we took off.
We had a pretty good trip over except for the first part of our flight as they had to stop service (meals) on the flight because of all the turbulence, it was super bumpy. Our family was not seated together and I tried really hard to get Helen's attention through some of the major air pockets, but she just kept focusing on the little T.V. or the floor.
<![if !vml]>
<![endif]>
Doesn't Helen look relaxed?
We made it and like I said, in the end it was pretty good even with the bumpy start.
There was some other entertainment on the flight besides the T.V., and she was 5 ˝ and full of attitude. Once we landed Danika resumed the roll as barf champion of the flight and I found myself carrying half a dozen wax coated bags off the flight.
Now aside from all that the flight went great! So with all that behind us we heaved our 2 fully loaded luggage carts to the rental cars to pick up our car. I walked in and the gal said she had a really nice SUV for us and all she needed was my license. We just wanted to get to the hotel and rest and let the little vomit machine get some sleep, but the Avis lady had a little surprise for us. "Excuse me sir, this license is expired" O.K. that was the straw.
So here we are in our hotel with Danika, who now has that nasty Outback cough that gave Nikolas pneumonia. It is 3:30 am and Helen and I are both sitting up watching Danika because her fever has her sitting in bed and saying all kinds of weird words, a tad freaky.
Nikolas has had some kind of reaction to the antibiotics he was on, as if losing 15 pounds was not enough now he is fighting something else.
He has a rash on his face, down his legs and bags under his eyes like he has been drinking and not sleeping for a week; poor guy says he feels very weak.
When we shortened our trip here because Nikolas got ill, Qantas told us that the only flight we could get on was the one on the 15th. I told Helen not to worry as Nikolas would surely be on the up swing and we would just relax (here in Hawaii) before getting home, well we will give it our best shot, but it is tough when your kids are not feeling right.
Well, on that note, see ya all soon. Can't wait to get back to Canada. I mean can't wait!
Hawaii – January 21
<![if !vml]>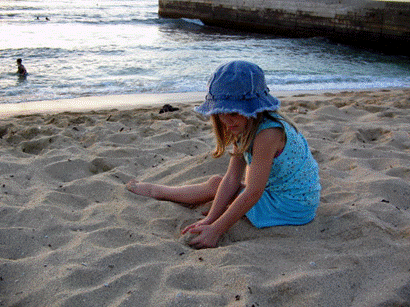 <![endif]>
Danika plays as Nikolas and Steve Boogie Board in the background
Honolulu, Hawaii
 (Written Helen)
The ride to Honolulu was very rough and so when we arrived in Hawaii we were very happy. Right after breakfast we got our beach stuff together and off we went to explore. Both Steve and I had last been to Oahu 20 years ago. Me for grad and Steve went with a few friends. It has changed a lot since we've been there. The main drag in Waikiki is like Vegas now, every few feet there are street performers and people hand you things as you walk by. Nikolas and Danika thought the performers were great, Steve and I were sad because it wasn't like it use to be.
We took a cab to Waikiki to get our rent-a-car but in hindsight we should of rented it from the airport because it was much closer to Pearl Harbour and our ship. Oh well, you live and learn. We were going to rent a convertible again but the weather wasn't that great. It was quite cloudy and there were showers on and off throughout the day. There was one point where I actually turned the heat on in the car because it was a little cool. I guess Hawaii has a winter too.
We were advised by many people to go see Pearl Harbour earlier in the day because it can get quite busy in the afternoon. It took us a couple of wrong turns here and there but we finally made it. When we got there we were surprised that there is no charge to get in. You just get tickets and then they bring you into a large theatre and you watch a 15 min. show about what happened that fateful day in 1941. Nikolas had researched it a bit so when he saw the show he was completely floored. They show actual footage that's been obtained by both the Japanese and American governments. It is unreal.
<![if !vml]>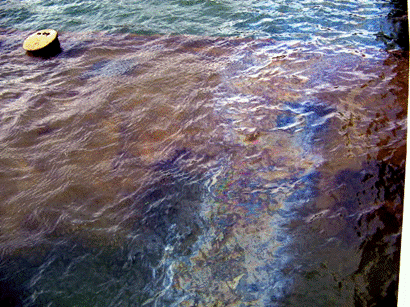 <![endif]>
Oil is still leaking out of the USS Arizona
After the show you are brought to a tender boat and they take you to the memorial site of the SS Arizona. This is the battleship that was bombed and still lies at the bottom of the harbour with bits of it still sticking up out of the water. One amazing sight is the oil slick that you can still see floating on the water's surface. Wow, after 63 years it is still leaking oil. The legend says it is the black tears of the fallen. There is also a huge marble wall with everyone's name on it that perished that day. Most of the bodies are still entombed down below in the ship. There is also a small list of names of some veterens that asked to be entombed down there in present days. Overall, we were very touched and we were very glad we went to see it, it is worth the trip.
From Pearl Harbour we drove to the North Side of the Island. Steve and Nik wanted to go body surfing in the big waves on that side but all the beaches were closed to swimmers because of the strong undertow. Nikolas kept saying he would have no problem swimming there and kept bugging us to let him go until we saw an ambulance, firetruck and a huge military search and rescue helicopter hovering above the shoreline looking for something or someone. Once he saw that he changed his mind!!
The North Side has the most amazingly beautiful landscape and beaches but the area itself is very rundown with shacks and lots of stripped and abandoned cars in the yards. Every once in awhile you do see a mansion but overall it is a very depressing area. We did stop at the Turtle Bay Resort for lunch. It is a resort built inside of a huge golf course that was built by Arnold Palmer and it is very beautiful. We had a delicious lunch by the first tee off and Steve and I had some great Margaritas AGAIN.
From there we stopped at a store and bought a couple of body boards and some snorkels because we were thinking of heading to Hanama Bay. Unfortunately the day was going way too fast and it was already 4:30pm and we were still an hour and a half away from the bay with the sun set to go down at 6pm. Instead we decided to take a short cut and head back to Waikik beach to have a quick swim before it got too dark.
Nikolas and Steve headed straight into the waves and me and Dani stayed on the beach and played in the sand. As the sun went down they started lighting all the tiki torches along the beach and it was so tropical and beautiful. Steve's wish was to find a tropical and romantic restaurant near the beach to sit and have a Mai Tai or a Pina Colada. As we were walking down the strip looking for this wonderful place what should we come across but the almighty golden arches. The kids were ecstatic as they have not had a Happy Meal in, what, 30 days. So Steve pouted a bit but the kid's won out and we spent our romantic dinner in McDonalds!!!!
Overall, Waikiki was fun but a little too commercial for us. Once again as we travel through different countries we always notice that the natives of the land are always the one's that suffer the most with poverty. Somehow it just doesn't seem right.
Back to the ship and we set off at midnight to Kona.  Unfortunately the rough seas followed us there and we were unable to safely tender off the ship so the captain cancelled our stop there and we set off for Tahititi a day early. The captain has told us that they are trying to come up with an alternative and we are all crossing our fingers that it will be Bora Bora! We were also told that our stop in Bali, Indonesia had been cancelled because of security reasons so we are now staying in Fremantle, Australia for an extra day. That's a bummer!
We are about a third of the way to Tahiti right now as we write and thank goodness the seas have been quite nice. Or are we just getting use to it??
Anyways, take care and we will talk to you from Tahiti.
<![if !vml]>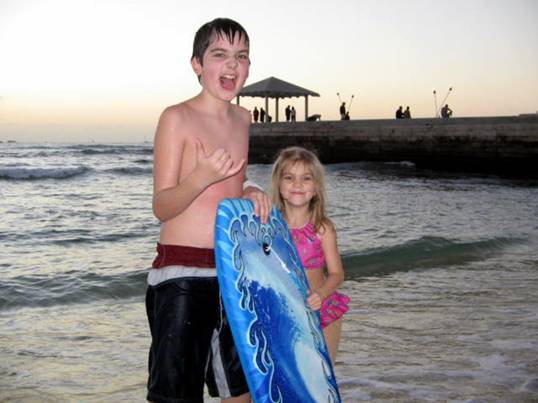 <![endif]>
Hang Loose! He thinks he is so cool
(Written by Helen, January 22)
Hi everyone,
We are on our way to Tahiti a day earlier than expected. We were in Honolulu yesterday and it was lots of fun. We rented a car and just drove around most of the island. We went to Pearl Harbour which was very interesting and depressing. Nikolas just loved Waikiki and he and Steve went body surfing as the sun went down and it was just beautiful being on the beach at night. The weather during the day wasn't great, it rained on and off but it was still warm. It's been 20 years since both Steve and I were in Waikiki, I went for grad and he went with some buddies and it has changed a lot. It is soo busy and there are big highrises everywhere. Waikiki is still pretty nice but a little more dirtier than I remember. We were supposed to be in Kona today but the seas were a little too rough and they were too dangerous for the tenders (the ship anchored off shore) so we had to skip it. We were very disappointed because that is an island we have never seen. It looked beautiful from the boat.
So here we are sailing the South Pacific and it is quite bumpy. I finally succumbed to the patch behind my ear as we are embarking on one of the longest at sea portions of the trip, four days and five nights!!!! Will I survive it??? Poor Steve!!!
The kid's are still having a great time but they miss everybody and seem to talk about that more in the last few days. We were hoping to phone home today from Kona but unfortunately it's not happening. We wanted to personally wish Michael a Happy Birthday but we are going to have to do it via the internet (not quite the same).
Talk to you soon,
Love
Helen