EUROPEAN VACATION
SWEDEN  - received July 28
<![if !vml]>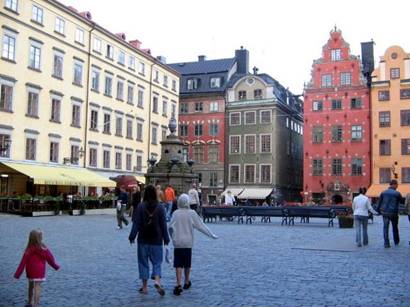 <![endif]>
Stockholm
(Written by Steve July 24th, 2005)
 Sweden: A nation of tall, attractive types, famously open minded. This country is full of athletic folk, living on the edge of technology and well cared for by the state, spending their long summer days eating meatballs and listening to Abba (O.K. the last bit I took from the Lonely Planet and it might be taking it just a bit too far).
Hey, don't get me wrong, the folks here are pretty darn good looking but we were expecting that. Take the police for example; every police car has the standard 2 officers, one guy and one gal. The guy is like some kind of WWF, 6'5" chiseled god-like creature and all the women seem to be all around 6 feet with steel blue eyes and long blonde hair. Let's just say they both look like something from the Barbie collection, except for the Glock they have strapped to their waist.  They are very blonde and very blue eyed, and the rest of the world does not seem to have many people with both of those (natural) features.
We did our usual big city sightseeing in Stockholm, we took a hop-on hop-off tour bus around the city. The old city was like many European old towns, but without all the people. We love this city; it is so hip and beautiful that if you are coming to Scandinavia you must see it. The city lies on the Baltic Sea and if you look really hard across the water you can see Finland and Latvia?. O.K. not quite, but it is only one long ferry ride away. If we had more time we would have done it for sure.
Facts: Capital = Stockholm, Population = 9 million, Area 449,964 sq km, language is Swedish of course, Currency = Krona, National bird = mosquito (Just kidding) but there are some monster bugs up here.
Some other wonderful things this country has to offer are their 28 national parks, 28000kms of trekking and bike paths and ten royal castles. The Castle in the old city is where the king lives and we were told it was a must see, but we felt it was a tad over-rated. The old city on the other hand was fantastic! Narrow streets, tons of restaurants and Café's and fully loaded with people. We have been to so many large cities in the last few months maybe we are a little tired or just a bit spoiled because we could only handle a couple of days in this city. We are glad we saw Stockholm, but all four of us would rather be back in Sundsvall if given only one choice, we really miss that great farm.
(Written on Day 2, July 17 2005)
So having said that, here we are; driving over 2000 km in less than 3 days and yesterday we drove 1145 km from the border, but it was soooooooooo worth it. We are staying at Anders and Gunilla's House, actually a small 2 bedroom cottage in the back of their farm. We are 10 minutes outside of Sundsvall, 400 km above Stockholm and about 20 miles (Swedish ones) from Peter Forsberg's home town. We are also only 10 km from the Swedish Hockey team Modo, if any of you hockey fans have heard of them.
The extreme distance from north to south in Sweden is about 1,575 km (about 980 mi), and from east to west about 500 km (about 310 mi). The coastline totals about 3,220 km (about 2,000 mi) in length. Sweden may be divided into six topographical regions. In the northwestern section are extensions of the Kjølen Mountains, which form part of the boundary with Norway. The highest point in the range, and the highest point in Sweden, is atop Mount Kebnekaise (2,111 m/6,926 ft).
The climate of northern Sweden is considerably more severe than that of the south primarily because it has higher elevations and because the mountains cut off the moderating marine influence. The average temperature in February, the coldest month, is below freezing throughout Sweden, with an average temperature range in Stockholm of -5° to -1°C (22° to 30°F). In July, the warmest month, the average temperature range is 13° to 22°C (56° to 71°F) in Stockholm The proportion of daylight hours increases in the summer and decreases in the winter as the latitude becomes more northerly. In the one-seventh of Sweden above the Arctic Circle, daylight is continuous for about two months in the summer, and continuous darkness occurs for about two months in the winter. Where we are right now in Sundsval, it does not get dark. At about 8 pm it starts to get just a little dark, but actually it stays light out all night and the sun comes out around 6 am.
<![if !vml]>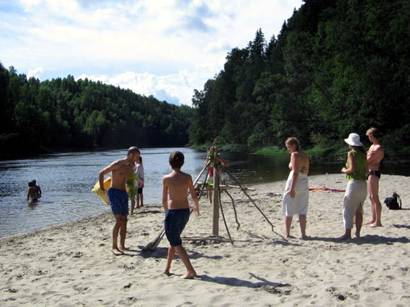 <![endif]>
Goofing around on the Ljungan River
Precipitation is relatively low throughout Sweden except for on the higher mountain slopes. In Stockholm the average annual precipitation is 540 mm (21 in); in Göteborg it is 790 mm (31 in). Rainfall is heaviest in the southwest and in the mountains along the Norwegian border. Most rain falls in the late summer. Heavy snows are common in central and northern Sweden. The first day we arrived (the 1145 km day) it just poured and we even had to slow down on the highway because there was so much water I was afraid our little bread wagon was going to hydro plane.
This country is one of the most beautiful places I have ever seen, and made up of really special people. I say this because on our way up to Sundsval we tried several times to find a bank machine that would take our bank card, but we had no luck. We were low on fuel and needed to phone our friends so we pulled into a gas station about 100 km before Stockholm. We got gas and asked if we could try our bank card, and again it would not work and we had to use our credit card. The gal at the station was closing up but stayed to allow us to use the phone. Helen asked if we could use our credit card to pay for some water and snacks and the gal said she had shut down the cash register and was now closed. She then said," it is no problem, just take what you need", and she would not charge us, we did not take anything, but her offer was very nice. We have met several other incredible people since we have arrived here, and so far do not want to leave. This country is a place where you would go in a fairy tale to live happily ever after. We love it!
<![if !vml]>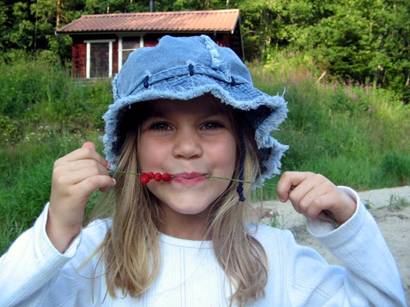 <![endif]>
Danika eating wild berries out in the jungle (as she calls it)
I will have more to say in a few days but the internet does not exist out here in this beautiful land and you know, it is kind of nice without it. We will be heading back to London in a week so we will just soak up what we can here before we have to choke on all that technology again.
By: Helen
Our trip through Germany was fantastic.  As we were driving into Northern Germany towards Sweden we were reminiscing about all the wonderful memories and experiences and we were remarking how everything went so smoothly while we were there.  As we were talking I looked down at my leg and noticed something sticking out right below my left knee.  I thought it was a piece of wood or a skin tag and tried to yank it out but it wouldn't come off.  It was the size of a large grain of rice but it was black.  As I looked closer I noticed that this "thing" was sticking out completely perpendicular to my leg and upon closer observation I noticed that it had LEGS!!!!!  I had a tick in my leg!  It was sitting there with its head burrowed into my leg and its body sticking out.  It was so shocking, I started laughing.  Then, of course, my mind went to work and all the horrible diseases that I vaguely remember reading about that are associated with ticks came crashing through my brain.  Lymme Disease, arthritis, encephalitis.  And then wasn't there something about being very careful when you take them out; not to leave the head inside.  Needless to say I kind of panicked and told Steve to take me to a doctor or a hospital right away.  But where?  We stopped at a pharmacy but they were closed so Steve asked at a gas station and they directed us to the local hospital.  We had no idea where to go because the signs were all in German so we just started walking around and soon saw a lady and I asked her where I could go with my problem.  She was very nice as I could tell that she was on her way to her break because she had a lighter and a cigarette in her hand.  But she was kind enough to actually walk us all the way to the emergency department and it was a very long walk.  We thanked her profusely and she handed us over to another nice lady who took all my info and then brought me to the nurse's station and explained my dilemma to them.  Fortunately they didn't laugh too loud and they were very nice and told me not to be embarrassed because a tick can be a very serious thing.  I still felt very silly coming to Emerg for something so small but they brought me into a big room and the RN took it out with some tweezers.  She showed me the head and by now the body of the tick was like a balloon as it was full of MY blood.  The doctor, who looked about 20 years old, came in, looked at the bug, looked at my leg and told me all the symptoms I was to look out for in the next few months.  He said that they have lots of ticks in Germany but Sweden has even more.  Oh great, that's where we were headed!  He told me that I will most likely be just fine but he made me aware of the symptoms so that if they arise I am to go to the doctor immediately for a blood test and antibiotics. They asked about our trip, typed me out a letter and sent us on our way.  Being the hypochondriac that I am I, of course, started to experience each and every one of the symptoms the doctor told me about.  After a few hours I was able to calm myself down and all the symptoms disappeared!  Oh the mind is a powerful thing! So that was my last memories of Germany and that's too bad because I had such a great time there.  I will write more about Germany later as Steve has asked me for the tenth time to write something about Sweden so I will come back and write about Germany later.
Sweden
This is one country that I always wanted to see.  It is a place that, for some reason, I thought I would really like.  Steve had kept in contact with our friends Cecilia and Houtan from the QEII and we found out that they were going to be home in Sweden in July.
<![if !vml]>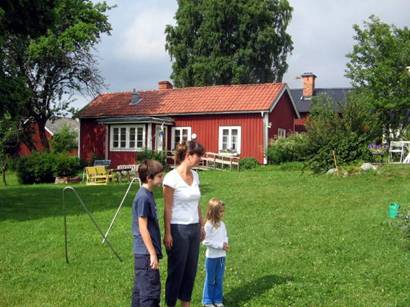 <![endif]>
Our Swedish cottage (background) where we are living
 It was a long way to go but we really wanted to see Sweden and more importantly we really wanted to see Cecilia and Houtan again.  We decided to head out and try our best to make it all the way to where they lived which is half way up this very large country.  We drove from Dortmund in Germany and couldn't decide which way to go.  We had two options.  One was a bridge which linked Denmark and Sweden and the other was a ferry that linked Germany and Sweden.  The bridge of course would be more driving but we had no idea where or how to catch a ferry.  We had stopped at the airport in Hamburg to ask a question about something else when Steve decided to ask the guy at a rental car desk about ferries.  It just so happens that the guy's mom lives in Sweden and she takes the ferry very regularly so he gave Steve all this valuable information.  We drove to the city that he told us to and found the ferry terminal and waited in a line to get to the booth only to find out that the ferry was totally booked today and the next.  It was the weekend and most people book well in advance.  The lady said that we could drive through and turn around and try and lift one of the barricades to let ourselves out because there was a huge line-up of cars behind us and we couldn't back out.  Well, the barricade would not lift up and when Steve went walking up to the booth the lady told us to wait for a few minutes to see if we could get on.  Well, we ended up waiting for two hours and at the last minute she told us that she had one cabin left and that we could get on the ferry.  I was a little leery and very tired because it was now after 9 pm and I kept thinking about our B.C. Ferries at home and envisioning this very uncomfortable 7 hour journey.  Well!  What a surprise.  The ship was beautiful.  It looked like a mini cruise ship.  It had two floors of sleeping cabins and the main floor had a beautiful bar/lounge, a cinema, a duty free shop, a kid's area and a huge buffet restaurant.  We were starving so we went for dinner and all your drinks are included in the price.  It was delicious.  Then we went to our cabin and it was perfect.  Two sets of bunks beds, a small desk and a small bathroom with a shower.  We showered, fell into bed and had a great sleep while the ship did the driving for Steve.  It was so smooth it felt like we were in a hotel.  Now that's my kind of cruise!
We woke up the next morning to a wake-up call at 6:30am and went for breakfast and were off the ferry by 8am.  Highly recommended!
We drove into Sweden and noticed right away that there are Volvo's everywhere.  Even their police cars.  The other thing we noticed is that there really are a lot of blondes in this country.  They are so blond that some of them look white.  The countryside was quite flat with rolling hills and clumps of evergreens everywhere and either a river, lake or part of the ocean around every corner.  It was beautiful.  As we drove along we noticed that unlike Germany there are very few little towns and cities along the way.  We pretty much drove through wilderness until we came to Stockholm.  We didn't stop so we will talk more about Stockholm when and if we stop there on our way back down.
We drove for twelve hours with only a couple of short stops and everywhere we did stop the people were very, very friendly and they all spoke English very well.  We drove through some major rainstorms and some blue, sunny skies and finally made it to Sundsvall and waited for Houtan and Cecilia to come and get us.
They brought us to Cecilia's parent's farm and when we arrived her parents were waiting for us with smiles and handshakes.  They are such warm and wonderful people and we felt instantly comfortable and welcome in their home.  They live on the edge of a breathtaking valley and are surrounded by wilderness and farmland.  They live in a house that Cecilia's father was born in and they were gracious enough to give us their grandmother's cottage for us to stay in.  She use to live in it when she was still alive and it is about 10 metres from the main house.  Our little cottage is absolutely perfect.  It has two bedrooms with four beds, a bathroom with a shower, and a big bright kitchen with stove, fridge and microwave.  In one corner of the kitchen is this huge stone oven that they use to bake breads and cakes in a long time ago.  It doesn't work anymore but it sure looks great.  We keep saying that it would be great to bake a pizza in. The cottage is so cute with its wooden windows and doors with pretty little white curtains hanging a quarter of the way down.  We are truly living in a little spot of paradise here and I understand now why Naslund wants to move back here from Vancouver!
We had picked up some pizzas on our way back so we all sat at the big wooden kitchen table and had dinner with Cecilia, Houtan and Cecilia's mom and dad.  We had lots of wine and her parents speak a little English and we had a great first night with these incredibly wonderful people.
That night we went to bed and it was so strange because it was sooo quiet and it doesn't get completely dark here as it is so far north.  We had a great sleep and got up the next morning to fresh country air and the kids got to pet this amazing brown horse.  It was so great to see the kids running around outside in the fresh air.  They have cats and the kids love petting them and it has just been so lovely and peaceful here.  We spent the day touring around the countryside going to the river and lake.  Nik went fishing in the river and Danika and Cecilia picked wild berries that I have never seen or eaten before.  They are so tasty and they smell fantastic.  They are about the size of a cherry pit and they look somewhat like tiny strawberries but they have a very different taste.  Danika and Nik loved them.  Cecilia taught them to string them on a piece of tall grass and eat them like they were candy necklaces.  Her dad also told us some of the history of the area as he was showing us around.  The area reminds us of home so much with all the beautiful lakes and rivers.  It resembles the Caribou country back home.  Maybe that's why we love it here so much.  It reminds us of home!
Last night we played Texas Hold'em Poker until one in the morning and we had so much fun.  I totally suck at that game (bad poker face) but I ended up in the final two.  Me and Houtan and I think I won!  Casino !
        <![if !vml]>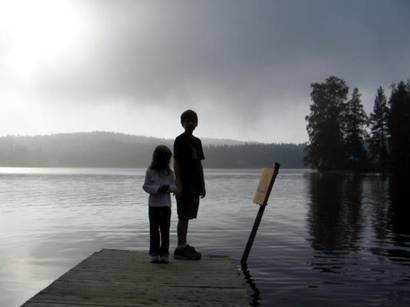 <![endif]>