Scotland - received August 13
††††††††††††††††††††††††††††††††††††††††††††††††††††††††††††††††††††††††††††††††††††††††††††† †††††††† <![if !vml]>

<![endif]>
(Written by Steve Aug 8)
† Aye, here we are in our little B&B in Inverness, the Scottish Highlands. This place is so much like Northern Canada it is remarkable. The only difference is, I canít understand a word anyone says to me here. People are so nice and they will give you these super detailed directions, the only problem is my brain canít understand one word from the English vocabulary. Our first stop before Scotland was Carlisle, than on to Glasgow, the only problem there was that we could not get a room for more than one night. We could not get a room in Edinburgh either so we drove up to see our friends Bill and Betty McIntosh. They live in Kirkcaldy and offered to put us up for the night but we declined because we found a room in Glenrothes instead and we didnít want to be a burden. We hung out with Bill and Betty for the day and had a great visit with these wonderful people.† We had met them on the world cruise and had so much fun with them in the casino.† We went out for dinner with them and had a very enjoyable time; the kids were so happy to see them too.† The next day, Bill took us to the train station and we took the train into Edinburgh for the day. This day we went into the capital was the same day as the start of the Military Tattoo and their world renowned International Festival, so it was the busiest day of the year. We watched the parade and the dozens of pipe bands marching along Princess Street, it was very cool. We then went up to the Castle and had the opportunity to see the stunning Crown Jewels and then walked the streets for a couple more hours. For some reason we were all bagged by 6pm so we hopped back on the train to Kirkcaldy and spent some more time with our friends. The next day we drove from Glenrothes to St. Andrews, and we spent half a day walking around the town which is home of first golf course. We ate lunch and then hopped back in the car and drove to Dundee and then through Perth. This day was also a long one but we managed to finish the day by driving all the way up here to Inverness.
We found a wonderful little B&B called Tiobraid Arran guest House run by Margaret and Noel. If you love flowers, gardens and really nice people then you will love this little 3 star B&B. ph. ++44-1463-238361
<![if !vml]>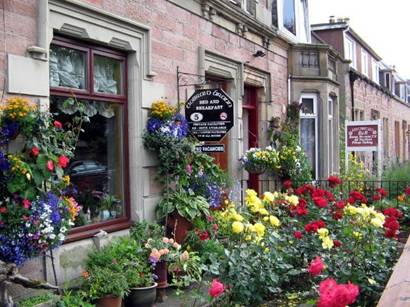 <![endif]>
Tiobraid Arran Guest House
(Written Aug 9 by Steve)
We spent the morning looking at St. Georgeís Fort (Inverness) and then we were ready to search for the Loch Ness monster. We drove along the Loch Ness and kept an eye out for the slippery creature, but he did not poke his head out today. We did however, have a nice rest down on the beaches of the Loch Ness, very nice setting with the mountains in the background. We then drove about 50 more miles until we came upon the most photographed castle in the world, The Urchart Castle. Even though it was mostly destroyed, the kids used it as a gigantic Jungle Jim. We then found our last castle for the day, the Inverlochey Castle, which really pooped us out so we headed to our B&B for some quite time before finding a place to eat. We went to Mctavishís Restaurant for Dinner, Pipes, singing and Scottish dancing. We only participated in the eating part, but it was a blast. We then returned to our wonderful Highland B&B called The Ashburn House. This property is run by a couple by the names of Christine and Willie and they are both extremely nice and helpful. The B&B has 7 rooms for rent and we had #4 and #2. The rooms are very tastefully decorated and Breakfast was wonderful, everything you needed was available. We were in a jam for clean clothes and Christine even did a load of laundry for us. This B&B is without a doubt, one of the nicest we have ever seen and is a must if you come to St. Williams. We normally donít recommend places to stay, but think this 5 star B&B would be a six if they had that high of a rating. Ph ++44-139770-6000
<![if !vml]>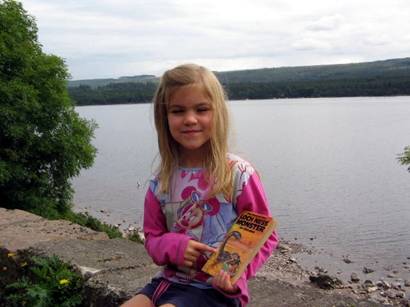 <![endif]>
Danika with Loch Ness in the Background
The next day we drove along Loch Ness and stopped at another castle for lunch. After we finished eating we drove down the rest of the Loch though the winding roads towards Glasgow. This stretch of highway is one of the most dangerous stretches of roads I have ever been on. It was very beautiful but the little Shrines, memorials and drive carefully signs made me think that it was a tad dangerous. We made it all the way to the south of the country and caught the ferry for Ireland.
We are just about to hit the sack, but I thought I would let you know where we are, and how wonderful this place is. Very Scottish I must say, Kilts everywhere, almost makes me want to be Scottish. I said almost!!!
<![if !vml]>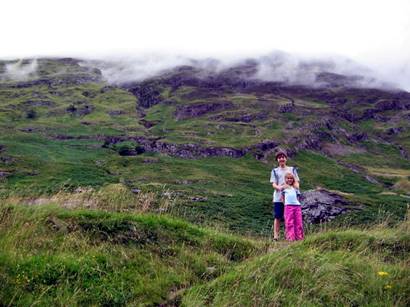 <![endif]>
If you have seen Braveheart, then you know what the hills of Scottish highlands look like, spectacular!