PRAGUE, Czech Republic
<![if !vml]>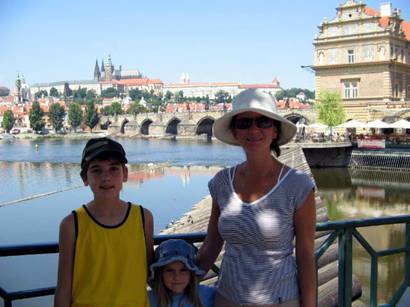 <![endif]>
(Written by Steve June 30, 05)
Yehaa! We made it to Prague and back alive! Why do I say that you ask?
There was a "CNN Factor" that put us on alert about traveling through this wonderful country. We were told and read about how tourists are being roughed up and are targets for thieves. As our tour guide said "That's capitalism for you."
Anyways, here's how it went…
We left Berlin about 11am and headed out towards the Czech Republic. You know it was not until we were within about 30 km from the Czech border that I began to wonder if we needed a Visa. I read about most of the European countries we might visit and could not remember what the rule was on this country. Our friend Denise looked it up in Fodor's and it said we could enter without a visa and stay for up to 6 months.
The drive though the lower part of East Germany was really beautiful and even though it took us all of 7 hours to make the trip, the scenery was fantastic. The one thing that is a real pain about Germany is all the detours they have. One minute we are flying down the Autobahn at around 130/h and then all of a sudden we have to exit and then we can't seem to find our way back onto the freeway again. I am not sure why, but Germany is working on almost every freeway we drive.  Maybe it's for the World Cup in 2006.
We did eventually make it to the border but then had to wait quite awhile to get our passports stamped.  In the end it went off without a hitch.
Prague (population, 1,200,000) is the capital and largest city of the Czech Republic. Other important cities include Brno (379,185), an educational and industrial center; Ostrava (319,293), a center for metallurgical industries; Plzeň (166,274), noted for its breweries; and Olomouc (103,293), a trade and industrial center. We only saw the capital city when we were there because we have to make our way back to Frankfurt to get our friends Ron and Denise to the airport in 5 days.
The official language in the Czech Republic is Czech, a language of the West Slavic subgroup of Slavic languages. Moravians speak a form of Czech that differs slightly from the form spoken in Bohemia. Slovaks speak Slovak, a language closely related to Czech. Members of other ethnic groups generally speak Czech in addition to their own native languages. Jiri (our tour guide) told us that Czech Republic was part of Bohemia and that the people are very different from the people of Slovakia. He also told us that since the fall of the Berlin Wall and the separation, the Slovakian economy has fallen to about 30% lower than the Czech economy.
 Back in 2002 Prague and the Czech Republic had massive flooding and it damaged most of the city and outline areas, but we saw no signs of any damage when we were there.
<![if !vml]>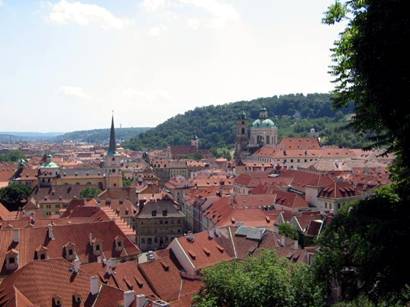 <![endif]>
As mentioned before, we took a tour with a gent named Jiri who used to live and raised his family in Portland, Oregon. He took us and another couple from Brazil on a 3 hour tour throughout the city.  It was awesome. We hit all the highlights with him and then went back into the old city that evening to soak up some more of this wonderful culture. If you come here you will need at least 5 days, and if you love architecture then you might want to stay for a couple of weeks.
The principal religion of the Czech Republic is Christianity. Approximately 40 percent of the population is Roman Catholic. Protestant denominations account for about 3 percent of the population. Jiri, our tour guide, said that 95% of the population have Catholicism on their passports under religion but 80% of them are actually atheists.  He told us that the Jesuits forced them into religion, so now everyone rebels against it. Every little town we went through had at least one church steeple poking out of the skyline.
Prior to World War II (1939-1945), the country had a large Jewish population. Most of the Jews died in the Holocaust, the Nazi campaign to exterminate the Jews of Europe. There are currently between 15,000 and 18,000 Jews living in the Czech Republic; the Jewish population is centered in Prague.
During the Communist period, living standards in Czechoslovakia were among the highest in the Communist world. The reintroduction of a market economy in the early 1990s led to a decline in living standards. However, the economy has begun to recover, and most people in the Czech Republic live comfortably. Czech households typically have refrigerators, washing machines, automobiles, and televisions. Some families have a summer or weekend cottage. I have to be honest, when we first drove into this country we were greeted by a mile of Brothels and women waving and dancing along the streets. Our tour guide (Jiri again) told us that prostitution runs rampant with capitalism and these prostitutes are not from the Czech Republic. They come from Russia, Hungry and Bulgaria, and the police can't handle or won't handle the problem. It was quite sad to see, and it was a little shocking because it is the first thing we saw when we came into the country. Of course seeing all these women on the streets dressed for ??? gets Nikolas asking more questions about what these women are doing. Helen and I are always honest and try to talk freely with our son but we gave him a very basic answer and did not go into great detail.  We told him he wasn't ready for that information yet and he was quite content with that.   Man, last week it was the Gay parade and now it's Prostitution. We got through it and I hope he (Nikolas) can deal with what we discussed and not put too much thought into it. I know the kid is only 9 years old, but we have to be somewhat honest even when we really don't want to talk about it.
<![if !vml]>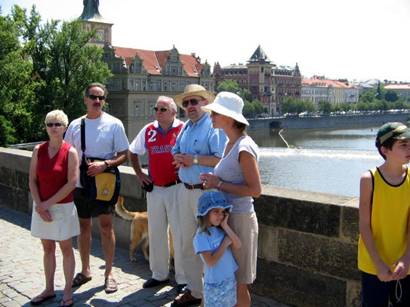 <![endif]>
There is currently a serious housing shortage in the Czech Republic. Most urban dwellers live in crowded apartments. Many live in high-rises that were poorly constructed. This is most likely the poorest country we been to in all of Europe. The roads, Buses and Trains remind me of when I drove through Bosnia and Serbia a few years back.
<![if !vml]>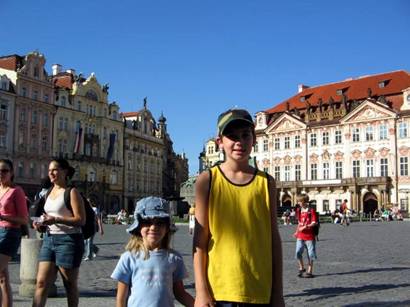 <![endif]>
Pork is a staple in the Czech diet, which resembles that of Germany. Pickled cabbage and sliced, boiled dumplings called knedlíky are eaten frequently. Open-face sandwiches and frankfurters are often served at snack bars, last night I had a Deer steak and it was fantastic. Czech beer is known throughout the world and is very tasty too.
The Czech Republic suffers from many of the problems typical of advanced industrial societies. Crime has increased since 1989, and many other problems that were suppressed under Communism, such as prostitution, drug abuse, alcoholism, and juvenile delinquency have worsened as well. New problems have also emerged since the collapse of the Communist government, including corruption, organized crime, money laundering (transferring illegally obtained income through an outside party to conceal its true source), smuggling, and the development of an illegal arms trade. Discrimination against women has become more open. We have read about the rules in this City and we were very careful.  All in all we had no problems.
Relations among Czechs and Slovaks living in the Czech Republic are generally friendly.
Illegal immigration and the influx of refugees have troubled the Czech Republic since the end of Communist rule and the breakup of the Union of Soviet Socialist Republics (USSR). Approximately 250,000 refugees, principally from the former Yugoslavia and parts of the former USSR, have passed through the Czech Republic annually in recent years en route to the more economically and politically stable countries of the West, including Germany.  
We are heading to Nurnberg tomorrow so this is our last full day in Prague. After spending most of the day in the old city, I am so glad we came and were able to see this fantastic city. We were very fortunate to see the city with a great guide. Jiri spoke great English and was very knowledgeable about his country and he knows all about the architecture, art, the people and where to and not to go. That's what you need when you come to see a big city in just a few days; someone to show you the most interesting parts when you are on a limited time schedule.
Nikolas was a little too nervous to enjoy himself.  Seeing the street gals and being told how dangerous Prague was, did not help matters for him. We, on the other hand, really loved it and would highly recommend you 'Czech' this place out!