EUROPEAN VACATION
The Algarve† - received May 6
(by Helen)
<![if !vml]>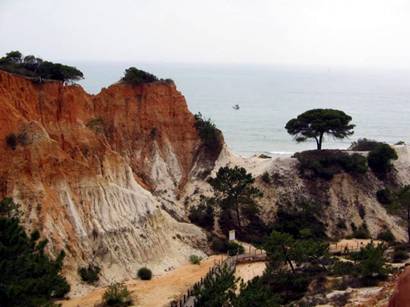 <![endif]>
We were almost kind of glad to leave our place in San Pedro.† With my sister and her boys gone, it was time to move on.† We packed up our stuff, locked the door and Steve dropped the key in the locked mailbox for the manager.† What we forgot to do though, is unlock the gate to the complex to let us out.† We stood there with all the backpacks (Steve had already loaded the suitcases, thank goodness) and we couldnít get out.† Steve climbed over the six foot iron fence and was trying to convince us to do the same.† Danika went over no problem and Nikolas barely made it but there was no way I could do it.† I had a skirt on and I tried but just couldnít do it.† Steve was getting impatient so I walked through the complex and knocked on about six different doors.† Not one person opened the door.† I approached this one elderly lady and she couldnít speak a word of English.† I think she thought I was a peddler because she gave me a very dirty look and ran back into her villa.† I finally found a gentleman who could speak a tiny bit of English and he kindly let me out of the gate with his key.† Iím not quite sure if he believed or even understood my story but I got out and that was the main thing!
We settled in for the long journey to Portugal and thank goodness we had that van with the DVD because it really comes in handy on those long drives.† It actually turned out to be a really scenic and relaxing drive.† The highway was well paved and the landscape was beautiful.† A lot of rolling farmland and small little clusters of towns here and there.†
There is no border between Spain and Portugal so all of a sudden there is a big sign that says ďPortugalĒ.† We were there!† We drove a long and noticed that the landscape had a dessert feel to it.† Later we would learn that these hills use to be covered with trees but two summers ago they had some very bad fires and lost most of their vegetation.† At one point they said that 70% of the country was burning.†
We made our way to a town that was to be home for us for a few days.† The town was called Albufeira and we were booked to stay at the Sheraton Algarveís Hotel.† We were a little weary about what the hotel was going to look like because we had been disappointed with the villa in Spain.† Boy, were we surprised.† This place was magnificent.† I can honestly say that it is the most beautiful, well-kept resort that we have ever stayed at.† The resort is actually called the Pine Cliffs Resort and it is massive.† I donít have the literature in front of me now but this place was on acres and acres of land and the hotel was so big that it would take us 15 minutes to walk from one end to the other.† That was just the Sheraton hotel portion.† There were also a bunch of villas and townhouses all around the hotel and a beautiful 18-hole golf course set right on the cliffs.† The resort is located right on the incredible red cliffs that drop down to a spectacular white sandy beach that is topped off with turquoise water.† When we took the outside elevator from the grounds of the resort to the base of the cliffs and walked to the beach, I stood there in awe and told Steve that I had never seen anything so spectacular in my life (beach-wise, of course).† There is a little bar built right at the beach and we went there and had the best sangria, better than any we tried in Spain.† We sat there and had a bite to eat and drank our sangria while the waves crashed just a few meters away.† It finally felt like we were on vacation and this place was paradise.† I would go back there in an instant.
<![if !vml]>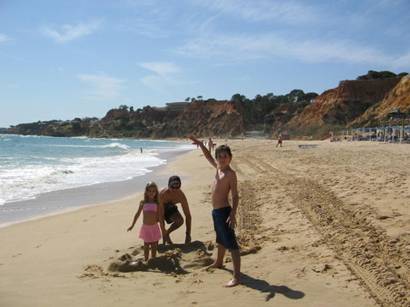 <![endif]>
The other great thing was that the kids could finally get a break from us.† They had a kidís club called the Porto Pirata for Danika and a Juniors Activity Club for Nikolas.† Danika went to her club just after breakfast and stayed for lunch and we would pick her up at 2pm.† They had a great set-up with a huge pirate ship as a playground that they could climb up on.† They had a bouncy castle, a sand pit, a basketball court, a miniature racetrack with cars that they could drive with pedals.† They had an arts and crafts area and the ladies there were very nice and very attentive.† We just observed the first day to make sure we felt comfortable leaving her alone there with them.† They were great and she had a ball.† She also got to meet some new friends and play with kids again.
Nikolas was one of the only kids in his age group so the first couple of days he was the only one at the various activities.† The benefit of that was he got a private tennis lesson with the resortís tennis pro.† He was with Nik for a full hour and they really did some serious tennis moves.† Nik also got to play miniature golf and soccer and he did some arts and crafts.†
While the kids were busy we were able to grab some alone time as well.† And Iím talking about alone time.† I took off and sat by the pool with my novel and Steve took off and played with his computer.† When you spend every waking moment together itís normal to need a little break once in awhile.†
The weather was so perfect too.† It was about 25-30 degrees with a nice cool breeze blowing in from the water.† It wasnít too hot and it wasnít too cold, it was perfect and considering that April is usually their rainy season, we got pretty lucky.†
Iíd say the only downside to the resort for us was the price of food, or everything really.† Me, Steve and Nikolas played tennis one day for one hour.† It cost us just under $100 Canadian.† We had to buy tennis balls because they donít rent them and they cost $10 each and came in a tube of four!† It was outrageous!† Most of the main course dishes on the menu cost about 25-30 euros, thatís about $50-60 Canadian and donít forget to add the bread and the water and the olives and pickles.† They are all brought to your table whether you ask for them or not and if you eat them you are charged for them.† Each slice of bread cost 2 euros.† Say we each eat two slices of bread, well thatís 8 euros or $16 Canadian.† Just for the bread! We also asked about laundry.† We were hoping that there was a washing machine and dryer we could use because we had a growing mound of dirty clothes.† The hotel did not have a facility for us to use but they did offer a laundry service and the price was per kilogram, 20euros/kg of clothes.† Well, Steve found a laundry service just outside the resort that charged 2euros/kg.† We had 10kg of dirty clothes so had we gone with the hotel service it would have cost us 200euros or about $400 Canadian.† Instead we paid 20euros.
Anyways, the food was delicious and the place was so relaxing.† The grounds were all manicured with lush green grass and tons of trees.† There were flower beds everywhere and not a piece of trash to be seen.† There were about 4 or 5 pools and one indoor.† We went swimming on our last night in the indoor pool because the weather was finally changing.† We had to buy little swimming caps and wear them in the pool.† Apparently, in Portugal it is mandatory to wear these caps for hygienic reasons.† We all looked pretty goofy in those things!
We were going to stay longer and were about to extend our stay when the weather changed.† It was actually a rather drastic change.† It was very overcast and windy and the lady at the desk told us the forecast was for more of the same in the next few days.† Nikolas was really disappointed because he wanted to stay and ride his boogy board on the waves some more.† He would do this everyday for hours and hours.† Steve went with him but couldnít stay in the water that long because it was pretty cold.† But Nikolas never felt a thing; he just kept going and going.† It was great to see him have so much fun.
We sadly said good-bye to the Sheraton and vowed that we would certainly be back one day.† No question!
Lisbon, Portugal - received May 5
(Written by Steve May 2, 05)
Originally, everyone we spoke to when we were in Spain told us not to go to Lisbon because it is just another big city. After we got to the Algarve and asked people about where else to go in Portugal, everyone said we have to go to Lisbon. So here we are in Lisbon and the people of Portugal were right. Lisbon is a big city and maybe it is not the most important place in all of Europe, but it could be. I can only describe this place as a cross between Italy, Germany and a bit of London. The architecture here is absolutely fantastic, and there has obviously been a huge influx of cash back when this city held the worlds fair in 98. I say this because even though the city hosts many vacant buildings and others just about to fall over, its buses and cable cars are almost new. On the other hand it is like they donít care anymore and it is just business as usual and nothing more. Our first day was on Sunday and the whole place was shut down because it was a holiday as well. We were starving from our drive from the coast. We walked our usual 5 miles and could only find about 3 cafťís that were open. We did not really get a good feel for the place because it was kind of weird to be downtown in a major city and being the only ones aside from the stray dogs walking the streets. We ate at a place called the Coffee& Pot and had snacks rather than dinner, mostly because we were struggling with the language. We had walked most of the day so we headed back to our hotel and made a bunch of calls back home (Canada) and sent some emails and let the kids go online and talk to their pals. We decided to sleep in till 10:30 am on our second day and headed out to find a place to eat at about 1pm. We ended up at the same cafť (Coffee&Pot) that we ate at the day before, only because we knew where it was and it had good food. I was very excited to see the city, but we needed our coffee and food before we started all the heavy walking. Today and yesterday we noticed lots of men being very friendly towards each other and everything was cool until we sat down at the cafe. We just sat down at the Cafť, we did not even have our coffees yet when Nikolas† dropped the matzo ball. How do you become homosexual, he asked us. So I yelled to the waiter, please bring me a shot of whiskey with my coffee will ya. Of course I am kidding about the whiskey, but I knew this was going to be a breakfast to remember. So we were interested in hearing what his thoughts were and are always open to discuss everything, and let him just ask away. So we started our day by talking about the birds and the bees until he asked us to stop talking about it because he was disgusted. Our son is 9 years old, and we are already having these conversations with him, is that weird? I think it was 2 weeks before my graduation from high school (I was 17) when my father said,Ē son, I need to speak to you about some man thingsĒ. I remember saying Sorry Pops, itís too late, and we never spoke about it again, that was the end of the conversation. Nikolas is only 9 and he see everything, I didnít have any idea about any of that stuff till I was in high school and he is already talking about it. I guess this has really nothing to do with Lisbon, but itís something I will always remember about this part of the trip so I am logging it.
<![if !vml]>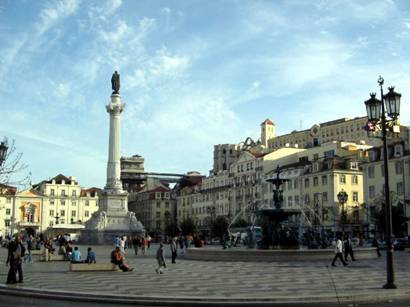 <![endif]>
Our second day here was really fun, well, that is if you like walking 10 miles up and down hills. We walked to the city centre and hopped on Bus #37 and headed for St. Georges Castle high above the city centre. Now let me tell you one thing that you have to do if you come to Lisbon. If it is the only thing you do, get on bus 37 and go for a ride, it will be one to remember I assure you. The bus goes up streets only bicycles mange to fit through, and around cars, making them back up, pedestrians can see this bus coming from miles and stay clear. The castle the bus brings you to is called St. Georgeís Castle and it was built in 138 BC, and is the first fortress ever built, and that in it self is very cool. There is a little restaurant up top and a whole whack of shops.† Itís quite a touristy place but very nice all at the same time.
<![if !vml]>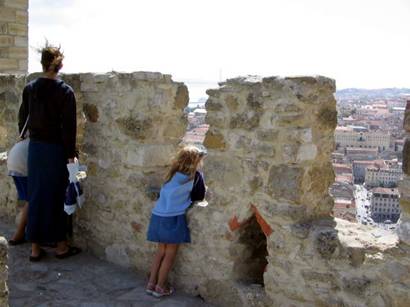 <![endif]>
The best view of Lisbon is from St. Georgeís Castle
Lisbon (Portuguese Lisboa; ancient Olisipo), capital and largest city of Portugal, and also capital of Lisbon District, in western Portugal, on the Tajo (Tejo) River where the river expands before it enters the Atlantic Ocean. Lisbon is the center of the countryís rail and highway network, and an international airport is nearby. The major industrial and commercial area of Portugal, Lisbon has an exceptionally fine harbor and is also the chief seaport. In Lisbon are shipbuilding yards, petroleum refineries, and plants producing chemicals, foodstuffs, hardware, paper, and textiles. Imports are mainly raw materials, and the chief exports include cork, canned fish, olive oil, resin, and wine.
Lisbon, Portugal, the old section of Lisbon retains the narrow, winding streets and aging buildings constructed during the cityís long history. The Monastery of Jeronimos, foreground, was built in 1498 as a monument to the 15th-century navigators who discovered the sea route to India. New Lisbon, background, has the straight, broad, tree-lined streets and modern skyscrapers typical of a European capital and center of trade.
†
Some building facts:
Triumphal Arch, Lisbon The Arco Triunfal da rua Augusta is a triumphal arch located on the southernmost edge of the city of Lisbon. Lisbon is the capital, largest city, and leading seaport of Portugal. (Portuguese National Tourist Office)†
†
The city is built on the terraced sides of a range of low hills overlooking the harbor. In the older section the streets are narrow and crooked, but the newer section has straight, broad, tree-lined avenues, handsome squares, and extensive public gardens. Lisbon is the seat of an archbishopric and contains many old churches, convents, and monasteries. It is also the site of the Sť, a Romanesque-Gothic cathedral built in the 12th century and partially ruined by successive earthquakes. A Hieronymite convent in the suburb of Belťm was built in the 16th century to mark the discovery of a sea passage to India by the navigator Vasco da Gama. It contains the tombs of da Gama and the Portuguese poet LuŪs Vaz de Caműes. Notable educational and cultural institutions in the city include several libraries, museums, and colleges and universities, the oldest of which is the University of Lisbon (1288). The city renovated sections of Lisbon and overhauled its transportation systems in preparation for Expo 98, which opened in the spring of 1998.
† Lisbon is believed to have been founded by the Phoenicians and occupied by the Romans in the 2nd century BC and by the Visigoths in the 5th century AD. The city was held by the Moors from 716 until it was recaptured by the Portuguese in 1147. Around 1260 Lisbon became the capital of the kingdom of Portugal, and following a period of colonial expansion, it became one of the wealthiest cities in Europe. It declined in importance during the period of Spanish rule (1580-1640). In 1755 an earthquake, followed by a tsunami (tidal wave) and a fire, destroyed much of the city. Portugal was a neutral nation during World War II, and Lisbon became both a haven and a port of embarkation for refugees from all over Europe. A 1988 fire, called the worst disaster in the cityís history since 1755, destroyed the shopping district. Population (2001) 564,657.
I am writing this last part from a hotel in Madrid and I can only say that Lisbon has so much potential. No matter where you look in Madrid there is a building getting a face lift, paint, cleaning, road and sidewalk work. Lisbonís entire city has roads and sidewalks made of chunks of granite and it is spectacular. If Lisbon started aí clean up the city campaigní and promote tourism, it would be a city that I would like to come back to. Right now I donít see a big draw for tourists to come here and that is a shame because it has so much to offer. Maybe the European business people are enough for the Portuguese and they donít want tourists, but whatever it is I donít get it. Anyways I am so glad we came to see and met the fantastic people of Lisbon, it was a real treat.
†††††††††††††††††††††††††††††††††††††††††††††††††††††††††††††††††††††††††††††††††††††††††††††