EUROPEAN VACATION
England
U.K. Footnotes – received August 7
York (Written Aug 5th by Steve)
Well we just spent 2 wonderful days in York and are packing up for another drive, this one up to Scotland. York is an old Viking trading city that was established way back in the 10th century. It is surrounded by a wall and has castles and old churches and many cafés and pubs; it is very cool. If you have any British Heritage and have not been back here, you had better get off your butt, because this place is fantastic. I can tell you that I think Britain is one of the best places in all of Europe to travel as a family, but very expensive. We went to Jorvik, which is a Viking village that was discovered and reconstructed to the way it looked back in 988AD. This place is a must- see, and you may as well spend 2 days at least, because there is a lot more than just Vikings. We also did the Ghost Hunt, which is following some guy around to different locations and he tells you one of the many ghost stories that York is also famous for. It was quite funny and spooky but we loved it and will hopefully return one day. Next stop, Edinburgh and Glasgow.
London again (Written Aug 4th by Steve)
That's right folks we are back in London again, well not anymore, we left yesterday (Writing this from York). Not only did we leave, we drove! We drove right through the heart of the city. We went over the Westminster Bridge down through Victoria Station, past Hyde Park, the Marble Arch and kept going till we were on the mighty M1.
I've got to tell you that driving on the wrong side of the road is not as difficult as trying to turn a corner when your brain keeps trying to force your body into the oncoming traffic. We made it though, and yes it was extremely stressful, but I am so fortunate that everyone in the car kept yelling "Other side of the road", I must have heard those words at least 50 times.
So what was London like for the second time? Awesome! We had a blast even with the thousands of police on the streets. The Police were on every block and in every station holding their machine guns and being extremely visible. It was a tad unnerving.
Our hotel was 4 blocks from Victoria Station and Big Ben and right across the street from The New Scotland Yard, so there was never a dull moment.
We hung out in London for 4 days and got our round the world airline tickets all booked and then left for York on Aug 3, and that's where we are now.
London - received May 31
By Helen
<![if !vml]>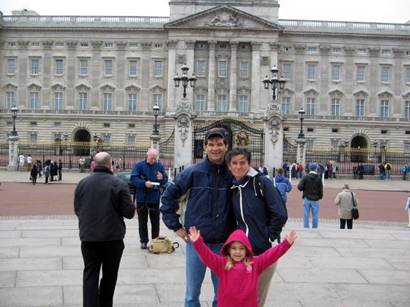 <![endif]>
Our flight from Alicante, Spain to Gatwick Airport was great.  We flew with British Airways and it took about 2 hours and 15 minutes.  As much as I despise flying it was actually a really nice flight and it went by very quickly.  I was also really excited to get out of Spain and to finally see London for the first time ever.  Steve had been there before and he said that I would probably like it but, boy, was I surprised.
I officially have a brand new favourite city in the whole world.  LONDON!!  When we got off the plane and got into our cab I knew right away that I was going to like this place.  I think one of the main reasons I fell in love with it so much is because the weather was great while we were there.  That's what I'm told anyway.  It wasn't super hot but it was very mild and sunny with lots of cloudy periods.   We actually didn't mind the clouds and the cooler temperatures at all because Spain was hot every single day we were there.  I know you're asking how can that be so bad but after awhile you kind of get sick of it and we were dying for a change.
We got to our hotel and it was a very nice and comfortable Holiday Inn (again) and it was so great to talk to people that spoke English.  Our room was just perfect for us and it was very clean.  We have used the Holiday Inn and Crowne Plaza a lot on our trip and so far they have not let us down.  They are very accommodating to kids and are quite reasonable considering how expensive Europe is, especially England. 
Our hotel was located in a place called Wandsworth and it is a little quiet suburb just outside of London's city centre.  It was actually the perfect location because you just jump on a bus or a train and you're in London within 15 minutes.  Yet it was very quiet and we felt very safe when we walked around our hotel.  When we did walk around we noticed that we were staying just 5 minutes from the Thames River.  When I saw it I was a little shocked at how narrow it is and how muddy and murky it looks.  But, it still was pretty cool to finally see it in real life after hearing so much about it.
Steve has a friend that has lived in London for the past 4 years.  He came by our hotel and took Steve out for a few beers at the local pub.  Steve said the place was packed and he could hardly breathe from all the cigarette smoke.  Exactly how I would imagine an English pub to be like!  It was really great to see Brian and he gave us some ideas for must-sees and where to buy theatre tickets for half price.
<![if !vml]>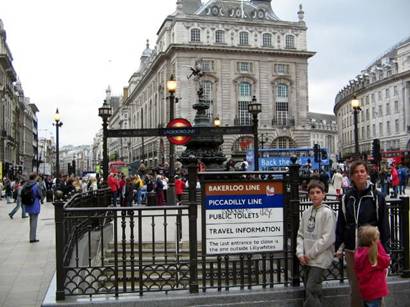 <![endif]>
The next day we got up and headed out to see, what else but, Buckingham Palace. It wasn't as grand and amazing as I thought it would be but I have heard lots of people say that.  We missed the changing of the guards by half an hour so we kind of just stood there at the big iron gates staring at the building waiting for someone to appear.  There was a small crowd of tourists at the fence and we did see some people come out of the Palace.  We were told that they were there to receive some medals but we never found out who they were or what the medals were for.  The queen herself was actually in Alberta, Canada at the time so it was a little uneventful as we stood there and watched.  It was starting to drizzle rain a little and it kind of made me laugh because we have heard so much about the weather in England and it was fitting all the descriptions to a tee.  The funny thing is that I thought it was great!
As I'm writing this it has been a week since we have been there and the details are a little hazy now.  What I want to do is just write some of the things that have stuck in my mind.  London is such a vibrant, bustling, ALIVE city.  I don't know how better to explain it.  We were there during the week (not the week-end) and as we walked down the streets it was amazing to see that every single bar and pub was just packed full of young and middle-aged business people.  When I would look inside they were all crowded around tables and it seemed like everyone was talking at the same time with music blasting in the background.  The coolest thing was that often times that music was a live band.  I don't think I have seen that much action in Vancouver even on a long weekend in the summer. 
We've seen lots of old cities in our travels and still the sight of these historic old buildings lining the streets for miles and miles never cease to astound me.  These buildings are all hundreds of years old and they have been converted into everything from restaurants, pubs, theatres and private residences.  It is just such a different life over here.  According to Steve's friend Brian, the world revolves around this city in terms of the financial world and the culture world and the fashion world and THE place to be world.  And you certainly understand it when you are here.  As you walk down the streets, every corner you turn you see a theatre playing a production that you've heard so much about.  Everything is playing here and we even saw the start of a premiere.  The movie was called "House of Wax" and apparently it stars Paris Hilton and some other actors I have never heard of but it was pretty exciting to watch them set up.  They had all these barriers set up with posters of the film all over them.  As we stood and waited we watched them roll out a red carpet that took up half of a street block.  There were cameras set up everywhere and big 'Hollywood' lights everywhere and the crowd was getting bigger and bigger.  We had tickets to a show so we had to go before the stars arrived unfortunately because it would have been pretty cool to see them walk that red carpet.  In hindsight though, I really have no great desire to see someone like Paris Hilton but it would have been fun to see it all unfold.
How do I describe the transportation system in this city?  I thought that the "jolly old" red double decker buses were just a touristy thing like we have in Victoria.  But noooo, these buses are everywhere and they are the major part of their transit system.  What is so amazing is that the streets are all pretty narrow and the lanes are even narrower but these tall buses just whiz around the corners.  When we were on them and we would sit at the front of the bus on the top level, it would look like you were about to hit a building, they would come so close.
 Then you have the tube which is their subway system which is a network of trains that take you anywhere you could possibly want in London and the outskirts.  Then you have the beautiful train stations like Victoria Station and Waterloo.  These main train stations look like major airports and they are constantly full of people traveling every which way.  It was so fun to people watch in these places.  These people, and I'm talking hundreds, would just stand there and stare up at this massive billboard that showed all the trains and what time they were coming or going and at which platform they would be departing or arriving at.  They all stood there and they would either be talking on their cell phones or eating sandwiches from all the many restaurants in the station.  They all looked like they were very important people and they all had somewhere very important to get to.  When you are not in the stations you can hear the trains thundering down the tube.  On more than one occasion as we were walking down the streets I have said to Steve or the kids, "Hey, it sounds like thunder, I wonder if it's going to rain?"  Only to realize that it was a train going by underneath us.  Very cool.
Like I said earlier we had tickets to a show.  We had walked to Piccadilly Square to a place that Brian had told us about.  The place sells theatre tickets for half price.  We got tickets to Chitty, Chitty, Bang, Bang.  The theatre was packed and it was in the middle of the week.  As expected there were tons of kids and whenever the Child Catcher came on stage the whole place would start booing.  It was an excellent production, the car actually looks like it's flying!!!  Danika kept asking me if it was real.  She meant the whole thing.  She couldn't quite understand the fact that real life people were on stage acting out a movie she has seen on T.V.  She loved it and Nikolas loved it even more.  He really didn't want to see it but afterwards I thought he was going to jump up and down when he stood up and gave the cast a standing ovation.  It was a great night even thought we got a little lost on our way home.  (You can read Steve's story about that, don't want to repeat it).
We went to St. Paul's Cathedral and I was so disappointed that it was closed by the time we got there.  I stood on the steps and imagined Princess Diana walking up those steps on her wedding day.  I stayed up all night to watch that wedding.  And her funeral as well.  It is a truly magnificent building. 
We also went on a ride in the London Eye.  It is a ferris-wheel type thing that gives you a birds eye view of the city and it takes half an hour for it to make one rotation.  I felt a little nervous because I am not that fond of heights but the view was spectacular and the day was perfect for it.  We also took a guided boat tour down the Thames and it was very educational and interesting although we were very disappointed with 'London Bridge'.  It's just a bridge, nothing special at all.  Again, it made me realize how little I know about world history and I should have studied up on London history as well.  We saw so many places we wanted to visit but we just didn't have enough time.  We are definitely going to make a point of coming back to London and see some of the sights that we missed.  If I can say this, I advise anyone who has not seen this city to make every effort to try and see it just once.  You won't regret it!
I am not a huge tennis fan but I have watched my fair share of Wimbledon Championships.  So it was my wish to see Wimbledon and so we set out one afternoon and took a bunch of buses until we finally made it there.  After all that traveling though, we missed getting into the place by half an hour.  It was really surprising to see where it was located.  For some reason I just assumed it was in the middle of a big city but it is located in a residential area about an hour outside of London.  Even though we missed getting in I am still really glad we saw it and Steve was able to catch a few pictures of some of the courts.  Not centre court of course but still it was very neat to actually be there!
Surprisingly, the food was great here as well.  We went to a fantastic Chinese food restaurant by our hotel that was right on the Thames.  Beside that restaurant was another one called The Outback and it was an Australian themed restaurant that served some great food and we ate there the most.  On our last night in London, Brian took us out for dinner there and we had a really great time.  Well, Steve had a really, really, good time but we won't talk about that now because he paid dearly for it the next day on our train trip from London to Brussels, Belgium. 
I can't wait until we go back to London.  It really is one of the most exciting cities I have ever been too.  Our plan is to hopefully head back there in July and August and take in Scotland, Ireland and of course Wales to see Father O'Shea.    
London  - received May 29      
(Written by Steve May 24, 2005)
Day 1 – Day one is a bit of a blur, and really there is not much to tell. We got on a flight in Alicante, Spain and landed in Gatwick with no big surprises. Except for Nikolas having really bad gas, and deciding to release a bomb just as the elevator doors were closing in Gatwick Airport. He almost killed the 4 of us and two innocent travelers who could not escape as we had the doors all blocked with our 8 bags of luggage. We made it to Wandsworth, a place right on the Thames River via the trains.
London is old, dark, gray, sometimes smelly and very crowded and yes, rainy. I bet you think I am going to tell you about how depressing this place is? Well I am not! This city is the centre of the planet for everything from business, travel, fashion, football and a mecca for live theatre. We are walking down the street and there is a premiere of "The House of Wax" and the actors were just about to arrive. The red carpet was rolled out and we could only recognize one actor, Paris Hilton. I know, I did not know she could act either?! Also, we are sitting there watching T.V. and Liverpool has won the cup again, so these folks were in a bit of a party mood when we were here.
 Trying to negotiate your way through London on transit is very easy if you know where you are going, unfortunately we did not. Well, we made it to our little Holiday Inn and went for a walk, grabbed a meal and then went out to see Buckingham Palace. I also have a buddy here in London that I have not seen in years and he popped by to see us. We went out for a few pints of Guinness and that's not very good because I don't drink much, and we won't talk about that anymore.  The transit system in London is the most effective system I have ever seen, and you can be anywhere in the city in about half an hour. We headed for Victoria Station and were going to see the changing of the guards but we missed it by about 15 minutes and so went and saw as many sites as you could in one day, see pictures. I am not going to go on too long because Helen has so much to say we will just be repeating stuff. I will tell you one story about our 5 days in London. We were coming back from a show at about 11pm and had already changed buses and were heading back to Wandsworth, but before we got on we asked where we needed to catch our next bus (#77) that would take us the final stretch. The bus driver (Addi) was a super nice guy and he told us to just sit tight and he will tell us when we would have to get off. So we rode and rode and just kept riding until there were no passengers left and the bus stopped. The bus driver opened his little door to get out of the bus and saw us, he was shocked and said, "Oh my god, I forgot all about you" So we sat and chatted with him for about 20 minutes and then he drove us to our stop. It was after 1am by the time we got home, but spending time with Addi and hearing about his home (Nigeria) was very cool.
<![if !vml]>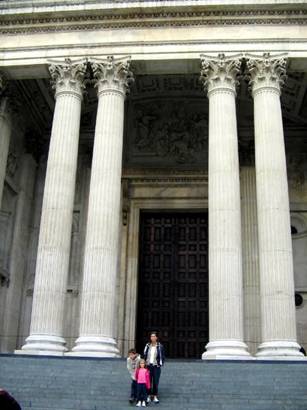 <![endif]>
St Paul's Cathedral