IRELAND
†††††††††††††††††††††††††††††††††††††††††††††††††††††††††††††††††††††††††††† <![if !vml]>

<![endif]>
Belfast, Dublin, Killarney, Dingle bay, Inch bay, Blarney and Waterford
Belfast
<![if !vml]>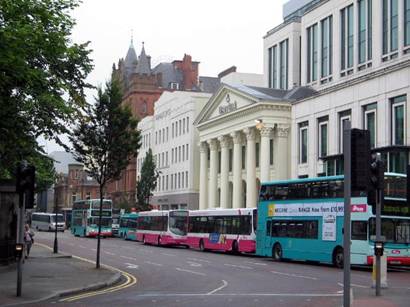 <![endif]>
We pulled into Ireland via the ferry from southern Scotland, and we did not get a great family feel right away. We spent a day taking a few pictures and walking around, but left the city the next day. Of course it rained the whole time we were here, so it was a tad depressing, never mind listening to the news. The local news kept running stories about some really ugly incidents that happened the day before we arrived. The news also said that Northern Ireland had the highest stabbing, assault and rape rate of any European Country, and that was kind of shocking.
One of my very best friends is from Belfast and on occasion he has told me about life as a young boy in Belfast. I have only driven through parts of the city, but I just kept thinking about how crumby it is for young kids to have grown up in that type of environment. †I know that when you get away from Belfast into the country and along the coast, this place is beautiful. Unfortunately we only have 5 days on this island and have made the decision to head south.
I am not going to write anymore because I donít think it would be fair after being here only a short time. I will however give you a few facts about the place if you are interested.
1171 †England first invades Ireland under English king Henry II.
1607 †Beginning of the Ulster Plantation under English king James I.
1800 Act of Union is passed, uniting Great Britain and Ireland as the United Kingdom of Great Britain and Ireland.
1845-1850 Irish Famine causes Irish population to decrease by 2 million due to death and emigration.
1912 Irish Revolution against British rule begins.
1914 The Irish Home Rule Bill, which grants an independent parliament to Ireland, passes, though enactment is delayed until 1920.
1916 Easter Rebellion in Dublin, in which Irish nationalist forces take control of the city before being forced to surrender by British troops (April 24-April 29).
1919-1921 Irish War of Independence between Irish nationalists and British forces.
1920 Government of Ireland Act establishes six of the nine counties of Ulster as the province of Northern Ireland and grants independent parliaments to both Ireland and Northern Ireland.
1921 Anglo-Irish Treaty is signed, which ends the Irish War of Independence and grants limited freedom to Ireland (December 6).
1922 The Irish Free State is established, ending the Irish Revolution (December 6).
1922-1923 Irish Civil War between the Free State government and Irish nationalists opposed to the Anglo-Irish Treaty.
1937 Eire (formerly Irish Free State) becomes an independent member of the British Commonwealth.
1949 The Republic of Ireland becomes an independent state, separate from the British Commonwealth.
1969-1972 Terrorist activity increases in Northern Ireland.
1971 Internment (imprisonment without trial) is introduced in Northern Ireland to combat terrorism.
1972 "Bloody Sunday" - British troops shoot and kill 13 unarmed protesters in Londonderry (Derry), Northern Ireland (January 30).
1972 "Bloody Friday" - IRA detonates a number of bombs in Belfast, killing nine civilians (July 21).
1972 The parliament of Northern Ireland is suspended and the British impose direct rule over the province.
1976 Two women from Belfast, Mairead Corrigan and Betty Williams, receive the Nobel Peace Prize for their work to reconcile religious communities in Northern Ireland.
1980-1981 IRA prisoners stage hunger strikes; ten die.
1993 Downing Street Declaration, which establishes a framework for peace negotiations, is issued by British and Irish prime ministers
1994 IRA calls unconditional cease-fire (August 31).
1996 IRA ends cease-fire by bombing London's Docklands district, injuring over 100 (February 9).
1996 Peace negotiations begin in Belfast (June 10). Sinn Fein (the political arm of the IRA) is barred from the negotiations, resulting in limited progress.
1997 IRA renews cease-fire (July 20); Sinn Fein joins peace negotiations (September 15).
1998 Historic Northern Ireland peace agreement reached (April 10). Accord is ratified by large majorities in both Northern Ireland and the Republic of Ireland (May 22).
As of right now the IRA has agreed to the peace plan and Mr. Gerry Adams is now a Member of Parliament.
Aside from Nelson Mandela and Jimmy Carter, I have never been fond of any political leader. Listening to the people of Dublin talk about Bill Clinton, you think this country might make him a saint. I did not know that Mr. Clinton had been so instrumental in helping the folks of Ireland find peace, but the people from the south say he was.
Having said that, if you ask the people from the North of Ireland what they think about Clinton. You will be will told that Mr. Clinton only visited Catholic areas of the North. They will also tell you that Gerry Adams is a criminal and worked his way up in Sinn Fein by being involved in the hands on part of the IRA.
Confused? Me too! I really donít know what to think so I asked our friend Ray, who just happens to be a Catholic priest. Ray told us the only reason Mr. Clinton became involved was to get the Catholic Vote in the U.S. Ah, now that kind of answers a few questions, doesnít it?
I guessed I must of watch to much CNN because I thought things in Ireland were very peaceful these days, I guess I was wrong.
I can say one thing that is consistent through the North and the South of Ireland; these folks are the nicest people you will ever meet!
Dublin
I canít write too much because my spell, grammar checker has gone to bed and I am going to load this on the web without her approval, so I donít want to get in too much trouble.
Dublin is one of the coolest cities I have ever been to; big, busy and full of colour. These folks are super friendly and the city itself is very beautiful and laid back. It has to be the only city in the world that has a Pub on every corner.
I am writing to you from another cool little town on the other side of the country called Killarney. This little town is a little too touristy for my taste, but also very nice.
I have to stop writing now, because I think the spell checker is waking up.
<![if !vml]>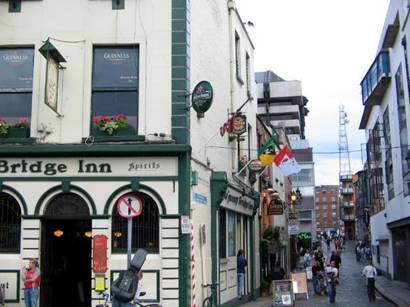 <![endif]>
Dublin
<![if !vml]>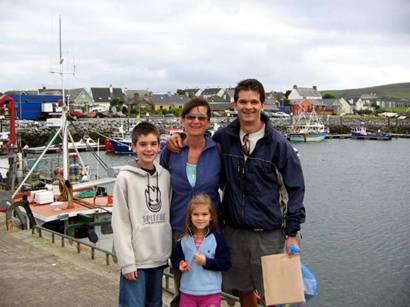 <![endif]>
Dingle bay
O.K. I am back and have a few more things to say about this wonderful country. We are still in Killarney but took a little road trip today to a small fishing village on the south coast of Ireland called Dingle. This little town is packed with tourists, pubs and cafťís. I canít believe how many tourists there are in the south. Anyways we had lunch (in a pub), bought some fruit and walked around the town and then headed back to Killarney. The road you take to get to Dingle is another dangerous winding road high above the ocean. Letís just say there is not a lot of room to move over when a semi truck is coming towards you.
You drive by a place called Inch Bay, and it is one of the nicest beaches you will ever see. The only problem is that you will freeze your butt off even in the middle of August.
We leave Killarney tomorrow for a town called Cork and home of the Blarney stone; we better kiss that thing before we move on.
Until then, talk to you in a wee bit.
We left our hotel in Killarney after breakfast and decided to head straight to Cork and Blarney instead of taking the famous Ring of Kerry.† This ring road takes you around the County Kerry and is supposed to be beautiful but because we already went on a drive the day before we decided to forgo it. The road to Cork is scenic as it is.† You drive through the spectacular countryside of Ireland with the patchwork of greens all the way up the hills on either side.† On these hills are hundreds of little white dots as well.† The dots, when you get closer, are the cutest little lambs and sheep.† They are all in various degrees of nakedness as some have their wool sheered off and some look naked.† They are so cute and they are everywhere!†
We finally made it to Blarney and headed straight to the Blarney Castle.† It is a very commercial and touristy place but the setting and the castle itself are actually beautiful.† You have to walk up many, many spiral stairs that get more and more narrow the higher you get.† Finally you reach the top of the castle and I was expecting a huge line-up but there were only a few people waiting.† I think the stairs scare a lot of people away and the actual maneuver you have to do to actually kiss the stone is quite strenuous.† There is a man sitting on the ground beside a small mat and you have to lie on your back and arch your back and slide down toward a gap in the wall that has a few bars placed across it in case you slip.† It certainly would be a long way down!† So itís like you are doing a back bend and you hold on to two bars while this man holds onto you and you kiss this slab of stone that is now very smooth because of the millions of mouths that have been placed upon it.† I was surprised that my germ-a-phobic husband actually kissed it but he did!† Nikolas went next and then I did it.† Danika chickened out the first time but just before we headed down the stairs she changed her mind, with a little bribery from her father, and did it too!† It was all a lot of fun and we were very glad we did it.† We were trying to remember what it gives you, is it good luck or is it the gift of the gab?† We have to figure that one out.
†Anyway, from there we headed through Cork which is quite a large city and on to Waterford.† We just checked in to The Granville Hotel and are getting ready to check this place out.† They have a huge warehouse and retail store that makes and sells the world renowned Waterford Crystal.† Hmmm.† Could I hide a chandelier inside my luggage?????
.<![if !vml]>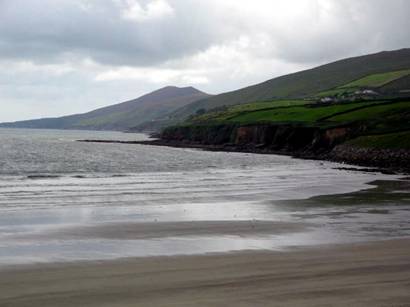 <![endif]>
Inch Bay
Waterford Crystal
(Written by Steve, Aug 15)
So we pulled into a place called Waterford and tried to find a hotel. At first glance this place looked like kind of a hick town. We decided to come to this town because the tours come here and that is the way we have been traveling the U.K., Scotland, Ireland and Wales. What we do is, we go into a bus tour company and ask for a brochure, and then drive the exact same route and stop at the same cities. So here we are. As we pull into the downtown area we notice a big warehouse that says: Waterford Crystal. I had just said to Helen that I could not understand why the tour buses come here, and almost at that moment she replied, ď for the Crystal.Ē I have never heard of Waterford Crystal, but Helen assured me it was some of the most expensive Crystal in the World. So I said what any guy would, ďWooop Dee Do, and immediately thought of what a waste of money the fine china we have in our hutch was and we have never used. We got all these expensive dishes for our wedding from about 10 ladies who all pitched in and spent a couple of thousand bucks on it. I thought it was such a waste of money, we could have used it for Hockey tickets. I know, but that is just the way us guyís think and I am terrified to eat off the stuff. The funny thing is my wife sayís it will be for special occasions, like when my boss comes over for dinner. I am Firefighter, so itís not like I am going to have my Chief over for dinner!
O.K. where am I going with all this you ask?
Well here we are in the crystal capital of the world, and I really donít feel like wasting our day visiting a warehouse where they make over priced glass.
Yes of course we did end up going, mostly because this town does not have a lot of options for us Holiday makers. We went in and right away I was taken back by all the Crystal. You name it, glasses, Plates, Vases, Chandeliers, and this company also makes all the Sports Trophies for the Super Bowl, PGA, and Wimbledon. I mean they had the Trophies completed for this yearís events sitting in a special show area, it was really cool.† The tour lady told us that they actually make three copies of the trophies; one for the winning player to have, one for the company to keep (Waterford) and one extra in case anything happens to the other two.†† They then took us on a tour through the warehouse and we got to see them blowing, cutting and engraving the Crystal. I donít want to sound like a sissy boy or anything, but it was unreal to see all this. They took the liquid lumps of Crystal and made these beautiful works of art, and they did it all by hand. They do everything in this place by hand, and some works take over 4 months to complete. They also told us that after it is finished, it goes to the quality control area and 25% of the works are destroyed. I am not buying this part, Iím sure they sell them off to some Chinese distribution company, but they do claim to not have one flawed creation out there.
<![if !vml]>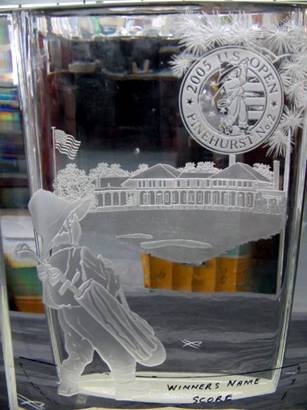 <![endif]>
U.S. Open trophy awaiting a winner
We walked through the whole warehouse and saw it all happen and I can tell you I have a whole new respect for this overpriced glass. So much so we bought a vase and 6 wine glasses, and are having them shipped home. I know, but I will cherish every drop of wine that I drink out of that glass now that I know how long it took to make. Well, not really, I just got caught up in the moment and needed to buy something, but that sounded good didnít it?
If you every come to Waterford, make sure you drag your butt into Waterford Crystal, you wonít be disappointed!†
<![if !vml]>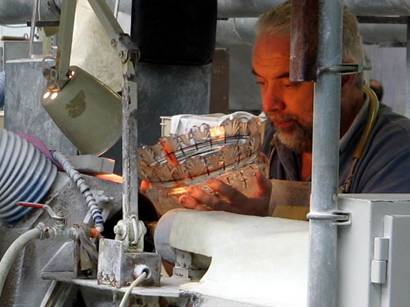 <![endif]>
You can see the marked lines the Cutter uses as a guideline but he creates the design by memory!
<![if !vml]>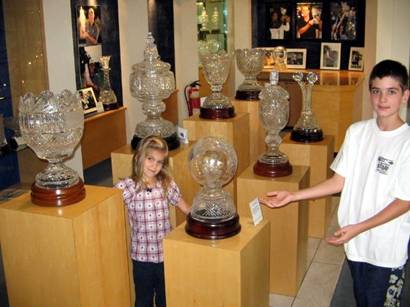 <![endif]>
Just a few of the many Sport trophies Waterford makes
<![if !vml]>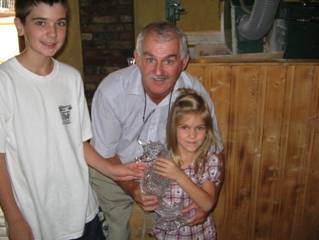 <![endif]>
Gerry (Master engraver) has worked here for 37 years and asked if he could take a picture with Danika holding his prize Crystal horse. Notice the grip Gerry has on that thing.
Did you know it takeís 25 years before you can become a master engraver?† It takes over 10 years to become just a run of the mill engraver.
<![if !vml]>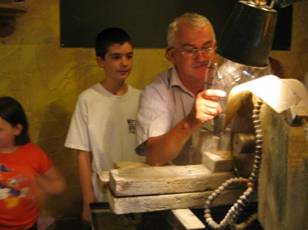 <![endif]>
Gerry showing Nikolas how easy engraving is
It was a really nice (and really expensive way) to finish Ireland, but I am so glad we saw this.