SOUTH AFRICA
Kruger National Park
Last days in South Africa
(Written by Steve; Kruger, Sept. 8, 05)
Well, I can only tell you that South Africa is one of the most wonderful places you could ever visit. I am writing this from Berg-en-Dal Rest Camp in Kruger National Park, and we have just completed 6 magical days in 4 different camps. We drove 3780 km in the last 3 weeks and that might have been a bit much, but if you come here, Kruger is a must. The camps we stayed in have been fine, Skukuza Rest Camp is exceptional. The others are about the same as a 2 star hotel and have no mosquito nets. The malaria is quite active in Kruger and we brought Malarone but decided not to take it. All the huts have mosquito screens, but some have holes big enough to stick your thumb through. This is our last day in the park before we head to Johannesburg so hopefullly we make it one more day without getting bit. That is the only down side of Kruger, but the upsides are huge, let me tell you. The other day we drove up on a Lion sitting a hundred feet from our car. Then we noticed another Lion running right beside our car, and then we looked up and there were 5 lions and 3 cubs blocking the road. I can only tell you that when you see a lion in the wild (and a really big one) and you have your family in the car, you don't know if you should drive away in fear or stay. We decided to stay and the show was spectacular, and very surreal.
The lions played around right in the middle of the road and cars backed up in both directions, I guess this what you would call a Kruger traffic jam.
 We got through the lion road block and had only been driving for about ten minutes when we spotted a Cheetah sitting right on the side of the road. Then 3 massive giraffes came out of the trees and stared at us, we had to stop while they looked down at us. Not much further down the road we stopped to watch about 200 Zebra munch on the long grass, we rolled our windows down and we could hear every sound. That was 3 days ago, and now we have fallen in love with this place, it is very magical and only the pictures will help you understand. I hope when you look at the pictures, it will convince you to come to Africa and see the super natural animals with your own eyes.
If you come to South Africa try your best to go see Cape Town, it is so beautiful, like no city I have ever seen.
Yes, everyone will tell you how dangerous it is, and most of that is true. When you travel here you must follow the rules and just always be prepared, like I said before it is a totally different way of life here. We came to South Africa with our 2 kids (aged 5 and 10) and I was very aware of the dangers, but I would bring us all back here in a heart beat.
<![if !vml]>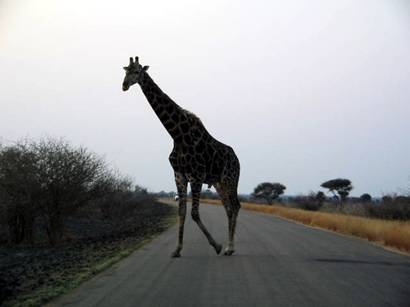 <![endif]>
 The main thing is never travel at night, and if you must then don't stop at stop signs or red lights, slowly drive through them. The big thing is; try to stay out of the city centres. Johannesburg, Cape Town, and Durban are all big cities, and if you don't have to go into those cities at night it is best to stay out. You see, there is a lot of poverty here, many informal towns are built right on the edge of the bigger cities and the folks that live in those towns are really struggling. That was the toughest thing for me, seeing all those folks living in tin, plywood shacks. I could not understand how the government would allow people to live like that and then we drove across the country and I now understand. These informal towns are everywhere and house thousands of people, including many children, it is so sad. The more we drove the more we saw and I now understand that the Government has too many people to help. The ANC and Mandela must have promised the world when it ran against De Klerk in the first ever elections where black South Africans were allowed to vote. Then the ANC took over and started to make good on their promises, but you can clearly see there is a big problem. So many people, so few houses and jobs; how in the world could you ever turn the tide. Yes, there is affirmative action and slowly change is taking place, but the number of people to help is enormous and I personally don't see how things can change much from here. So when you hear how dangerous it is here, you must understand that you have people living up in the hills in a plywood box with a dirt floor and no job. They have nothing to lose if they decide to go into the city and rip someone off and it is just one of the ways South Africa is evolving. The crime here is very violent and increasing more and more each year, and is due to the number of folks living in poverty.
I am not slamming this country, I really love it! I am just trying to give you an idea of what the problems here are and why some might tell you how dangerous it is.
The people of South Africa are wonderful and will go out of their way to help you if they can. We have met so many nice people traveling across the country that we will be sad to leave. The roads and highways are not the best, but we drove coast to coast and from the southern to the Northern tip with little problems.
<![if !vml]>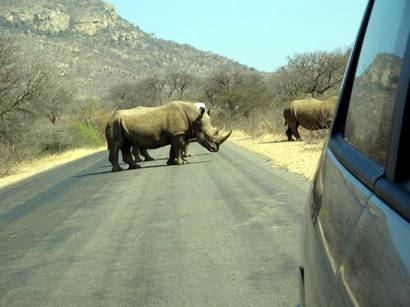 <![endif]>
(PS, Johannesburg Sept. 9, 05)
We drove out of Berg-En-Dal and were close to the Malelane Gate when 3 massive Rhinos crossed the road right by our car. Our hearts were pounding as these things could have charged us at any second.  Nikolas was yelling for me to drive away, but I stayed just long enough for a few pictures. Wow!
The drive to Johannesburg was anti-climatic, but the "High-jacking hotspot" signs every 50 km were kind of freaky.
All in all we had a great time in South Africa.  It is a place I will dream about coming back to for the rest of my life.
* Update – A Southern town (George) that we stopped in on our way down from Aquila has been quarantined. It appears the town has come   down with a case of Typhoid Fever and they are trying to stop the spread of it. I contacted my Doctor back in Canada and he told me I must of caught a water born bacteria and that is why I was so ill in Addo. Thankfully the rest of my family did not get it, as I have never been that sick in my life. I lost over 15 pounds in the last few days and still feel very weak, but getting stronger and am starting to get my appetite back.
(Written by Helen, Kruger Sept 7 2005)
This country has it all.  The beaches, the mountains, the wildlife, it is all so spectacular.  The only problem, and it's a huge one, is the crime.  I really don't want to dwell on it too much but it really is a huge shame that safety is such an issue.  I know it's because we are not accustomed to living like this but I really don't think that I could ever get use to it.  There are bars on just about every window.  There are LOTS of houses that have very tall fences around their property AND on top of these fences are either barbed wire, electrical wires or razors sticking up.  It really takes away from that homey feeling.  When we went for dinner in a suburb of Cape Town we were shocked to find the door of the restaurant locked.  When the owner saw who was at the door, he unlocked it and let us in.  Very bizarre.   By no means am I in the position to accurately describe what is happening here but personally I can feel a heavy tension between the different races.  Some of the shanty towns are horrendous looking and you really have to wonder if there is a solution for all this poverty.   There has to be.
So, after saying all that, we drove from Cape Town all the way to Kruger National Park.  Surprise, surprise, I was very nervous about the whole idea of driving through South Africa because I had heard from many people that it was extremely dangerous.  I have lost count of the number of times I have heard the story of the family driving along and getting car jacked and the dad getting shot in front of everyone.  That was constantly on my mind as we drove through town after town.  We were certainly the minority and it was very interesting to be stared at like we were animals in a zoo.  Every time we drove through a town a lot of the folks would stare at us as we drove by.  Once, Steve took a wrong turn and we drove into a settlement that we most certainly should not have been in.  Even the little kids were laughing at us as we hurriedly turned the car around and got out of there damn quick. 
The roads were also a bit of a problem.  Some even turned into dirt roads for a few kilometers.  The major highway is usually a one way road with many potholes but the scenery of the countryside is really a treat.  Because of our anxiety over safety we questioned whether it would have been better to travel by train to Kruger but in hindsight (now that we make it alive) we are very happy we did it.  They were some long drives though!
From Tsitsikamma we drove for over 9 hours heading north towards Golden Gate Highland National Park.  During those long hours our kids were incredible.  They no longer whine or complain about the trip, they just settle in and keep themselves amused.  We listen to the same CD's over and over.  The poor kids know every 60's and 70's song ever recorded because we have a 5 CD set that we play all the time.  The cool thing is that they like the songs and in return we really like Nik's choice of music as well.  We listen to his Grammy Nominations 2004 CD and his Green Day CD.  There are certain songs that will undoubtedly remind us of our car travels and we will always smile, I'm sure, when we hear them in the future.  The kids play with their GameBoys' for a few hours.  Sometimes they watch a movie on the laptop, sometimes we just sing; sometimes we throw math multiplication questions at Nik.  Danika has actually absorbed through osmosis and knows some of her multiplication as well.  Just a few though.  Sometimes the kids fight, sometimes we yell and threaten to pull over, sometimes we laugh hysterically when someone says something funny.  Sometimes I want to jump out of the car and run as fast as I can to some peace and quiet.  (Those are very rare occasions, I assure you).  
Our car has become a little rancid as well.  It's been a while since we've hit a laundry mat and our clothes are simmering in the back seat of the car in the sweltering sunshine.  Also, just outside of the first gate into Kruger, we bought a bunch of African art and a couple of the masks smell really bad.  We think they have the same substance that they put on railway ties.  I don't know the name of it but it makes the wood black and it smells similar to kerosene.  It has permeated the upholstery of the car and I feel sorry for the poor souls who rent the car after we're through with it.  Never mind Nikolas's interesting smelling socks.  (I told him I wouldn't embarrass him so I wrote "interesting").  So to summarize, there are days when it feels like we are filming an episode of the movie "National Lampoon's Vacation" and then there are days when I have to pinch myself to realize that I am actually on safari in South Africa!
When we reached Golden Gate Park we were very pleasantly surprised.  It's really hard for me to describe landscape because I don't have enough adjectives in my vocabulary to give them credit.  The area reminded us so much of Arizona and the Grand Canyon.  I'm going to quote from their brochure because it really does a great job at describing what it's like.  "Nestled in the rolling foothills of the Maluti Mountains of the north-eastern Free State lies the Golden Gate Highlands National Park.  This is true highland habitat, home to a variety of mammals…….and birds……which breed on the ledges in the sandstone cliffs.  Generaalskop, the highest point in the park, reveals a breathtaking tapestry of red, yellow and purple hues as its warm shades merge with the cool mountain shadows towards evening.  The park derives its name from the brilliant shades of gold cast by the sun on the park's sandstone cliffs, especially the imposing Brandwag rock, keeping vigil over the main restcamp."   This towering rock is lit up at night and is so impressive to see.  We got in quite late and just dropped our stuff off in our cabin and headed to a nearby hotel where we had a delicious buffet dinner. 
<![if !vml]>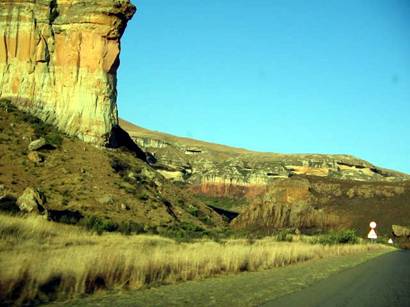 <![endif]>
Our cabin was very cute.  It was quite large with a kitchen and a double bed and bathroom on the main floor.  Up a metal ladder brought you to the loft which held two single beds, perfect for the kids.  Because we were up in the mountains it got very cold at night and there was a heater in the cabin and we turned it on.  Well, there must have been something terribly wrong with it because the smell was truly unbearable.  The only problem was that if we turned it off, we would have froze to death, so it had to stay on.  I had the worst sleep ever.  I kept waking up with a feeling like I was being choked to death but then I would realize that it was the smell!   The worst part was that all our beds had electric blankets under all the sheets and Steve was the only one who realized this and he had a great sleep!  I was very happy to check-out the next morning even if it was at 7am. 
We drove for another 9 hours and finally made it to Kruger National Park.  The park was established in 1898 and stretches for 350km from south to north along the Mozambiquan border.  We entered the park at the Paul Kruger Gate.  There are at least 8 different gates located at different locations around the periphery of the park.  Each gate has a huge hut and you have to check in before 6pm or the gate will be closed until the next day.  So it was imperative that we made it on time or we would have been out of luck for accommodations for the night.
<![if !vml]>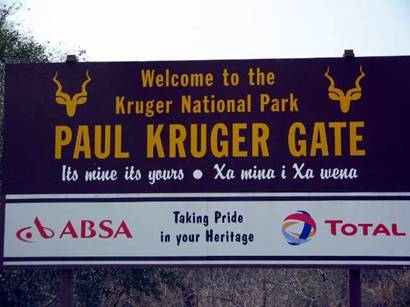 <![endif]>
Our first camp that we were staying at was called Skukuza and once you pass through the main gate into the park you are driving your car as a safari.  The speed limit is 50km/h on the paved roads within the park and 40 on the gravel roads.  The roads leading from camp to camp are all paved and with the slow speeds it takes you hours to get from one camp to the other.  When you get to your camp you drive through another gate and the camp itself is fenced off from the rest of the park with electrical fencing.  Once you get inside the camp it is safe to walk around.  You head to the reception area and you check-in and they give you your key and directions to your cabin.  The camps have a variety of accommodations:  tent and camper sites, cabins and guest houses.   They are all very basic and most have thatched roofs and a 'camping"-like atmosphere.  They all have a basic BBQ pit out front and some have kitchens outside as well.  In Kruger they all have air-conditioning because it is really warm here.  It's their winter but during the day it has been over 35 degrees outside.  I can't imagine how hot it must get in the summer.  The cabins have been rustic and fun but I'm disappointed in myself because I am missing the luxuries of a hotel.  After a while I get tired of being dusty and dirty all the time.  And the insect repellent is sticky and not that great smelling.
That leads me to a very funny story.  If you can picture in your mind, our family, terrified of getting malaria, preparing to exit the cabin our first night in Kruger.  So far, all the camps before Kruger have been malaria-free so we haven't had to worry about protection.  After talking to numerous people we decided against taking the malaria pills.  We were even told that the GP that works as the only doctor in the whole park (along with his brother) told friends of ours that it's not necessary at this time of the year.  Everyone that we have talked to have told us to just be careful and use lots of repellent and keep covered and don't stay out when the sun goes down.  So it's our first night in Kruger and the process begins.
 First we started with the "Off Skintastic" with Deet that I brought from home.  I made the mistake of letting Steve put the lotion on Nikolas and he didn't realize that it was 'fun' disappearing purple lotion especially for kids.  The trick that Steve failed to figure out was that you had to rub it in until the purple colour faded away.  Unfortunately I didn't get a good look at Nik until we had sat down for supper at the fancy restaurant when I gasped because he looked like he had been beaten by a baseball bat.  His face had huge purple "bruises" all over it and I quickly rushed over to him and rubbed the lotion in before the staff called African social services on us.  Thank goodness I had done Danika instead of Steve.
After the "Off" we had our kids put on all of the necessary clothes that they had to wear:  long-sleeved shirts, long cotton pants, socks and runners.  We then took a can of "Peaceful Sleep" which is an insect repellent and had the kids hold their breath and we sprayed them from top to bottom.  Then we took the bottle of citronella oil that a nice lady had given us and we dabbed the oil on all the exposed areas of skin that we could find.  We did this to ourselves as well and I'm not exaggerating when I say that when we opened the door to our cabin, a huge plume of insect repellent wafted from our door as we stepped out into the night.  We must have looked like a bunch of complete idiots because as soon as we stepped outside it was like the occupants of the ten cabins surrounding us stopped what they were doing and just stared at us.  Let me remind you that it is still very hot outside even though the sun had just gone down.  Everyone, and I mean EVERYONE was outside in their shorts and tank tops and flip flops having a BBQ outside.  We were dressed like we were on our way to a ski hill.  I even had my fleece jacket zipped up to my chin.  How embarrassing!  But we trudged to the car and drove to the camp restaurant with Danika exclaiming, "I'm hot!" all the way there.  Crazy Canadians!  Even as I sit here in our cabin and write this, any tickle or flying fluff I feel or see makes we jump.  It's amazing that such a tiny little insect could cause such stress.  Never mind, it's amazing that such a tiny little insect could cause such a terrible disease.  I pray that we will be fine.
I'm almost done and I haven't written a word about the animals that we have seen.  The reason for this is that I truly believe that a picture says a thousand words and we have thousands of pictures of the animals we have seen and I highly recommend you take a look at them instead of me writing about them.  All I can say is that the thrill of seeing these amazing creatures before your very eyes is an experience that you must experience if just once in your life. When we come across an animal we all stop talking immediately and you can hear each of us gasp as we come within a few feet of elephants, giraffe, zebras and lions.  As they walk across the road right in front of your car you get a true sense of their beauty, size and strength.  It is a magnificent sensation and it makes you feel both fear and excitement.  I will never forget what we saw on this trip and am so glad we decided to come to South Africa after all. 
<![if !vml]>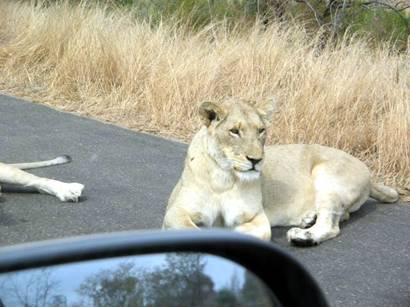 <![endif]>
From Skukuza we drove the next morning to Satara Restcamp and like I said, on the way, we saw a ton of animals.  Satara was a little farther north and we were told that the mosquitoes were a little worse the farther north you go so we were extra vigilant.  Our cabin was a little smaller than the one in Skukuza but we managed just fine. 
From Satara we headed south again and made our way to Lower Sabie Restcamp.  This one was our favourite because the restaurant and bar looked out over a river and from the terrace you could watch the hippos and the crocs frolic in the water while you ate.  It was quite a sight.  We had to change cabins here because Steve found two mosquitoes in one of the bedrooms of a guesthouse that they had for us.  Some of the screens on the windows had holes in them so Steve said we wanted another cabin.  We ended up getting two that were joined and me and Dani had one side and Nik and Steve had the other.  It turned out just fine and the next morning we headed to the camp we are at now.  On our way we drove through a camp called Crocodile Bridge but we didn't see any crocs.  We actually drove out of Kruger to find a bank machine in a town nearby because the ones in the park weren't working for a few days.  We drove to a town right on the Mozambique border and then headed to another gate farther west.  We are now in a camp called Berg-en-Dal and are here for two nights instead of one.  The cabin we are in is very cool.  It is made of brick and it has a thatched roof and a cute little kitchen.  It's a nice size for us and we are starting to organize our stuff for the flight to Australia on Sunday.  Yikes!  We have another full day in Kruger tomorrow and we are going to take full advantage!  In some ways I am happy we are going because it is getting a little annoying with all the malaria worry but in some ways I am very sad.  It has been a fantastic experience here in Kruger and I will never ever forget this place or what I've seen.     
. 
Kruger National Park (Written by Steve Aug 4, 05) received August 4
Yehaa, we made it!
I am sending this to you from our little thatched roof in Kruger National park. We just pulled off almost 1600kms and 19 hours in the car, it was a rough trip. The kids were absolutely awesome, and there is no way we go do these long drives with out their cooperation. Make no mistake about it, they drive us crazy a hundred different ways, but in the car they are usually fantastic.
So here we are in Kruger in Skukuza rest camp, with all the ververt monkeys. Driving through the park towards our camp Danika screams "a giraffe", so we had to back up and sure enough there was a big long neck spotted thing staring us down, very cool.
Our drive over the last week has taken us from Cape Town, Hermanus, Aquila, Montagu, Mossel Bay, George, Wilderness, Nysna, Tsitsikamma, Port Elizabeth, and then to Addo Nation park for 2 day of R&R. We then headed to Grahamstown, Kings Williams Town, Queenstown, Rouxville and then into Golden Gate for a few hours sleep and then straight up to Kruger. We did it with out any problems, even though it took us longer than we thought. There was a bit of interesting stuff going on in King Williams Town as we drove in. A military truck was stopped out side the city limits with dozens of army personnel holding machine guns. As we drove into town we noticed a couple of police cars sitting on the entrance to the town. When we drove through Helen noticed the police right in the city square with machine guns and then when we drove out of town there was a road block. There several police cars and some federal guys stopping all the cars looking for something or someone, but they let us go through without any questions.
This may just a normal day in this town, but that was the only exciting thing we noticed.
Golden gate was just like the Grand canyon, really nice, except for all the baboons. This country has so many monkeys running around it is a real pain in the butt.
So anyways, all is well we are in Kruger and going to stay for 5 days before we head to Johannesburg. We will be staying in Skuskuza, Satara, Lower Sabie (Mozambique border) and Berg-en-Dal.
We will tell you how it all went when we get to Johannesburg.
Addo Elephant National Park -  received August 2
(written by Helen)
We reluctantly left the beautiful game reserve, Aquila and headed Southeast toward the coast again.  We were on our way to Tsitsikamma National Park where we were to spend two nights.  Some people told us it was about a three hour drive but it ended up being a 6 hour drive.  To make matters worse it just started to pour and it was getting very dark and the roads have little to no lighting on them.  We finally made it to the park and picked up our key at the gate.  It was quite a storm and we had to run down three flights of outside steps to get to our room.  Unfortunately the minute we walked into the room a very strong odour greeted us and the first impression was not a good one.  Maybe we were spoiled from being in the fabulous Aquila but the place was quite disgusting.  The smell is really hard to explain.  It was a very dirty, musty smell and I finally figured out where it was coming from.  The room had a huge sliding glass door that looked out over the ocean. The curtains covering this huge window were the source of the smell and obviously they had not been cleaned in a long time.  When I pulled them back I noticed the massive blotches of black mold growing on the window side.  Yuck!!!  The bathroom also had a very "urinal" smell to it and to make a long story short we decided to leave for Addo the next morning.  It was a good idea.
We were told that Addo is a must-see if you love elephants.  Well, it certainly is and wow, do you see elephants!  We pulled up to our forest cottage around 1pm and it was a very pleasant surprise.  It is a cute little log cabin that has four single beds in each corner of the room.  A little picnic table against one wall and a few shelves on the other wall holding dishes, glasses and utensils.  There is a tiny, very clean bathroom at the back with a shower, sink and toilet.  The atmosphere is very rustic and we loved it right away.  No smell either!!!
We decided to go on a game drive with a ranger at 3pm because we were not quite comfortable enough to drive our own car in the game area yet.  We had a very nice gentleman take us on our tour and he vaguely stated that he wasn't sure if we were going to see many elephants today.  I think he was pulling our leg because five minutes into the drive after leaving the gate we came across an elephant eating in the bushes.  When I saw it I actually gasped because he was literally ten feet away from us.  His bum was sticking out of the bushes and we couldn't really see his head so he drove a little further and there to our great surprise were at least 40 elephants huddled around a watering hole.  It was truly the single most amazing thing I have ever seen.  I know that I have said that before but this time I really mean it.  There were elephants everywhere, in all sizes.  Mamma's and babies and the big papa's with their massive tusks.  Some were walking, almost like in slow motion and others were drinking from the hole and still others were eating from the bushes or frolicking with each other.  It was unreal.  Again, much to my surprise, the ranger switched off the engine and we just sat there watching.  There were other cars around us too.  In this game reserve you are allowed to drive your own car around yourself.  They just ask you never to leave your car or lean too far out the window.  Yeah, right!
We sat there and watched these massive mammals and soon some of them started walking toward us.  I just assumed our ranger would start his engine and slowly drive away but noooooo, we sat there and these huge creatures walked right past us almost rubbing up against our truck.  I was holding my breath and as they passed I could smell them and see their skin.  I was leaning inside praying that they wouldn't see me and Danika, who was right beside me thought that they were just the greatest!  As they passed our truck, another car drove up and stopped right in their path.  I swear I thought that the elephants were going to stomp right over them.  The idiots in the car then started to lean out their windows and take pictures.  Even our ranger mumbled something about their stupidity.  One of the elephants actually stopped and started to circle the car and was staring very intently at the inside of the car.  It just stood their and watched the people inside.  After a few minutes it finally walked away and I was able to breath again.  It was actually amazing to watch them as they passed by us.  The female elephants would herd the baby elephants towards the inside of the group before they made their way through the truck and cars.  You could tell that they were keeping them safe.  Moms are so great!
Anything after that was just gravy.  We drove for about 2 hours and saw lots of warthogs, tortoises, kudu and a few buffalo.  On our way back we turned a corner and there was this humungous male elephant walking towards us on the road.  Our ranger turned the truck to the side of the road and once again turned the engine off.  We sat there and he slowly passed us by.  Because we were sitting in an elevated Land Cruiser made especially for safaris we were at eye level with this elephant.  As he walked by I actually looked him right in the eye and he had the most beautiful eyelashes I have ever seen.  Really, if I had just stuck my hand out half way I would have been able to touch him, that is how close he came.  I actually whispered under my breath, "Holy smoke!"  but rest assured I used another work than smoke!
Addo has been an amazing experience and our kids just love it here.  Today we were brave enough to take our own car into the reserve and were able to sit and watch the elephants again.  This time however, we did not get as close.  Anytime one would walk towards us we would roll up our windows quickly and tell Steve/Dad to gun it out of there!  It was a lot of fun.  The reserve also has a very nice restaurant and we had three great meals as well.
We have one major problem. Steve has become very ill and has a very high fever along with some very violent diarrhea. The last two mornings he has been shivering in his bed and the sheets are soaked with sweat in the morning. We are not sure what it is, but we are not in a Malaria area, so we can rule that out at least. Steve wants to continue even though the next two days are the toughest driving we will be doing on this whole trip. He does not want it to stop us, but I will keep you posted!
Tomorrow we have to get up super early and head toward Golden Gate National Park.  In the next 30 hours we have to travel over 1500 km with only one stop.  From Golden Gate we head to Kruger where we will be spending 5 days in four different camps.  It should be exciting but a little scary too.  We are still wondering what to do about the malaria pills.  We have heard from many people here that we don't need to take them because it is wintertime and there aren't that many mosquitoes out but, do we risk it??
I guess we will see.  From Kruger we head to the Johannesburg airport where we fly to Australia.  I'm getting nervous already!!!  BUT, from Australia we are heading home, so that is very exciting!  I think it will all go very fast now.  Only two and a half months left!!!!  Yeah!!!  or  Boo Hoo!   Maybe a little of both.
This message is being sent to via our Palm Pilot.
***********************************************************************
<![if !vml]>

<![endif]> - received September 1, 2005
Steve has limited access to the Internet but was able to send his schedule for the next few days.  It sounds like they're having an incredible experience and assures me that the pictures that will follow on his return to civilization (a high speed internet connection) are incredible. (posted by the webmaster)
Cape Town Aug 20 – 26
Hermanus Aug 27 – 28
Aquila Game Reserve Aug 29 – 30
Tsitsikoma National Park Aug 31
Addo National Park Sept 1 – 2
Golden Gate National Park Sept 3
Kruger Game Reserve Sept. 4 – 9
Johannesburg Sept. 10 – 11
***********************************************************************
- received August 26
Hey Folks,
I am just going to give you the heads up in case you don't here from us or see anything on our little site in the next ten days.  We are going to drive down the coast of South Africa and then head inland through the free state towards Johanesberg. We will be then driving up to Kruger National park and then back to Johanesberg to catch our flight to Oz.
The reason I am sending this email, is we might be out of contact for the next 2 weeks because we will be tenting or in huts in the national parks. We will have no internet for the next 2 weeks so if you won't be able to get a hold of us.
We hope all is well back in Canada and the weather is still warm. I think it was 10 cel today in Cape Town, we froze our butts off today.
Take care,
Steve, Helen, Nikolas and Danika
***********************************************************************
South Africa
(Written by Helen Aug 22, 05)
Well, I made it.  I can tell you that I thought of everything to get out of that plane ride.  ELEVEN HOURS.  Can you imagine!!  The worst part for me is the day or two before and the absolute worst is the hour or two before we take off.  When I am at the airport I am honestly thinking about every conceivable excuse to come up with so that I don't have to enter that airplane.  Right down to hiding in a dark corner of a book store and hoping that no one will notice that I am missing.  I know, I have a problem. 
Steve made sure I had some alcohol before we got on and yes it unfortunately makes a little bit of a difference because it calms me down a bit.  Maybe I will let you in on the wild or should I say crazy mind of a person who is very afraid of flying.  When we are at the gate I look at all the people and wonder if they are doomed or if we are going to make it to our destination just fine.  I watch the staff and wonder if they are trying to hide the fact that something is kind of wrong but they are going to fly anyway.  I know it all sounds so ridiculous.  But it really is very difficult for me to just relax before a flight.  As we walk onto the plane, and this time we actually walked outside to a staircase that led to the airplane, I check out the plane to see if anything is wrong.  Like I could really tell!  But I wonder if that spot there that looks like a dent is a problem or not.  Does that tire look a little flat?  I'm serious, I really do check these things out.  Never mind when I see the pilots.  I don't know if it's just that I'm getting older but some of these pilots look like they are about 20 years old.  Are they experienced enough to fly this big bird? 
We flew on a 747 and I don't know, but how could a thing that big fly in the sky.  It makes no sense.  I bought a book in London that is supposed to help you if you are afraid of flying but it actually made me feel even more nervous.  The reason being is that it talked about some things that I didn't even think about.  Did you know that a plane can stall if it's going too fast or too slow?  I didn't know that.  It talked about all the times planes have had to land without any engines working.  It happens that often???
<![if !vml]>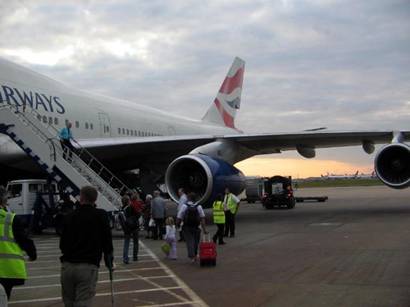 <![endif]>
Walking onto our plane at Heathrow Airport, Yikes!
ANYWAY, we did make it and it really was a fine flight.  It shook here and there but I was unnaturally calm about most of it.  It certainly went way faster than I expected.  I thought that it was going to be complete torture but I was actually able to sleep.  That has never happened to me before.  Maybe I am changing!  The service with British Airways was good even though they were still dealing with their strike with the catering company.  We were given vouchers before we boarded the flight to buy some food because they did not have any food on board.  To our surprise however, we did get some deli boxes with sandwiches and muffins inside.  So in addition to the stuff we bought, we had more than enough food. 
We landed in Cape Town, South Africa at about 7:30am and it was the most amazing feeling to think that we were actually on the African continent.  What had we just flown over?  It was night time during our entire flight and so we were unable to admire the scenery.  When we were ready to head out to our hotel it is with honesty that I must admit that I was little nervous.  Steve calls it the "CNN Factor".  It's that fear factor.  Yet, you have to believe that some of it is true.  We talked to a lot of people on board the QE II and a lot of people who have traveled there in the past and a lot have said that it can be a very dangerous place to visit.  As we drove from the airport to our hotel the weather was awful.  Unfortunately that does make your first impression of a place a little negative no matter what.  As we drove along we also saw something that really caught us off guard.  We saw a few neighbourhoods full of shanty towns, or as one of the brochures described them as:  "informal settlements on the side of the road".  They are cardboard, plywood, tin shacks that are constructed in long lines connected to each other.  The ground is dirt and you can see some of the residence pumping water from a public well.  It was very surprising only because it was something we saw in Mumbai, India and did not expect to see in Cape Town.  Not sure why we were so surprised but we were.  It is mind-boggling to think about what has happened in this country in the last few years.  We have just bought a DVD about Nelson Mandela and are going to watch it tonight.  I'm not sure exactly how to feel here.  I would love to talk to people who have experienced it all and really get a sense of what has truly happened here.  Perhaps we will find out some things before we leave.  So far, the people we have encountered have been extremely friendly.  I must admit though, that as we were walking last night at the waterfront, if someone walked out of a dark corner I jumped for no reason.  Just a little on edge but I'm sure we will start to settle down in the next few days.  At lunch today we met a couple from Houston Texas who told us that they have had there credit card and cell phone stolen and they have been here for ten days.  The gentlemen told us to just be very careful and not to wander too far out of the main city section.  Fortunately we have two or three people that we are getting together with that either live here or visit regularly so it will be great to see them and get some pointers from them. 
Since we are here we are looking into possibilities of getting to Kruger but we will see how it all pans out.  It is supposed to clear up and warm up tomorrow.  Today it is pouring rain and about 10 degrees Celsius.  It's COLD!!!!  Kind of shocking for Africa but it is very south!  Anyways, that's it for now.   We are very excited to see what this amazing country has to offer. 
(Written by Steve Aug 23, 05)
<![if !vml]>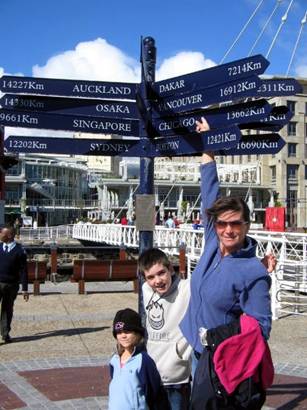 <![endif]>
Welcome to Cape Town
O.K., we have arrived in South Africa. Everyone we have ever met has told us "The nicest place on earth" and "One of the few places I would move to". People we spoke to about this place just raved how nice it was here and how beautiful the city is.
The first two days we were here it rained like crazy and the clouds fogged in the whole city, so we could not see any of it. As we drove from the Airport we saw miles of Shanty towns and 8 foot high fences with barbed wire. We dropped a gent off before we got to our hotel and his complex was surrounded by and 8 foot wall with a 2 foot electric wire fence on the top. We have never seen so many security guards out in the street, nothing like this. One thing that was very noticeable was, there were no police officers around, not one. This is our 2nd day here and I have not seen one police car or any officers, I guess if you need protection you must pay for it privately. Our first night we decide to head out to walk around the city and the security at our hotel told not to because it is not safe. So let me just say that we are a little stunned by this city, and so far it has been nothing like we expected.
Day 3, like I said we have been here for three days and this was the first day that the rain has stopped, so we hopped on a bus around the city. I can only tell you that this place is one of the most beautiful places I have ever been too. The clouds lifted enough so we could see the beaches and the buildings and some of the old city center. O.K. we were a little rattled when we first came, but maybe that was a good thing, we are now on alert and ready to see this wonderful place. We won't travel at night and we won't be too foolish with our possessions, but we will try and hit as many places as we can.
I will get back to when we have seen a bit more, but so far we LOVE Cape Town, and it is just full of the nicest people you could ever meet!
<![if !vml]>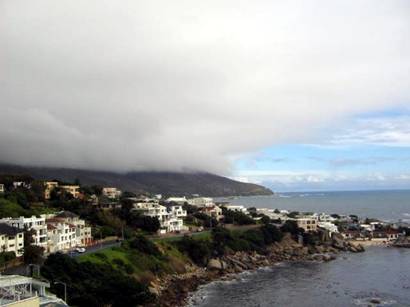 <![endif]>
Is this place nice or what?
On day 4 we went to Robben Island, the prison that kept Nelson Mandela for 18 of his 27 years in Prison.
The pictures in the photo album tell the story:
Click here for more on Robben Island and pictures of Cape Town
We are currently driving through South Africa and lodging in the National Parks.
We will update the webpage as soon as we can get connected.