Cairns
(Written by Steve Oct 10, 05) - received Oct 11
We are in Cairns and we are still trying to get used to the heat and humidity. This place is a tourist hotspot, mostly because it is the best place to head out and see the upper and outer parts of the Great Barrier Reef. We are taking a 2 Ĺ hour boat ride to the outer reef tomorrow to Scuba dive and snorkel, should be fun.
We drove up to Port Douglas yesterday and walked around and overcooked, I donít know how the folks here get used to it. Port Douglas is one of the nicest communities I have ever seen, super tropical. The drive up the coast is fantastic and we stopped along the way checking out different little communities.
<![if !vml]>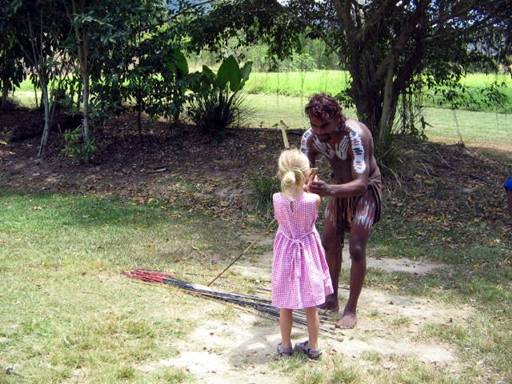 <![endif]>
Today we went to Tjapukai and on a Hartley Crocodile Adventure, both were very cool. Tjapukai was part of Nikolasí school and he was to educate himself on the Aboriginal culture of Australia. He really enjoyed it and we all received lessons on how to throw spears and boomerangs. The main message is the same all over the world, the indigenous folks have gotten the raw deal and are struggling to save their culture and values.
In the next 2 days we are dropping of our rental car and booking an outback bus that takes 3 days to drive into Alice Springs. We will set up there for a few days and then down to Ayers Rock. Well, that is the plan for now, who knows where we will end up, but we are excited about heading into the Outback.
We have really enjoyed Cairns and the surrounding towns, but it is a heck of a long drive if you are just coming up to sightsee. I donít think I would suggest it, but I will tell you more after I dive out at the reef tomorrow.
<![if !vml]>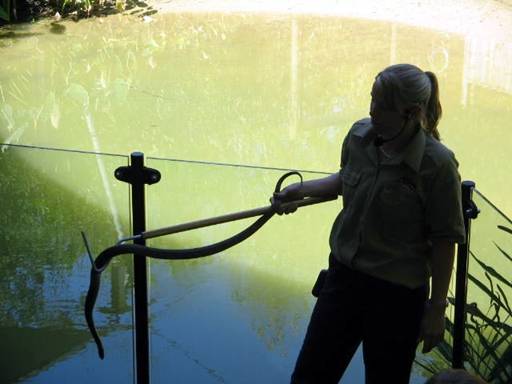 <![endif]>
This is a Taipan, the most deadliest snake in the world
We completed our day today at Hartleys Crocodile farm and wetlands. It is a property that they use to farm the crocs for food and skin. We were starving when we got there so we wolfed down a crocodile burger and we then headed out into the wetlands. The area is full of Crocs and they hang chicken out on a stick and these reptiles come flying out of the water and try and take it.
Take a look at the pictures and you will get some idea of how cool this place is, a must if you are up here. It makes for a bit of a long day, but both Tjapukai and Hartleys Croc farm are totally worth seeing if you can. The kids loved it!