The Australian Outback
(Written by Helen, Oct 17, 05)
The slogan on the bus we were taking into the outback has become my new motto: For those who believe that the journey is as important as the destination!" Now, whenever I feel guilty about my fear of flying I always bring up that saying and it makes me feel better. It's also very true as well.
I wrote the following on the bus over the three day journey…..
We were up at 4:30am to catch the bus from Cairns to Alice Springs. It's hard to complain about getting up early when we've slept in pretty much every morning for the last ten months. It's been raining on the way to Alice Springs so the bus driver, Greg, has advised us that our route may be altered. Oh well, whatever road takes us there!
<![if !vml]>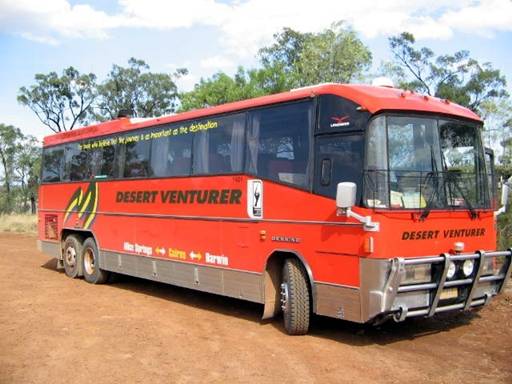 <![endif]>
Sitting in the bus and Steve turns around and has a raised eyebrow look. The music playing is VERY country. Can we handle three days of this? The bus holds 42 passengers but there are only 18 people on this tour. We left Cairns and are headed to Alice Springs. It's called the Reef to Rock tour as Alice Springs is the hub for Ayer's Rock. The first day we are to drive 660km mostly on dirt roads. What is so unique about this tour is that everyday is a different terrain as we drive through Western Queensland. As we drive along, the scenery consists of huge open plains; very flat and dry, almost desert-like in some places. We are headed into Red Kangaroo and Emu country. There are tons of cattle stations and some can be as big as 10,000 square kilometers. It's amazing how many dead kangaroos you see on the side of the road, we also saw one dead cow. Our driver tells us that they lose 2-3 tourists every year in the Outback; usually Europeans because in Europe there is usually a town or city every few kms, but not in the Outback. Sometimes they are found with water bottles full but dehydration from the intense heat kills them faster than they can drink the water. Our driver continually reminds us to drink plenty of water.
The bus stops every two hours for toilet breaks and stretches. He asks that we don't use the toilet in the bus because it has a very small tank and he has nowhere to dump it so it can smell up the whole bus pretty quickly. The roads are 90% dirt roads with lots of potholes so we are bopping and swaying along the whole way. The road is also one lane and the rule is that the biggest vehicle has the right of way. I thought we would be the biggest but they have these trucks called Road Trains and they are semi's that haul 3-6 trailers. They are very long and we get out of the way for them!
<![if !vml]>
<![endif]>
Our first stop is a path that leads to some waterfalls. Danika and I are walking down this very rocky path together and she is eating a popsicle. Just after I tell her to be careful and watch her step I hear a scream and when I turn around her popsicle has gone flying and she is face down on the ground screaming. Other than some major road rash on her knee, hands, hip and belly, she is fine. I think she is more upset about losing her popsicle. It wasn't a good start to the trip but at least she will be more careful with the rest of our walks.
Our next stop is for lunch at a rest stop that has some tables and chairs, toilets and a small store. Our driver takes out two large metal bins filled with food. He puts us to work slicing cukes, tomatoes, and lettuce. We then help ourselves to the sliced cold cuts and bread and make sandwiches. It is so hot and everyone looks for the best shaded area to sit and eat. The flies are really annoying and the worst part is that they don't fly away when you swat at them. We are told that the flies will only get worse the farther west we head. Great!
A few more hours of driving with pit stops here and there for toilet breaks and then we finally reached Hughenden, our final stop of the day. It is a little town in the middle of nowhere and really, we couldn't see that many people around. It was 6:30pm on a Sat. night and we saw maybe a handful of folks driving around. Most were seen heading through the drive-through liquor store where we were staying. We were given the keys to our rooms and as we headed towards them I started to chuckle. They were trailers up on stilts and they actually serve as accommodation for the sheep shearers most of the time. We thought it was hot outside, but as soon as we walked into the trailers it felt ten times hotter. I started to panic a bit because you could hardly breathe in there, never mind sleep. Thank goodness, as soon as we walked into our rooms we saw the air conditioner and turned it on. It took about half an hour but soon it was very cool and comfortable in our 8ft. by 8ft. room. The only furniture inside the room was two metal bunk-beds and a tiny table, but it would do us just fine because we were exhausted.
<![if !vml]>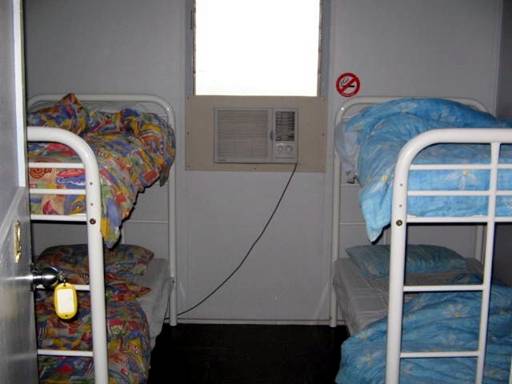 <![endif]>
We first had to wash up in the communal shower/toilet and head to the pub for our dinner. It was a small buffet but the food was quite good: lasagna, chicken, mashed potatoes, rice, beef curry and macaroni and cheese. We chatted just a bit with our driver after dinner and then it was straight to bed. It was still very warm outside as we made our way back to our rooms. My sleep was brutal. First I felt great lying on the top bunk with the flow of the air conditioner wafting over me. Then I got cold and went under the covers, then I got hot and pulled them off and then I got cold and went under the covers….and so on all night. I couldn't get it right, but did eventually get some sleep that night.
The next day….up at 5:30am to pack up and load the bus by 6am when breakfast is served. Tea/coffee, cereal and toast. Back on the road by 6:30am. We start our day with a song about the wildlife of Australia. The Australian Government had asked these singers to write a song about the wonderful wildlife of Australia in order to entice more visitors to come. The song they wrote was hilarious. It is all about sharks, crocs, poisonous snakes, spiders and all the things that can kill you. It was very funny.
We are now cruising along listening to Fleetwood Mac. Steve, the driver, me and one guy from Ireland are the oldest ones on the bus. All the other "kids" are all backpackers from Edmonton, England, Spain, Italy, Japan and Germany. They travel across the country and every so often they stop somewhere and get a job that pays them enough for the next leg of their journey. Lots of them are traveling alone with limited English. Very admirable!
Our first stop on Day 2 is a town called Winton. As we were pulling into Winton, Greg, the driver, played a version of Waltzing Matilda as it was being sung at the start of a rugby game between Australia and New Zealand in Australia. At the end of the song the crowd of 100,000 sings along; it gave me goose bumps. Winton is the birthplace of this very famous song, "Waltzing Matilda" and also of Qantas (Queensland and Northern Territory Air Service). "Banjo" Paterson wrote the song and there is a museum that explains what the song is about as well as how Qantas got off the ground. Matilda is what they called a swag or a type of back-pack on the end of a stick. When the bushmen were on a walk-a-bout the swag would sway as they walked along. It looked as though it were dancing at the end of the stick and hence the word 'waltzing'. Aparantly the Aussie's would love for it to be their national anthem but the government doesn't agree because the song is about a man that steals a sheep and jumps into a billabong (water hole) instead of being caught by the authorities.
<![if !vml]>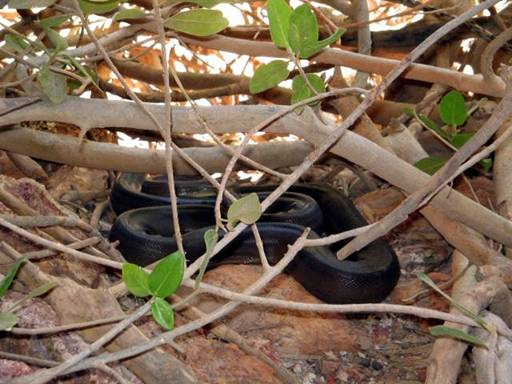 <![endif]>
Our next stop was a cattle station called Toryanna. The station is 6,000 km in size and we were met by the owner whose name was Charles. He took us for a walk down to Python Gorge where it lived up to its name as we saw two large pythons coiled up beside some rocks at the bottom of the gorge. The one python was over 12 feet long and the other one was even bigger but did not move so we couldn't really tell how long it was. One of them got an eye lock on Danika and started licking its lips. Apparently they can eat an average-sized kangaroo in one gulp. Dani's about the size of a small kangaroo. At the bottom of the gorge Charles showed us some aboriginal artwork on the rock walls. Some dated back over 1,000 years ago.
Danika was playing with what she thought was a rock but it turned out to be a kangaroo's toenail. She dropped it quickly after hearing that! While we were on our walk our bus driver, Greg bar-b-qued up some hamburgers, sausages and veggie burgers. We had a delicious lunch in the sweltering heat and as we were finishing, another bus from the same company was pulling up. They were making their way from Alice Springs to Cairns. This was the half way mark. We packed up and left with a quick toilet break and a drive passed the homestead of Charles and his family. Two homes, one his and the other his father's, out in the middle of nowhere, in the desert. Interesting life.
<![if !vml]>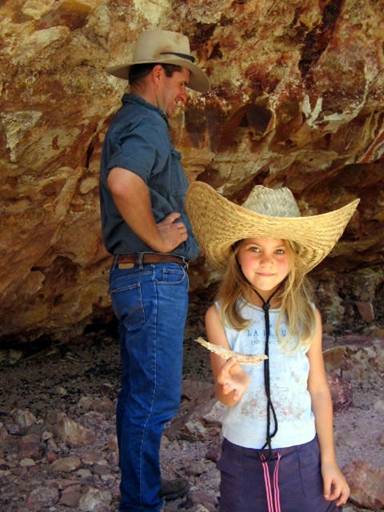 <![endif]>
Our next stop was absolutely hilarious. It was the town of Middleton. Population: 5. It truly comes up out of nowhere and there is a shed that has a sign on it that says: Hilton Hotel on it. There is a bar that is attached to a residence that houses the whole population of the town. It was so cute. We stopped there for a drink and a toilet break. Our driver told us to take our time as we walked the streets of Middleton. It took us 10 seconds to do that.
The town use to be a stage coach stop in the late 1800's and is the only one left still standing. Very cool!
We stayed at a cattle station on our next night. It is called Wirrylyerna Station and is about 125,000 acres in size. The station's get bigger as you go up to the Northern Territory, some as big as 16,000 acres. The largest station in the country is in New South Wales and is 32,000 acres. Australia is the largest producer of beef in the world, but they export the majority of it. They import beef for national consumption. There is a family that runs the cattle station and they run it as a tourist destination. Yollie was our host and she lives at the homestead with her husband and 12 year old daughter Eve. As we were driving into the homestead her daughter was riding her horse beside the bus. She was riding it bareback and with bare feet. The sun was setting and the sky was ablaze with the most amazing colours and to watch her gallop beside us as fast as the horse could run was surreal. She beat us and was waiting as we pulled up. There were a lot of animals waiting for us as well. The homestead has animals walking around everywhere. When the bus doors opened, two of the many dogs hopped in and started walking down the isle sniffing and searching for crumbs on the floor. Yollie entered the bus and gave us the rundown on what we were to do and how to do it. She was very organized and extremely friendly and we knew it was going to be a great experience. We were once again sleeping in sheep shearers quarters and they looked exactly like the one we had slept in the night before. These ones however, were air conditioned perfectly when we arrived. We dropped our stuff off in the room and it was out to the campfire to wait for dinner. The dinner was being cooked in pots hanging over the fire and soon we were in line having our plates filled with delicious food. After dinner the kids were whisked away by Eve and she showed them all over the homestead. Nikolas wrote a little story about his experience and will have all the details there.
<![if !vml]>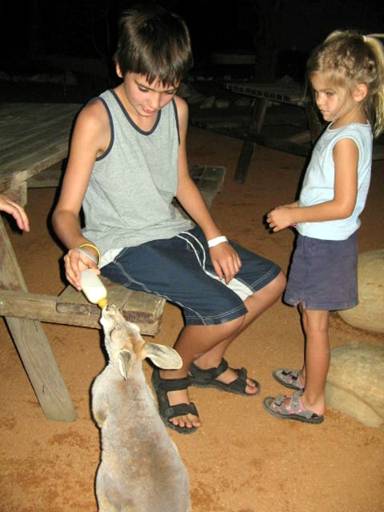 <![endif]>
What we did see was Nikolas feeding one of their baby kangaroos with a baby bottle and Danika petting the other baby kangaroo that is carried around in a cotton sack to replicate the mother's pouch. There is a baby calf walking around, lots of dogs, cats, pigs, a goat that is in love with one of the pigs and are inseparable, goats, cattle and lots of bugs and birds coming and going. Eve also showed us to a shed where she does her school work. She participates in something called School of the Air and it involves a teacher and about 8 students that communicate over the telephone for one hour everyday Mon.-Fri. Her teacher gives out assignments and the students have to have them done by a certain time. Her mom helps her with her schoolwork and once in a while she gets together with her classmates so that they have some actual playing time together. Because they live in such a remote area they have no school to go to. She seems to enjoy her life and like her brother she will be off to boarding school next year. Her mom told us that it's going to be hard on her and her husband because the kids are normally always around. Her brother is one year older and is at boarding school in Rockhampton and only sees his family at holiday time. It was so interesting talking to this family and it really makes you realize that there are many people around the world living very unique lives. We will never forget this experience.
After dinner we had a shower in the communal shower and thank goodness there was lots of hot water. The only problem was that I bought some very cheap beach towels and they did not absorb any water. When we rubbed, the water would just move around our body, the towel stayed dry. How frustrating! That night I had a much better sleep!
Up at 5am for breakfast at 5:30. As we ate breakfast outside we were mesmerized by the spectacular sunrise. With the fresh air and amazing nature around us it was a very humbling experience.
<![if !vml]>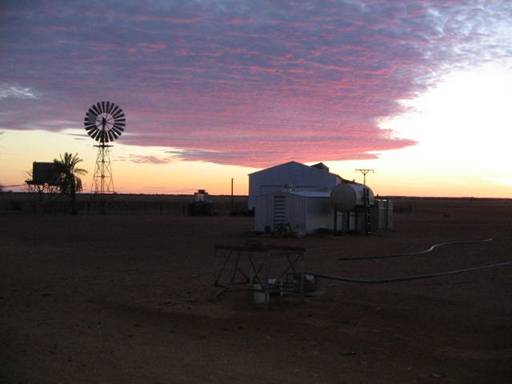 <![endif]>
Back on the bus and onward down the dirt road. Our first stop was a toilet break at Tobermorey Station. It is located just over the border into the Northern Territory. Steve took a picture of a massive tarantula he saw in the men's bathroom. I am not a spider lover and it made me realize that this may just be the start of some very interesting creepy crawlies! The terrain here is what I expected the Outback to look like. The dirt is deep red in colour and there are very few trees. It is cooler today and there are clouds in the sky. Greg told us that during the summer the temperatures can reach 50-55 degrees out here. He says that sometimes the bus can't keep up with the air conditioning. Sometimes the inside of the bus is 37 degrees with the air on and the passengers are relieved when they get in because outside is just unbearable. For us, I think the temperatures were between 35-40 degrees and it was almost unbearable. I can't even begin to imagine what 55 would feel like. As we drive on we see some camels in the distance and a massive lizard. It is really quite funny to see camels walking amongst the herds of cattle. Next we stop at a termite hill that is 5 metres high. It is taller than the bus and is estimated to be about 200 years old. There are millions of termite hills along our journey and it's incomprehensible to think how many termites there are in this country.
<![if !vml]>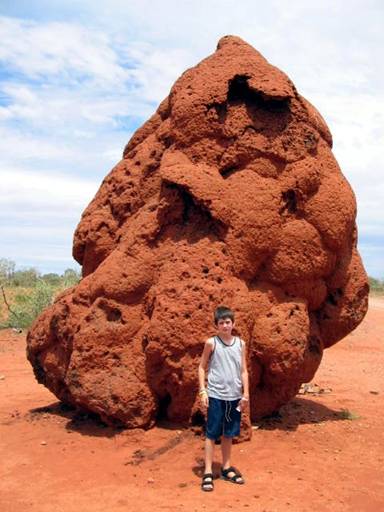 <![endif]>
We stop for lunch at a place called Jervois and have sandwiches again with some left-over sausages. There are a ton of flies here and it is almost impossible to eat. Who knows how many of those critters we actually ate without realizing it. Gross! Back on the road again and it's actually hard to read my writing because the road was so bumpy when I was writing in my journal. (I am re-writing this while in Alice Springs). It has started to rain and Greg is a little concerned about the condition of the roads. Just a little rain can turn the dirt roads into complete mush. We make it to our last stop which is an aboriginal community called Atitjera. Greg told us a little about the aboriginals. They are very spiritual and cultural people and have a bit of a hard time blending in with modernization. He told us that some do have a problem with alcoholism but asked us not to think that they were all like that. He told us that most are responsible professionals and some choose to live a simple life and live in secluded communities where they are able to maintain their culture. It sounded very similar to the situation of our Native Indians in Canada. It was very educational. Our driver, Greg was just full of knowledge and we think we got lucky as he was very friendly and extremely professional. You could tell that he enjoyed his job and was very eager to tell us about his amazing country.
We drove through the Tropic of Capricorn and as we crossed the line we entered the area of four seasons. We left the Tropic of Cancer which is the area of only the dry and wet seasons. And finally we made it to Alice Springs! We were dropped off at the Crowne Plaza and I have to say it felt good to flop onto a normal bed and have our own bathroom. I know, I am spoiled but I wholeheartedly enjoyed my journey into the Outback of Australia!