ADELAIDE, AUSTRALIA - February 14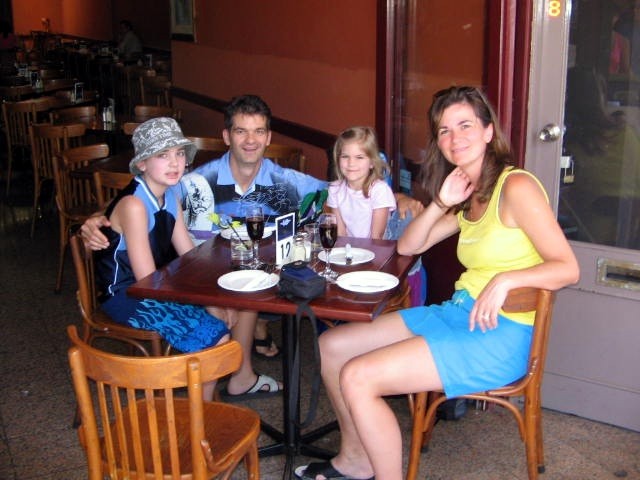 (written by Steve)
Well, here it is, the nicest place we have been to in Australia ( just our opinion of course). The people are very laid back and so friendly, it reminded us a bit like New Zealand.
We got up a tad late and headed for the same place we always head to if the weather permits, the beach. We grabbed our beach stuff, boogie boards and hopped of the ship and were stopped by some people and they told us to be very careful if we were going swimming. The first lady told us a story of a 16 year old boy who was eaten by 2 great whites only a few weeks before. She told us the boy was on a skim board and he was being pulled around by a boat about 200 metres off shore. She said that a shark grabbed him on his shoulder and started attacking him and while he was fighting with that one another grabbed his other shoulder and pulled him under. All of this happened with a boat full of people and his buddy on a board right beside him. He was never found and that was about 5 weeks ago.
O.K. I thought we are off to a bit of a tough start, and when I looked over at Helen, I saw that she had that "why don't we go shopping face instead" look. I had a great idea brewing, we would take a cab to the most popular beach, (which just so happened to be right beside the one the boy was killed on) and I'll find a whole bunch of people to confirm this story. I thought I could find at least one person to disprove this story, and that way we could still go swimming. Well, on the way to Glenelg Beach the cab driver confirmed the exact story, only he said the boys and the boat were 100 metres from shore. The lady at the beach told us she use to swim everyday in the water, but won't swim anymore. I told Helen (as if I was some kind of expert) that sharks will never come into the shallow water and there was at least 10-15 people in the shallow water, so it would cut down our odds.
We first went for Pizza and had a glass of sparkling wine for Valentines Day and thought about it and then headed to the beach. The beach was very wide and the water was clear blue and the beach was littered with about 100 people, maybe 15 in waist deep of water, the rest tanning like lizards in the 40 degree sun. Well, Helen agreed to let us go and told us to be very careful, and she was not comfortable about it. The water was awesome and Dani and Nik were surfing in the waist deep water. The people in the water were all facing the same way I was, out towards the water looking for fins. Remember that scene from Jaws when all the kids are playing in the water and the lifeguard gets attacked, well it felt like that. We were told that if we go in the water to make sure that we stayed between the Lifesaving flags and if we heard a siren (shark siren) to get out of the water right away. I have to admit I was a wee bit nervous, but there was no way a big shark was going to swim up to us in waist deep water 50 meters from shore. I kept watching like everyone else, while the kids played. Why the heck were we in the water in the first place you ask? I truly felt in no danger and we stayed between the flags at all times, and we made sure we were always between someone else and the beach. This may sound a little cruel, but better for them to get eaten first and it would give us more of a chance to get away.
Well it was all anti-climatic and we had a wonderful day, and never saw a fin. Later that night at dinner, Father O'Shea said that he did a study on shark attacks in school and 90 % took place in 12 inches of water. He said a shark that is going to attack a human is really rare, but have been know to come right up to the edge of the water. Well guess who had their "should have gone shopping face" on now? I am still not buying it, but it's pretty hard to argue with a Catholic Priest.
Anyways we spent as much time at the beach as we could and then headed back to the ship. We did not go into the City, but I was sold on the beach area we were in. All the homes were your typical Italian 2 level jobs with red tile roofs and brick siding, concrete fence and beautiful gardens. For the folks back in B.C., it reminded me of Kelowna, but on the Ocean instead of a lake. I have spoken to a few of the people on the ship and they did not think much of Adelaide and loved Melbourne. Maybe we are just strange, because we thought it was a very nice place.
Everyone we spoke to was super nice and they were all glad to get into a conversation, and yes they all confirmed the shark attack story.
We had a great day and will say that for us, Adelaide is what we thought Australia was going to be like. Loved it!
Next stop Fremantle, Perth
***********************************************************************************
info from - http://www.lonelyplanet.com/destinations/australasia/adelaide/
When the early colonists arrived and began building Adelaide they used stone. They wanted to build a solid, dignified city, a civilised and calm place, with a manner no other state capital in the country could match. Nowadays, much to the wowsers chagrin, pubs and nightclubs outnumber the churches.
The solidity goes further than architecture, for Adelaide was once regarded as a city of wowsers (read: puritan spoilsports) and was renowned chiefly for its disproportionately large number of churches.
There is no denying that the city has a superb setting - the centre is surrounded by green parkland, and the metropolitan area is bound by the hills of the Mt Lofty Ranges and the waters of the Gulf St Vincent. Nearby is the Barossa Valley wine region.
Area: 870 sq km
Population: 1.08 million
Country: Australia
Time Zone: GMT/UTC +9.5
Telephone Area Code: 08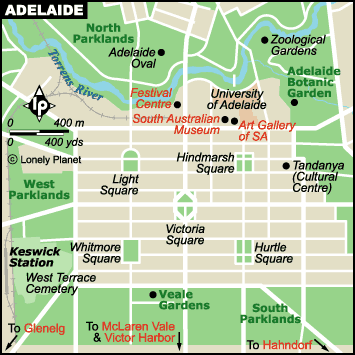 Adelaide sits on the eastern shore of Gulf St Vincent, in the far south of South Australia. The streets of Adelaide's central business district follow a grid pattern, which makes it very easy for visitors to find their way around. Victoria Square sits in the centre of the grid, and the main street, King William, runs through it. Although not the geographical centre of town, Rundle Mall is the shopping centre of the city, with the big department stores - Rundle St's eastern end has some of the city centre's best dining and boutique shopping. North Terrace, running parallel to Rundle St, is the city's cultural centre, a grand boulevard lined with a gallery, museum, state library and university. The River Torrens separates the city centre from North Adelaide, and a green belt of parkland surrounds both areas.