Acapulco, Mexico - arrived January 14
ACAPULCO
(Written by Helen)
The ride to Acapulco has been spectacular. I have been telling Steve that if the rest of the trip is like this than I will be kicking my heels up and having a helluva time!! The weather has been very warm and we have taken advantage of that by heading out to the pool and doing some sun tanning on the pool deck. Itís not a huge, beautiful pool, itís actually quite small and its sea water, but it does the trick when youíre hot and Nikolas has enjoyed it. The first few times we went out it was a little shocking to see our white bodies in bathing suits with a little winter insulation around the waist (thatís me and not Steve) but when we looked around we actually looked fabulous in comparison. I know thatís mean butÖ..
We anchored in Acapulco which meant that we had to take a tender boat to shore which is a little annoying, especially when itís so hot and they cram you into these little boats like sardines. It amazes me to watch these elderly folks walking onto these boats. I can hardly stand up in one because they are so wobbly and a lot of these folks can hardly walk on solid ground! But, off we went to shore and it was me and Steveís first time in Mexico. Acapulco is truly unique, from what we were told, as it is very mountainous compared to some of the other Mexican destinations. I guess that makes sense as they are so famous for their cliff divers. The harbour we anchored in gave us a great view of the cliffs with all the amazing homes built into them, and below them along the shoreline, the beautiful white sandy beaches. We were a little nervous about where to go when we finally arrived on shore as we heard that often times the taxi drivers will rip you off if you donít know how much is normal to pay. We came across a man that claimed to work for the Tourist Board of Mexico and he was kind enough to advise us where to go and how much it should cost us. He directed us to a taxi stand that he said we could trust and that is where we met Manuel, our taxi driver for the day. He was a wonderful man that spoke great English and we asked him if he would drive us across the city to the Fairmont Princess because we heard that the beach there is beautiful. For a fair price he agreed and he promised us that when we were done there he would come back for us and take us into town to do some shopping and then he would take us back to the dock. It was a great arrangement for us and him.
As we drove to the hotel he took us on a mini tour of Ďoldí Acapulco and Ďnewí Acapulco. We drove past a Wal Mart, a Home Depot, and a Costco!! It was quite funny. He also drove us by a house that he said was just bought by Sylvester Stallone. It was big and beautiful and built right into a hillside looking over the beautiful harbour.
The land is quite lush and green and I was really surprised at how beautiful it was. You donít hear a lot about Acapulco anymore compared to the other places like Puerto Vallarta and Cancun. The taxi driver said that it is slowly starting to have a come back and I can see why. The city itself looks like it is doing pretty well because there was quite a bit of construction going on as we drove along.
The Princess Hotel is spectacular. It is located on the quieter side of the city on a long stretch of pristine white sandy beach. We just walked right in and walked through the huge lobby and by the very tropical swimming pool area. We got to the beach and the only unfortunate part is that the minute your foot hits the sand you are bombarded with the locals selling their wares. It is relentless and throughout the day the same people will approach you five or six times even though you say no thank you. They sell things like t-shirts and jewellery, horseback riding to para sailing. We found a spot on the beach and I sat and suntanned as the kids and Steve played in the water that was as warm as the bathtub. Crazy me forgot to lotion my legs so I ended up with a slightly uncomfortable burn on both legs.
After that we headed back to the hotel and decided to have lunch at the restaurant right at the beach. It was just perfect. I have to say it was the first time in a long time that I actually sat back and took a deep breath and really, really relaxed. We had the most delicious margaritas we have ever had with some of the best guacamole that weíve ever tasted and there was a warm breeze blowing and they had this great Mexican band playing and life was really good at that moment. I didnít want to leave. But, Manuel was coming to pick us up so off we went and we drove back into town. The driving there reminds me a little of New York, with lots of taxis and some really crazy driving but on a much smaller scale. The only other disturbing part is that there are no seatbelts and it just feels so bizarre to drive in a car and not have a seatbelt on.
Manuel took us to a market and specifically walked us into this one jeweler store. It had a ton of silver jewelry and the guy was very insistent that I try everything on and that Danika take a look at all the little dolls he had. It was a little uncomfortable and when I found a pair of earrings and Danika found a little doll that I swear Iíve seen at a dollar store somewhere, he said that just for me he had a great price of 50 dollars American. I almost laughed out loud and told him I wasnít interested and from there the price dropped to $38. I would not have paid 20 so we left and I felt bad but that was just ridiculous. Unfortunately this whole market was like that, the prices were outrageous so we just bought Danika this cute little outfit for 10 bucks and decided that we had had enough. The market was in the very old, poor part of town and the kids were gagging at some of the smells so we asked Manuel to take us back to the dock. When we pulled into the parking lot this little boy about the age of Nikolas starting running beside the car waiting for it to stop. He ran for quite a while and the minute we stopped he had the doors opened for all of us with the biggest smile on his face. Steve gave him a dollar and he said, ďThank YouĒ in perfect English. We gave Manuel some extra money and he was extremely grateful. He was a wonderful guide and a very nice man. He told us about his two boys and was very open with us about his life and the beautiful city he lived in.
We had to wait for over an hour to get back on the boat because it looked like everyone decided to head back at the same time. The line-up to get on the tender was huge so we went in the little waiting area that was air conditioned and had a Corona and some pop.
Overall our first encounter with Mexico was a good one. As we sailed away, Steve and I went out on deck (the kids went to the Kidís Club) and sat and watched the beautiful city at night. It was warm outside and the sky was full of stars as it was a completely clear night. We both agreed that one day we would come back.
****************************************************************************************
(Info below taken from Internet - webmaster)
Maybe it's the romantic history of spice ships and pirates; maybe it's the golden beaches, tropical jungles and lagoons; or perhaps it's the high-rise hotels, glittery nightlife and famous daredevil cliff-divers that have made Acapulco the first and foremost resort town in Mexico.
Once a hotbed of Hollywood stars and jet-setting playboys, Acapulco now basks in only slightly faded glory. The beaches are still glorious, the luxury still laid on with a trowel. There's another side to the city, however, and the commercial centre is filthy and congested.
Traditional Mexico is easier to find here than in the country's other resorts and you will likely hear more Spanish spoken than English. But Acapulco is definitely a hedonistic party-goer's town, and doesn't claim to be anything else. The nightlife is legendary and the energy never stops. Most visitors come here to wine, dine and dance the night away to a salsa beat; take part in the wealth of activity in and around the water; and to stretch out on the sun-drenched sand and watch other beautiful people doing the same.
Area: 29 sq km
Population: 721,100
Country: Mexico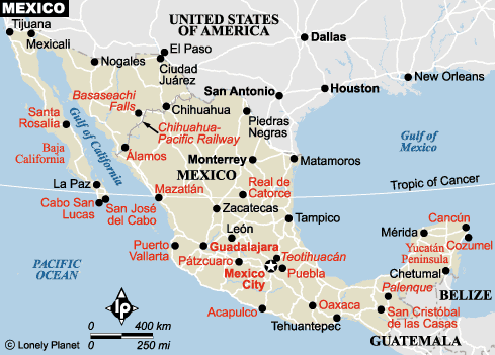 http://www.lonelyplanet.com/destinations/north_america/acapulco/